Now that the D.C. witch hunt for Trump supporters has collected upwards of 400 arrested defendents, it's entering Phase Two: persecution. Sandlin is the accused blowing the whistle on it. First off, who is he?
Whoa. Not what I was expecting a Trump supporter to look like.
Ronald Sandlin biography: 13 things about US Capitol riot suspect from Las Vegas, Nevada
h ttps://conandaily.com/2021/02/19/ronald-sandlin-biography-13-things-about-us-capitol-riot-suspect-from-las-vegas-nevada/
By Marky O'Brien, 19 February 2021
He is originally from Tampico, Tamaulipas, Mexico.
REALLY not a typical Trump supporter.
He lived in Memphis, Tennessee and Long Beach, California before moving to Las Vegas, Nevada.
Come to California to start a new life. Leave it because the old one was better.
On July 19, 2018, he uploaded a YouTube video of himself discussing hard hitting copywriting strategies for the AWOL Elite Conference 2018.
My Internet search turned up a bicycle.
In 2018, he was cited for driving with an expired California driver's license and expired license plates. In 2020, he was cited for driving without a valid license and for holding a cellphone to his face while driving. In the same year, he lived with his parents for several months in Memphis.
One of them less-legal Mexicans, I'd guess. Why did the Deep State finger him for a white nationalist?
On December 23, 2020, he referenced the crossing of the Rubicon River in Italy in 49 BC in a Facebook post. He wrote, "Who is going to Washington D.C. on the 6th of January? I'm going to be there to show support for our president and to do my part to stop the steal and stand behind Trump when he decides to cross the rubicon. If you are a patriot I believe it's your duty to be there. I see it as my civic responsibility. If you're going comment below or PM me so we can meet up."
Maybe they did a keyword search? Going forward, people maybe shouldn't repeat certain phrases on Big Media.
On December 31, 2020, he took to Facebook to announce that he was "organizing a caravan of patriots" who were going to Washington D.C., USA to "stand behind" Trump. He shared a link of the GoFundMe page asking for donations for him, Josiah Colt and Nathaniel J. DeGrave and said the three of them had already booked and paid for their trip to Washington, D.C. On January 3, 2020, he revealed on Facebook that their GoFundMe page was deleted.
Heehee. I bet it only lasted four days because "please help me fund this trip that I've already paid for!"
On January 2, 2021, he wrote on Facebook that in 2020, he had a "huge financial blow," "got dumped" by his fiancé, crashed his motorcycle and lost his grandfather.
That killed the mirth.
Wearing a bright orange sweatshirt, black rimmed glasses and a baseball cap while carrying a backpack and a small bag, he went to the U.S. Capitol building in Washington, D.C., USA on January 6, 2021. That day, Trump's supporters breached the building while a joint session of Congress was certifying the vote of the Electoral College and affirming Joe Biden's victory in the 2020 presidential election. He fought with police and smoked marijuana while inside the building.
Smoking marijuana is why I would have arrested him, but the hardline Lefties charging him with that? Hypocrites!
A Federal Bureau of Investigation special agent filed a criminal complaint, which U.S. Magistrate Judge Zia M. Faruqui signed on January 20, 2021. On January 28, 2021, he parked his truck outside of DeGrave's apartment in Las Vegas. FBI agents arrested him there that day.
DeGrave is more what one would expect of a Trump supporter: white male, late 20s, enough family wealth that he can slack off to D.C. for a few days. Although unlike Sandlin, DeGrave was not charged with either hurting an officer or smoking a blunt in the Rotunda.
He was 31 years old when he was arrested on January 28, 2021. He was booked into the Henderson Detention Center in Henderson, Nevada. For his participation in the U.S. Capitol riot on January 6, 2021, he was charged with obstructing law enforcement engaged in official duties incident to civil disorder, obstructing law enforcement knowingly entering or remaining in any restricted building or grounds without lawful authority, violent entry and disorderly conduct on U.S. Capitol grounds.
It's not gonna stick. Half of any liberal-enclave jury will be 420-friendly, if you know what I mean, and more than half will be immigrant-friendly. That in addition to the usual objections.
During a detention hearing in federal court in February 2021, the judge told him he owes $500,000 in back taxes and he asked the judge to have mercy on him. In the same month, the I-Team found that no community where he is known to have resided can find a record of him voting in the 2020 U.S. presidential election.
The FBI could have simply handed him over to the tender mercies of the IRS. Instead… this:
Capitol riot defendant alleges beating by jail guards
h ttps://www.politico.com/news/2021/04/06/capitol-riot-defendant-alleges-beating-by-jail-guards-479413
By Josh Gerstein and Kyle Cheney, 6 April 2021
Tensions are running high between guards and inmates at a D.C. jail housing many of the defendants in Jan. 6 cases, with at least one of those prisoners alleging that he was brutally beaten by correctional officers.
For weeks, Capitol riot defendants being held in Washington have complained that they are locked in their cells with virtually no human contact for 23 hours a day. But a startling, graphic account offered publicly in court on Tuesday by one such inmate, Ronald Sandlin, went further: alleging that guards have subjected those charged in the Jan. 6 events to violence, threats and verbal harassment.
"Myself and others involved in the Jan. 6 incident are scared for their lives, not from each other but from correctional officers," Sandlin said during a bail hearing conducted by video before U.S. District Court Judge Dabney Friedrich. "I don't understand how this is remotely acceptable," he added, saying he was being subjected to "mental torture."
In an unusual direct plea to the judge, Sandlin said another Capitol riot defendant, Ryan Samsel, "was severely beaten by correctional officers, [is now] blind in one eye, has a skull fracture and detached retina."
That's way more specific than the usual inmate complaints of guard brutality. Samsel has a criminal record dating back to 2006 consisting of witness intimidation, conspiracy, terroristic threats, simple assault, unlawful restraint, reckless endangerment, and harassment. Multiple plea bargains and catch-and-release policies over the years allowed him to attend StopTheSteal while on parole. I don't have a problem with him being arrested… attending a mass protest would have almost certainly been a parole violation… but that's no justification for what the D.C. guards did to him.
Sandlin also described racial tension between minority guards and the largely white defendants, some of whom have been publicly accused of membership in or association with white supremacist groups.
Sandlin said guards tackled "to the ground" one high-profile prisoner, Richard Barnett, 60, who was photographed with his boot up on a desk in Speaker Nancy Pelosi's office. Sandlin said one of the guards declared, "I hate all white people and your honky religion."
Do they really hate us that much? They say they do and act like they do but… gosh… we're so nice that they can't possibly mean it. /cuck
The three defendants raising alarms are charged with a wide range of crimes related to the Capitol breach. Sandlin, who posted images of himself smoking a joint in the Capitol Rotunda, is accused of tussling with multiple U.S. Capitol Police officers guarding the Senate chamber and trying to rip the helmet off of one of them. Samsel, who is currently on parole in Pennsylvania and is wanted for an unrelated alleged assault in New Jersey, is charged with toppling barricades on top of police officers, telling one, "We don't have to hurt you, why are you standing in our way?"
Barnett is charged with entering the Capitol armed with a stun gun, entering Pelosi's office and putting his feet on the furniture, as well as stealing a piece of mail from her office.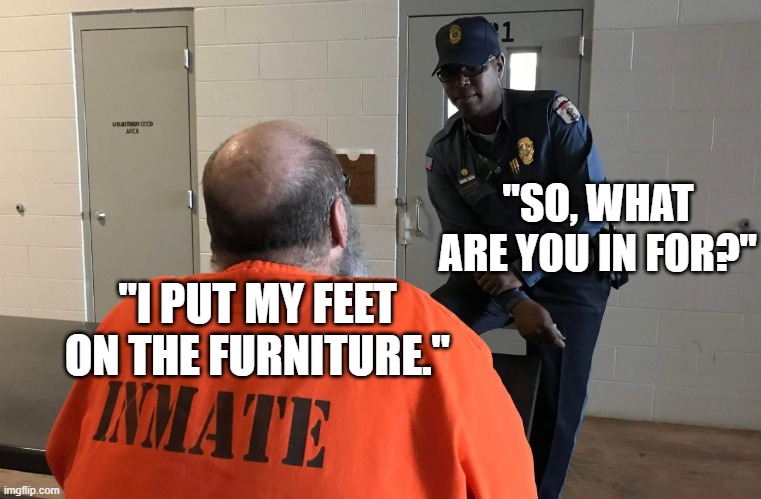 Defense attorneys for Samsel and Barnett confirmed the episodes described in court by Sandlin, which they said they learned about from their clients, clients' family members and other attorneys.
"There is a pattern of abuse and of targeting of the defendants who are being held pursuant to what happened on Jan. 6," said Joseph McBride of New York, a defense lawyer for Barnett. "It is targeted. It is ruthless. It is nonstop."
Nearly all the Jan. 6 defendants who have reached Washington and remain in custody are being held at the Correctional Treatment Facility, a complex in southeast D.C. typically used for prisoners with health needs or who require isolation from the general jail population. About 40 Capitol riot defendants are currently at the CTF, defense lawyers said.
A D.C. jail spokesperson and an attorney who represents the D.C. government on such issues did not immediately respond to requests for comment on the allegations. Jail officials have previously informed the court that the Jan. 6 defendants have all been held in "restrictive housing" in order to protect them from potential altercations with other inmates.
Your run-of-the-mill rioter does not get put in "restrictive housing".
"For their own safety and security, all of the detainees who are being held at the Jail in connection with the events that occurred on January 6, 2021 at the Capitol Building have been placed in restrictive housing," Deputy Warden Michelle Jones said in a declaration submitted last month to Judge Royce Lamberth, who is presiding over a separate case related to Jan. 6.
One veteran D.C. defense attorney said many Capitol rioters were new to the District's jail system and might believe they're being specifically targeted when they're simply unfamiliar with being in jail at all — particularly in the harsh conditions of 23-hour-a-day isolation.
That's a lie. Isolation is considered a punishment in our prison system. There is no reason to believe that the protesters would be a threat or be threatened by being put in general population.
Why are they even incarcerated in the first place? Don't they just need a pretty young woman to talk to?
During the hearing on Tuesday, Friedrich made no direct response to Sandlin's complaints about the jail, but she set a further hearing for Thursday on his possible release from custody.
Pasqualini said she recognized that many people might have little sympathy for those accused of storming the Capitol, but that people who haven't been convicted of any crime shouldn't face such harsh conditions or abuse.
The reason I covered Sandlin instead of Samsel is because Sandlin was the one able to speak to a judge. I wonder if his Mexican-immigrant background is giving him enough freedom that he's able to contact the outside world to tell us what's happening. The judge blowing off verifiable accounts of brutality is a bad sign.
All those Trump Derangement Syndrome people now have total control over a batch of "Trump insurrectionists" and they're using it. No surprise that they are turning out to be hate-driven, cruel sadists who don't want to wait for due process before starting the beatings.