Now Monopoly has been targeted for destruction… by a battleaxe of a cat-lady attorney!
Goodbye Second Place in A Beauty Contest, Hello Shopping Local! Monopoly Is (Finally) Updating the Community Chest Cards – and You Get to Decide How
h ttps://investor.hasbro.com/news-releases/news-release-details/goodbye-second-place-beauty-contest-hello-shopping-local
By Jen DeAngelis, 18 March 2021
Hasbro, Inc. (NASDAQ: HAS) announced today that for the first time in its 85+ years, Monopoly will be changing all 16 of its Community Chest Cards. True to its longstanding history of inviting its fans to help make changes to the game, and during a time when community means more than ever before, Monopoly is asking consumers worldwide to determine the new cards by voting at MonopolyCommunityChest.com.
While soliciting customer feedback is legitimate, no actual customers wanted this revision… not edition… of Monopoly. So what we have here, is a feminist gutting the game and then not caring overmuch about what replaces it. The beauty contests must go! and I dunno, what would YOU like to see in its place from this short list of Agenda 21-approved action items?
Covering topics like beauty contests, holiday funds, and life insurance, there is no denying the Monopoly game's Community Chest Cards are long overdue for a refresh.
I would certainly not get into the life insurance business in Current Year! And who celebrates holidays anymore? Holidays are illegal.
And, coming out of the tumultuous year of 2020, the term "community" has taken on a whole new meaning. Hasbro is counting on their fans to help reflect what community means in their real lives, into the Monopoly game, by voting for new cards like "Shop Local", "Rescue A Puppy" or "Help Your Neighbors."
The person pushing this change… I are not allowed to assume her gender, although "ovoid" would be a good guess… will have blue hair in a NYC pixie haircut, a nose ring and a chest flatter than Potato Joe Biden's new stairwell.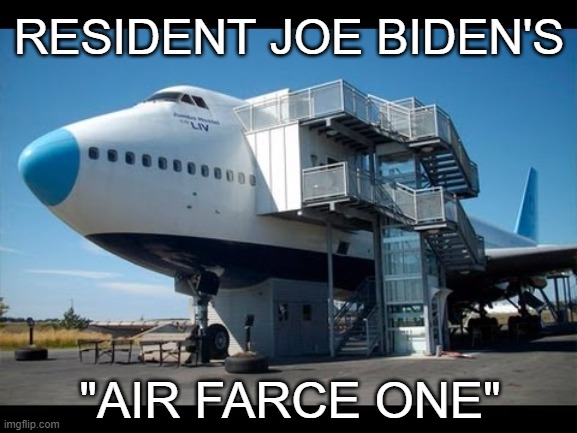 Does "help your neighbors" mean you're forced to pay for the exit of whoever is in jail at the moment? 
When you think about it, the entire concept of "community chest" is outdated. Monopoly should be revised to rely on Universal Basic Income.
Oh, that's right! Pass Go and Collect $200. That didn't prevent wealth accumulation in-game but real life will surely be different! Billionaires will own nothing and be happy!
Let's pay a little visit. Hmm, the voting is either/or rather than "none of the above!"
h ttps://www.monopolycommunitychest.com/
Which do you prefer?
"You donate your birthday money to a community center. Keep a little for yourself. $10" OR "You donate blood. There were free cookies! $10"
Punk you, beech! I keep ALL of my birthday money because it's MINE! Similarly, I'm keeping all of my blood. Although I voted for the latter because I like the idea of finding ten bucks in a fortune cookie.
"You set aside time every week to talk hang out with your elderly neighbor neighbor–you've heard some amazing stories! $100" OR "You volunteer to run the social media accounts for a non-profit art center, and you meet some pretty talented people! $100"
Why does the "volunteer" card pay you $100? That is not the definition of volunteer. But the other card has the same problem. So the real question is, which mindless fool would you prefer to steal $100 from? The Baby Boomer, of course, because the CIA takes it personal when you dip in their money laundering.
"Your cousin forgot their wallet! You happily pay for dinner. $-50" OR "Your fuzzy friends at the animal shelter will be thankful for your donation. $-50"
Hmm, they both have typos. The former should read "your girlfriend forgot her wallet" and the latter, "Your girlfriend at the animal shelter will be thankful for you donation." Yeah… I guess they're both the same card, aren't they?
"You volunteer your art skills and paint a mural at the local school. $50" OR "You organize a group to clean up your town's walking path."
I would happily accept $50 in return for creating a school art installation: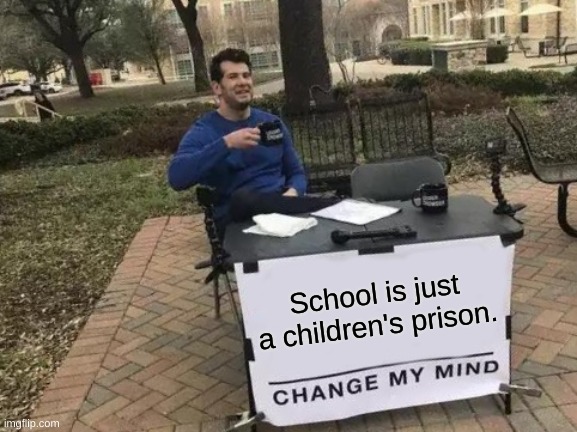 Much safer than picking up dirty syringes and puddled feces!
Speaking of, what kind of unholy rotting bullshit is this?!
"You help your neighbors clean up their yards after a big storm. $200" OR "You organize a family reunion! $200"
It's obviously a woman making these cards because she's constantly trying to monetize her social relationships. Old Monopoly did it better:
Seriously, Hasbro is replacing "win a beauty contest" with "meet your in-laws"?
"Just when you think you can't go another step, you finish that foot race–and raise money for your local hospital! Advance to Go, $200" OR "You shopped local ALL WEEK! Advance to Go, $200"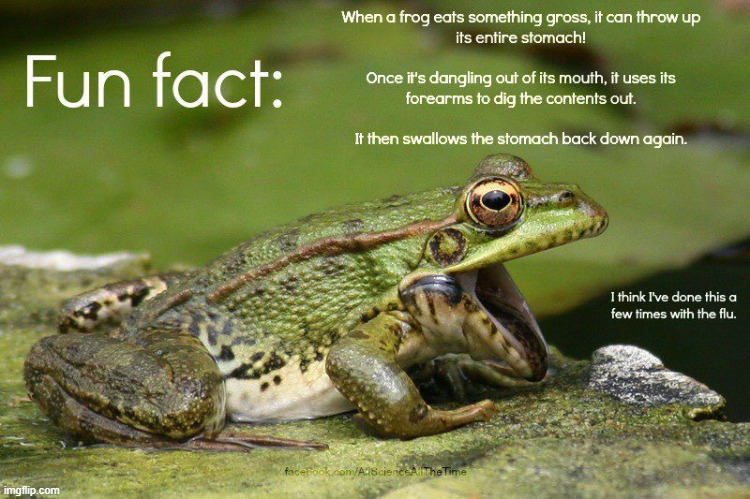 "You rescue a puppy–and you feel rescued, too!" Get out of jail free" OR "Your friends video chat with you after a tough day. Get out of jail free"
Exactly how is only being allowed to see your friends via video NOT being in jail?
"You organize a block party so people on your street can get to know each other. $10 from every player" OR "You pass out umbrellas to people standing at a bus stop on a rainy morning. $10 from every player"
Double fail. The people on my street don't even share a common language and a couple of them would have hysterics if exposed to maskless me. I'm a hugger! Meanwhile, why would I donate umbrellas to people too stupid to know when it's raining, while they're standing at bus stops intentionally oversized enough to impede traffic flow?
"You didn't shop local! $-50″ OR "You buy a few bags of cookies from that school bake sale! Yum! $-50"
Monopoly used to be about paying bills and building improvements, now it's about sustainable consumerism.
"Blasting music late at night? Your neighbors do not approve. Go to jail" OR…
*click* Hey, these aren't ALL bad. (The other was not returning a wallet,)
"You volunteer as a homework helper and learn stuff, too! $100" OR "You spend the day playing games with kids at a local children's hospital $100"
I wonder what women would do if they got that Universal Basic Income that they keep demanding. It's so hard to guess! I mean, they could do ANYTHING, like make babies, or play with kids, or volunteer with kids, or play games with babies… or cook meals at home, or gardening at home, or have a party at home, or… anything, really.
"Build a new school playground and test the slide. $100" OR "volunteer at a local literacy center…"
It's a library, not a 'local literacy center'. Ungood, female citizen! Ungood!
"You go to the local school's carwash fundraiser–but you forgot to raise the windows! $-100" OR "You held a neighborhood party–but didn't recycle the trash!" $100
Eww, female insecurities!
"Host international students for a home-cooked meal" OR "didn't volunteer for home improvement"
These are all about women. What would community cards for men look like, I wonder?
"Your wife 'found herself' in Vegas. $-100" OR "You mate-guarded against Bruno. Pay dentist $-100"
Real Community 2021!
"You weed the community college and discover a new bug!"…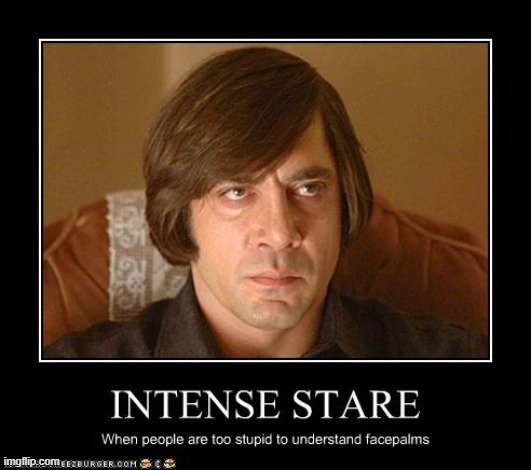 …OR "You organize a bake sale $25".
Yes, it's a $25 bug. Somehow.
"You help your neighbor bring in groceries" OR…
*DRUM ROLL*
3
2
1
"YOU KNIT COZY SWEATERS FOR THE HAIRLESS CATS AT THE ANIMAL SHELTER"
Boxed wine optional, BWA HA HAAAA!!!
Whew, the road was long but the end was worth it!
Now then, where was I?
To further show the Monopoly brand's commitment to community, they will be hosting the first ever Monopoly Charity Classic with a $350,000 Community Chest fund up for grabs. Fans can tune in to this celebrity-filled game of Monopoly, being played in the spirit of helping communities, this Spring on YouTube. Four celebrities will play to win a portion of the Community Chest to be donated to the charity of their choice, empowering them to make a positive impact within their own community. During the game, players and viewers will be among the first to see some of the new Community Chest Cards voted into the game by fans.
The celebrities have either not been chosen yet or are paywalled on Twitter.
"The world has changed a lot since Monopoly became a household name more than 85 years ago, and clearly today community is more important than ever," said Eric Nyman, Chief Consumer Officer at Hasbro. "We felt like 2021 was the perfect time to give fans the opportunity to show the world what community means to them through voting on new Community Chest Cards. We're really excited to see what new cards get voted in!"
Ah, the man of the hour!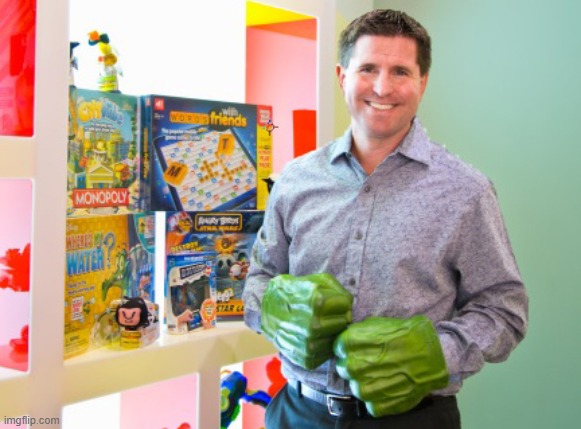 He's more masculine than I'd expected. If Nyman really is responsible for this then I've grossly lost my opening bet that "she" would be a flat-chested ovoid NYC feminist. But no… Surely no man could be so feminized as to write THOSE cards?
Per h ttps://www.vwu.edu/about/news-and-events/features/story/hasbro-president-eric-nyman-announced-as-founders-day-speaker
As president of Hasbro North America, Nyman is responsible for sales and marketing for the entire U.S. market. Prior to his role as president, he served as general manager and senior vice president of marketing at Hasbro, and also worked in brand management roles for Timberland and LEGO.
Nyman earned a bachelor's degree in history from Virginia Wesleyan in 1994. While at Wesleyan, he played basketball and tennis for the Marlins and completed an internship at the Virginia Beach Surf & Rescue Museum. He was the first Virginia Wesleyan student to apply for a Rhodes Scholarship…
I don't think he got it, which is good news for his soul.
…and went on to earn an MBA from the Boston College Carrol School of Management. He lives with his wife and two daughters in Providence, Rhode Island, and currently serves as a member of the Virginia Wesleyan University Board of Trustees.
DODO! Dad Of Daughters Only! It's hard to resist the feminist tide and exceptionally hard when you're the only man in the house.
Not looking good for my prediction. But wait, there's another possibility!
Hasbro Announces New Global Purpose Organization Will Be Led by Kathrin Belliveau
h ttps://www.kingsleygate.com/website/executive-moves/blog-consumer-retail/hasbro-announces-new-global-purpose-organization-will-be-led-by-kathrin-belliveau/
January 2021, so the date matches up with some investor reports I found announcing this change.
Hasbro has formed a new Global Purpose Organization, which aims to improve the world for children and families. The company has appointed Kathrin Belliveau as Chief Purpose Officer, where she will oversee efforts among Global Government Relations, Global Communications, Corporate Social Responsibility, Sustainability, Ethical Sourcing and Philanthropy and Social Impact to enhance the company's global impacts.
Holy GloboCorp, Batman! The only way she could be more monstrous is… if she was… 
Kathrin will report to Brian Goldner, Chairman and Chief Executive Officer. Kathrin has served Hasbro in several capacities since joining the company in 1997. She began her career with the company as an Attorney, and most recently served as Senior Vice President of Global Government, Regulatory Affairs and CSR.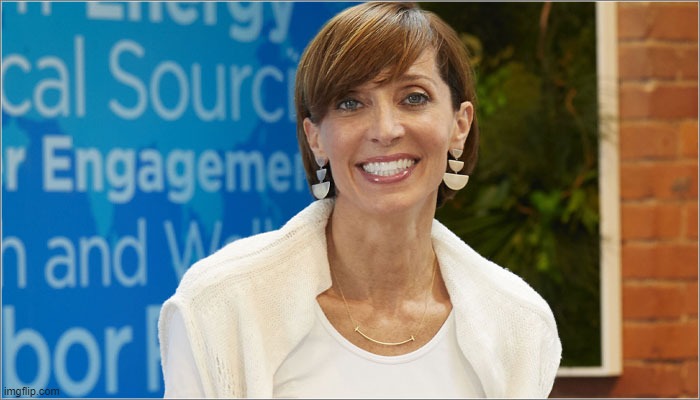 Textbook feminist physiognomy! NYC haircut confirmed but no nose ring or blue hair. Not ovoid but definitely flat-chested. Thousand-cock stare. Hmm, alcoholism typically gives the face a flushed look, not present here, but makeup can do a lot. (She's a high-powered corporate lawyer, ergo alcoholic, don't tell me otherwise.) And speaking of Batman, that's one heck of a manjaw.
That's a reeeally long neck. Huh.
So, she got to about age 50 as a high-level attorney and then convinced the Powers That Be… specifically Nyman, if I read the org charts correctly, Hasbro leadership seems top-heavy… to transfer her from global regulations to a specially created position of hating the pretty young women that her career never allowed her to be. A bitter cat lady eliminating the girl-ness that she never got to enjoy for herself.
And Nyman can't see the massive losses about to hit his company because of his unwillingness to tell hags that beauty contests are normal, healthy and for most people, fun. Not that Hasbro isn't already doomed; from my first article,
Hasbro is committed to making the world a better place for all children and all families through corporate social responsibility and philanthropy. Hasbro ranked among the 2020 100 Best Corporate Citizens by 3BL Media, has been named one of the World's Most Ethical Companies® by Ethisphere Institute for the past ten years, and one of America's Most JUST Companies by Forbes and JUST Capital for the past four years.
And that, folks, is why we can't keep our happy childhood memories.