Imagine my surprise when, as I scrolled down the day's headlines, I discovered that Fox News chose NOT to go quietly into the dark night!
Fox News Launches 'Purge' to 'Get Rid of Real Journalists,' Insiders Say
h ttps://www.yahoo.com/news/fox-news-launches-purge-rid-211350787.html
By Diana Falzone & Lachlan Cartwright, 19 Janunary 2021
Not a moment too soon, but possibly a month too late.
Fox News on Tuesday fired the political editor who was tasked with defending the network's election night decisions that especially angered President Donald Trump and his allies.
Politics editor Chris Stirewalt's exit from the network coincided with the sacking of at least 16 digital editorial staffers, including senior editors. People familiar with the situation said the layoffs—a "blood bath," as multiple Fox News insiders described it—were perpetrated by Porter Berry, the Sean Hannity crony now in charge of remaking Fox's digital properties in the image of its right-wing opinion programming.
The author repeatedly denounces Berry for his association with Hannity but I've not found any stories of note about the connection. While I have little respect for Hannity, Stirewalt is a known anti-Trumper.
Segue
Eric Bolling Says Employees At Fox News Are 'Nervous' About Drop In Ratings
via h ttps://gellerreport.com/2020/12/former-news-anchor-says-employees-at-fox-news-are-nervous-about-drop-in-ratings.html/
By Daily Wire, December 24, 2020
According to Sinclair TV's Eric Bolling, a former host at Fox News, staffers at his previous network are worried by the change in audience numbers in the aftermath of the 2020 presidential election.
Speaking at Turning Point USA's annual Student Action Summit in West Palm Beach, Florida, Bolling explained why networks such as Newsmax and One America News Network had surged in popularity after the election on November 3rd.
"Here's what happened guys, let's be honest with you… on November 3rd — Fox declared Biden the winner in Arizona. MAGA-world went ballistic, they said 'I'm not watching Fox News,' they switched over and they looked and they found Newsmax," Bolling said. …
Since election night, Nielsen TV ratings showed that many of Fox News' programs experienced a severe drop in viewership. Between the dates of November 2nd and November 11th, viewership dropped by 40% for Neil Cavuto, 40% for Bret Baier — who hosted one of the presidential debates between Trump and Biden — 40% for Martha MacCallum, 36% for Laura Ingraham, 33% for Sean Hannity, and 29% for Tucker Carlson.
Hannity is not on our side… but methinks he's definitely on his own side.
End segue
In addition to Stirewalt—the Fox News "nerd" who became the face of the network's election-night projection for Joe Biden to win Arizona, which angered much of the network's MAGA viewership and led to the rise of an even more obsequious, pro-Trump alternative in Newsmax—sources confirmed that long-time digital editors and reporters, some of whom had been with Fox for a decade or more, were among those laid off. (Additionally, on Monday morning, Fox News senior vice president and D.C. managing editor Bill Sammon, who is in his early 60s, announced he is "retiring at the end of the month.")
"Fuck this," one particularly despondent current Fox News staffer remarked to The Daily Beast.
If the Daily Beast is championing their cause then they ain't on the Right side of history.
Officially, the network claimed the layoffs are merely part of a "restructuring" initiative. "As we conclude the 2020 election cycle, Fox News Digital has realigned its business and reporting structure to meet the demands of this new era," a spokesperson said in a statement. "We are confident these changes will ensure the platform continues to deliver breakthrough reporting and insightful analysis surrounding major issues, both stateside and abroad."
But a dozen current and recently departed Fox News employees who spoke with The Daily Beast all said the "purge"—as a few characterized it—was part of the network's larger effort to pivot its website from straight-news reporting to right-wing opinion content in the mold of Fox's primetime programming.
QED.
"There is a concerted effort to get rid of real journalists," said one recently departed Fox staffer. "They laid capable people off who were actual journalists and not blind followers."
You real journalists, in one evening, torpedoed the entire Fox News Empire. How distressing that they took it personally!
Others said it was an attempt to silence leakers from speaking to outside media about the changes being instituted by Porter Berry, a former producer for Hannity and Bill O'Reilly, who recently transitioned from the TV side to running Fox's digital properties.
"Porter's uncomfortable around and is suspicious of experienced editors," one Fox News insider remarked to The Daily Beast. "They make him feel inept because his background is entirely in TV."
"Porter is at the helm," declared one current employee of the layoffs, while a recently departed staffer said: "This is all Porter. Both an ideological purge and a purge of people he was threatened by."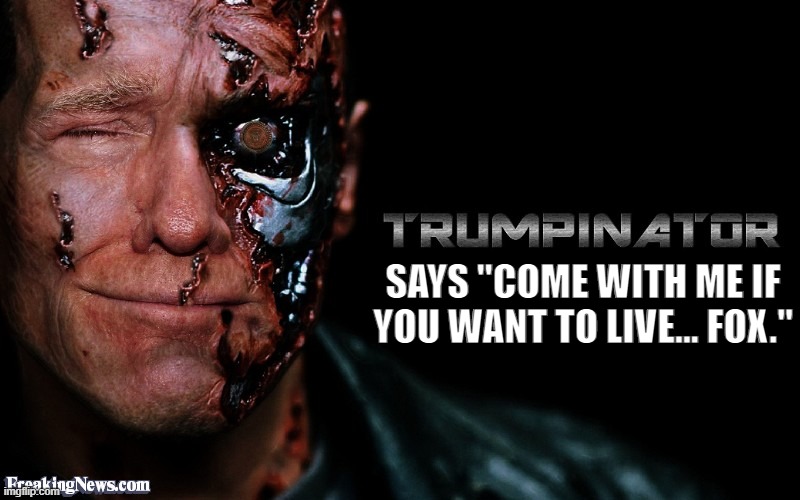 "It's essentially the final nail in the coffin for digital journalism at Fox," another recently departed staffer declared.
Even before this round of layoffs, Berry's management and editorial style had resulted in the departures of several key employees, such as Jason Ehrich, former executive vice president of audience development and strategic partnerships, and Greg Wilson, the former managing editor of the Fox News website, among others.
As The Daily Beast reported, Berry's influence over the network's online properties has raised eyebrows among staffers, largely because he continues to act as a "shadow executive producer" for Hannity—yet another sign of the increasingly blurred lines at Fox between the network's right-wing opinion commentary and its so-called news division.
The ouster of Stirewalt came months after he publicly defended the Fox decision desk's early (and accurate) election-night projection of Joe Biden winning Arizona's votes.
Good news, the mask is off. The globalists are openly gloating. Bad news, Normie America doesn't care.
The on-air call immediately infuriated President Donald Trump, as such a projection by his then-favorite network inhibited his plans to prematurely declare victory that evening. "Jared, you call the Murdochs! Jason, you call Sammon and Hemmer!" Axios reported Trump shouting that night at his son-in-law Jared Kushner and top adviser Jason Miller.
Yeah, he should have been angry. Why wasn't Normie? Maybe he was Trusting the Plan.
Immediately following the Arizona call, which has been linked to angry Trump fans abandoning the network for even more fact-free, right-wing outlets like Newsmax, Stirewalt was repeatedly grilled on-air over the projection and asked whether his team would reverse its call. "Not that I see," Stirewalt said, standing by decision desk director Arnon Mishkin's analysis.
Mishkin is an NYC Jew graduate of Harvard and is known to have voted for Clinton 2016. Every single time.
While the network's pro-Trump opinion hosts openly undermined the decision desk and political team's Arizona call, parroting the Trump campaign's complaints, Stirewalt refused to reverse course while also throwing cold water on the president's bogus claims of widespread voter fraud.
"Lawsuits, schmawsuits," he said the day after the election. "We haven't seen any evidence yet that there's anything wrong." …
Stirewalt's final contribution for Fox News was a Monday afternoon digital post, titled "Put that in your Hot Pocket."
Segue
h ttps://www.foxnews.com/politics/put-that-in-your-hot-pocket
Before Lincoln could finish his work and help the nation move on from the justice of the "terrible, swift sword" and into the mercies described in his second inaugural – "with malice toward none, with charity for all" – an idiot murdered him.
What happened instead was a long period in which frustrated Southerners spent the fury of their wounded pride on African Americans in their midst. The cruelty and indignity of this American apartheid is well known to many, but always worth remembering. … It is hard to imagine greater violence done to the spirit and the words of our Constitution than using the force of government to oppress millions of people because of the accident of their status at birth.
Maybe using the force of government to oppress millions of people wanting to leave? Is it hard to imagine the American Civil War while talking about Lincoln?
End segue
So, is this Porter Berry guy a potential ally of ours?
h ttps://www.thedailybeast.com/hannitys-crony-porter-berry-has-taken-over-fox-news-digital-and-its-a-disaster-staffers-say?via=rss&source=articles_fancylink
Hannity's sphere of influence has become all-encompassing and his nominal bosses are reluctant to rein him in, former Fox News executive John Huddy, a close confidant of the channel's late, disgraced founder Roger Ailes, told The Daily Beast.
"The fact is that Sean Hannity is untouchable, on the one hand, and they're terrified that he's going to do something that is so offensive that it's going to bring everybody down," Huddy said. "He's come really close a few times. He's the devil in the deep blue sea. They're terrified of him but they can't lose him. If they lose him, they know they're fucked. And they don't have a Roger Ailes to call him in and kick his ass."
Definitely some in-group activity there.
Segue
h ttps://www.thewrap.com/john-huddy-juliet-huddy-bill-oreilly-fox-news-lawyers-up/
John Huddy, a former Fox News correspondent who was fired after his sister spoke out against Bill O'Reilly, has hired a lawyer, he told TheWrap.
Huddy, who worked in Jerusalem, was terminated on Oct. 23, the same day his sister, former Fox News anchor Juliet Huddy, talked about her experiences with O'Reilly to NBC's Megyn Kelly. Juliet Huddy settled a sexual harassment suit against O'Reilly earlier this year.
You can be legally fired if your sister talks smack about your employer. You can definitely be fired if she airs dirty laundry against one of your employees. I'll guess that Huddy was asked to rein her in and instead…
"At this point I'm retaining a lawyer to fight Fox's false accusations," John Huddy said. "In my experience at FNC and to my knowledge I have never seen someone summarily fired the way I was. What I have seen is Fox renewing the contracts of people accused of sexual harassment, assault, lewd behavior and fabricating stories."
That's because accusations are neither convictions nor inconvenient sisters. This article was dated 2017 so I don't think Huddy's lawsuit went anywhere.
That's how you do it. Never Cuck. Never appease.
But the lower-ranking troops, especially those working for the website, haven't exactly fallen in line.
SJW alert! Low-level employees who hate their employer yet insist upon staying inside the organization! Why would they do that, I wonder? Does it rhyme with "subversion"?
Some digital staff have expressed discomfort at the increasingly rightward tilt of the site. Multiple network insiders told The Daily Beast that staffers have felt uncomfortable putting bylines on thinly sourced stories, including several pre-election pieces aggregating the New York Post's questionable reporting on Hunter Biden. "Staffers did not want their byline on Hunter Biden because it didn't stand up," a current employee said. "It could be a career-killer."
Career-killer, yes. But the evidence against Hunter Biden… and his father… of treason, bribery and drug trafficking is absolutely legit.
And yes, it rhymes.
"The digital staff has no respect for Porter," said another current Fox News employee. "They see him as someone who is driven by everything that is antithetical to real journalism—snubbing truth for distortion that furthers an ideological agenda, prioritizing factory-scale productivity over quality that you get only through taking the time to confirm, to check, to challenge information and then writing and rewriting it to ensure a balanced and fair presentation of that news, and echoing the cable channel's Republicans-are-always-right mantra."
Then absolutely, they should get shat out their organization with all the ceremony of a Taco Bell indulgence. I'm impressed. Fox News is taking anti-SJW measures that are devastatingly overdue. Whether Berry is an ally or not…