Watching Trump's response to the astonishing election fraud has been quite the test of faith for me. Not in the sense that he's my savior or a decent human being or anything so mush-brained. The classical definition:
"Now faith is confidence in what we hope for and assurance about what we do not see." Hebrews 11:1
I had faith that Trump would beat the election fraud. With his massive ego on one side and Unilaterally Assured Destruction on the other side, there was no other possible outcome. I even reassured some of my readers that Trump surely had this. The only reason I didn't put cash money on Trump remaining Prez was professional ethics in the workplace.
It was a hard test of faith. At every point short of giving up, Trump cucked. He kept trying to make backroom deals. He authorized the Biden transition team. He ignored his supporters' worries. His SCOTUS choice backstabbed him. His Vice President backstabbed him. Trump still identified as a Republican. I did not despair. Trump had, he simply HAD to know that his choice was Death Or Glory.
And then…
Ralph Northam Sending Virginia National Guard to D.C. amid Chaos
h ttps://www.breitbart.com/politics/2021/01/06/ralph-northam-sending-virginia-national-guard-to-d-c-amid-chaos/
Virginia Gov. Ralph Northam (D) announced Wednesday that he will send the state national guard to Washington, DC, amid chaos and protestors entering the Capitol building.
"My team and I are working closely with @MayorBowser, @SpeakerPelosi, and @SenSchumer to respond to the situation in Washington, D.C. Per the Mayor's request, I am sending members of the Virginia National Guard along with 200 Virginia State Troopers," the Virginia governor wrote Wednesday.
The coup begins as the Deep State orders the military into the streets. I still had faith…
The announcement follows as Donald Trump protesters stormed the Capitol building to object to the 2020 presidential election certification.
White House press secretary Kayleigh McEnany said Wednesday that Trump ordered the National Guard to D.C. to reestablish order.
The counter-coup. This has been TOO LONG in coming. I still had faith…
"At President @realDonaldTrump's direction, the National Guard is on the way along with other federal protective services. We reiterate President Trump's call against violence and to remain peaceful," McEnany wrote.
WHAAAT?!
"Please support our Capitol Police and Law Enforcement," Trump wrote [on Twitter]. "They are truly on the side of our Country. Stay peaceful!"
Trump added later, "I am asking for everyone at the U.S. Capitol to remain peaceful. No violence! Remember, WE are the Party of Law & Order – respect the Law and our great men and women in Blue. Thank you!"
FUUUUUCK
Trump ordered his supporters to stand down at the exact moment he needed them most. Did he ever want supporters or did he just enjoy the parades while trusting his political connections for the realpolitik? What was he expecting his supporters would do when he didn't let any of them in on what his plans were?
Other prominent Republicans, such as Sen. Rand Paul (R-KY), called on protestors to stop the violence.
"Violence and mob rule is wrong and un-American, and it will not bring about election reform," Paul said. "Today's mayhem sets back any intelligent debate for a generation. Just stop it."
It would be a mistake to opine further on a developing story of this magnitude. Suffice to say, I had faith that Trump at least wanted to survive right up until he told his supporters, at the moment they were storming the Capitol on his behalf, that he was ashamed of them.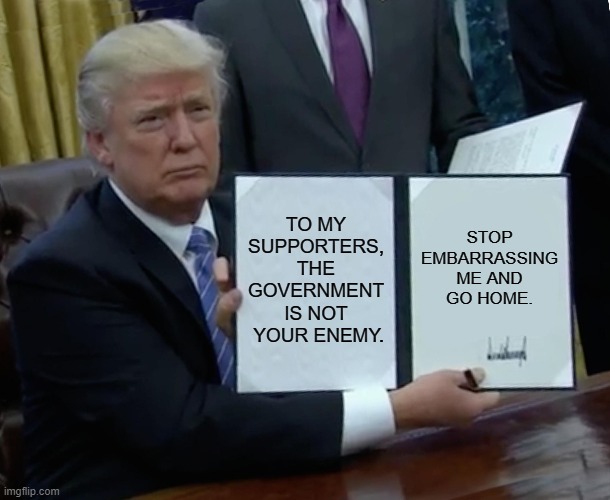 He wants us to Trust the Plan, I guess, but I don't trust Trump anymore. Not even to save his own neck.
Couldn't Year 2021 go a single week without breaking my heart?