It's year 2021. How long can 'Murican cities go until… oops… Baltimore just had its first murder on Day 1. So much for New Year's Resolutions. Hmm, a lesbian darling of the Sundance Film & Pedo Festival broke though the glass ceiling of an all-male outlaw biker gang to set a positive example, then murdered her lover. You just can't make this up.
Let's start with the heartwarming story (and theatrical release) of "Pug".
12 O'Clock Boys' Eric Blair takes Baltimore audience behind the scenes
h ttps://baltimorepostexaminer.com/12-oclock-boys-eric-blair-takes-baltimore-audience-behind-scenes/2014/03/01
By Anthony C. Hayes, 1 March 2014
It's been called "The Wire with wheelies", and for those who had a chance to see the gripping film 12 O'Clock Boys this week at the Charles Theatre, that description might well carry along with it a bag full of mixed emotions. How was this film shot? Who are these outlaw riders? Why doesn't the city stop them? Why would anyone make a film which seems to glorify this lifestyle?
Nobody in Current Year is asking any of those questions. Least of all, the residents of Baltimore.
Eric Blair, the producer of the film, addressed some of those concerns yesterday morning during an hour-long behind-the-scenes talk at the Eubie Blake Center in Baltimore. Blair's presentation was the latest installment of the new Creative Mornings Baltimore series.
12 O'Clock Boys is a documentary which looks at the outlaw street dirt-bike culture which permeates some of the poorer neighborhoods of Baltimore City. The film is currently the second most popular documentary in the world. It is also the tenth highest rated independent film.
The film is unique as well in that it is a hit simultaneously in both theaters and video on demand.
Not unique in its glorification of gang life.
While the film features shots of more than a hundred riders, the story revolves around a precocious boy named Pug; his mother Coco; and Steven – a man in his thirties who is seen as a sort of patriarch to the urban riders.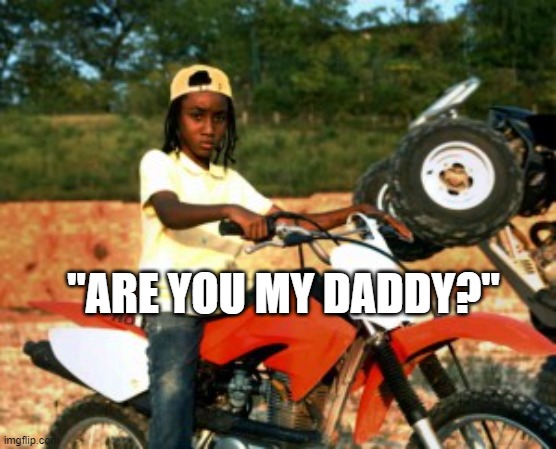 Blair told the audience, "It was a four-year journey to make this happen. Coco and Pug were pretty courageous in allowing us to show their lives on screen." (During the course of filming, Coco's 18 year old son died from an asthma attack.)
Not COVID? Oh wait, this was 2014. They had asthma back then.
Pug was only 11 when he became the center of the story. "Lotfy was shooting a lot of footage around town, and Pug just sort of rose up from the crowd; trying to do wheelies on his bicycle," Blair said.
The bicycle wheelies, of course, are nothing compared to the heart-stopping images of the dirt-bike riders doing wheelies straight up – or at 12 O'Clock.
The more ephemeral shots – presented in slow-motion – were filmed from the back of a pick-up truck.
That would have been my first guess and I haven't even seen the movie. Don't plan to. There's nothing glorious about an 11yo boy trying to join a ghetto biker gang via death-defying stunts in traffic.
"The Phantom scenes were highly composed and choreographed. It was a tightly controlled process to be safe, especially for Pug. Pug was very involved in the process, as both a rider and as an actor. I learned that showing Pug and the other riders the footage was very helpful in explaining the process to get them to go along and hit their marks."
That, and books with pictures. Public ed-zoo-cation meets human biodiversity. The other documentary!
For safety, Blair also made sure his crew was securely strapped into the back of the truck. "We did everything we could to do this professionally, including taking out a 2 million dollar insurance policy."
Only professionals take out life insurance policies on their employees?
Anyway, Annie Oakley decided she could do it better because she's not a boy.
In popular – but illegal – Baltimore dirt bike scene, female rider makes waves
h ttps://www.baltimoresun.com/maryland/baltimore-city/bs-md-ci-wheelie-queen-female-dirt-bike-rider-20141107-story.html
By Justin Fenton, 7 November 2014
The 85-cc engine of the Honda dirt bike belches as the bareheaded rider accelerates down Fayette Street through West Baltimore.
With a bicep tattoo of a 12 O'Clock Boy — a rider holding a wheelie, straight up — the biker leans forward, pulls on the handlebars, lifts the front tire high in the air, and keeps the pose steady as the bike glides out of view.
The rider's name is Keyria Doughty. Around here, she's known as the "Wheelie Queen."
This 12 O'Clock Boy is a girl.
Just when you think ghetto culture reaches its bottom, it goes feminist.
Doughty, 20, is one of only a few females to break into dirt bike riding on the streets of Baltimore, the homegrown, male-dominated subculture that's gaining in popularity — despite the efforts of police and lawmakers.
I miss the word criminal. It was gone too soon.
Bikers have been cruising — some say terrorizing — the city for at least a generation. They are a chief complaint at community meetings, where residents complain of packs roaring in and out of traffic, through red lights and across medians.
The activity has been illegal in Baltimore since 2000, when two riders were killed in a crash and fed-up city leaders took action.
"There's nothing positive that can be said about that," said state Sen. Catherine Pugh, who pushed for the ban as a member of the City Council. "There's places where you can ride dirt bikes; the streets of Baltimore aren't it. You can't scare people in the street."
Pugh went on to become mayor, write a series of childrens' books and get caught in a money laundering scam so blatant that not even Baltimore could ignore it.
https://gunnerq.com/2019/04/09/physiognomy-baltimore-book-fraud/
But neither the prohibition on street riding nor related measures — a ban on filling the bikes at gas stations, a law that allows police to seize unlocked bikes, a tip line residents can call to turn in riders — have dimmed enthusiasm for the pastime.
The cure to law enforcement? PUBLICITY!
A documentary on the 12 O'Clock Boys last year won acclaim on the festival circuit and airs on Showtime. Videos on YouTube and Instagram are carrying the riders' exploits to an international audience. A recent Sunday ride through the city drew participants from five states.
Bikers say riding is a constructive activity that keeps young people out of trouble. One of their slogans: "Put down a gun, pick up a bike."
It makes sense that blacks being less cerebral, are more physical. That still doesn't explain or excuse the compulsion to break American laws.
Into this subculture comes Doughty, a Baltimore native who got her first bike at 11. She's one of a few women to try to ride with the Boys.
Most of them skip the bike and just ride the Boy. Where's Daddy?
Her mother thinks riding helped her cope with the loss of her father, who suffered an aneurysm in 2009.
"She's not over the death of her father," said her mother, Latarsia Barksdale. "He was always in her life from day one, since she was born."
After Jarvis Doughty's death, Barksdale said, "she didn't care no more. She was getting in trouble. I said, 'Your father don't want to see you like this. You have to step up and be strong for your other siblings.'
A severe injury at one point caused her to stop riding. She was riding a four-wheeler in the spring of 2013 when it came down awkwardly on a concrete bench. The impact knocked her wrist out of place.
At that point, she had yet to master the wheelie, and getting back on a bike wasn't a priority.
Later that year, she found the motivation to climb back on: A female rider she knew was posting pictures of herself riding a dirt bike.
"My homeboys were like, 'How can you let her do this? You've been riding longer than her,' " she said. "It was in my head — there's a girl beating me, and it's something I've always wanted to do.
"Once it was in my head, it was stuck, and it wouldn't go nowhere."
Attention whoring. Although the boys suffered that problem, too.
She got back on the bike and started practicing regularly at Carroll Park. By June last year, she says, she was able to wheelie. Now it's something she can't imagine not doing.
Her mother calls her "awesome."
"I'm really proud that people are looking at her, complimenting her," Barksdale said.
Submissive housewife, bah! Pop a wheelie and…
Wheelie Queen of 'Charm City Kings' charged with stabbing girlfriend; defense attorney says actress tried to save ex's life
h ttps://www.baltimoresun.com/news/crime/bs-md-ci-cr-wheelie-queen-charging-documents-20210104-ts7ixt2k7feubkcasec574cmbe-story.html
By Tim Prudente, 4 January 2021
In the days before her death, Tiffany Wilson tried to break up with the actress and Baltimore dirt bike rider Lakeyria Doughty, the "Wheelie Queen."
Wilson, a 33-year-old Baltimore chef, sent text messages to Doughty asking for the keys back to her apartment, police said. Wilson repeatedly told Doughty to leave her alone.
Then on New Year's Day came a frantic phone call to 911. Doughty told the operator that Wilson had stabbed herself with a kitchen knife.
But officers charged Doughty with murder, writing in court documents that the medical examiner determined Wilson could not have stabbed herself.
That determination led Baltimore District Court Judge Mark Scurti to order Doughty held without bail Monday. Her defense attorney had urged the judge to release the actress, saying she didn't kill Wilson but tried to save her life by performing CPR and calling for help.
It's already down to assault/deadly weapon per Faux News.
Attorney Andrea Jaskulsky said Wilson felt down on herself in the preceding days.
"My client's position is I didn't do anything wrong. That this was a self-inflicted wound. I tried to save her," defense attorney Jaskulsky told the judge.
The 26-year-old Doughty is well known among Baltimore's dirt bike riders and appeared in the HBO movie "Charm City Kings." The film debuted at the 2020 Sundance Film Festival and won acclaim for its authenticity. Her attorney said Doughty is supposed to star in a TV adaption of the film.
She a goot boy! G'wan to college!
Doughty is regarded as a pioneer for breaking into Baltimore's male dominated 12 O'Clock Boys dirt bike crew. In a 2014 profile in The Sun, Doughty said she wants to set a positive example for Baltimore youth. She graduated from Frederick Douglass High School in West Baltimore and held a steady job at a senior care facility before her career as an actress. In her early riding videos, she stops at the red lights.
The real red light was taking work as an actress.
"People underestimate people, and I feel as though they shouldn't do that," she told The Sun. "You should never let nobody tell you you can't do something. I just want to get it out there: I'm a girl, and I'm doing everything you doing."
Up to and including homicide. I'm shocked that a fatherless girl who made a point of cross-dressing and hanging out with outlaw bikers ended up a lesbian murderess.
Doughty told officers of other text messages that were not confrontational. Still, police wrote that they found a history of domestic violence between the two women.
Wilson's death was Baltimore's first homicide of 2021.
You go, girl! You go to jail.