(SFW) Modern hooking-up is easier than ever now that kissing is outlawed in order to better accommodate face masks. It's the law: don't waste time on acting romantic!
College says to 'avoid kissing' during sex to help stop COVID-19
h ttps://www.campusreform.org/article?id=16450
By Mckenna Dallmeyer, 17 December 2020
The St. Olaf College Wellness Center posted a flyer on campus urging students to "avoid kissing" during sex in order to reduce the transmission of COVID-19.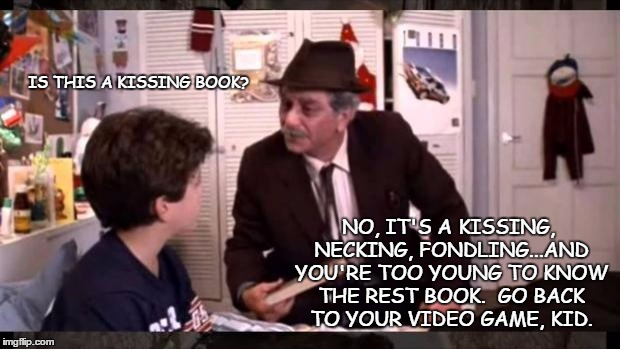 Campus Reform obtained a photo of the flyer, which was posted on the Minnesota campus.
Shouldn't the "S" in FRIES be "sober"? But then it wouldn't be "Enthusiastic". And whoever thinks sex is reversible, is not informed.
Anyway, it seems that I've been doing sex wrong… but is it the "partnered sex" step or the "good mental sex hygiene" step? Not sure how to have both at the same time with modern chicks.
Ways To Lower Risk Of Transmission During Partnered Sex:
Meaning COOF-19, not herpes, hepatitis, syphilis, gonorrhea, crabs, warts, GRIDS, baby traps or I just remembered why I don't want sex anymore.
1. Avoid kissing.
2. Reduce your number of sex partners.
N count doesn't work like that. Wait, does murder lower N count? Aww.
3. Use barrier protection [such as dental dams].
Wouldn't that be redundant with face masks? Speak of the clothed devil…
4. Wear a mask during sexual activity.
It was going to be a bag over her head, but okay. Wait, that's GENIUS! I take a cloth shopping bag… cut eye holes in it… it counts as a face covering until after I've made my purchase!
5. Steer clear of [visibly sick partners].
How stupid do they think we *hic* college freshmen, right.
6. Fill out the necessary paperwork.
That last is my summation of the rest. But let me quote my favorite line:
Are you and your partner consistently complying with all preventative safety guidelines, including social distancing?
They actually said it.
The song was wrong. It's guys who just wanna have fun. Girls… want us to NOT have fun.