It's not news anymore when a PhD Christian is wrong about human sexuality, but it takes a special kind of stupid to call out Biblical passages that prove the expert wrong while doing so.
One of the Biggest Lies Christian Men Believe About Sexual Sin
h ttps://www.charismanews.com/politics/opinion/83341-one-of-the-biggest-lies-christian-men-believe-about-sexual-sin
By Dr. Doug Weiss, 15 November 2020
Picture taken from his own website.
The biggest lie I have heard among Christian men about their [online] sexual addiction is that "it's not hurting anybody else." Nothing could be further from the truth of God's word or His heart.
Actually, there's a LOT of truth to that. No women are being harmed besides the legal-age participants. No bastards are being made, no diseases are being spread and no marriage vows are being broken.
Your choices when it comes to sexuality affect everybody in your life, either for good or bad.
Fact, they don't. Ask my coworkers how scandalized they've been with my porn habits that they never knew about.
How many of us have felt pain or sadness over our Christian leaders, singers and speakers when they went sexually astray? They damaged not only their lives, but also the lives of their spouses, their children and those with whom they involved themselves.
Not me. When I see a pastor resorting to porn, I feel pity that he suffers the predations of his Arctic shrike of a fishwife together with schadenfreude that he deserves it after choosing to make reenactment of Original Sin his life's work.
Sometimes I even see it coming. But what can I do, warn Pastor to strengthen his pimp hand before the thirst gets intolerable?
I want to show you how your sex affects others to a deeper level. I believe within every man is a God-given disposition to protect. A man cannot stand by and allow an outsider to hurt anyone he truly loves. This is exemplified in the relationship between a man and his daughter.
Excellent. Doug didn't waste my time, he went straight for the Electra complex! And in Churchianity, Electra is a "do" rather than a "do not".
He will protect her above all, and he will protect her intuitively and valiantly. He will be her hero. It's in all of us men to be this for her.
Biblically speaking, he will trade her away for a son because sons are valuable. *Points at Mosaic Law*
Your daughters will be directly affected by your personal sex life. This effect can be for the good if you have sexual integrity. Her mother needs to have the appropriate conversations with her regarding her sexual development so that she can understand the changes taking place in her life and the boundaries that God has for her sexuality.
Get real, Doug. Modern women are too busy teaching Scripture to men to also teach the Biblical boundaries of "respect and obey your husband and enjoy him in your youth". To say nothing of her own youthful harlotry and poor marital example.
But if you are not keeping God's boundaries for your own sexuality, I doubt that these conversations will have much depth, integrity or conviction. Guilt over your private sex life with yourself or others will prevent you from being an optimal father. For those who find themselves addicted to porn or the Internet, these issues are of grave importance.
Men disobey God… women most affected!
Your daughter might not see you check out that waitress or jogger in an inappropriate manner.
*giggle* Sorry. Inside joke that won't age well.
On a serious note, we see here that Doug's problem with male sexuality is that it persists in ways that aren't useful to Mommy. Normal men, an increasingly rare breed, understand that checking out the occasional ass is a hardwired reaction and not at all on the same level of serial adultery.
Indeed, throughout this article Doug refuses to make a distinction between a frustrated husband resorting to porn, an innocent catcall at a chick walking by and a pastor committing adultery for all to see. Men without a woman in their lives at all?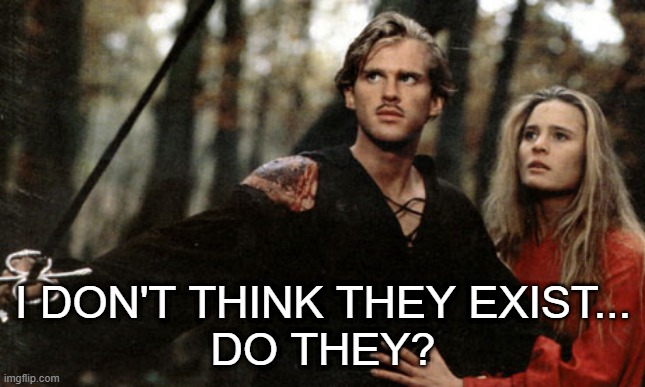 She might never come across your secret porn stash. She might never see you spend hours upon hours every week flipping thru channels so you can ogle women.
She might never notice the lack of affection you give your wife because she is not like the pinup girl you've seen, although she may be.
Cucks do enjoy arguing against themselves. "You sin affects everybody! even though they might never notice it."
Wake up, Christian men! God Himself addressed the issue of our sexuality and the effects on our daughters in Hosea 4:10-14 (NIV), " Because they … give themselves to prostitution … a spirit of prostitution leads them….astray; they are unfaithful to their God…Therefore your daughters turn to prostitution and your daughters-in-law to adultery."
He goes on to say that God will not punish the daughters because it's the men who have committed the sexual sin of prostitution. (see vs. 14)
Wow. The bitch is strong with this one. "I slept around, Daddy, and my bad behavior is so much your fault that God Himself won't even punish me!" This while quoting from a book about a prophet of God forced to marry a shameless prostitute for his wife, to represent the nation's unfaithfulness to Father God.
That's not just wrong, that's 180 degrees from right.
Let's start with that hideously cut & pasted Bible quotation. Chapter 4 is a charge against the nation Israel, as noted in verses 1-2: "Hear the word of the Lord, you Israelites, because the Lord has a charge to bring against you who live in the land: "There is no faithfulness, no love, no acknowledgment of God in the land. There is only cursing, lying and murder, stealing and adultery; they break all bounds, and bloodshed follows bloodshed."
Let's begin.
Verses 10-12:"They will eat but not have enough;
they will engage in prostitution but not flourish,
because they have deserted the Lord
to give themselves to prostitution;
old wine and new wine
take away their understanding.
My people consult a wooden idol,
and a diviner's rod speaks to them.
A spirit of prostitution leads them astray;
they are unfaithful to their God."
As with the early chapters of Hosea, prostitution is used here as a metaphor for Israel's unfaithfulness to God. Prostitution itself is not the topic. Unfaithfulness to God is the topic.
Verse 13:"They sacrifice on the mountaintops
and burn offerings on the hills,
under oak, poplar and terebinth,
where the shade is pleasant.
Therefore your daughters turn to prostitution
and your daughters-in-law to adultery."
We have seen the truth of this in recent decades. Frauds like Doug Weiss worship false gods (in his case, Feminism… or Jezebel if you prefer) and as a direct result, the next generations of women run feral.
Verse 14: "I will not punish your daughters
when they turn to prostitution,
nor your daughters-in-law
when they commit adultery,
because the men themselves consort with harlots
and sacrifice with shrine prostitutes—
a people without understanding will come to ruin!"
You can see why Doug was excited to find this verse. Applied literally, however, this violates the entire rest of Scripture's teachings about guilt as well as condemns Hosea for consorting with a harlot as ordered by God.
Because the context is the nation Israel's disobedience, we can see in history that God eventually restored them from punishments such as the Babylonian exile. That's all that this is… God rejecting the concept of generational guilt. Jeremiah 31:29-30 "[Declares the Lord,] "In those days people will no longer say, 'The parents have eaten sour grapes, and the children's teeth are set on edge.' Instead, everyone will die for their own sin; whoever eats sour grapes—their own teeth will be set on edge."
Dough Weiss, PhD is a lying fraud of a Christian. He used the picture of Gomer's unfaithfulness to Hosea as an example of Hosea being a bad man! Which was the total opposite of the message God was trying to get across when He ordered a righteous man to marry a skank-whore in the first place!
Back in Hosea's day, they didn't have Playboy magazine, the Internet or chat rooms. They only had prostitutes. These modern-day sexual sins are of the same spirit.
Doug, you JUST quoted from a chapter of Hosea that discussed idol worship! And men have been drawing bawdy pictures since the day we learned to draw. First we drew a stick figure, then we drew him with a big-ass spear, then we drew him humping the ugly stick girl, then we threw rocks at each other.
I wasn't there but tell me I'm wrong.
They suck the spiritual life and power right out of men. So many men I know personally did not reach their destiny in Christ because of engaging in this modern spirit of prostitution.
So many clergy think God has a special love for them because they draw a paycheck in His name. "I used to be a no-name dirt farmer like you. Then GOD CALLED ME to attend seminary instead of being drafted for Vietnam!"
We need to rise up as New Testament saints and realize our sexuality is the issue. You don't get away with a secret addiction to Internet porn, self-sex or adultery.
As I said, Doug refuses to distinguish between appreciating a hot chick and breaking a marriage vow.
What you do with your sexuality can create havoc in your children's lives. You don't get away with sexual sin.
That is not men's motivation for using porn. Their motivation is either wifey refusing to put out or increasingly, no chance for a wifey at all.
If you're struggling with sexual sin or addiction, get accountable. Start walking in God's truth in your sexuality. If you won't do it for yourself, do it for your daughter.
If a sexual temptation comes toward you, picture your precious little daughter crying because you let her and her mother down. That picture is stronger than any list could ever be.
Ohhh, Doug wants to compare pictures? Eye bleach warning! Here's a picture of the Modern Woman let down by her husband being more attracted to an inanimate picture than her body: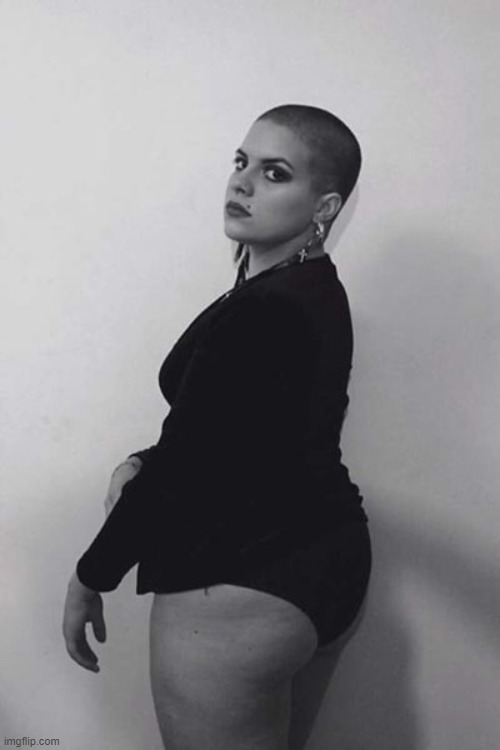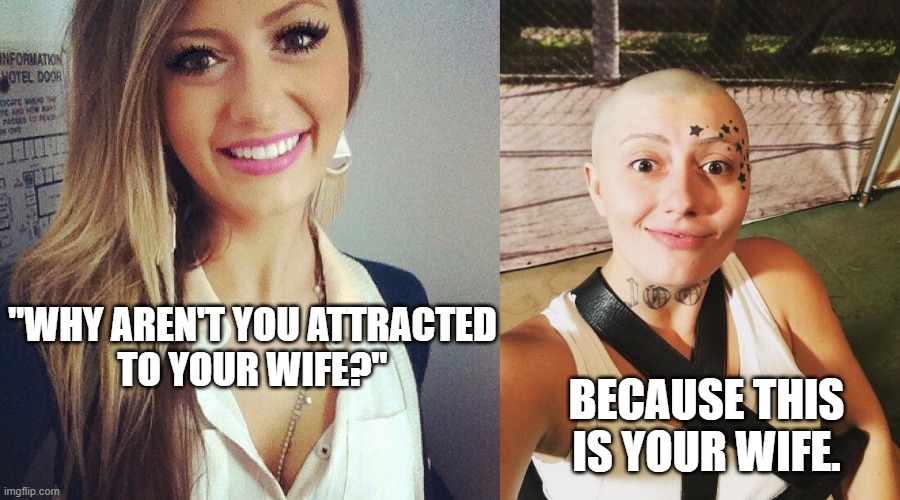 I made a covenant with my God when I held my daughter as a baby not only to protect her with all my being and strength, but also never to shame her. I promised God that the spirit of adultery and divorce that goes up my family tree for as far as I can see stops here with me. In Christ, with accountability (see James 5:16), you can get and stay free.
I pray that you will see the damage your private actions can have on those you love most.
I close with a special hate for Doug Weiss invoking the taboo of child sex against the entire male sex drive. There is a special curse upon people who call something good, evil, and male sexuality was created by God. Instead of trying to suffocate masculinity with every tool of shame that can be grasped, the Church should be training its "somebody's daughters" to be the loyal young wives of young men.