Jerry Falwell, Jr. is currently the subject of an obviously political, yet deserved scandal. However, it spirals into the history of the Moral Majority movement's founder. There is one picture that while technically safe for work, is creepy AF.
A little background. Forgive me if my editing is a little off, there was a lot to process.
Jerry Falwell Jr. Put On 'Indefinite Leave' From Liberty University After Latest In Long String Of Scandals
htt ps://www.forbes.com/sites/jemimamcevoy/2020/08/07/jerry-falwell-jr-put-on-indefinite-leave-after-latest-in-a-long-string-of-scandals/#342e0b37319a
Jerry Falwell Jr. agreed Friday to take an "indefinite leave of absence" from his roles of president and chancellor of Liberty University at the request of the Board of Trustees after he shared a provocative, now-deleted vacation photo on social media, the latest in a series of scandals for the evangelical leader.
We'll get to the pic but the key here is "series of scandals" dating back to 2012. Why are all these scandals only blowing up now? Spoiler: Junior was an early Trump supporter in 2016. But I'm getting ahead of myself.
Falwell began stoking controversy shortly after he took over as president of Liberty University, one of the world's largest conservative Christian universities, urging students at a 2015 convocation to carry concealed weapons so they could "end those Muslims before they walked in," referencing a mass shooting in San Bernardino.
Syed Rizwan Farook and Tashfeen Malik went Aloha Snackbar on a combination training seminar and Christmas party. Fourteen dead, most of them shot in the back, pipe bombs failed to explode, RC car wired with explosives didn't work. Sounds right for violent Muslim Arabs.
Segue
https://www.cbsnews.com/news/san-bernardino-shooting-liberty-university-president-jerry-falwell-jr-calls-for-an-armed-christian/
Liberty University President Jerry Falwell Jr. urged students, staff and faculty at his Christian school to get a permit to carry a concealed weapon on campus to counter any copycat attack like the deadly rampage in San Bernardino, California just days ago.
"Let's teach them a lesson if they ever show up here," Falwell told an estimated 10,000 of the campus community at convocation Friday in Lynchburg. While Falwell's call to arms was applauded, his remarks also seemed to target Muslims.
Forbes blatantly mis-stated Falwell's words.
Following the San Bernardino shootings, which left 14 dead, Falwell said he began carrying a .25-caliber handgun in his back pocket. He said he's had a permit for more than year.
A .25 to defend the innocent from up-gunned jihadists?
During his address Friday, Falwell mentioned the weapon and reached around seemingly to fetch it.
"Is it illegal to pull it out? I don't know," he said, laughing, drawing some hoots from the audience.
How unprofessional. While I appreciate the stand he took, Falwell didn't act like a serious ally of gun rights.
End segue
As controversy swirled around Falwell's business dealings involving a young pool attendant in Florida, photos emerged of the Liberty president and members of his family partying at a Miami Beach nightclub in 2014; Falwell dismissed the allegations, which don't line up with the school's standards for students barring co-ed dancing and drinking, saying the images were photo-shopped (though the photographer published more the next day).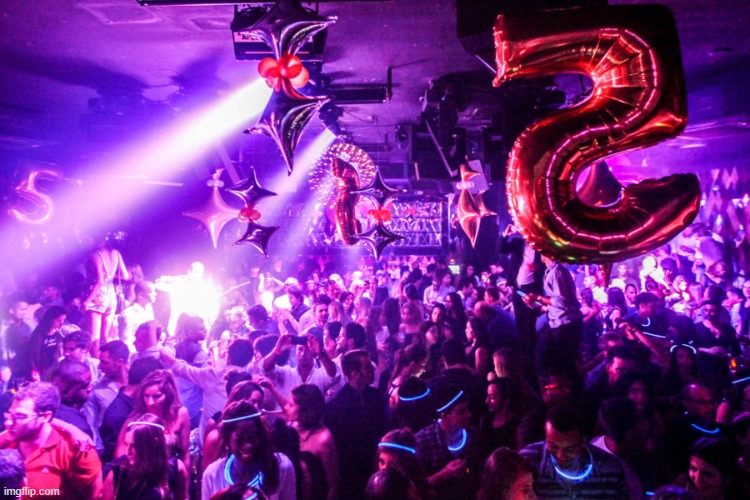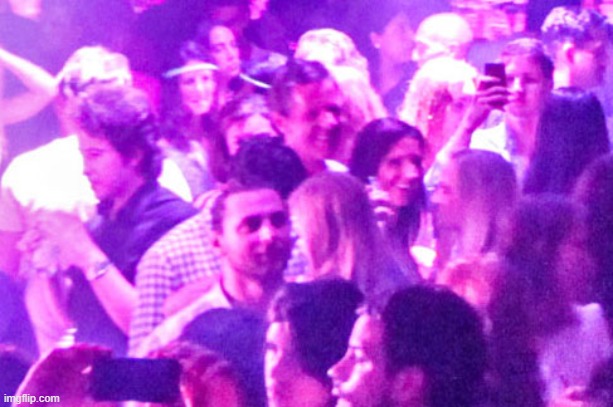 "The Wall" Miami nightclub. Pictured are Trey Falwell, Jerry Falwell Jr., Becki Falwell, & Wesley Falwell. These pictures were made publicly available and sourced from
htt ps://worldredeye.com/2019/09/rebuke-jerry-falwell-jr-s-comment-politicos-someones-gotta-tell-freakin-truth-jerry-falwells-aides-break-silence-article/
The photographer, Seth Browarnik, founder of the World Red Eye photo agency, didn't even know he had these pictures until Politico Magazine showed up. He took it as a personal offense that Junior accused him of photoshopping evidence and graciously made these public to prove his innocence.
So, Junior gives the impression of being a blowhard and pervert who is also closely tied to Trump, going back to Trump giving the 2012 graduation address at his Liberty University. Inevitably, Junior went one scandal too far:
Falwell landed in hot water once again this week after posting a photo of himself on a yacht while on vacation with his pants unzipped, midriff hanging out, a drink in hand and his arm around a woman.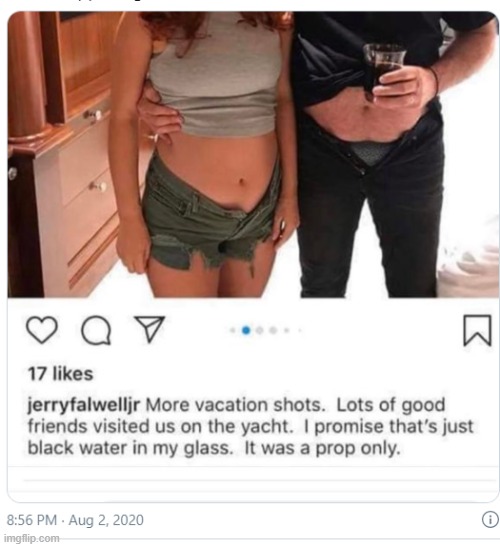 I warned that it was creepy. That's not his wife his arm's around… and she's reportedly pregnant.
Where did that line about "black water" come from? Probably a song lyric: "Oh black water, keep on rollin' Mississippi moon won't you keep on shinin' on meeeee". The party was themed after an exceptionally raunchy show about hillbillies.
It gets even creepier when you think about this and connect some dots. Falwell is a well-known Trump supporter and is well-known in Christian circles. Trump is currently in the reelection fight of his life against opponents who are eager to alienate Christian voters from him. And Falwell intentionally and publicly posts a picture like this on public social media? And then gives an interview like THIS?
Falwell apologizes for unzipped pants photo: 'I'm gonna try to be a good boy'
htt ps://www.politico.com/news/2020/08/05/falwell-apologizes-unzipped-pants-photo-391976
Liberty University President Jerry Falwell Jr. said on Wednesday that he had apologized for posting a photo of him in unzipped pants and arm around a woman — but also defended the incident as a vacation "costume party" that was "just in good fun."
Oh come on. He's got to be a better liar than that.
The now-deleted photo showed Falwell, a leading evangelical supporter of President Donald Trump, with his pants unzipped and his underwear showing beneath, while he had one arm around a woman whose shorts also appeared to be unbuttoned and his other holding a glass with a dark-colored liquid. The photo appeared to be on board a yacht.
The posting — which was quickly withdrawn — drew a sharp backlash and charges of hypocrisy because the evangelical university that he leads prohibits students from having sexual relations outside of a "biblically-ordained" marriage and consuming media with lewd lyrics, sexual content and nudity. The university's policy also counsels "appropriateness" and "modesty" in how students must dress.
He had to have known the truth would come out… but for the truly wicked, the greatest thrill is getting away with it.
"I've apologized to everybody," Falwell said in an interview on the Morningline show on WLNI 105.9FM, a local radio station in Lynchburg, Va., Falwell's home town and that of the Liberty campus. "And I've promised my kids I'm going to try to be — I'm gonna try to be a good boy from here on out."
His son, Trey got Daddy to buy him a gay hostel with Liberty University's money. Link at the end. He hasn't yet acted upset with his gay co-owner of that hostel who literally fucked with his mother for years.
Falwell described the woman in the photo as his "wife's assistant." On his Instagram account, Falwell tagged a picture of the woman as Kathleen Stone, who lists on her Facebook account that she works for Liberty University. A university spokesperson did not immediately respond to a request for comment.
The photo of Falwell appeared to be a parody of the comedy TV show "Trailer Park Boys." The website Pulpit & Pen also published a video, set to the theme music of the show, that shows Falwell and other yacht guests in costume. The video appears to have been taken by someone on the yacht.
Asked about the reference to the TV show during the interview on Wednesday, Falwell demurred. "Whatever," he said. "It was a costume party on a — we were on vacation. And, anyway, long story short it was just in good fun. That's it."
Sounds like Falwell Jr is a swinger/wife-swapper. While other scandals have broken in his recent past, this is the only incident that blew up.
Curious that he accepted a permanent "out" in only two days.
Jerry Falwell Jr. says he was depressed after wife had affair, man blackmailed family
htt ps://www.christianpost.com/news/jerry-falwell-jr-says-he-was-depressed-after-wife-had-affair-man-blackmailed-family.html
By Leonardo Blair 24 August 2020
Liberty University President Jerry Falwell Jr., who is currently on an "indefinite leave of absence" from the Christian college after a series of public embarrassing acts, revealed Sunday that he had been depressed after his wife, Rebecca, had an affair with a young man who then blackmailed his family.
"During a vacation over eight years ago, Becki and I met an ambitious young man who was working at our hotel and was saving up his money to go to school. We encouraged him to pursue an education and a career and we were impressed by his initiative in suggesting a local real estate opportunity. My family members eventually made an investment in a local property, included him in the deal because he could play an active role in managing it, and became close with him and his family," Falwell said in a statement to the Washington Examiner late Sunday.
"Shortly thereafter, Becki had an inappropriate personal relationship with this person, something in which I was not involved — it was nonetheless very upsetting to learn about," he explained.
Falwell did not identify his wife's former lover but previous reports identify him as Giancarlo Granda, the son of immigrants from Cuba and Mexico, who was 21 at the time he met the Falwells. Granda met the Falwells while working as a "pool boy" at the Fontainebleau hotel in Miami Beach. That relationship would eventually result in the Falwells investing in a gay-friendly youth hostel they purchased in 2013 for $4.7 million.
I found pics. The place is a dump. No way, not even by California real estate standards, was it worth five mil.
According to the Miami Herald, the investment led to even more trouble as Falwell settled a lawsuit last October brought by 28-year-old lawyer Gordon Bello for an undisclosed "monetary sum" over the hostel deal. Bello claimed in the lawsuit that he and his father, Miami builder Jett Bello, pitched Falwell on the hostel idea after Granda, a high school friend, introduced them.
Also a Cuban name. Looks like Junior stepped into a real estate scam… but Granda's behavior goes way beyond simple organized crime.
Granda, who flew with the Falwells on corporate jets and traveled to Liberty University in 2012 to meet now President Donald Trump (a keynote speaker at the university at the time), was granted a 25% share in the South Beach real estate deal. Bello argued that he was promised a similar share.
This is the earliest association between Junior and Trump that I could find. While I don't share the Left's Trump Derangement Syndrome, I sense a loose network of cronies held together with lots of real estate backroom dealing.
According to heavy.com, his wife Becki Falwell's father went to prison for $7mil of tax evasion… on real estate.
He further noted that he met Falwell's wife through Granda and formed a "personal relationship" with her before he met the now suspended university president in the lobby of the Loews Miami Beach for the alleged pitch meeting in 2012, the Miami Herald noted.
In his statement Sunday, Falwell explained how he lost 80 lbs after learning of his wife's affair. The couple, he said, "forgave each other, because while her indiscretion may have been more obvious and apparent, I realized that there were important smaller things I needed to do better too."
I won't cover it in detail but Granda reportedly had sex with Becki while Junior watched frequently. Voluntarily or not, hard to say, but Junior clearly has hompedo connections.
'Someone's Gotta Tell the Freakin' Truth': Jerry Falwell's Aides Break Their Silence
htt ps://www.politico.com/magazine/story/2019/09/09/jerry-falwell-liberty-university-loans-227914
By Brandon Ambrosino, 9 September 2019
At Liberty University, all anyone can talk about is Jerry Falwell Jr. Just not in public.
"When he does stupid stuff, people will mention it to others they consider confidants and not keep it totally secret," a trusted adviser to Falwell, the school's president and chancellor, told me. "But they won't rat him out."
That's beginning to change.
With a setup like that, this could be an SJW point-and-shriek. But they go on to talk about money changing hands which is a much more specific accusation than being a rayyypist.
In interviews over the past eight months, [current and former high-ranking Liberty University officials and close associates of Falwell] depicted how Falwell and his wife, Becki, consolidated power at Liberty University and how Falwell presides over a culture of self-dealing, directing university resources into projects and real estate deals in which his friends and family have stood to make personal financial gains. Among the previously unreported revelations are Falwell's decision to hire his son Trey's company to manage a shopping center owned by the university, Falwell's advocacy for loans given by the university to his friends, and Falwell's awarding university contracts to businesses owned by his friends.
"We're not a school; we're a real estate hedge fund," said a senior university official with inside knowledge of Liberty's finances. "We're not educating; we're buying real estate every year and taking students' money to do it."
We're getting the drift and not liking where it's headed. Large sums of money getting moved around the nation in real estate markets by an entrenched false Christian with sex perversions… Pizza Party anybody?
Liberty University says Jerry Falwell Jr. "withdrew" his resignation
htt ps://www.cbsnews.com/news/jerry-falwell-liberty-university-not-resigning-scandal/
By Caroline Linton, Updated 25 August 2020
After hours of conflicting statements, a spokesman from Liberty University said late Monday that Jerry Falwell Jr. had agreed to resign as president of the evangelical Virginia college and from the school's board of directors, but "following media reports about the resignation, withdrew it." The contradictory reports about his status came after Falwell denied allegations of a sexual impropriety involving a business associate.
According to spokesman Scott Lamb, Falwell agreed to resign immediately but then instructed his attorneys to not tender the letter for immediate resignation. The full board of directors will meet Tuesday.
Earlier Monday, a senior official at Liberty University told CBS News that members of the school's board "have been in discussion" with Falwell and expect to make a statement on Tuesday.
Sounds like he was expecting a deal that didn't happen.
Maybe this is what it appears to be at first glance: Falwell got too drunk at a swinger's party, posted something he shouldn't have and couldn't take it down fast enough. I have several problems with this:
Previous scandals were equally bad yet caused him less damage, and he never made permanent concessions as a result… let alone within two days.
He took no precautions to prevent a drunken Tweet. He goes to sea in a yacht for privacy then uploads dick pics to his public account?
He apologized to his sons specifically, not to the Christian university with its uniquely stringent moral code that he has now completely disgraced… and flaunted for the entirely of his leadership.
He is not repentant.
He expected, somehow, to survive this with his office (or at least, its wealth) intact. He went on leave 7 August, right away, but only resigned on 24 August after efforts to remain on indefinite leave.
The timing stinks.
I think Falwell, Jr was offered the ticket. Take a dive, humiliate Trump's Christian supporters and in return, he'll be allowed to feed off the family empire. He was in no position to refuse thanks to his degenerate lifestyle. So he did the pic, made an apology to indicate he'll play ball and then discovered blackmailers aren't honorable.
Comparable to the dive Jim Wallis just took:
https://gunnerq.com/2020/08/20/jim-wallis-bargains-with-the-devil/
I also think his son Trey and his probable lover Granda are the ones who forced this on him. Partly because Sodomites are almost exclusively Democrats and partly because Granda is the most obvious person to have blackmail on Junior. And, partly because Granda made a habit of having sex with Junior's wife while he watched. I'll be proven right if Trey survives in Liberty University leadership.
The disgrace of this just doesn't stop. If Jerry Falwell III was a gay bathhouse operator and Jerry II an utterly shameless sex hypocrite then I have questions about Jerry I being leader of the "Moral Majority" political movement. What'd he do, offer his firstborn son to the devil in return for power?
*checks*
The Vatican, Occupy Wall Street, and Jerry Falwell's Legacy
htt ps://www.americanprogress.org/issues/religion/news/2011/11/02/10595/the-vatican-occupy-wall-street-and-jerry-falwells-legacy/
By Sally Steenland, 2 November 2011
SS: I want to talk about your new book, The Right Hand of God . It's coming out in January and is a biography of the Reverend Jerry Falwell, who created the Moral Majority. When you were researching his life, did you bump into any surprises?
Michael Sean Winters: I did. One was his capacity for friendship with political opponents. There's a very funny episode in the early 80s where one of Sen. Ted Kennedy's staffers signs up to get the Moral Majority report in order to see what was being written about Kennedy. They issue a membership card to Ted Kennedy. This got to the press, and what comes of it is that Kennedy goes to Lynchburg and speaks at Liberty College. But first he goes to dinner at the Falwell's and they become friends. A year later, Sen. Kennedy reads in the newspaper that Reverend Falwell is in Fort Lauderdale. Sen. Kennedy is in Palm Beach and his mother is ill. So he asks Reverend Falwell to come pray with his mother, and he does. They spend the afternoon together at the Kennedy compound. Ted Kennedy ends up writing the letter of recommendation for Jerry Jr. to go to the University of Virginia Law School.
And perhaps most famously, Jerry Falwell sues Larry Flint over an ad parody, and it goes all the way to the Supreme Court. Afterwards, they do this dog and pony show where they go to college campuses to speak about it, each on their private plane. They realize, "Oh, we're going to the same place—why don't we ride together?" They start sharing rides and end up becoming friends. Every time Jerry Falwell would go to Los Angeles, he'd visit Larry Flint—and when Falwell died in 2007, Flint wrote a very moving tribute to his friend. I had no idea Falwell had that capacity for friendship with his political enemies.
High-level enemies of Christ hated Falwell Senior based on his reputation but when they got to know him personally, they became longtime friends. It's a red flag when your sheepdog hangs out with the wolves.
The other thing that really interested me was that he, like many Southern preachers, was a segregationist, and then he flipped. Unlike some, he was very explicit and said, "I was wrong, I apologize." What he never did was say, "Here's what I used to say and here are the biblical verses I used to justify my position. Here's where I now stand in opposing segregation and here are the biblical verses to justify that." It never dawned on him that this switch raised questions about his ability to interpret the scriptures in other areas. Again, this is part of fundamentalism, which is not particularly intellectually agile or curious. You find your position and then you find the proof text, not the other way around.
I already knew he took flak for being a segregationist holdout. I didn't know that he did a 180 with no explanation.
There was not a lot of intellectual curiosity in Dr. Falwell, although he was certainly an extraordinarily intelligent man. I'm glad I never had to debate him. But there was a lack of curiosity. In contrast, go back in the Catholic intellectual tradition, pick a century and there's a fight between the Franciscans and the Dominicans or the Jesuits and the Franciscans. There have always been competing schools which leads to a dialogue that improves the intellectual life of the entire church.
Falwell didn't engage in any sectarian infighting. What he did instead, was mix Christianity with politics:
SS: During the 80s a strong alliance developed between conservative business and the Christian right. It was a powerful match, and many would say it began in the 80s. But you say that Jerry Falwell had been preaching a gospel of conservative economics for decades, so this was not a new thing for conservative Christians.
MSW: Before Falwell got politically involved in the 60s, he would frequently give his Wednesday-night sermons on anti-Communist themes. That's where "American exceptionalism" with a very Christian inflection comes about, and part of that was not only that Communists were godless, but that they were Communists. Falwell contrasts them with the God-fearing, free-enterprise system of Americans. This predates by over a decade his decision to encourage Christian evangelicals and fundamentalists to get involved politically. It was not a leap for him. But it was a leap for pro-business elements to accept evangelicals into the fold.
On issues like abortion, when Ronald Reagan signed a very lenient abortion law as governor of California he did it with the support of Republicans in the state legislature. Democrats, who were largely Catholic, were opposed. All those issues were changing in the late 60s, 70s, and 80s. Falwell himself did not respond immediately to Roe. It took many, many years before he got politically engaged on that.
I don't immediately credit a Leftist's complaint that Moral Majority was all about business… but the shoe fits that Falwell Senior brought the Christian Church onto the Republican false-opposition plantation using the Moral Majority organization.
Paul Weyrich was co-founder of the Moral Majority and a pretty obvious Deep Stater who also founded the Heritage Foundation, so the idea of Moral Majority being a way to leverage the Church into Republican-controllable channels is not far-fetched.
"The idea that religion and politics don't mix was invented by the Devil to keep Christians from running their own country." -Jerry Falwell Sr. Actually, it was the example set by Christ who despite denouncing the Pharisees, never sought worldly power Himself.
"If your wife doesn't treat you as she should, be thankful, you might not like what you deserve." -Jerry Falwell Sr.
https://www.mentalfloss.com/article/21174/8-things-you-didnt-know-about-jerry-falwell
To those who knew him well, Rev. Falwell was known as a consummate prankster. He carried M-80 firecrackers in his pockets, had an extra-loud horn installed on his SUV, and learned to hotwire his associates' cars, drive them several blocks away, and leave them. When we spoke, Falwell admitted placing a stinkbomb under the chair leg of Bob Jones, Jr., then-president of Bob Jones University, at a conference of pastors. "When he sat down, the bomb broke," he said, laughing. "And in a crowded auditorium, it got pretty rank pretty quick. Everyone was choking for ten, fifteen minutes."
That's an astonishingly inappropriate sense of humor.
When Rev. Falwell first met Macel Pate, who would become his wife of 49 years, she was already engaged to Falwell's roommate at Bible college. Undeterred, Falwell wrote her love letters in secret, and when his roommate asked him to mail his own correspondence to Macel, Falwell simply threw the letters away. Within months, Macel had broken off her engagement to the roommate and agreed to marry Falwell instead. Stealing another man's fiance isn't exactly a biblical approach, but all's fair in love and war.
One supposes that this should not come as a surprise, to find the tree near the fallen apple.
Falwell Sr was a psychopathic political manipulator who gatekept the ability of Christians to participate in politics.
Falwell Jr is a sex pervert, fraud, hypocrite and real estate scam artist.
And Falwell III, aka Trey, was co-owner of a gay hostel with the bisexual sleeping with his mother.
htt ps://www.politico.com/magazine/story/2017/08/25/jerry-falwell-miami-hostel-liberty-university-trey-falwell-215528
Inside the Falwells' hostel, the stench of general decay and cigarette smoke is overpowering. Walking to the lobby, Andy and I passed down narrow hallways as spatterings of people milled about, smoking, talking to each other, playing billiards, staring into their phones. There's an ashtray on every table—two at the red bar, above which shone a Miller Lite sign.
As we approached the reception desk, the older of the two men behind the counter cocked his eyebrow, as if to ask us what the hell we wanted. "We're checking in," Andy explained. "Oh," said the younger one, his burly biceps bulging out from his tank top. "Give us five minutes. You can go into the kitchen."
The kitchen was also what you might call the business center: Two computers lined a wall, next to which stood a bookcase with a Bible hidden on the second-to-bottom shelf, buried amid the kind of fiction your fourth-grade teacher might read at the beach. Across from the books was a wall display of Minicards advertising local entertainment and other venues for tourists and offering coupons for their business. One of them caught my eye: a closeup of a redhead with entirely too much eyeshadow, sporting a wide choker around her neck. Tootsie's Cabaret: 74,000 square feet of adult entertainment and FULL NUDITY.
I took a seat at a hightop, and tried to figure out the situation at the only other occupied table in the kitchen. A guy and girl were seated across from each other. The girl stared blankly at the guy, who was very angry at whomever he was on the phone with. I couldn't understand anything he said except a few shouted fucks.
Andy grimaced at the stench of the room. "I have to breathe through my mouth," he said quietly, before heading back to the lobby to check in. Minutes later, he returned holding two frayed towels and a folded pile of formerly white bedding. The employees had advised him that we should go to CVS and buy locks to keep our belongings secure while we slept. There'd been thefts, and management took pains to remind us that they weren't responsible for what happened to our stuff. "Seriously, Brandon, there's a Hyatt just up the street," Andy said.
We made the way to our room, climbing up a narrow green staircase and passing through a hallway straight out of a slasher film—long and narrow, with a dim light flickering at the end of it.
As soon as we unlocked the door, I smelled incense, which masked the unmistakable scent of marijuana. Two guys were conversing in Spanish, while another sat on a lower bunk fidgeting with his fishing rod. Everyone quickly, almost imperceptibly acknowledged us, and we returned the greeting. There were six bunks, two of which were reserved for us. Andy took one top bunk and I threw my stuff on the only other open top bunk, in the opposite corner of the room.
Junior paid $5mil for that property. The article discusses one way that Junior might have been laundering Federal taxpayer funds into real estate purchases.