What kind of female judge would reverse herself with no explanation or even a hearing to rule that a father must not be allowed to protect his son from a child molester of a mother? We can find out thanks to an interview she gave that confirms every single Red Pill Manosphere concept about female nature.
I start with the latest on the story, then how the judge got assigned and finally the interview.
Court axes 'Save James' ruling, mom who wants gender 'transition' for 8-yr-old regains decision rights
https://www.lifesitenews.com/news/court-axes-save-james-ruling-mom-who-wants-gender-transition-for-8-yr-old-regains-decision-rights
By Madeleine Jacob, 12 August 2020
August 12, 2020 (LifeSiteNews) – Yesterday, a Dallas judge took away Jeffrey Younger's say in his son James' medical, psychological, and psychiatric care, giving that power to James' mother, who wants to "transition" him into a "girl." After receiving national attention in October 2019, the bitter parental dispute had ultimately resulted in both parents getting a say in decisions regarding James and his twin, Jude; this ruling effectively reverses that.
The next article discusses exactly what happened between October 2019 and August 2020. Not just China Pox!
James Younger's mother, Dr. Anne Georgulas, will now be able to enroll the eight-year-old in school as a "girl" named "Luna" and subject him to transgender medical procedures. …
Yesterday's ruling effectively reverses Judge Kim Cooks' October order.
Mr. Younger was especially concerned about medical, psychological, and psychiatric decision making as medical records indicated James had been referred to a local gender "transition" clinic and Georgulas was looking to start the process of medically "transitioning" James into a "girl."
But in October, Judge Kim Cooks' ruling found that Georgulas was overly affirming in instances when James supposedly showed a desire to be a girl, including taking him to LGBTQ parades, buying him dresses and fake hair, and enrolling him in kindergarten as a "girl" named "Luna."
Mr. Younger claims that James does not show any signs of wanting to be a girl when he is with James. He shared with the court that he initially allowed James to wear dresses and girls' clothing at his home until he found the girls' clothing in his trash one morning.
Since then, Georgulas' attorneys have challenged Cooks' ruling. They filed multiple motions requesting Georgulas be granted additional rights and exclusive decision-making abilities for the boys.
Too many of my readers PERFECTLY understand what that is like.
Yesterday, Judge Mary Brown, who was appointed to the case in January, granted Georgulas' requests to force Mr. Younger to pay for counseling for James and Jude and attend family counseling. Mr. Younger previously objected to both of these requests as he was not allowed a say in the selection of the boys' counselor or the family counselor.
Go ahead, ask my readers about this kind of behavior the family courts show towards fathers. Let me watch! Who says the Fourth of July can't happen in August?
The "Save James" Facebook page, run by individuals who support Mr. Younger's cause, claims counseling will cost Mr. Younger $5,000 a month, in addition to a $10,000 retainer required by the counselor. Court documents do not specify the cost for counseling or the retainer.
In case it's not obvious, this is pure Anti-Christianity. Human authorities ruling against a father's authority over his children, his wealth and ultimately, his own life… because Eve took a new lover.
Judge Brown's ruling came without the hearing that was scheduled to take place yesterday. There was no explanation why Judge Brown issued her order without the proper hearing.
Inn-teresting. The interview will give this context.
After almost a week in court, in October Cooks had granted both parents, Mr. Younger and his ex-wife Dr. Georgulas, a say in medical, psychological, and psychiatric decisions for James and Jude. If the parents could not agree, a court-appointed parenting coordinator would be the tie-breaker. Now, Georgulas – who supports subjecting James to a gender "transition" – will be in charge of those decisions. Georgulas is not even James and Jude's biological mother; she and her now-ex-husband used an egg donor to conceive the boys via in-vitro fertilization.
How did justice get this twisted? Captain Save-A-Ho!
Judge removed from 7-year-old James Younger case, new judge to be appointed
https://www.christianpost.com/news/judge-removed-from-7-year-old-james-younger-case-new-judge-to-be-appointed.html
By Brandon Showalter, 11 December 2019
The Texas judge who rejected a jury's decision granting conservatorship to a mother intent on medically gender-transitioning her 7-year-old boy into a girl and instead awarded joint conservatorship to both parents has been removed from the case.
No good deed goes unpunished.
A regional administrative judge, a conservative Republican, will soon be appointing a new judge to oversee the ongoing dispute.
YOU MOTHERFUCKING CUCK! Not to be confused here with the child-fucking mother.
In late October, Judge Kim Cooks of the 255th district ruled that parents Jeff Younger and Anne Georgulas would share conservatorship and have equal decision-making regarding the medical and psychological treatment of the boy, and Jude, his twin brother.
Georgulas…
…believes James is a transgender girl and is already socially transitioning him, calling him "Luna," and plans to pursue hormonal interventions like puberty blockers in the next six months to a year.
Two days prior to Cooks' ruling, however, a jury had awarded Georgulas sole conservatorship in an 11-1 decision that elicited a massive public outcry, heightened media scrutiny, an investigation from Governor Greg Abbott, and promises from state lawmakers to outlaw the medical transitioning of minors during the next legislative session.
Promises not kept. More rope, please.
Georgulas' attorneys filed to have Cooks recused from the case because of a Facebook post the judge shared on her personal page, a Dallas Morning News article about her ruling where she added a statement of her own, neither "[the] Governor nor any legislature had any influence on the Court's Decision."
Georgulas' attorneys maintained that by Cooks commenting on the case her impartiality had been compromised, and that "nothing the judge posted was in the best interest of the children in the case or to advance justice, but to simply advance her own political aims," according to The Texan last week.
Logan Odeneal, Jeff Younger's attorney, argued Cooks' actions did not meet the statutory requirement for recusal because her comments were made after the final verdict was issued.
An amicus attorney on the case — appointed by the court to be a third party, neutral voice — agreed with Odeneal, and asked for the motion to be scrapped.
That is the lamest Lame-O excuse to recuse a judge ever.
Last week, Georgulas' team's request was granted.
Judge Tena Callahan, a retired district court judge, recused Cooks from the case. Thus, Cooks will not hear another motion from Georgulas, that the jury's original decision in her favor, be upheld.
Callahan is an LGBT activist.
The lesbian marriage of Patti Fink, left, and Erin Moore, right, on 1 April 2016. Judge Callahan in the middle, presiding. Sourced from http://www.dallasnews.com/opinion/commentary/2017/04/27/is-gay-marriage-a-slippery-slope-to-three-and-four-person-marriages/
So, a pioneering LGBT activist overruling another judge in a high-profile LGBT case was NOT "compromising to her impartiality"?
The fate of James Younger now rests in the hands of Ray Wheless, a regional administrative judge who is a conservative Republican from the Dallas-Fort Worth area. Wheless will be assigning a new judge to oversee the contested case.
We the People of the United States think very little of Conservatives In Name Only.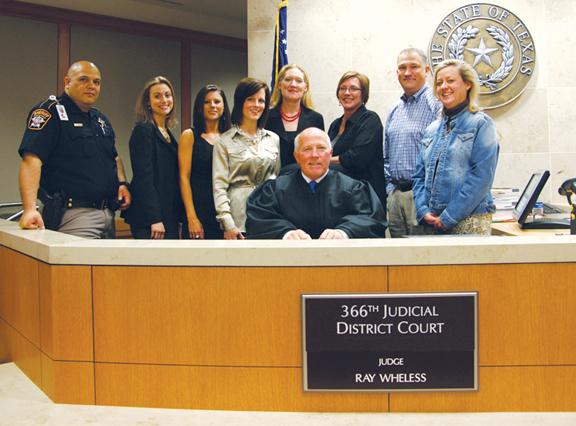 Wheless with his staff. That pic says everything about his beliefs re feminism. Sourced from starlocalmedia.com/planocourier/news/dwi-court-alternative-to-jail-time/article_fd39cdc0-8c74-5225-a8c8-ea63b6a6003c.html discussing Wheless' new no-jail-for-DWI program. Suffice to say, participants who can afford the program are taxed an extra $400 on behalf of the participants who can't.
And now, our feature presentation: the judge he picked to replace the Honorable Kim Cooks.
A Conversation With Judge Mary Brown
11 March 2019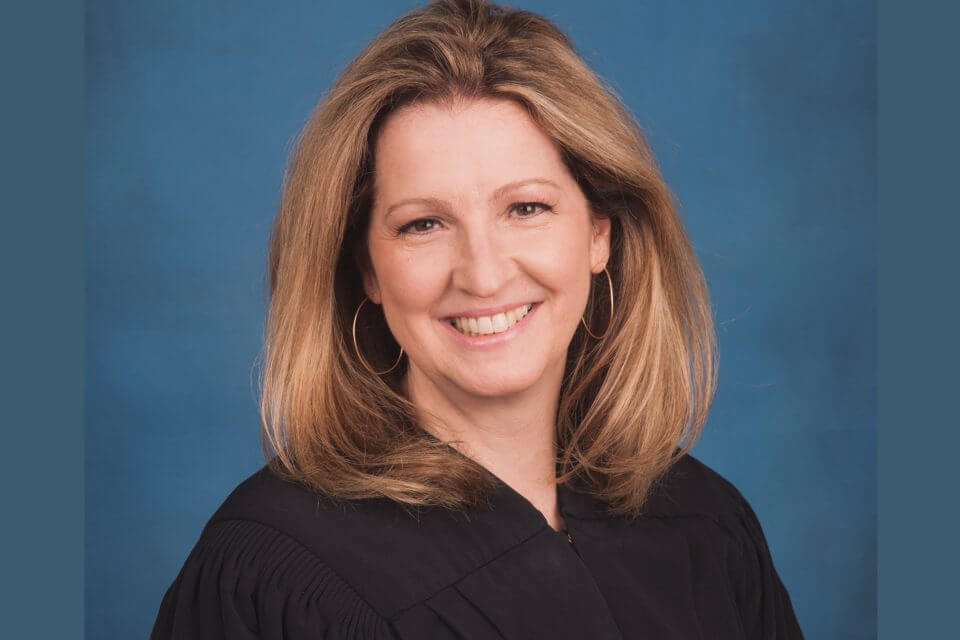 Attorney at Law Magazine Dallas Publisher P.J. Hines sat down with Judge Mary Brown, of the 301st District Bench, to discuss her career on the bench and as an advocate, as well as her perspective on the legal industry.
AALM: How did you transition from your career as an attorney to your career as a judge? What prompted the change?
Brown: Prior to being hired as an associate judge for the Family District Courts in 1996, I worked for the District Attorney's Office representing Child Protective Services in cases where children had been removed from their homes due to abuse or neglect. My office was in the George Allen Courts Building, and all my hearings and trials were held before one of the seven Family District Court judges or associate judges, so the scenery didn't really change at all, just my role.
That's a huge conflict of interest. If Joe the attorney for XYZ Corp. becomes a judge hearing cases brought to trial by XYZ Corp, with his chambers in the same building with the same breakroom as XYZ Corp, probably keeping friends with his former attorneys at XYZ Corp, then favoritism is not just credible but inevitable.
Now replace XYZ with CPS. Nothing has changed… least of all the profit motive.
I had an 18-month old at home at the time…
Unfit mother. Her job is more important than her kid.
…and not having to spend large periods of time outside of work hours preparing for trials was a big positive for me, as was the fact that no longer would my wok consist solely of child abuse cases. In Family Court, I would hear cases involving a variety of issues. Applying for an associate judge position when one became open was a logical next step for me.
She became a judge because paperwork was hard? Hold that thought.
After 18 years as an associate judge, I made the decision to run for the 301st District Bench. I was elected and began my first term in January 2015 and ran unopposed for a second term which just began in January 2019.
I would say that my style in the courtroom is focused on getting things done. I like to think that my rules, written and unwritten, are grounded in practicality.
AALM: Describe your style in the courtroom.
Brown: I would say that my style in the courtroom is focused on getting things done. I like to think that my rules, written and unwritten, are grounded in practicality.
"Unwritten rules" is ominous coming from a woman.
AALM: Describe your relationship with your staff.
Brown: My staff members are the best! But it's not just the court staff that make up our team. The deputy district clerks assigned to 301, as well as the bailiffs supplied by the Sheriff's department, are also crucial members. In fact, we received the Dallas Bar Association's Best Court Staff award for 2018, so it's not just me who thinks they are wonderful. Each member works hard to serve the public and to ensure that the court runs efficiently and effectively.
The "henhouse" style of female management. Cliques in the judiciary are always a bad sign.
AALM: Do you have any advice for attorneys trying a case before your bench?
Brown: The best advice I can give to anyone appearing in the 301st Court is to know what you want and put it in writing. This will help you focus on your or your client's goals and really is a must in order to streamline any proceeding. It will also help the court make its ruling on all the issues presented once the proceeding is concluded.
Remember that thought you held? That Brown became a judge because paperwork was hard? Here, she wants other people (men) to do all the real work so she can fire off a quick decision then go home to play with her toddler.
Shoulda been a housewife, Barbie.
AALM: What drew you to the legal industry?
Spoiler: Daddy issues!
Brown: I began to consider law school late in my senior year of college. After graduation, I was unable to get a satisfactory job in my field of study, which was marketing. I did land a job as a waitress and later moved up to become a bartender.
Shake your moneymaker, baby!
If nothing else, both of those positions fueled my desire to attend law school, and it paid the bills while I applied and was accepted.
No, part-time waitressing did NOT pay well enough for law school.
Throughout law school, and in each job thereafter, I searched for the law job that would best utilize my strengths. After four years, I found the closest match…
Patent law? Torts? Land use?
and that was the job with the district attorney's office representing CPS.
Somebody has Alpha ghosts!
I loved that job, but being a judge is even better.
AALM: What do you love about your job?
Brown: I love being able to help people. Going through a divorce or a child custody proceeding is stressful. While there is very little I can do to prevent that stress, I try not add to it. We try to provide a pleasant, calm environment, stocked with chocolate and plenty of tissue.
*GQ jabs himself with a testosterone autoinjector. Goes to debtor's prison for being male.*
I feel it is part of my job to help litigants gain the tools they need to get through the court process and beyond. This may translate into orders to complete classes or attend counseling. As parents, we love our children, but we may not always know how to meet their emotional needs.
Stop. Sodomizing. Them.
If we can learn some simple solutions that work, well then, problem solved. I get excited about this stuff!
Hormone blockers and sexual surgery on eight-year-olds are never, repeat never, a "simple solution that works".
AALM: Are there any challenges that you believe need to be corrected in the legal community?
Brown: I don't like the idea of any erosion of the right to trial by jury, and I believe that, even in family law, the right to a jury trial is critical. With all its messy parts, trial by jury is still the best option for litigants in certain situations. It is one of the cornerstones of our legal system and provides a crucial check and balance to trial judges. It must be protected and defended.
On the one hand, this sounds good. On the other hand, we've already established that she's lazy.
AALM: What do you do in your spare time? Hobbies?
Brown: For the last 24 years, I have been a working mother, and all my time outside of work was spent on that job. Now that our youngest child is a senior in high school, I have rekindled my love of gardening. I am in the middle of a multi-year landscaping project at my home.
Doing the math, she started her family after becoming a judge. Her job is more important than ALL of her kids!
What male was stupid enough to stick his dick in a sitting CPS judge? Repeatedly, no less?
AALM: Tell us about some of your mentors.
Brown: Every judge for whom I have worked, as well as many of my colleagues, have mentored me, but Judge Dee Miller was my first "judicial mentor," and I have definitely tried to emulate her judicial style and work ethic. Judge Dennise Garcia has also been a mentor to me and is always there for me when I need help or have a question.
Segue
Dennise "Manjaw" Garcia
As per the order signed by Judge Garcia, the father sought to take possession of the children, only to meet blatant refusal by their mother. The father proceeded to report the matter to the Coppell Police, who informed him that they lacked jurisdiction, as the issue pertained to a civil lawsuit. The father then returned home without the children.
The father then received a text message from the mother that said, "Judge Garcia has called the police department and clarified the order." The father relayed the development to Judge Coen, who stated that it would not be possible that any judge would communicate with a litigant ex-parte (that is, with only one party of the case present) or would call the police after-hours or during the weekend, as he had never seen it happen in his numerous years on the bench.
The mother then communicated to the father via email, attaching a "Corrected Order" and a communication from Judge Garcia requesting that the mother instruct the father to appear in court on Monday, September 23, 2013. After refusing to enforce a legally binding court order, altering the content of the order ex-parte and outside of court, and scheduling the subsequent hearing without providing the father an official court summons, Judge Garcia proceeded to file her "corrected" order with the court, thereby again revoking the father's custody rights over his children.
Subsequently, the father filed an Open Records Request with the Coppell Police Department and received a set of audio files demonstrating that Judge Garcia had been in ex-parte communication with the mother and had called the Coppell Police Department, instructing them to not enforce her own order.
The father has since made numerous attempts to get at least some minimum access to his children, but all of his attempts have been thwarted by the associate judges and Judge Garcia.
My sympathy is limited because the father is a Pajeet who should never have been in North America in the first place. That being said, with this witch as a role model it's no wonder that Judge Brown reversed her own decision before hearing Mr. Young plead his case.
End segue.
I think my legal hero, as well as my just plain hero, would have to be my late father. He had the wonderful ability to connect to people and make them feel heard.
AALM: Who is your legal hero and how do you try to emulate them in your day-to-day life?
Brown: I think my legal hero, as well as my just plain hero, would have to be my late father. He had the wonderful ability to connect to people and make them feel heard. He was genuinely interested in people and in helping them when he could. I am not as adept at it as he was, but I do try to emulate his behavior in that regard. He would be proud to know that I followed him, as he had followed his father, in becoming a state district judge in Dallas County.
She failed as a marketing executive, she failed as a bartender, she failed at finding a quality husband, so she played on Daddy to pay her way through law school and give her the judicial firepower to hate all the men who never wifed her up. Just like Daddy!
No review of a slut's life is complete without the Daddy Issues review!
The badthink judge was removed for opposing the Narrative by an LGBT activist. The "Conservative Republican" Save-A-Ho appointed a CPS veteran for a replacement, who originally held the same position then changed her mind after several months of peer pressure from her friends who supported the prosecuting mother. As a direct result, a child is damned to a life of grotesque sexual violation and a father has been completely failed by society.
And it all started with a Daddy who protected his little snowflake from ever ending up dependent on a husband.