If Boise, Idaho wants to aggressively pursue a way to avoid Los Angeles' fate, they could start with the Church of the Rockies, a Methodist church that recently decided to Cancel Culture, in no particular order, gun ownership, white America and a stained-glass window featuring Robert E. Lee.
https://mailchi.mp/9f2fcdcdcb3b/pr6ojtnhus-1130672?e=%5BUNIQID%5D&fbclid=IwAR3UUxDUxpk3_hiv4r2M94Kia1Jj5x3pBFpmWR00F4OmQ417C6Li4rcoRaY
Grace and Peace to you in the name of Jesus-
Are you sure that's the deity you want to use? Because Jesus will condemn George Floyd to Eternal Hell for being an armed robber, gang thug, coke head, meth head, fentanyl head and porn star who tried to cheat innocent people with fake money.
On June 17th America will mark the five-year anniversary of the tragic massacre at Emanuel African Methodist Episcopal Church in Charleston, S.C. – at the time, one of the deadliest shooting in an American place of worship. This deliberate slaying, by a white supremacist, triggered national debate on modern displays of the memorialization of the Confederacy.
AKA the Dylan Roof shooting. His haircut was sentenced to death for the attack.
https://gunnerq.com/2019/09/28/the-persecution-of-hairdos-intensifies/
The Gospel of Christ Jesus compels us and our Baptismal vows embolden us to resist evil, injustice, and oppression in whatever forms they present themselves. Our pastors and staff have spoken and speak against systemic racism, study to understand, and work with leaders of color to listen and learn.
There's some grade-A hypocrisy.
Following the Charleston tragedy, we began a process to engage this community in deep questions of racial justice…
Dude… you're in Boise. There isn't a black community in Boise worth mentioning. Bruthas don't like the cold.
…and God's call to us in the 21st century, acknowledging our own sin with a stained glass window panel in the right transept of the Cathedral. This windowpane honors Presidents Washington, Lincoln, and Confederate General Robert E. Lee. We have heard from deeply passionate voices who have engaged with us and held us accountable to this process, and we thank them.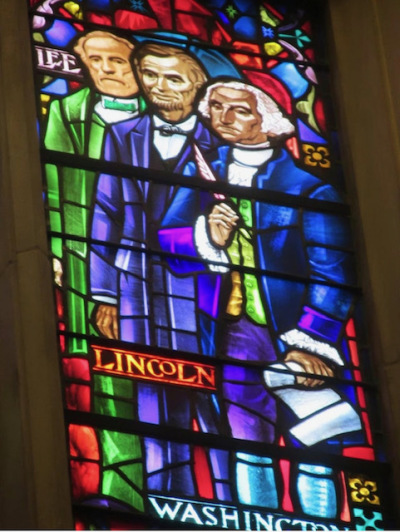 I like how Lincoln's name is blood-stained. Very appropriate. Although I must still wonder who would put Lee and Lincoln next to each other in any work of art.
Those voices, the conversations within our community, and national events have brought greater focus on the key question facing us: Is this section of window, installed in 1960, an appropriate part of our sacred space?
Stop lying, clergy. You wanted to "fight injustice" by siding with the Communist uprising but instead of throwing bricks at cops like an honest brownshirt, you picked a fight with an inanimate object that you already own.
After considerable prayer and deliberation, your Cathedral of the Rockies Church Board has voted to immediately modify the window and remove this divisive and hurtful image.
"We seriously considered keeping it because Robert E. Lee was a man of great honor, significance to history and inspiration to white America."
We believe this section of our window to be inconsistent with our current mission, to make disciples of Jesus Christ for the transformation of the world…
That is the Globalist agenda. Christ saves us FROM this world.
…as well as the banner which hangs above our doors espousing, "all means all – you are welcome here".
In Current Year, maybe change that to "We crucify child molesters"?
Further, such display is a barrier to our important work resisting evil, injustice, and oppression. Symbols of white supremacy do not belong in our sacred space.
The Confederacy lost. So much for "supremacy".
This summer, this section of the window will be redesigned, removing the image of Lee, replacing him with a yet to be determined person of color.
Up for consideration are Martin Luther King Jr., Harriet Tubman, and Leontine T.C. Kelly, who was the first African-American female bishop in the United Methodist Church.
Guess where Kelly was bishop? San Francisco until her retirement in 1992. She is a major reason the Sodomites gained power unopposed.
Burn in Hell, witch, for what you did to my people.
We want to be clear that we are not attempting to remove history…
We are SUCCEEDING in removing history!
…but rather are removing a piece of a window from the sacred space within the Cathedral that does not reflect our Christian values. We believe this action can yet have a second life as an effective teaching tool in a context yet to be determined.
The piece was installed in 1960.
In the coming weeks and months, your Cathedral leadership will create opportunities for all in the Cathedral community to express their views and feelings… [including] staff-led small groups, via Zoom, on the book, White Fragility, and other activities yet to be determined due to COVID parameters. We promise to listen carefully to all who are willing to share.
Willing to share, and allowed to speak by their handlers.
Grace and Peace-
Rev. Dr. Duane A. Anders, Senior Pastor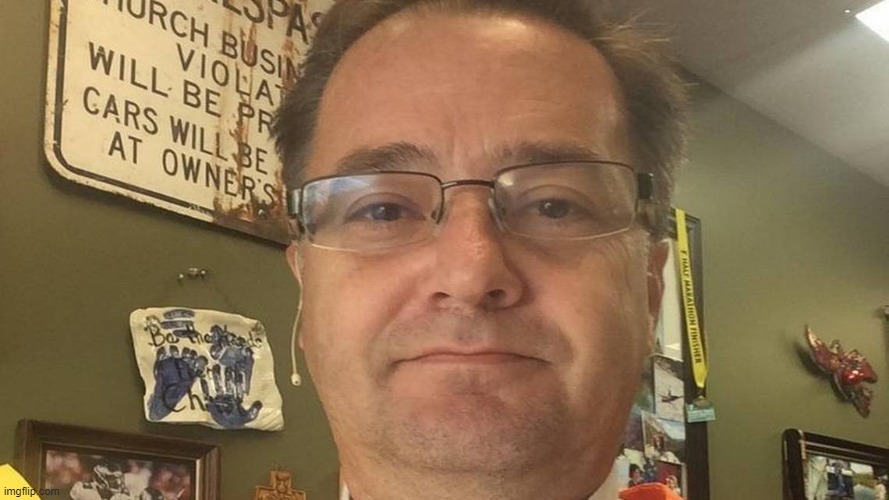 Pastor wears orange to remind others about gun violence awareness
htt ps://www.idahostatesman.com/opinion/readers-opinion/article86286672.html
By Rev. Duane Anders, 27 June 2016
The violence of hate is the denial of the image of God in all human beings.
No, twisting human nature is how one denies the image of God. Say, by tolerating homosexuality or outlawing fatherhood.
In the fall of last year I gathered with clergy friends in Arizona for a time of study, prayer, support and learning. We were meeting just a few miles from where then Rep. Gabrielle Giffords, D-Ariz., was shot on Jan. 8, 2011, while holding a public meeting in front of a local supermarket.
During our meeting we were presented with new orange clergy stoles. Clergy often wear stoles during traditional worship services as a sign of ordination and as a reminder to the liturgical calendar marking the Christian year. Orange however, is not a liturgical color. Rather, orange is the color hunters wear to say, "I am here, don't shoot!" Orange is a color of safety. Orange is the color that represents gun violence awareness.
I wear my orange stole not as a political statement.
Bullshit.
I wear orange as a moral choice to love and not to hate.
More shit.
I wear orange not in opposition to guns but rather in contrast to gun violence. Last year, 12,942 people were killed in the United States by gun violence. In that same year, more than 50,000 additional people in our country were victims of gun violence.
Duane Anders is a Satanist, a Child of the Lie.
Just one year ago, hate led a young, white man to a Bible study at Mother Emmanuel Africa Methodist Episcopal Church, where he gunned down nine people in attendance, hoping that his hatred would ignite a race war.
Dylan Roof again. Only a deceiver can believe that one incident by one person acting alone justifies a lifetime of reprisals against an entire race.
Rev. Debbie Coutts, Pastor
Director of Family Life… and Marketing.
Rev. Robert Walters, Pastor
A new hire for a satellite campus.
Jerri Walker, Executive Director
Witch. No other bio available.
Susie Pouliot Chair, Church Board
No pic but an obvious witch.
Methodists are almost too easy to criticize but they are excellent examples of the equalitarian endgame. If you let women in then they take over and whore themselves to "noble savages" like BLM. Them and the weak, cowardly male feminists they despite because they can control them.