Behold Missouri's first post-police application of law enforcement! *popcorn*
19-Year-Old Allegedly Beaten at St. Louis MetroLink Station While Unarmed Guards Watched
https://www.breitbart.com/crime/2020/07/04/9-year-old-allegedly-beaten-at-st-louis-metrolink-station-while-unarmed-guards-watched/
By Katherine Rodriguez, 4 July 2020
Breitbart, I know you're all lawyered up for obvious reasons but when the beating was captured on camera you can drop the "alleged".
A 19-year-old woman was allegedly assaulted and beaten by another woman at the Forest Park-DeBaliviere MetroLink Station in St. Louis, Missouri, on Thursday.
CATFIGHT!!! Yee-haw!
Not only did bystanders refuse to intervene during the attack; two unarmed security guards patrolling the area did nothing to help the situation either, KTVI reported.
The incident is under investigation by the Bi-State Development Agency, but an early conclusion from the investigation was that the guards should have done more to help.
Dalrock's Law: "Feminism is the assertion that men are evil and naturally want to harm women, followed by pleas to men to solve all of women's problems."
Yes, the guards being paid minimum wage to be bored, legally neutered crime deterrents should have risked their lives during a POC-alypse to interrupt what, for all they knew, was a civil-rights-protected expression of love between two POC lesbians.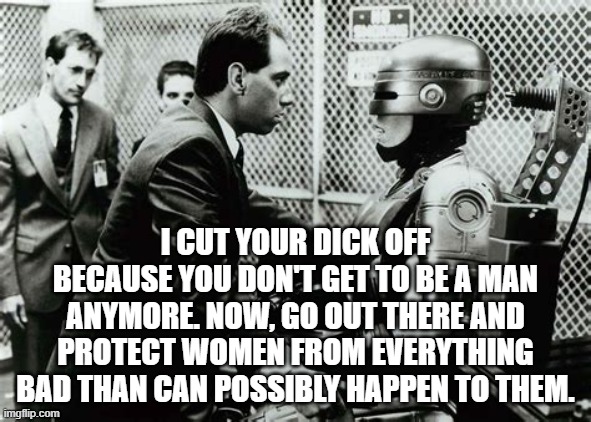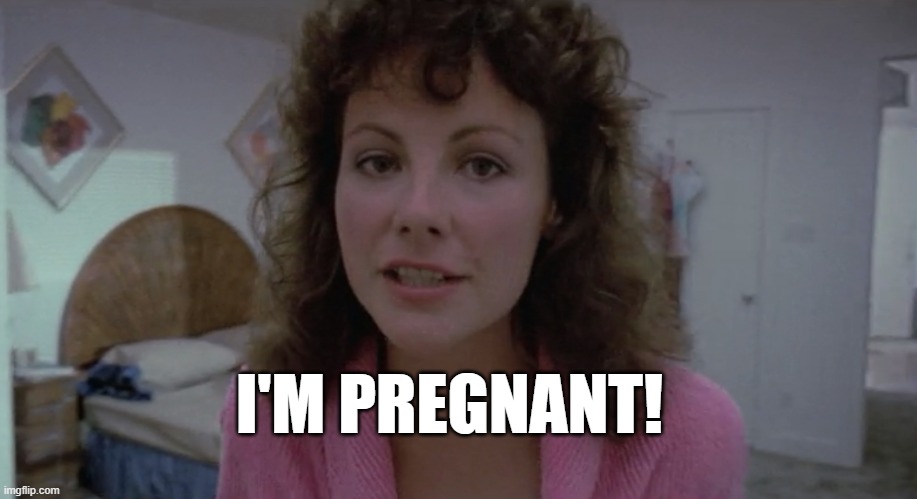 Metro President and CEO Taulby Roach said the guards, who are not armed, should have de-escalated the situation and will likely need further training.
There is no evil in socialism. There is only "insufficient education".
Bi-State Commissioner Derrick Keith Cox said the problem is the agency paid a million dollars to receive bad advice on how to make the public transportation system safer.
After this story will be the corruption story that is motivating Cox to say what he just did in that paragraph.
Meanwhile, choose your doom, President "Roach":
A. Replace the guards with small, female, nonthreatening counselors who update their Woke psychological theories more frequently than Windows 10. Watch in horror as they "present themselves" to avoid getting killed like women have done since cavemen were grabbing ponytails.
B. Allow all white men to carry firearms and redefine manslaughter to "post-natal abortion".
C. Train & equip the guards to actually fight crime and pay them enough to risk their lives on behalf of ungrateful random strangers. Maybe give them badges after they swear oaths to protect and defend.
One of the suggestions they received from that study was to take away guns from security guards and only arm police officers.
Might as well, if they won't be allowed to use them. It's the same reason that I 1. don't carry concealed and 2. intend to watch passively the next time Diversity climbs up somebody's vulnerable ass.
Cox said with that put into practice, the gun ban leaves guards with very little to protect themselves or anyone else. Roach, however, said that guns in a situation like this would have made it worse.
Pay a gorilla like me $50 per hour and let us use batons carte-blanche, and we will be like a cleansing wave of crime-Febreze over your transportation network.
Gun-free zones or areas where there is no armed law enforcement in place can cause a spike in violent crime. Orlando's "Pulse" gay bar was a mandated gun-free zone by state law, yet it was home to one of the deadliest mass shootings in this country's history.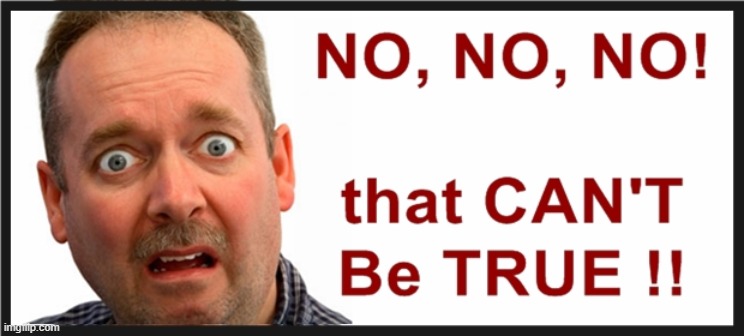 A 2019 study from the Crime Prevention Research Center (CPRC) showed that 89 percent of mass shootings in the 21st century took place in gun-free zones.
Interesting that they pulled the Pulse shooting out of thin air. The link that probably motivated that is coming up.
Meanwhile, I'm hearing a lot of support for my Plan "B".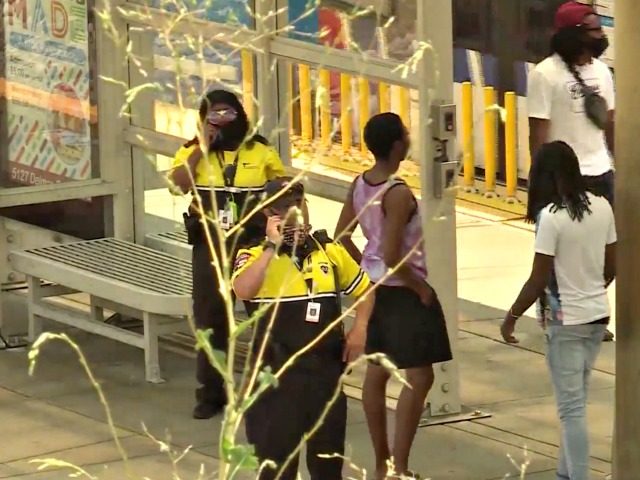 Here are the guards. Stock uniforms costing $15 apiece at:
https://www.uniformswarehouse.com/shirts/high-visibility-shirts/two-tone-polyester-polo-shirt-with-reflective-stripes-and-with-id-yellow-navy.html
It seems that St Louis Metrolink has implement new security arrangements and/or leaderships in August 2018, August 2019, December 2019 and March 2020. Here's a pic; you get one guess who is the constant between all the transition teams.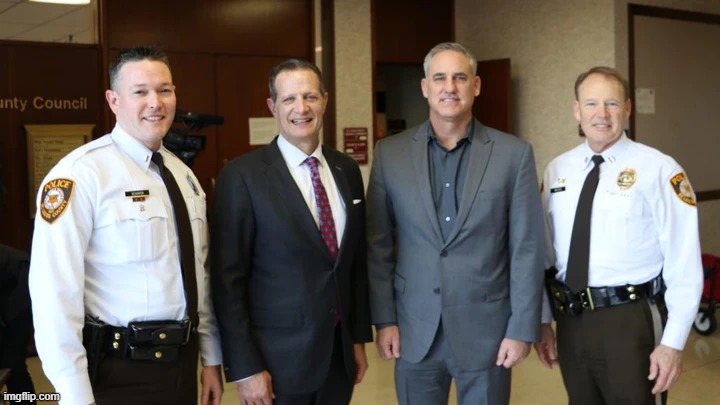 Physiognomy first impressions: The white-shirts are smiling only because they're supposed to, Grey Suit is out of his depth and Meltface in the black suit is the CEO and a male feminist.
Seriously, look at Grey Suit. His coat isn't even buttoned right. Who wears a suit without a tie? I once wore socks with sandals and I know better than to wear a suit with no tie.
*checks* I'm having trouble identifying most of them, high turnover in Metrolink management doesn't help, but "Meltface" Taulby Roach is indeed President and CEO of Bi-State Development.
Let's look at the context of Metro security.
'We Had To Do Better': Metro Transit Leaders Discuss New Security Strategy
https://news.stlpublicradio.org/post/we-had-do-better-metro-transit-leaders-discuss-new-security-strategy
By Evie Hemphill, 4 March 2020
Ideally dated.
Taulby Roach has made the safety of the St. Louis region's transit system a major focus since becoming president and CEO of Bi-State Development 14 months ago. Just last week, he and other area leaders gathered to mark the culmination of two years of study and planning aimed at improving safety on buses and light rail lines. They touted the creation of a four-prong "systemwide security strategy" aimed at reducing "the rate and perception of crime" on transit, among other commitments.
Bi-State also recently selected private security firm GS4 for a three-year contract, and has a new plan in place for a bigger police presence on MetroLink, as reported by the St. Louis Post-Dispatch.
"There's no question that in a public asset like this, what I need is engagement and people who care about it, and what we'd been hearing for months is that we had to do better," Roach said. "So really, the tasking was clear [when I took over]. And so I tried to bring some clarity to that tasking and [to] rally our forces and work with, of course, our colleagues and to do a better job. We're on the precipice of that, and I'm really excited about it."
Roach is undoubtedly a male feminist. Mass transit is not a public asset, particularly when people are afraid to use it for good & structural reasons, except to utopians who think heaven is forcing all the tribes and races of men into close proximity until they joyfully miscegenate into a brown goo with no history, culture or even identity to call their own.
Kevin Scott, director of public safety for Metro Transit, also participated in the conversation. He outlined the planned changes, which he summed up as a strategy of "staunch collaboration."
"We've taken a look along with our partners — police partners and all of our stakeholders — at what can we do to make the system better. And what people really want to see on our system is a visible security component that positively engages our ridership to ensure the quality of that ride."
Security guard concierges? Okay but then they won't be bouncers or coolers.
When Fenske asked what that will look like, Scott described it as "a layered approach, where you have a solid visible layer of contract security."
"The Metro Transit security specialists will be the core of that layer and represent the brand and corporate interests," he said. "And then you have the law enforcement component.
"And so what we've done in devising this new deployment is we've focused on what our clear roles and responsibilities are. So everybody's not going to be policing the system. The two major visible components of the layered security approach will be securing the system, and we'll work more collaboratively with the police to actually police that system when we need to bring them in."
Roach got his "visible security component", trained to "positively engage our ridership" despite the handicap of face masks blocking the expression of emotion… and now they're complaining that that their carnival-style "ride quality" operators weren't operators in the paramilitary sense.
G4S Secure Solutions is based in Florida but owned by a Danish company… your basic globocorp conglomerate setup. Interesting, the Pulse Shooter mentioned above was a G4S security guard whose company had falsified his psychiatric records.
Omar Mateen's driver license photo. An excellent example of sanpaku eyes indicating derangement.
Segue
https://en.wikipedia.org/wiki/G4S_Secure_Solutions
Under Florida state law, for him to work as an armed guard the company was required either to make a full psychiatric evaluation of Mateen, or to administer a "validated written psychological test". The test administered was the updated Minnesota Multiphasic Personality Inventory (MMPI-2), a test used for job screenings and court cases requiring those subjected to it to agree or disagree with statements such as "My soul sometimes leaves my body" and "Once in a while I think of things too bad to talk about." Carol Nudelman, the psychologist listed on the character certification submitted by G4S to the state said she stopped working for the company in 2005 and denies ever having met him.
G4S said Mateen was not interviewed by a psychologist, but rather, a psychologist evaluated the results of a standard test used in job screenings, and his test was evaluated by the firm that bought Nudelman's practice: Headquarters for Psychological Evaluation, owned by Dr Joanne Bauling. G4S said this was a "clerical error."
On September 10, 2016, the Florida Department of Agriculture and Consumer Services fined G4S $151,400 for providing inaccurate psychological testing information after it found the psychologist whose opinion was necessary to permit Mateen to carry a weapon was not practicing as a screener. Between 2006 and 2016, 1,514 forms were submitted erroneously listing Nudelman's name. Mateen's form was among those investigated.
The company was unaware of Mateen's sealed and expunged juvenile arrest record for misdemeanor battery. Although they verified his employment they took Mateen at his word that he was fired as a Florida corrections trainee for failing to report due to a fever. He was actually dismissed for skipping classes, falling asleep in class, and asking two days after the Virginia Tech shooting if a classmate would tell if he brought a gun to class. Also during his time as a trainee, a fellow trainee said he threatened to kill everyone at a barbecue after his hamburger touched a piece of pork, and he was escorted from the property.
I did not know that about the Pulse shooter. Anyway, this has nothing to do with the St. Louis guards who prudently did nothing while enjoying two black chicks fighting to exhaustion for the amusement of all.
End segue.
On to the corruption backstory.
Despite opposition, Bi-State CEO gets OK to negotiate a possible takeover of troubled Loop Trolley
https://www.stltoday.com/news/local/govt-and-politics/despite-opposition-bi-state-ceo-gets-ok-to-negotiate-a-possible-takeover-of-troubled-loop/article_01c348a1-8600-5feb-927b-dff44d8907c7.html
By Nassim Benchaabane, 11 December 2019
ST. LOUIS — The executive board of Bi-State Development voted Tuesday, despite fierce opposition, to negotiate a possible takeover of the financially strapped Loop Trolley.
The trolley opened in November 2018 after years of construction and delays. Since then, ticket sales and farebox revenue have lagged significantly as the line operated on a limited-hours, four-day-a-week schedule with just two of its three cars in service.
The 2.2-mile streetcar line… is set to close Dec. 29 after a series of operational and financial setbacks. Operators say more funding is needed to keep the trolley open until spring, when they hope all three cars could provide full seven-day service.
This has every sign of a pork-barrel project. Government-orchestrated "community infrastructure" built too slowly after extensive cost overruns requiring even more money… usually debt instruments and/or earmarked Federal funds… and once it's built and opened, nobody wants it. The smart move is to shut it down but that would be unacceptable because:
CEO Taulby Roach pitched operating the trolley for the next four years with nearly $1.1 million left over from federal grants, and said he had preliminary approval from federal transit officials.
Closure could mean defaulting on some of the $36 million in federal aid that was part of the $51 million needed to build the line and make related street improvements. Roach said default would jeopardize Bi-State's ability to secure federal transit dollars in the future.
"Being known as a region that does not have the political will to complete projects is a very damaging assessment," Roach told the board.
Such pure motivations. This is all about milking public funds to the maximum extent possible.
The Bi-State board, which governs MetroLink and Metro buses, voted 6-3 to approve Roach's request and have him return to the board by February with a more detailed proposal to take over the trolley from its nonprofit operator, the Loop Trolley Co.
Roach had planned to submit the preliminary report to the board in a closed session, following advice from the board's legal counsel, but the board voted to keep the discussion open to the public after fervent opposition from board members Justin Zimmerman and Derrick Cox.
I like Bi-State Commissioner Derrick Cox. He started out a local radio personality.
The pair, two of the board's five members representing Illinois, and board Vice Chairwoman Aliah Holman, of St. Louis, voted against the takeover. They said Bi-State should focus on MetroLink security, route expansions, staff pay and other issues.
"This is not something that we have been asked for by the general public and yet there are so many things we have been asked for by the general public," Holman said.
Cox said St. Clair County residents wouldn't want Bi-State tax dollars to go toward a project in University City, and doubted a trolley shutdown would affect Bi-State's federal funding.
"That's just a hypothetical out there to get us to say yes," he said.
Roach said St. Louis County Executive Sam Page, St. Louis Mayor Lyda Krewson and St. Clair County Board Chairman Mark Kern asked him to examine a takeover, if it could be done without additional local funding.
Translation, it's an excuse to import earmark Federal dollars.
"I think it really deserves close study," Kern said. "We are a region and while we certainly expect our friends in Missouri to think regionally when they look at issues, we must do the same things for them."
Page said he would keep an eye on the negotiations. Krewson, through a spokesman, called it a "positive step."
Remember that Roach's allies are Mayor Krewson and Executive Page. Note that Krewson is mayor of St. Louis, Missouri, but Kern's county is in Illinois. This is hella suspicious. This corruption could go Federal.
On Tuesday, Roach said the Loop Trolley needed about $240,000 more a year to operate. The estimate included conservative predictions about Loop Trolley ridership and a full service schedule that would help integrate it into the region's transit system. He said he hoped more funding for the trolley would be generated over time from increased tickets, fares and revenues from the special sales tax district that helped fund the line's construction.
No, no, no! Shut 'er down, Clancy, she's pumping mud!
Roach, Krewson, Page, businessman Joe Edwards and University City Mayor Terry Crow comprise the sales tax district's board. Roach said Tuesday that he would resign from the board if Bi-State takes over the Loop Trolley.
And on THAT final note… one month later…
You Paid For It: Bi-State CEO discusses allegation of conflict of interest over bail out of Loop Trolley
You Paid For It: Bi-State CEO discusses allegation of conflict of interest over bail out of Loop Trolley
By Elliot Davis, 21 January 2020
ST. LOUIS – You Paid For It Investigator Elliott Davis catches up with Bi-State President/CEO Taulby Roach to question him about accusations of conflict of interest [in his negotiations over the Delmar Loop Trolley].
Roach is advocating bailing out the Loop Trolley that's stopped running because of money woes and because of low ridership.
But some Bi-State Commissioners didn't learn until a recent meet that the CEO not only runs Bi-State but he also sits on the Loop Trolley Board of Directors. Mayor Lyda Krewson and County Executive Sam Page are also on the Trolley Board and have advocated saving it.
Remember Roach's allies? The members of the Trolley Board are trying to steal, er, "appropriate" funds from other budgets to finance their brand-new-yet-failed side project.
CEO Roach says he recuses himself when it comes to voting on issues involving the Trolley. He also says he's checked with lawyers and they've given him the all-clear.
If you need lawyers to review your behavior for criminal activity…
But St. Louis County Councilman Ernie Trakas says he doesn't like the looks of this deal where Taulby Roach is wearing two hats, one as head of Bi-State and the other as a board member of the Loop Trolley.
He says it looks like a conflict of interest.
It *is* a conflict of interest. Who is Roach's lawyer, Saul Goodman?
Roach had a new announcement about his new plan for the Loop Trolley. His first plan called for Bi-State to take over, own and run the Loop Trolley. Now he says Bi-State would just manage the trolley for 4 years.
"I didn't do anything wrong but now that you noticed, I'll scale back my plans."
Bi-State Commissioner Derrick Keith Cox who didn't like the first plan texted Elliott tonight saying he didn't like the second one either.
The Bi-State Board of Directors will meet Friday morning to talk about whether to bail out the Delmar Loop Trolley.
Definitely some friction between Cox and Roach. Good on Cox!
The ultimate fate of the Trolley hasn't been determined. No doubt that the Wuhan Whoop lockdowns put it on indefinite hold.
Okay, fine, it's yet another portrait of Democrat corruption. Why care? If you listen to the linked video, after the attack video is played Cox is shown demanding answers from G4S and… from Roach. It was real quick, at the 1:33 mark. He's leveraging the incident against a known Corruptocrat.
I am not amused. Glad I am that Cox is fighting corruption but blaming security guards for not doing what they were told to not do is also dishonest. They're going to get fired for being put in a no-win scenario. Were they supposed to be nice or violent?
This is what happens when you do evil that good may result.