Exhibit #32,768 in Liberals Can't Meme: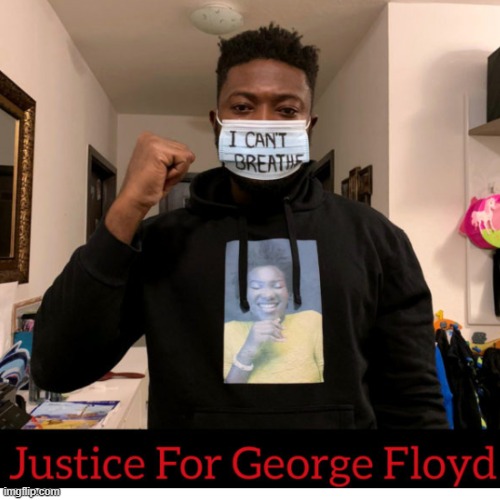 Bonus point for my reaction being pre-displayed on his hoodie!
Arizona City Councilman Quotes George Floyd to Protest Masks: 'I Can't Breathe'
https://www.thedailybeast.com/scottsdale-city-councilman-guy-phillips-quotes-george-floyd-to-protest-masks-i-cant-breathe
By Blake Montgomery, 24 June 2020
A Scottsdale, Arizona city councilman quoted George Floyd's last words to protest against his state's requirement to wear a mask to slow the spread of the new coronavirus. At a Wednesday rally of roughly 200 people, Guy Phillips said, "I can't breathe," the same words that Floyd, an unarmed black man, uttered while dying in the custody of Minneapolis police officers [of a fentanyl overdose].
That reminds me, I need to start attending political rallies in case I get Wuhan Whoop. It's going to happen eventually because I don't live in solitary confinement… hello, squat rack at a public gym… and I suppose the contact tracers will pounce on me to document every work site and business I've ever frequented. I hate to think what'll happen when the inevitable hits and all the pre-frightened people at my work get a target for their anxieties… unless, of course, I casually mention attending that George Floyd rally….
The slogan has been common at Black Lives Matter protests for several years, as Eric Garner, choked by New York City police officers, also said it on camera before he died in 2014.
Nobody cares. Memo, Dindus say "I can't breathe" every single time they notice people are watching their asses get tossed into the meat wagon. It's a tactic to weaponize the cops' bodycams against them. It never works… if you can't breathe then you can't say "I can't breathe"… but they try anyway because victim status is desirable.
Arizona has become a coronavirus hotspot in recent weeks, with cases spiking so quickly that hospitals are running out of beds. Scottsdale Mayor Jim Lane called Phillips' remarks "callous and insensitive," and the councilman apologized to the Floyd family late Wednesday. He said he did not intend to invoke Floyd's killing.
That stupid dumb fuck! I was all set to praise him for returning the Left's narrative but then he went and apologized! Now I wonder if he actually can't breathe in a mask, which is possible but astonishingly ignorant of what's going in in society right now.
Why don't they learn? Why do they never learn? It's like watching mice climb over their dead to be next into the mousetrap.