Crossfit CEO's Greg Glassman ended his career, his franchise and his brand almost overnight by tweeting the deplorable words: "I'm sorry!"
Reebok Ends CrossFit Partnership After CEO Mocks 'Racism Is a Public Health Issue' Tweet
https://www.breitbart.com/politics/2020/06/07/reebok-ends-crossfit-partnership-after-ceo-mocks-racism-is-a-public-health-issue-tweet/
By Robert Kraychik, 7 June 2020
Good for Greg; that was absolutely mock-able.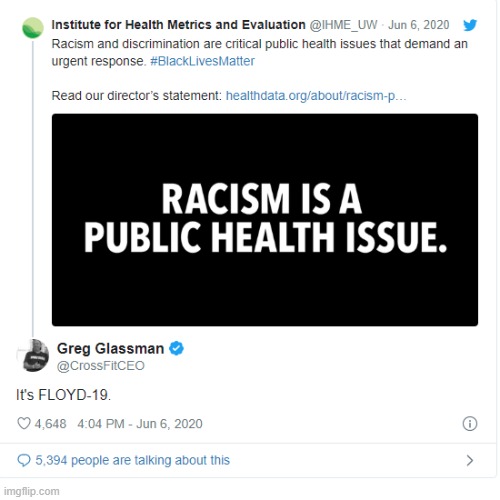 Haha!
Reebok, an apparel brand owned by Adidas, ended its business partnership with CrossFit following the fitness company's CEO mocking a declaration of "racism" as "a public health issue."
The Institute for Health Metrics and Evaluation, an organization located at the University of Washington and funded by the Bill and Melinda Gates Foundation, tweeted on Saturday that "racism is a public health issue."
Fuck Reebok. They have no sense of humor and support filthy-rich morons who can't tell the difference between a disease and a drug dealer… Okay, I must admit to having trouble with that as well. #DuterteIsTheCure
After Glassman's tweet, Business Insider sought a response from Reebok. Business Insider described the tweet as "controversial," "tone-deaf," "racist," and "insensitive."
Whaa? BI asked Reebok if they hated that tweet as much as they themselves did? Wag-the-dog journalism at its finest.
Business Insider obtained a response from Reebok via a statement: "Recently, we have been in discussions regarding a new agreement, however, in light of recent events, we have made the decision to end our partnership with CrossFit HQ. We will fulfill our remaining contractual obligations in 2020. We owe this to the CrossFit Games competitors, fans and the community."
Glassman could have had so much fun with those "remaining contractual obligations". Bounce that rubble!
In other news, the 2021 CrossFit Games will be sponsored by the Oregon OrthoPedic Surgeons' Association, aka OOPS.
Reebok aligned itself with the Black Lives Matter campaign. Its website currently has an animated banner with the following message: "Without the Black community, Reebok would not exist. America would not exist. …
The Reebok Cardi B Aztrek line of footwear would not exist.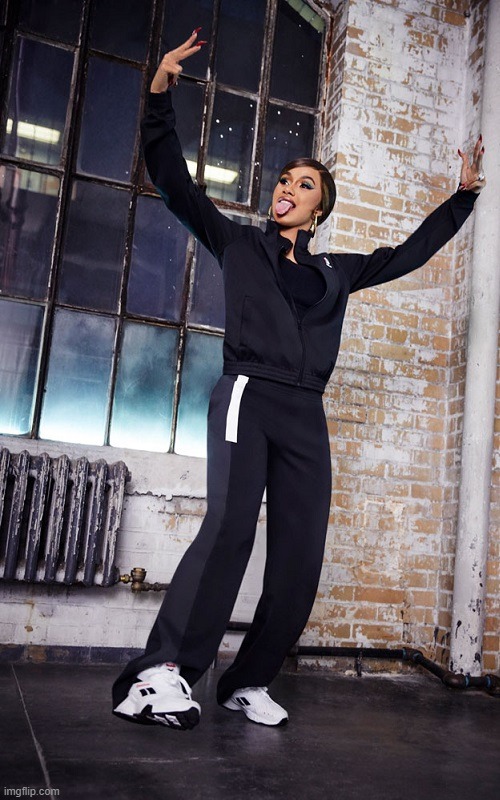 We are not asking you to buy our shoes. We are asking you to walk in someone else's. To Stand in solidarity. To find our common ground of HUMANITY.
How is Reebok still in business? Answer, African factory slave labor.
In May of 2019, CrossFit criticized Facebook's arbitrary censorship practices. The company declared it would "no longer support or use Facebook's services until further notice." The company also stopped using Facebook-owned Instagram and WhatsApp platforms.
Smart move, Greg. Continuing to use Twitter: dumb move.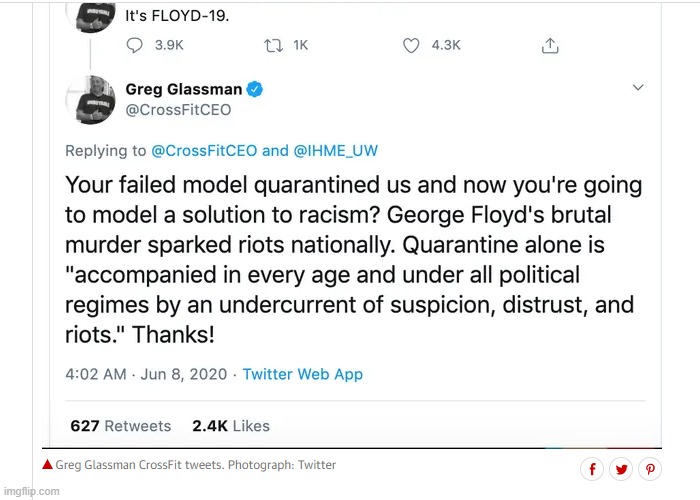 Greg is absolutely right but those Blue Check Marks are like Lovecraftian squid necklaces: if you ever try to leave the cult then they strangle you. CHINA-19 lockdowns killing his Crossfit empire was no excuse to violate the Narrative!
*squid squeeze*
CrossFit CEO resigns over insensitive George Floyd tweet
https://www.breitbart.com/news/crossfit-ceo-resigns-over-insensitive-george-floyd-tweet/
By AP, 10 June 2020
The CEO of CrossFit is stepping down after his tweet about George Floyd sparked a social media backlash and led to affiliated gyms and Reebok cutting ties with the exercise brand.
Greg Glassman said in a statement posted on CrossFit Inc.'s website late Tuesday that he decided to retire. Glassman had apologized earlier for tweets that sparked online outrage by connecting Floyd, a black man who died at the hands of Minneapolis police, and the coronavirus pandemic. He said he had made a mistake and should have been more sensitive, but denied being racist.
Never. Apologize. But that advice is not for the likes of Glassman. I'll explain in a minute why I'm in such a good mood about him getting Cancel-Culture'd.
"On Saturday I created a rift in the CrossFit community and unintentionally hurt many of its members," he said. "I cannot let my behavior stand in the way of HQ's or affiliates' missions."
Glassman had angered many with his glib response to a tweet by the Institute for Health Metrics and Evaluation, a health research group, which said, "Racism is a public health issue."
"It's FLOYD-19," he replied on Saturday, and in a second tweet criticized the group's "failed" quarantine model and accused it of attempting to "model a solution to racism."
Some 1,250 gyms have now severed links with CrossFit, according to industry blog Morning Chalk Up.
The hard numbers I can find add up to about 200 gyms breaking off, which is closer to what one would expect for only two days' notice that we are now at war with Eastasia. But I must also say that associate gym membership has been in decline lately, due in part to the lockdown making orthopedic surgery unavailable.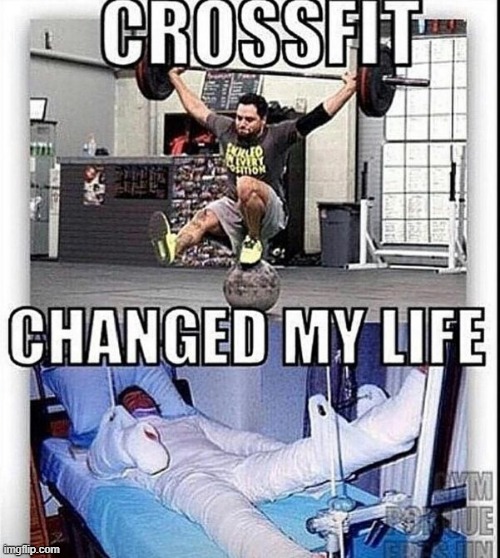 Goodbye, Glassman. And lest we forget, this is why I'm happy to see Reebok's boot helping your ass out the door:
CrossFit Just Fired Its Spokesperson Who Said LGBT Pride Is A "Sin"
htt ps://www.buzzfeednews.com/article/stephaniemlee/crossfit-russell-berger-lgbtq-pride-sin
By Stephanie M. Lee, 6 June 2018
A high-ranking CrossFit employee was fired after tweeting his support for a CrossFit gym's cancellation of a Pride event, citing his belief that celebrating LGBT pride is a "sin."
Russell Berger was the mega-successful fitness company's chief knowledge officer, often de facto spokesperson, and a co-author of the Russells, a blog about scientific misconduct that he maintained with colleague Russell Greene.
But Berger got into hot water Wednesday afternoon when he tweeted about a CrossFit gym in Indianapolis, Indiana, where owners canceled a workout in honor of Pride Month. Many of the coaches and employees quit in protest, according to WTTV TV in Indianapolis. On Wednesday, the gym posted notices that it was shutting down.
Segue
Canceled workout supporting Indy Pride stokes controversy at Indy CrossFit gym
5 June 2018, ONE SINGLE DAY BEFORE THIS ALL PLAYED OUT
INDIANAPOLIS, Ind. — A downtown CrossFit gym is facing backlash after members say management discriminated against the LGBTQ community.
Members say the controversy started when a special workout planned by coaches at CrossFit Infiltrate in support of Indy Pride was cancelled by gym ownership. In an email sent to members by gym management, it was explained that the event was cancelled because "the owners of the gym value health and wellness, and they believe that this event does not."
"I didn't know what to think, because like I said everyone was so friendly and welcoming," former member Dan Mendoza said.
Mendoza said he reached out to gym management for clarification of their position and was sent an email that read:
"Our underlying goal for the staff and members at CrossFit Infiltrate and our other gyms CrossFit White River and University Ave CrossFit, is total health and well-being for the individual and the community. Total health involves the body, the emotions, relationships, and the spirit. At the foundational detractor from health, as we believe God sets the parameters for, is pride. We believe that true health forever can only be found within humility, not pride. Humility is seeing oneself as they truly are, and as God truly defines them to be. As a business we will choose to deploy our resources towards those efforts and causes that line up with our own values and beliefs."
Genesis 1:27 "So God created mankind in his own image, in the image of God he created them; male and female he created them." No homo!
"I didn't feel welcome, you know, I didn't feel the way I did when I first started," Mendoza said.
Mendoza said he and his partner decided to cancel their memberships to the gym after reading the email.
An employee of CrossFit Infiltrate confirmed that Mendoza and his partner were part of a large contingent of members who decided to leave the gym. The employee said as a result, many of the coaches and staff also quit. The concern now is the exits may cause the gym to shut down.
Mendoza didn't just quit, he let slip the dogs of Buzzfeed.
End segue.
[Berger wrote,] "As someone who personally believes celebrating 'pride' is a sin, I'd like to personally encourage #CrossFitInfiltrate for standing by their convictions and refusing to host an @indypride workout," Berger wrote. "The intolerance of the LGBTQ ideology toward any alternative views is mind-blowing."
Indeed! A little correction, however: sodomy being a sin is not a personal belief for us. The objective TRUTH is that sodomy is EVIL. Sin is when you want to do right but fall short, not when you mock God's rainbow into a celebration of depravity.
Berger had also said, "The tactics of some in the LGBTQ movement toward dissent is an existential threat to freedom of expression." In response to a Twitter user who pushed back, he wrote, "Thankfully I work for a company that tolerates disagreement. I have homosexual coworkers who I love and respect, and as far as I am aware, they aren't demanding I be punished for my views."
Oops.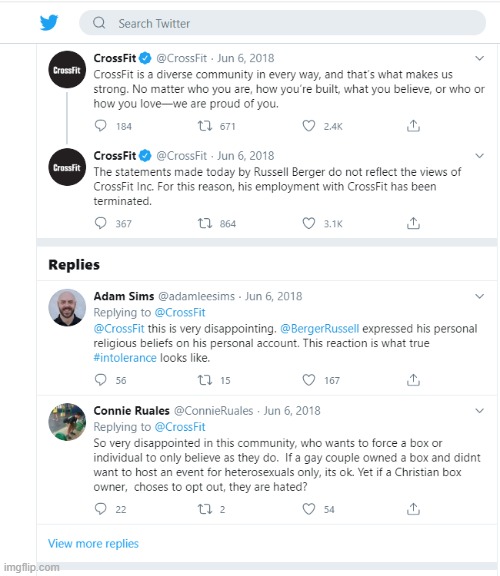 Ain't no shame in getting terminated for Jesus, Russell. Quite the opposite, in fact, but next time maybe don't cite the homosexuals you believe you get along with as evidence that you aren't an Evil White Christian. Just stand your ground and let the inevitable happen.
Two years later, nearly to the day, as Our Lord has correctly written: the wicked man has fallen into the pit he dug for another. Greg Glassman couldn't be bothered to be as Tolerant as he claimed to be, now his friends can't be bothered to be as Tolerant as they claim to be.
Russell Berger. That's not a face that I would expect to oppose sodomy but as always, actions speak louder than faces.