Edit: I made a big goof on this one. Dr. George Rutherford of D.C., the school principal hypnotizing children into accepting drug dealing as their new normal, is not Dr. George Rutherford formerly of D.C., the LGBT activist and Joseph Goebbels wannabe. You see how that can be an honest mistake, I trust.
We joke about no longer being able to tell truth from parody because it really is getting hard.
The rest of this post is legit, however, so I'll leave it as is. Notice that Los Angeles Health Director Barbara Ferrer, also covered here, is every bit as unqualified for her position as a school principal would have been for the position of tenured infectious disease expert.
Let's look at California's new Central Training Center for Contact Tracers, coincidentally located in California's deepest cesspit of iniquity: UC San Francisco. And the program leader is the next best thing to a hypnotist.
Thousands of Californians Are Training to Be COVID-19 Contact Tracers in 1st Statewide Program
https://www.yahoo.com/entertainment/thousands-californians-training-covid-19-020853153.html
Thousands of Californians, many out of work because of the pandemic, have begun training for a new skill — contact tracing. They are kickstarting an uncertain, but crucial, chapter in the statewide fight against the coronavirus.
The Hegelian Dialetic, abbreviated:
1. Create a problem.
2. Push people to respond emotionally.
3. Present yourself and your agenda as the solution.
Here, CHINA-19 was lied into existence as a world-ending pandemic, people were frightened over it and now the government is heroically training a professional cadre of "investigators" who will surely have arrest authority without due-process restrictions.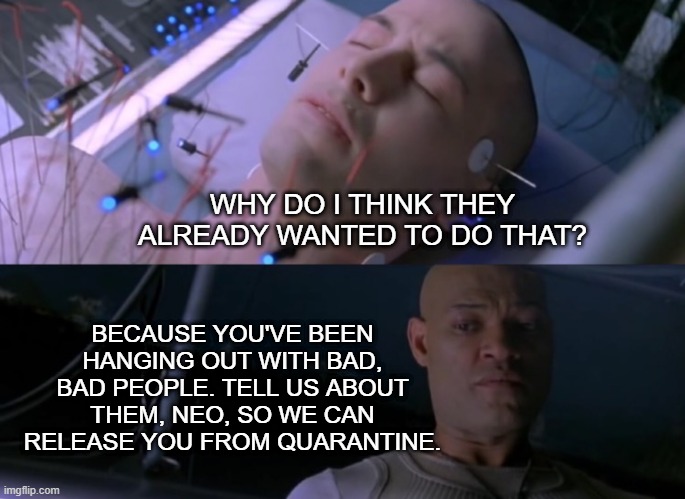 Last week, a group of 500 people were the first lot of trainees in the state's Pandemic Workforce Training Academy, launched last Wednesday on an $8.7 million contract with the University of California, San Francisco. The program's first goal is to train 10,000 contact tracers to help county public health departments trace the spread of COVID-19 — literally — from person to person. The second goal is to have a total of 20,000 trained contact tracers.
This entirely apolitical, nonpartisan group is being trained by the Elites of San Francisco. Also, the program is continuing even though the "plague" is already ceasing and treatable.
By now, groups of up to 2,000 individuals are completing 20 hours of training in consecutive weeks as the state aims to reach the first goal, a spokesperson for the California Department of Public Health told TheWrap.
The training is based on a local program developed by UCSF and the Department of Public Health in San Francisco, where "a dozen city attorneys, 24 librarians, five assessors, nine retired clinicians and 11 medical students…
You know who would be perfect for this job? All those bail enforcement officers who are now unemployed. But it seems the State wants to keep the contact-tracer program "in-house", so to speak.
…in addition to 44 internal staff members" received training to be contact tracers, the San Francisco Chronicle reported.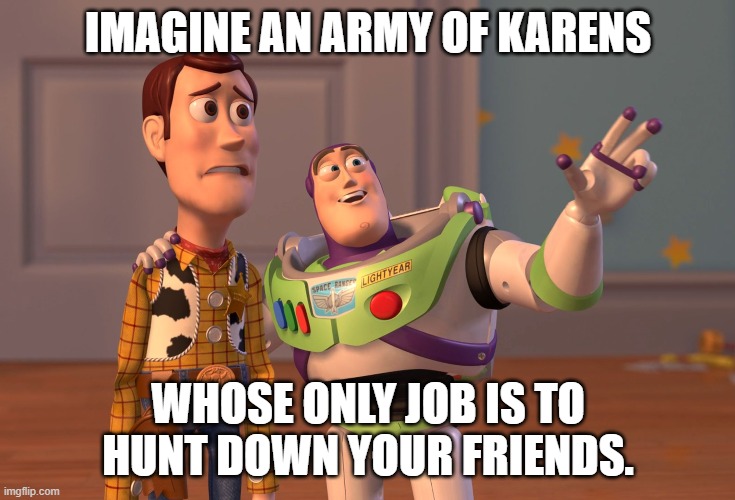 Many of the people in the new state program are the same kinds of public employees, said George Rutherford, who is the principal investigator on the state contract and the head of UCSF's Division of Infectious Disease and Global Epidemiology.
"San Francisco has been pretty successful. We've got a lot of people up and running and have a pretty fully built out workforce," Rutherford said.
Though this crucial phase has begun, any kind of timeline for the deployment of trained tracers has not been communicated by state officials, and it's not immediately clear when the first cohort of 10,000 will be deployed to assist different counties' public health departments. But Rutherford told TheWrap that the goal is to have training for that first group finished by the end of May but it will be up to the state to determine when and where the contact tracers are deployed.
Nevertheless, local counties will not be completely unfamiliar with contact tracing. Other counties beyond San Francisco have been using it before the state made a unified decision. In Los Angeles County, Public Health Director [and Doctor of Social Welfare from Brandeis University] Barbara Ferrer said at a press conference earlier this month that there were "well over 1,000 people" working with the county on contact tracing, but a spokesperson for the department did not immediately respond to TheWrap's request for an updated figure. San Francisco County has over 100 people on its contact tracing staff, Contra Costa County has over 80, Alameda County has 60, Santa Clara County has 50 and Marin County has 15, according to the San Francisco Chronicle. San Mateo County has 30 people "focused on contact tracing and case investigation" at this time, Cassius Lockett, the county's director of public health, policy and planning, told TheWrap.
One wonders why a State-organized cadre of contact tracers is needed when the most-affected counties already have them.
Let's talk a little about Brandeis University, where Ferrer got her PhD in Social Welfare.
Segue
https://en.wikipedia.org/wiki/Brandeis_University
Middlesex University was a medical school located in Waltham, Massachusetts, that was at the time the only medical school in the United States that did not impose a quota on Jews. The founder, Dr. John Hall Smith, died in 1944. Smith's will stipulated that the school should go to any group willing to use it to establish a non-sectarian university. Within two years, Middlesex University was on the brink of financial collapse. The school had not been able to secure accreditation by the American Medical Association, which Smith partially attributed to institutional antisemitism in the American Medical Association, and, as a result, Massachusetts had all but shut it down.
Dr. Smith's son, C. Ruggles Smith, was desperate for a way to save something of Middlesex University. He learned of a New York committee headed by Dr. Israel Goldstein that was seeking a campus to establish a Jewish-sponsored secular university. Smith approached Goldstein with a proposal to give the Middlesex campus and charter to Goldstein's committee, in the hope that his committee might "possess the apparent ability to reestablish the School of Medicine on an approved basis." While Goldstein was concerned about being saddled with a failing medical school, he was excited about the opportunity to secure a 100-acre (40-hectare) "campus not far from New York, the premier Jewish community in the world, and only 9 miles (14 km) from Boston, one of the important Jewish population centers." Goldstein agreed to accept Smith's offer, proceeding to recruit George Alpert, a Boston lawyer with fundraising experience as national vice president of the United Jewish Appeal.
That sounds SOOOO non-sectarian.
Alpert had worked his way through Boston University School of Law and co-founded the firm of Alpert and Alpert. Alpert's firm had a long association with the New York, New Haven and Hartford Railroad, of which he was to become president from 1956 to 1961 He is best known today as the father of Richard Alpert (Baba Ram Dass). He was influential in Boston's Jewish community. His Judaism "tended to be social rather than spiritual." He was involved in assisting children displaced from Germany. Alpert was to be chairman of Brandeis from 1946 to 1954, and a trustee from 1946 until his death. By February 5, 1946, Goldstein had recruited Albert Einstein, whose involvement drew national attention to the nascent university. Einstein believed the university would attract the best young people in all fields, satisfying a real need.
The trustees offered to name the university after Einstein in the summer of 1946, but Einstein declined, and on July 16, 1946, the board decided the university would be named after Louis Brandeis. Einstein objected to what he thought was excessively expansive promotion, and to Goldstein's sounding out Abram L. Sachar as a possible president without consulting Einstein. Einstein took great offense at Goldstein's having invited Cardinal Francis Spellman to participate in a fundraising event. Einstein also became alarmed by press announcements that exaggerated the school's success at fundraising.
Louis Brandeis was a hardline Zionist and Harvard Law grad that Woodrow Wilson made the first Jewish member of the Supreme Court. He was notorious even in his day for pushing Social Justice against the market forces of capitalism. Sachar was a Hillel type, instrumental in facilitating the Jewish mass immigration from Europe from the 1940s onward.
Cardinal Spellman failed to become a military priest because of the height requirement, yet later was appointed "Apostolic Vicar for the U.S. Armed Forces". (Hmm, sounds like Captain America's backstory.) He was an ally of Roosevelt but despite that black mark, was a strong opponent of Vatican II, supporter of McCarthy and a harsh anti-Communist. Per Wikipedia, "Spellman once said that "a true American can neither be a Communist nor a Communist condoner" and that "the first loyalty of every American is vigilantly to weed out and counteract Communism and convert American Communists to Americanism". Well said, Cardinal.
Goldstein's meeting with Spellman at a fundraising event sounds like a political move of some kind. Methinks it didn't end well for Goldstein.
On April 26, 1948, Brandeis University announced that Abram L. Sachar, chairman of the National Hillel Commission, had been chosen as Brandeis' first president.[36] Sachar promised that Brandeis University would follow Louis Brandeis' principles of academic integrity and service. He also promised that students and faculty would never be chosen based on quotas of "genetic or ethnic or economic distribution" because choices based on quotas "are based on the assumption that there are standard population strains, on the belief that the ideal American must look and act like an eighteenth-century Puritan, that the melting pot of America must mold all who all who live here into such a pattern." Students who applied to the school were not asked their race, religion, or ancestry.
Yeah, we whites know all about that kind of "anti-racism". "We accept anybody without asking their ethnicity because we think there are too many white people in America. That's why we don't ask about race, because we Jews just don't think like that."
Proof of my accusation was helpfully included on the same webpage:
1953 [saw] the creation of the Department of Near Eastern and Judaic Studies, one of the very first academic programs in Jewish Studies at an American university. Among the founders were distinguished emigre scholars Alexander Altmann, Nathan Glatzer and Simon Rawidowicz.
A "non-sectarian" university, remember.
In 1956 Brandeis received a one million dollar donation from New York industrialist ((Jack A. Goldfarb)) to build a library.
Despite Brandeis' documented hatred of capitalism.
The building, named the Bertha and Jacob Goldfarb Library in his honor, was designed by ((Harrison & Abramovitz)), a firm which designed many campus buildings in the 1950s.
On January 8, 1969, about 70 black students entered then-student-center, Ford Hall, ejected everyone else from the building, and refused to leave.
I have trouble believing that a purely colorblind admissions policy attracted 70 black students in 1969 Massachusetts.
The students' demands included the hiring of more black faculty members, increasing black student enrollment from four percent to ten percent of the student body, establishing an independent department on African American studies, and an increase in scholarships for black students. The student protesters renamed the school Malcolm X University for the duration of the siege, distributing buttons with the new name and logo, and issued a list of fourteen demands for better minority representation on campus.
This being a colorblind, non-sectarian university, all seventy were immediately expelled for racial favoritism… yes? Bueller?
The students refused to allow telephone calls go through the telephone switchboard. Over 200 white students staged a sit-in in the lobby of the administration building.
Cuuuck!
Classes continued on campus during the protest. Other campuses that had protests at the same time included San Francisco State College, the University of Minnesota, Swarthmore College, Cheyney State College, Queens College, and San Jose State College.
Suggesting these blacks were Communists, to be so well-networked.
President Morris B. Abram said that, although he recognized "the deep frustration and anger which black students here and all over the country—and often is—the indifference and duplicity of white men in relation to blacks", the students' actions were an affront to the university, Abram said that "nothing less than academic freedom itself is under assault." The faculty condemned the students' actions as well. On the third day of the protest, Abram proposed creating three committees to "spell out in detail those points which still divide us." The students rejected the idea.
Of course they did. You don't negotiate with terrorists… although I admit that term is too heavy-handed here. Just spank the kids and push them back in line. Maybe a fire hose.
On the fourth day of the protest, the Middlesex Superior Court issued a temporary restraining order, requiring the students to leave Ford Hall. While Abram said he would not allow the order to be enforced by forcibly removing the students from Ford Hall, he did say that 65 students had been suspended for their actions.
I bet he then forgave them. Oh, does this script sounds familiar. So very, very familiar.
On January 18, the black students exited Ford Hall, ending the eleven-day occupation of the building. …There had been no violence or destruction of property during the occupation, and Brandeis gave the students amnesty from their actions.
Yep. Abram was entirely on their side, excepting the parts where they personally inconvenienced him.
Ronald Walters became the first chair of Afro-American studies at Brandeis later the same year.
Fast moving. Admissions remaining colorblind?
This is the college that taught Los Angeles not-a-Doctor Farrar everything she knows about Social Welfare: Jews first and anybody-but-white-man next.
End segue about Brandeis University and returning to contact tracing training.
According to the National Association of County and City Health Officials, there need to be about 30 contact tracers for every 100,000 Americans during a pandemic. California has a population of roughly 40 million, so under that formula, the state would need a baseline of 12,000 contact tracers to cover the whole state.
"A lot of this is going to take more effort than I think we're really kind of planning for. So, I think 10,000 is a pretty good number. It's certainly a good place to start," Rutherford said. "The trick is going to be to get them organized and supervised."
NACCHO look like your typical DC lobbyist firm. I found this pic on their staff webpage: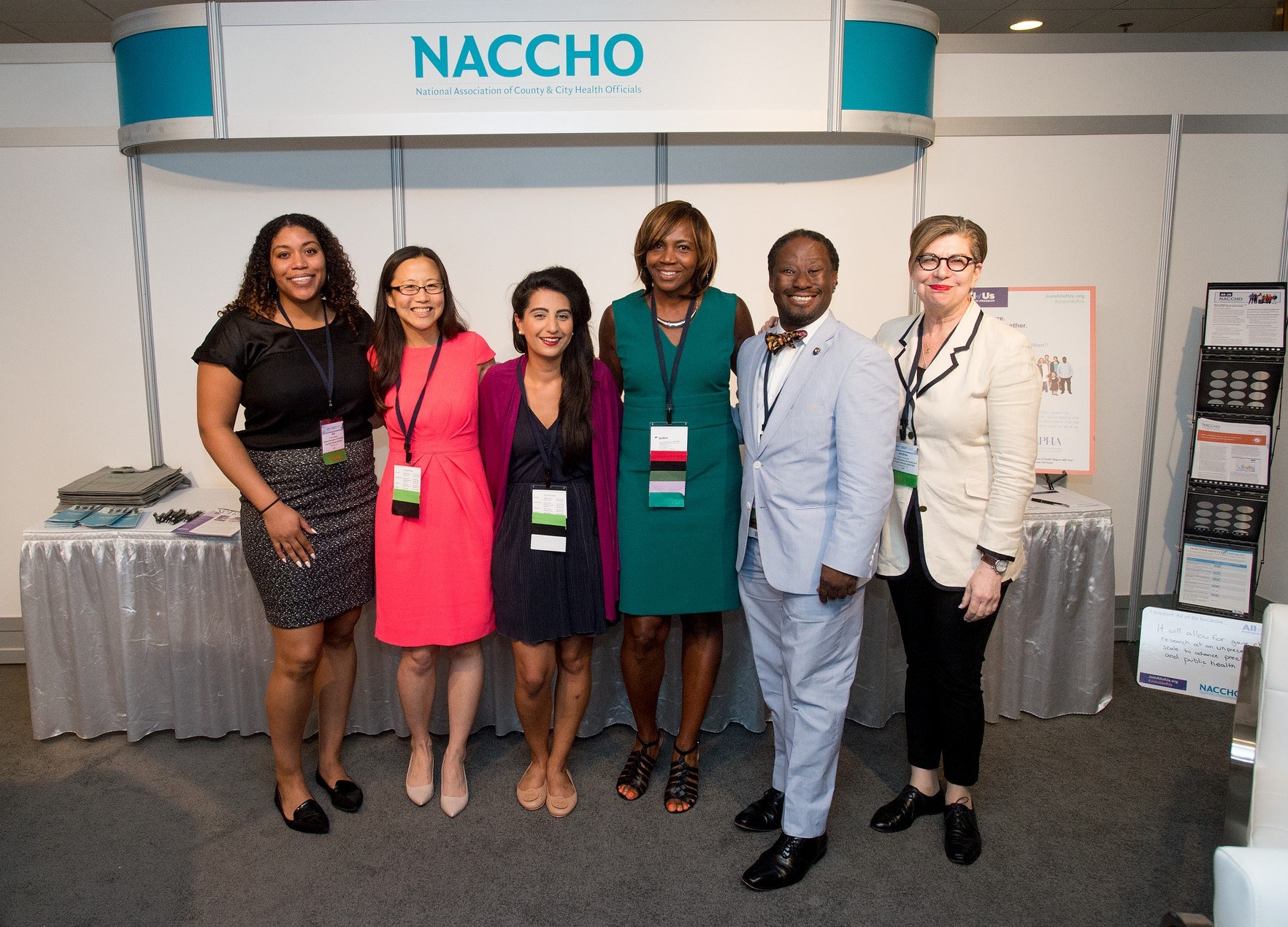 No white men. Brandeis University would be proud.
Article ends. The contact tracing program's leader is George Rutherford who is also worth looking at.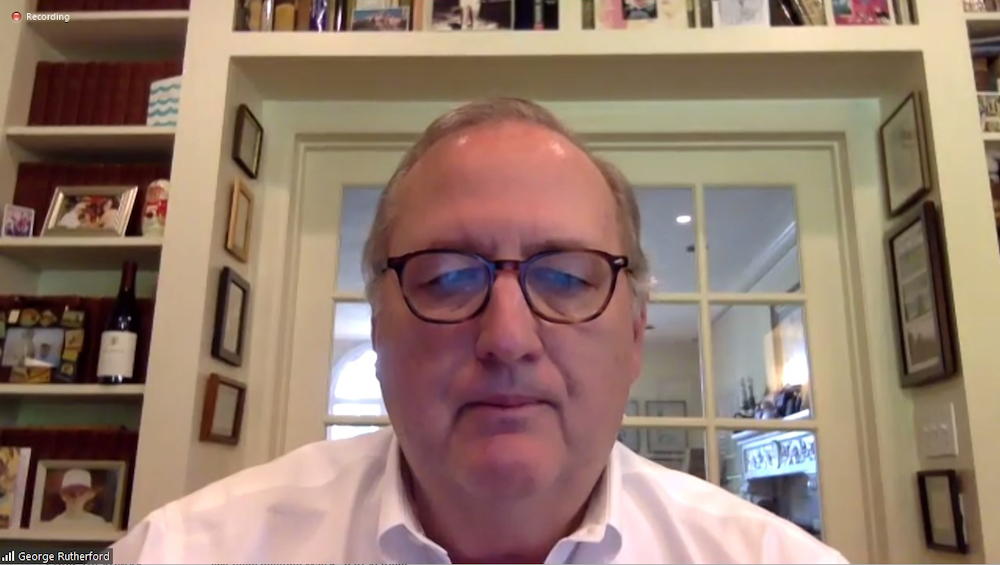 His eyes are heavily hooded, particularly in the first (and I think, more recent) pic. That indicates an emotionally avoidant/defensive personality. Thin lips and small nostrils also suggest he's not emotionally open or approachable. Conformist-flat ears. Not athletic to judge from a thin neck and weak chin. He's had a sheltered life to have reached late middle age with no lining of the face.
Your typical academician, who smiles when you say he's living in a bubble. A white guy, for what it's worth, but he isn't our people:
https://chc.ucsf.edu/people/george-rutherford-md
My research interests are the epidemiology and prevention of infectious and tropical diseases of public health importance, both internationally and domestically, with a primary focus on HIV and AIDS. My work is funded primarily by the Centers for Disease Control and Prevention through the Presidential Emergency Plan for AIDS Relief. I also have smaller projects dealing with the epidemiology of tuberculosis in California, the prevention of childhood injury, immunizations and bioterrorism. I am a member of the AIDS Research Institute's Executive Committee.
…He's homopedo faction. Like Birx and Fauci, Rutherford's background is primarily AIDS. It's hard to believe they aren't sharing notes and if you think AIDS activists will hesitate to do anything that might help them live in perversion without consequences then you're blissfully ignorant.
Before George was into AIDS research, however,
Educational Mantra
https://www.massagetherapy.com/articles/educational-mantra
By Karrie Osborn, February/March 2005
The early 1990s was a difficult time to be living in Washington, D.C.
Drive-by shootings, overwhelmingly high crime rates, and ruthless gang activity ruled the streets in this political town.
It was 1994, and as principal of the Fletcher-Johnson Educational Center, George Rutherford was searching for ways to keep his students safe.
"We were in competition with the drug dealers," says Rutherford, who continues today as principal of D.C.'s Ideal Academy Public Charter School. "We were fighting for the kids. They wanted them and I wanted them."
Keeping the Fletcher-Johnson doors open until midnight, being available six days a week, and working late into the evening providing extracurricular activities for the students were just some of the ways faculty tried to make school a truly safe alternative to what was happening in the outside world. And even in an age of tight budgets, parent apathy, and teacher limitations, Rutherford says the extra effort was worth it.
"I didn't want my kids in the street," he says. Having attended the funerals of too many former students already, Rutherford refused to let the streets swallow up these children, too. That's when he decided to empower his students with yet another resource they could use to fight back.
Transcendental Meditation (TM) is what Rutherford brought to his students and faculty at Fletcher-Johnson as a tool for strengthening self-esteem and enabling a path toward greater thought, creativity, confidence, expression, and strength.
Differing from other forms of meditation because of the number and scope of positive physiological effects it has, TM, which typically takes 20 minutes, twice a day, is a mental exercise to calm the mind. The practice involves sitting comfortably, with eyes closed, while repeating a mantra — a sound with no meaning. It is considered a simple, natural process that gives the meditator an ability to let his mind experience the full degree of its potential, while obtaining levels of relaxation that are deeper than sleep.
"It's different because it works"? No. Most meditative practices offer relaxation and focus. TM is different because its background is Vedic Hinduism. More later but for now, it's a specifically religious meditative practice.
Having had an opportunity to learn TM himself a few years earlier and eager to try anything that could give his kids greater resources to fight the outside temptations, Rutherford enlisted the help of parents, educators, and students to bring this meditative regimen into the school.
"I was looking for something to bring a little calmness to my children, and I felt TM was something that would help."
He didn't have opposition to face — parents were just as eager to help their children and Rutherford had been their trusted principal for 20 years. So why not give it a try?
Especially since it worked for him. The hoodedness of his upper eyelids strongly suggests that George found TM to help him control his own, inner anxieties.
Where some might question or ridicule the use of meditation in schools, the Fletcher-Johnson parents partnered with Rutherford in search of an answer. "The community trusted me and knew I wouldn't do anything that would hurt their kids."
They also saw the results meditation was creating at home. When parents witnessed their children's new behavior, they sought out TM training for themselves.
Rutherford began by bringing in a TM trainer to work with the fifth- and sixth-grade students in the pre-K-9 school. Students at this age level would carry the training with them as they progressed to the next grade. Rutherford says the children took to the meditation quite easily. Nervous giggles were quickly forgotten in favor of a serious approach to the TM exercise. Twice a day, the students meditated and those who didn't meditate had to create their own quiet time (i.e., reading a book).
While it's been documented that religious meditation can expose one to spiritual corruption, what I find more alarming here is that children were taught that the proper response to evil is calm acceptance of it. They should have been taught to oppose evil instead. Did that school not have a D.A.R.E. program? It was the style when I was a schoolkid. (Drug Abuse Resistance Education, slogan "Just say No to drugs!")
If George had been corrupted for twenty years then I think his lower eyelids would be much puffier by now, a consequence of long-term pain.
"It was something to walk in the building in the morning, at 10 to nine, and everything was quiet," Rutherford says. "They were able to release the stress they came to school with. Then at 3:10, they did it again. It was so powerful."
When the students and staff would sit down to meditate, Rutherford says there was a palpable change. "The effectiveness of those meditating flowed over to the rest of them. It was beautiful."
That IS indicative of spiritual corruption, if he didn't mean it as poetry.
And what was the scholastic payoff? "We found a significant difference in behavior, attendance, and academic achievement," Rutherford says.
That didn't work for Christianity, the fact that it promotes good behavior and helps kids handle hard situations. No, Christianity was banned despite the fact that it was a positive influence… because of Separation of Church and State, which was a fancy way of saying that the State was unable to control Christianity.
Rutherford's "experiment" is one of several being played out across the country and abroad. One of the more publicized venues for practicing TM in an academic setting is at the Nataki Talibah Schoolhouse of Detroit, a Michigan charter school founded nearly 26 years ago by Carmen N'Namdi and her husband George.
Their story is both a poignant and vivid example of the power of meditation.
The N'Namdis started their school as a way to celebrate the life of their daughter Nataki who died tragically three decades ago. The toddler was just 14 months old when a string attached to her pacifier caught on the playpen, choking her to death. Expecting another child at the time, and with a 21⁄2- year-old at home, the couple knew they couldn't give in to the overwhelming power of grief without some sort of anchor. It was their experience with TM that gave them balance in this darkest hour.
A postcard of the post-Christian West. The question of suffering is answered with… oblivion.
That's fucking depressing.
Thank you, Father God, that even when life hurts it's because You have a plan. And one day, a solution to the problem of suffering.
One of the biggest motivating factors for bringing meditation into schools is the thing that's endangering so many of us — stress. Physical manifestations of stress are just as damaging as emotional and cognitive ones. An insidious threat, stress manifests itself in so many ways, and it's no different for children.
The life a child leads today is much different than it was 20 years ago. Expectations from schools, families, and communities have increased tenfold; college plans have started affecting the curriculum of kindergartners; the world is darkened by terrorism and war; we are both cause and witness to the diminishing health of an ailing environment; and doomsday predictions paint horrible pictures of the future.
Where's Daddy? Where's Christ? Where is the first glimmer of respect for righteous men? "Oh noes, however did we get here in this awful situation? Progress! And we're never going back!" Tell me it's not pure, Hellish rebellion that our leaders keep doubling down on the directions our society is headed in. They know what works… patriarchy! Father God! But no, they'd rather weaponize the matriarchy into contact tracers.
But we've all lived with stress in our lives. Doesn't it just make our kids stronger? The truth is, prolonged stress can create harmful physiological changes, including hypertension, high cholesterol, and a compromised immune system. And negating a child's stress isn't healthy either.
Maggie Reigh, author of Turning on DeLight, reminds us it's critical to "respect" a child's stress. "Recognize that not being able to find her favorite blanket is just as stressful to a child as her parent not being able to find the car keys."
To address the various levels of stress a child experiences, the Committee for Stress-Free Schools in Maryland agrees that TM is an effective solution. "…(It) strengthens the cognitive, physiological, and affective foundations of learning, while promoting more healthy lifestyle choices and positive behavior."
William Weir, M.D., a consultant on infectious diseases, concurs. "Psychological stress has many adverse physical effects on the human body, including a direct and damaging influence on the immune system. The practice of Transcendental Meditation relieves stress and is therefore highly recommended for its life-enhancing value."
Weir just happens to be a colleague of Rutherford. I like uncovering these threads of association that are less professional and more… indicative of personality.
As a result, TM is one of the more widely studied complementary and alternative medicine (CAM) therapies. Several studies have shown a decreased need for medical care by those who practice TM both here and abroad. Preliminary studies are showing a possible effect on attention deficit hyperactivity disorder…
thus proving that ADHD is wildly overdiagnosed, if it can be voluntarily controlled…
…while the Medical College of Georgia has found reduced blood pressure among students practicing TM. Other benefits of TM include increased brain functioning, increased cerebral blood flow, increased creativity and intelligence, improved mind-body coordination and concentration, restful sleep, and a greater sense of positive thinking.
The National Institutes of Health has even provided $20 million to support further research into the preventative health benefits of TM.
D.C. Educator Uses Meditation to Enhance Learning
htt ps://www.washingtoninformer.com/d-c-educator-uses-meditation-to-enhance-learning/
4 April 2017
Ideal Academy, an accredited public charter school serving pre-K through 8th grade, warmly welcomes visitors and is opening its doors for new students.
Ideal Academy has something unique, Quiet Time, at the core of its curriculum which serves as a program that enhances students' ability to learn. …
Principal Dr. George "Doc" Rutherford is a seasoned educator who has pioneered the Quiet Time program in D.C. public schools since 1993 and has inspired the introduction of this program to schools around the country and the world.
"My passion came from wanting to change the quality of life for our students," he said.
Doc eventually came upon Transcendental Meditation (TM), a technique that provides deep rest as well as educational and emotional development.
Meditation can be many things but educational is not one of them. Unless you start hearing voices.
"TM helps students to become awake, aware, interested and enthusiastic about learning," he explains. "It's simple. If kids are stressed, they are too agitated to learn. If our students are clear and calm, then they are receptive to learning."
He says he first sought more information about Transcendental Meditation as well as its research and applications for education in the early 1990s and began by trying it on himself.
"My wife had been a little apprehensive because she is a devoutly religious person and thought it might conflict with her Christian belief," he said. "After learning TM she realized it had nothing to do with religion and she encouraged our four children to learn also."
Ah, but TM *does* conflict with Christian belief.
https://en.wikipedia.org/wiki/Transcendental_Meditation
The Transcendental Meditation technique has been described as both religious and non-religious, as an aspect of a new religious movement, as rooted in Hinduism, and as a non-religious practice for self-development…
The Transcendental Meditation program and the Transcendental Meditation movement originated with Maharishi Mahesh Yogi, founder of the organization, and continue beyond his death in 2008.
Cutting pupil on the right side. Maybe left, too. I bet his lifelong celibacy wasn't. Angles eyebrows for conflict. I'm not up-to-speed on Hindu ethnic traits but nostrils that look detached from the nose proper can indicate wealth-hoarding. I think the nose is pointed downward also, but it's squashed so flat that it's hard to tell.
Yogi looks like he's calculating angles and tactics with every word.
In 1955, "the Maharishi began publicly teaching a traditional meditation technique" learned from his master Brahmananda Saraswati that he called Transcendental Deep Meditation and later renamed Transcendental Meditation.
I looked up Saraswati. The defining points of his life were running away from his wealthy parents at a young age and spending twenty years in a Himalayan cave. I don't believe the account. Either these mountaintop gurus are not the hermits they claim to be or they've gone insane from social isolation.
The Maharishi initiated thousands of people, then developed a TM teacher training program as a way to accelerate the rate of bringing the technique to more people.
Why must an expert teach mindless chanting? It seems the sort of knowledge that could be conveyed by an informational pamphlet. "Sit. Get comfy. Chant repetitive nonsense for twenty minutes. Management books are especially good for this."
He also inaugurated a series of world tours which promoted Transcendental Meditation These factors, coupled with endorsements by celebrities who practiced TM and claims that scientific research had validated the technique, helped to popularize TM in the 1960s and 1970s. By the late 2000s, TM had been taught to millions of individuals and the Maharishi was overseeing a large multinational movement.
The world tours eventually included the Beatles, who quit him after he allegedly tried to rape Mia Farrow and other women. They later forgave him.
Despite organizational changes and the addition of advanced meditative techniques in the 1970s, the Transcendental Meditation technique has remained relatively unchanged. … In modern times, the movement has grown to encompass schools and universities that teach the practice, and includes many associated programs based on the Maharishi's interpretation of the Vedic traditions.
Thus, TM is a religious practice.
While I didn't see anything sinister in Rutherford's face, I did in our swami. It would not surprise me if his "world tours" included record-smashing amounts of casual sex with liberated young women. This link is not for everybody:
https://gunnerq.com/2018/07/19/feminism-2-5/
Meditation is not an effective method to spread spiritual corruption but casual sex with demon hotels is THE most effective method.
In the U.S., non-profit organizations included the Students International Meditation Society, AFSCI, World Plan Executive Council, Maharishi Vedic Education Development Corporation, Global Country of World Peace and Maharishi Foundation. The successor to Maharishi Mahesh Yogi, and leader of the Global Country of World Peace, is Tony Nader.
All this talk of world peace in the context of a rapist guru who spread "non-religious" Hinduism into America's halls of power puts a lot of pressure on my claim that there's no occult going on here. Certainly, it's hard to ignore that one of its noted evangelists is also an AIDS activist respected enough by the utterly depraved rulers of Sodom to train their new Commissariat.
But don't worry about it. Relax. Sit down, empty your mind and jam your conscience with nonsense. Then you won't feel stress about the State tracing who you associate with. You only need to REMAIN CALM and STOP THINKING while Evil goes about its business.
Demonic possession not even needed.