Clergy have a real hard time being loyal to Truth over Lies. Sometimes, that's important. And sometimes, that's VERY important.
This story begins very man-bites-dog.
RIP Darius Tarver: Bodycam Of Police Shooting 'Sharply Contradicts' Cops' Account
htt ps://newsone.com/3902161/darius-tarver-police-shooting-bodycam-questions/
By Adrian Moore, 11 February 2020
According to CBSDFW.COM, Tarver was shot and killed by Denton, Texas, police during an early morning confrontation at an apartment complex back on Jan. 21. Tarver was a University of North Texas student and according to the cops, he was approached by responding officers around 3 a.m. at The Forum at Denton Station apartments after residents called 911 about a guy who was banging on doors and yelling for someone to let him in. Occupants also said the man was breaking light fixtures with a frying pan in the breezeway.
He wuz goot boy, gwan to college. Sounds more like a tweaker on a bender.
Police say Tarver was holding a cleaver and frying pan once they arrived and they claim he ignored commands to drop the items and instead started advancing towards the cops. Police said they tasered Tarver but he was able to rise back up. "Then he charged full-on, at some point stabbing an officer in the shoulder," Denton Police Chief Frank Dixon said.
A cop then fired his gun multiple times, hitting Tarver at least once. Tarver was taken to the hospital where he passed away. Meanwhile, the officer who was reportedly stabbed was taken to the hospital and treated for non-life-threatening injuries.
Cause of death, failure to comply, sentence enhancements for holding a weapon and the taser not working.
Despite the police report, Tarver's father isn't buying the officers' full stories, according to lawyer S. Lee Merritt. "Tarver's father, a McKinney Police Department chaplain was allowed to see the bodycam from the shooting and believes it sharply contradicts official narratives," explained Merritt in a tweet.
Da cops shot him cuz he was frying bacon while black!
Wait, Tarver had a father in his life?
And Daddy was a police chaplain who said the cops lied?
Hmm.
According to WFAA, Tarver survived a terrible car accident just a week earlier when the roads were icy that day, according to family. The accident put him in the ICU and he was released from the hospital the following day. His family shared concerns that Darius might've been released too early and the accident might've changed him.
The car was totaled and Darius took a selfie of himself in the ICU.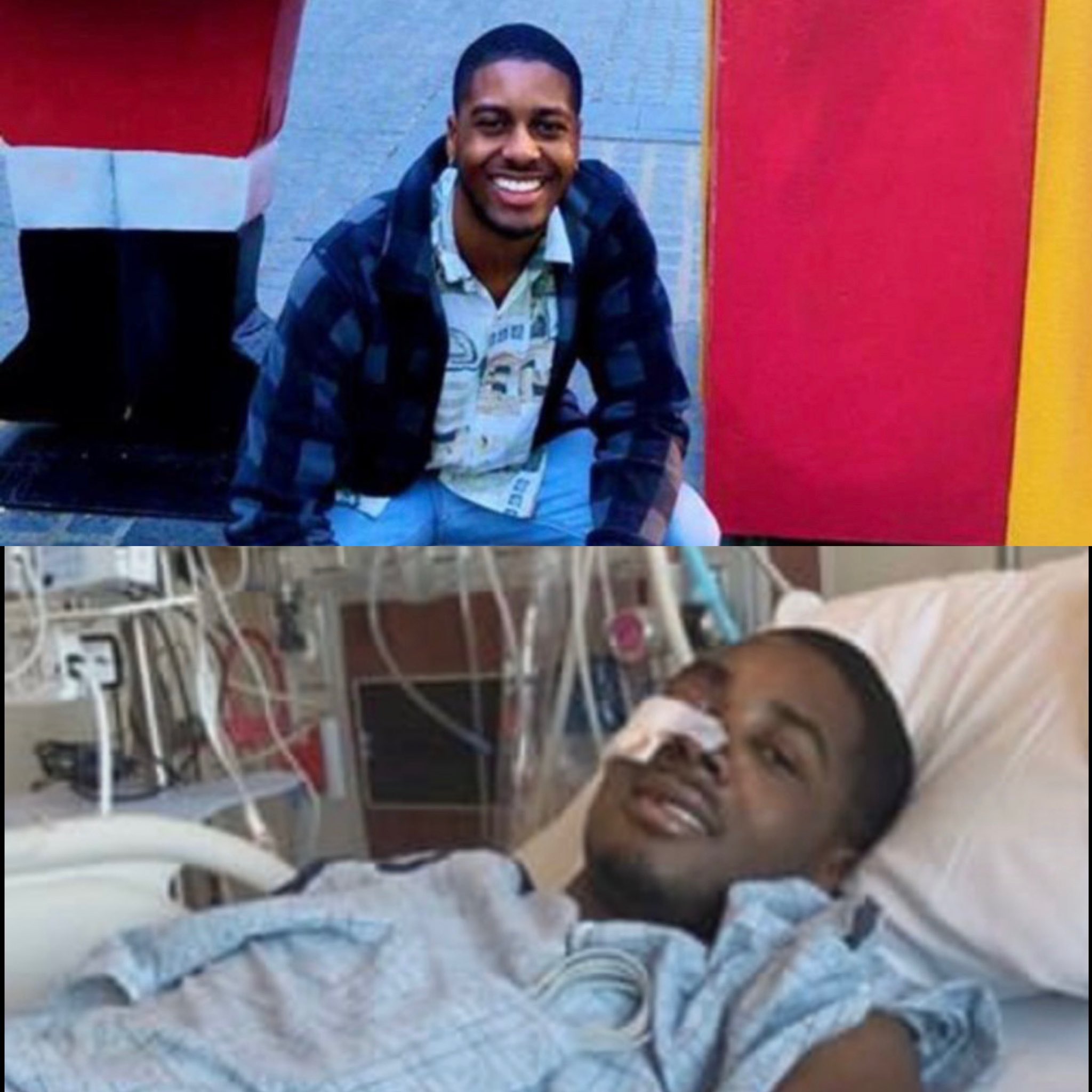 An overnight stay in the hospital is common practice for head injuries, to make sure there's no sudden personality changes or internal bleeding. So yes, this attorney's story might well be true.
The story of him being honestly brain-damaged, mind you, not the story of police murdering him in cold blood. Get your stories straight, peeps.  Was he shot because he acted crazy or because the cops were trigger-happy?
"Police were called when Tarver was observed breaking overhead lightbulbs with a skillet," Merritt continued in his tweet.
One emergency call was from Daruis' roommate, complaining that Darius had barricaded him inside his bedroom while babbling Christian gibberish.
"This behavior was consistent with the extreme sensitivity to light and difficulty with impulse control resulting from a severe impact to the brain. Police encountered Tarver muttering to himself while carrying a frying pan. Tarver did not immediately comply to commands to drop the pan. Denton PD officers responded by firing a taser that caused Tarver to writhe in pain. When the taser failed to take Tarver to the ground he was instead shot several times by a responding officer."
Writhing in pain is when the taser works… not the situation here. He left out "Darius charged the cops" between the taser deployment and the gun deployment.
Tarver family is set to hold a press conference on Tuesday where Tarver's father will "describe the body cam and outline false statements given by police in the official narrative," according to Merritt. Other members of law enforcement, local government, clergy and the UNT student body is also set to speak and condemn the shooting.
Darius was a tragedy but his priest-father committed blasphemy when he made a false accusation against the group he shepherded, after watching the bodycam that proved his words would be lies. "My race right or wrong" strikes again.
The tilt of his eyelids makes me a little suspicious but their heaviness is typical for blacks. He is definitely his son's father, however, which is a refreshing novelty.
Daddy citing bodycam footage motivated the police chief (also black) to call his lie out.
Climax begins at the five-minute mark. The play-by-play:
Darius comes down the stairs holding frying pan but not the reported meat cleaver. Acts odd but nonviolent. Refuses to drop the frying pan.
*Taser doesn't work*
Enraged, Darius draws the cleaver and charges at cops. One shot puts him down screaming. Butcher knife falls to the side, easily visible.
Police stop shooting and begin securing the scene.
Darius gets up, charges cops again.
More shots. KIA.
There's nothing different the police could have done within the constraints of standard procedures.
htt ps://dentonrc.com/news/chief-dixon-releases-bodycam-video-defends-officers-in-darius-tarver/article_77ea4c90-2ae7-5bd1-ad3b-a7cbca2f1033.html
Denton Police Chief Frank Dixon said Thursday at a news conference that after listening to residents call the officers involved in a Jan. 21 shooting death "murderers" and "suspects" at Tuesday's City Council meeting, he felt it was time to provide the facts to prevent further civil unrest or violence.
Dixon showed body camera footage during the news conference Thursday at the Denton Public Safety Training Center. The chief said he wanted to present the facts to the public because he couldn't let false and inaccurate information continue to spread, of which he said citizen commentary at Tuesday's City Council meeting was the tipping point.
"This is simply the right thing to do at the right time," Dixon said, adding that police aren't releasing the video to cater to anyone. "But it's been suggested that we've been delaying the release of this video because we have something to hide. That's absolutely not the case."
Although the police would prefer to not release the video yet to avoid disrupting their process — where a Denton County grand jury would hear the Texas Rangers' investigation before the video was released to the public — Dixon said he can no longer stand by and allow inaccurate information to spread.
"We're not going to allow people, no matter if it's for your personal agenda or your political aspirations and agenda, or even if you're grieving, to say hateful things about our cops," Dixon said. "It's time for people to stop with the rhetoric, look at what happened and come together and make us a better community for it."
A thumbs-up to Chief Dixon, who made the correct decision to break standard procedures in order to protect his men from false accusations… from a police chaplain!
Chaplain Kevin Tarver blasphemed against God. Hypocrites like him are why non-believers think Christ is a meaningless joke.