The Left continues to eat its own. We continue to enjoy the spectacle. I was concerned that Iraq was about to blow up again… its national government has already resigned, albeit in the incomprehensible parliamentary fashion… but Trump seems to have the situation well in hand.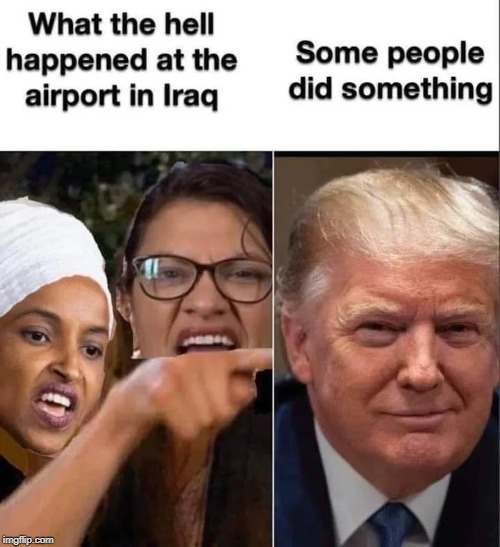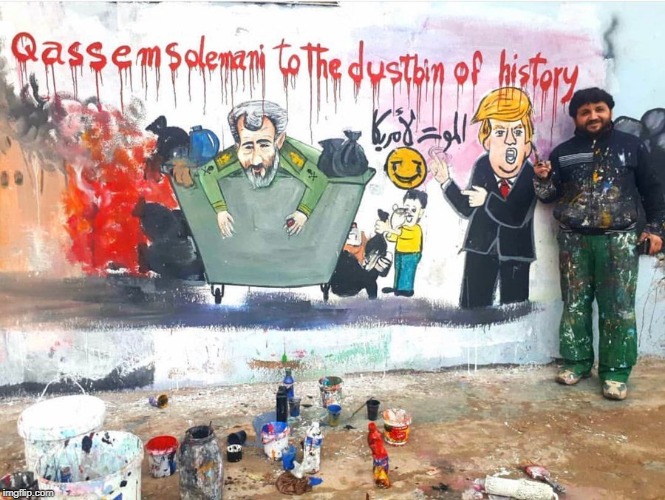 Which brings us to college professor Asheen Phansey who, as you might guess, is not quite as American as birthright citizenship would claim.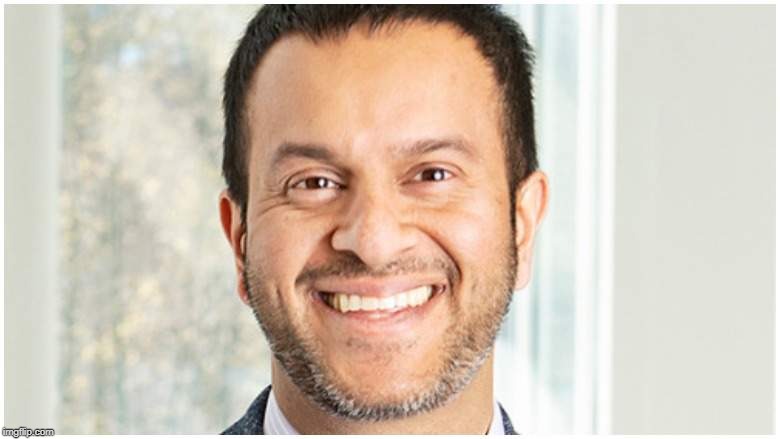 Asheen Phansey: 5 Fast Facts You Need to Know
Asheen Phansey is the former Babson College professor who was fired after jokingly suggesting on Facebook that Iran's leader should make a list of significant cultural sites in the United States to attack. Phansey wrote that Ayatollah Khamenei might target the "Kardashian residence" and the Mall of America.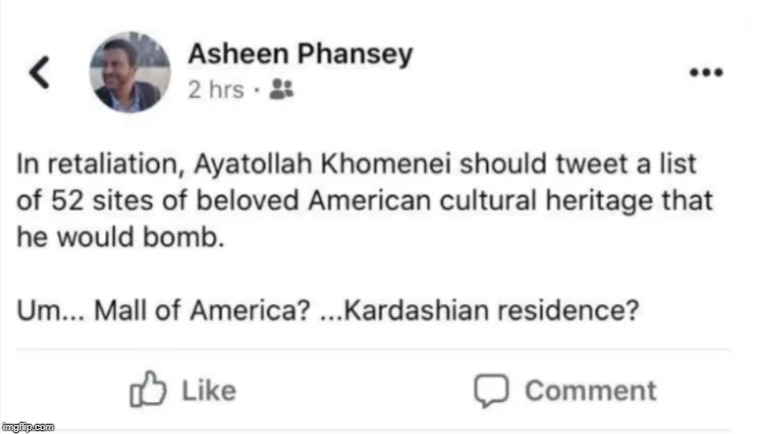 He's obviously joking with that Kardashian reference, not to mention that Khomeini reference. (He died in 1989.) Hell, I wouldn't even object to anybody whacking a Kardashian, they're that much of a national disgrace, although they'd probably just live on in the tabloids like Princess Diana so please don't bother, paparazzi.
But the Emperor is less forgiving than I am.
Phansey [wrote it on January 7, 2020 and then] deleted the post, which was shared to his personal Facebook page, and apologized for it. He told local news stations in the Boston area that the post was a "bad attempt at humor" and that he had been joking about the lack of ancient cultural sites in America compared to Iran. The remark was in reaction to President Donald Trump's threat to attack 52 cultural sites important to Iran.
Here is where I start to have a problem with him. He probably doesn't consider himself an American if he can joke about America not having any cultural history compared to Iran.  (He lived in MASSACHUSETTS when saying that, of all places.) But one tweet is not sufficient to make an accusation… a point upon which I disagree with Current Year's college administration:
Leaders at Babson College did not view Phansey's comment in a humorous light. He was suspended on January 8, 2020, before being officially terminated the following day.
Hmm, two days.
https://gunnerq.com/2019/02/21/unpersoning-takes-two-days-goodloe-sutton/
Babson College posted a statement on its website: "Babson College condemns any type of threatening words and/or actions condoning violence and/or hate. This particular post from a staff member on his personal Facebook page clearly does not represent the values and culture of Babson College. While we understand he has deleted the posts, we have immediately suspended him, with pay, pending the completion of our investigation. In addition, we are cooperating with local, state and federal authorities."
Standard CYA boilerplate. As if the Feds could possibly care about an elitist college professor's anti-Trump tweet.
Phansey released his own statement to local news outlets, insisting that his remark had not been intended as a call to violence. WCVB-TV published his apology, which he sent on January 8.
"I regret my bad attempt at humor. As an American, born and raised, I was trying to juxtapose our 'cultural sites' with ancient Iranian churches and mosques. I am completely opposed to violence and would never advocate it by anyone. I am sorry that my sloppy humor was read as a threat. I condemn all acts of violence. I am particularly sorry to cause any harm or alarm for my colleagues at Babson, my beloved alma mater, and the place where I have enjoyed teaching students and serving as its sustainability director."
Standard mistake of apologizing to liberals. Although this gives him away as a liberal himself, with "I condemn all acts of violence".
Phansey began a full-time job at Babson on February of 2019. He served as the Director of Sustainability. The department focuses on implementing campus-wide strategies to save the environment.
That is the point at which I become perfectly okay with his career being destroyed for no crime. God does not allow me to use Evil's methods to destroy Evil but when they do it to themselves, I'm not going to play Captain Save-A-Whale.
Call me Ishmael.
For confirmation that Asheen is evil:
Asheen Phansey has his own consulting company that is registered with the state of Massachusetts. He launched Phansey Consulting LLC in October of 2018, according to state records. Phansey explained on LinkedIn that his goal is to assist "companies and nonprofits in Corporate Responsibility."
Phansey is also involved with the Environmental League of Massachusetts Action Fund. The group works to promote policies to protect the environment. Phansey is listed as the group's Treasurer.
ELM's leadership is 80% female, not counting the Board of Directors with its usual ties to obscure finance & investment middlemen. Its primary function is funneling campaign money to politicians who push the Climate Change globalist agenda.
Thus, Asheen is an enemy of my country & people and therefore deserves to be treated as one. I would not use a false accusation like this joke-tweet, however. I would accuse him of what he's actually done.
Corruption, sabotage and treason no longer being punishable crimes, we are forced to settle for watching the Left turn upon its own… and while doing so, we're STILL being nicer to him than his own allies.