This topic is by request but I put it off for a few days after Christmas because it didn't fit the holiday mood.
https://www.foxnews.com/us/florida-vegan-couple-charged-murder-18-month-old-son-dies-malnutrition-starvation
21 December 2019
A Florida couple who told police they fed their children a vegan diet of only raw fruit and vegetables was charged with murder Wednesday months after their 18-month old son allegedly starved to death in their home.
Ryan Patrick O'Leary, 30, and Sheila O'Leary, 35, of Cape Coral, were indicted by a grand jury on charges of first-degree murder and other charges, State Attorney Amira Fox said.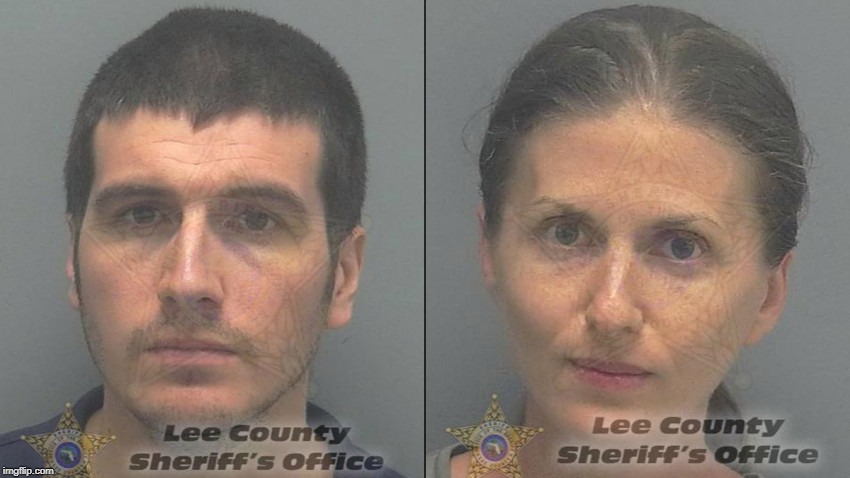 The guy 's face is very neutral. Lots of right angles for rational thinking. Thick eyebrows and forehead lines indicate intelligence. Flat cheeks, modest chin/jaw and thin nose suggest a lack of dominance and social energy. The inner ear cup is larger than the outer ear cup, indicating strong separation of internal and external worlds. Knowing what we do about his family life, that suggests he was easily able to keep the maltreatment secret; but this is not confirmed by the left eye being more guarded than the right, which one would expect.
He looks like an ordinary guy, not given to emotion but perhaps lacking in motivation and confidence as well.
The wife has red flags, particularly frizzy hair for disorderly thoughts and borderline sampan eyes (a lot of white above/below iris). Angled eyebrows indicate conflict, as opposed to flat rational or curved social eyebrows. Also a thin nose for low social energy, so I'd expect the couple to not hold a  lot of parties at the best of times.
It's not hard to believe she was psycho enough to maltreat her kids, but it's a mystery why he went along with it. Physiognomy doesn't offer a reason but religion does.
The mother called police on Sept. 27 when police said she said she noticed her 18-month-old son had gone cold and stopped breathing. The father tried to resuscitate him, police said. Paramedics pronounced the boy dead at the home in Lee County when they arrived, Fort Myers News-Press reported.
He weighed 17 pounds, the average weight of a seven-month-old, according to the police report. Sheila O'Leary allegedly told officers the family eats a vegan diet and she fed her children raw fruits and vegetables – mostly mangoes, bananas, avocados, and rambutans.
I've seen similar behavior in the Church. A while back, some Charismatic types got the notion that going to a doctor proved a lack of faith in God. Their stories made the news when children began dying of easily treatable diseases and similar troubles.
They weren't monsters. They prayed for miracles and when none happened, they grieved and buried their dead. They simply held their beliefs more strongly than reality.
Which brings us to veganism.
The human body needs animal protein to be healthy. Believing otherwise is a rejection of reality. But people are wired first to believe and only then to understand, if they even care to try. There are few damnations of atheism more effective than watching people who are well-fed and healthy, kill themselves from loneliness or throw themselves into extreme political movements for no personal gain.
This couple made a religion out of their diet. Every face shape is capable of that.
The parents were arrested last month after a medical examiner ruled that their child had died due to malnutrition, including dehydration. They turned themselves in on Nov. 6 and were initially charged with aggravated manslaughter. They were being held on a $250,000 bond each. They were arraigned in court on Monday. The charges against them were upgraded Wednesday.
The indictment related to three other children, ages 3, 5 and 11, who allegedly suffered from child abuse and extreme neglect at the same home, Fox said. Officers said the children appeared small for their ages and had a yellowish complexion. One child had blackened, decaying teeth, the Washington Examiner reported. Two of the children, ages 3 and 5, were placed in state custody. The 11-year-old is in the care of the child's biological father in Virginia.
So, wifey divorced & remarried to a vegan supremacist? And Florida is a long way from Virginia. She took the kid and ran.
That's how you can recognize Christianity as the correct religion. Children need their physical fathers and humanity needs its spiritual God the Father.