Ever notice that American life is beginning to resemble the movie "Red Dawn", except backwards? With the Russians flying in to save us from our Commie leadership?
Middle school teacher is 'left in tears' after principal CONFISCATED pizzas she'd bought as a reward for her hard-working students because it 'wasn't fair to other classes'
https://www.dailymail.co.uk/news/article-7814777/Parents-blast-middle-school-principal-cancels-student-pizza-party.html
20 December 2019
Oi! Look at that title! Never mind that this is literal, Soviet-style Communism. It's Communism that HURT A WOMAN'S FEELINGS! That's why this was originally reported as news?
Parents have hit out at an Iowa middle school principal after he abruptly cancelled a pizza party organized for a class of hard-working students.
Principal Thomas Hoffman reportedly left one of his teachers 'in tears' after he called off the celebration at Brody Middle School in Des Moines on Thursday, which the educator paid for herself and had been promising her students for three months.
KCCI reports that one irate parent, Neil Erickson, took to Facebook to vent his frustrations, penning a post which has now been shared thousands of times.
One man had the balls to call out this blatant act of evil. Maybe he's the only father left in Iowa.
Erickson wrote: 'My son attends Brody Middle School here in Des Moines. His class earned a pizza party that I believe the teacher paid for. He has been excited for this for days…telling me about it and how they earned it.
'Well today was the day. The pizzas were delivered to the class…the teacher paid and signed the receipt. Principal walks into the classroom and says 'I never approve pizza parties' or something to that affect.'
For a male principal, that's completely inexcusable behavior. Women at least have the excuse of being natural socialists until they're raised/trained better.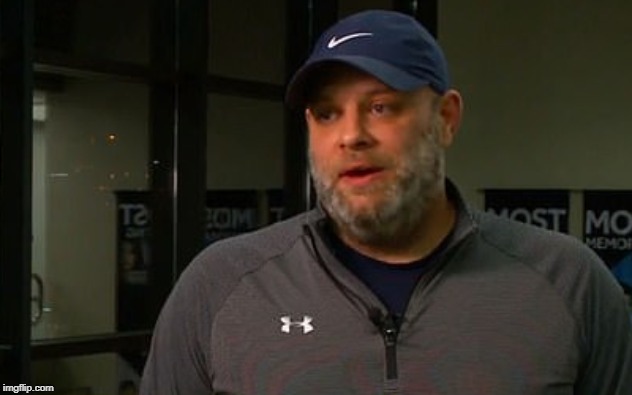 Erickson. He looks like your typical, corn-fed Midwesterner. Shouldn't that be a NASCAR hat? Maybe NASCAR isn't big in Iowa.
He continued: 'He took the pizzas from the kids and let them sit in the office for the teacher to pick up after school. Now my son and his classmates lost the party they worked hard to earn and the pizza I'm sure is wasted now…and the teacher was left in tears. I just cant believe it!'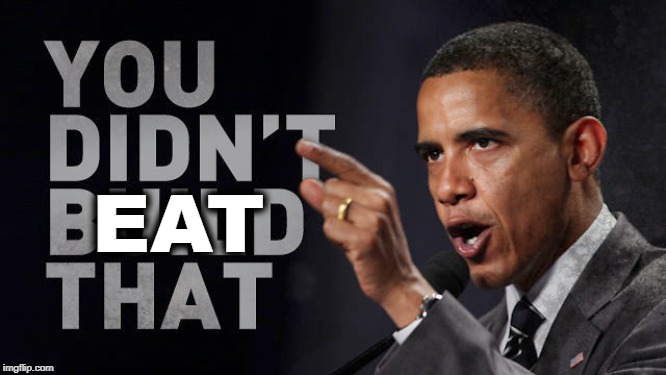 Dozens of people responded to the post, criticizing Principal Hoffman, with one even comparing him to the Grinch for calling the party so close to Christmas.
No, the Grinch is green. Hoffman's color is pink; that's him on the right: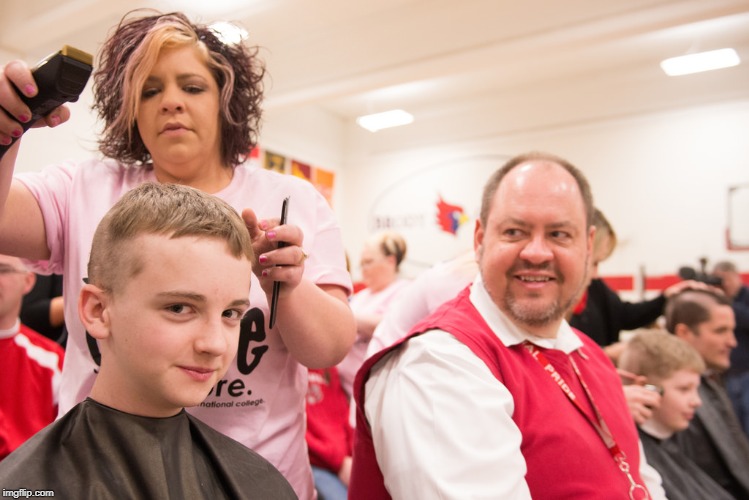 He has a similar face to Erickson, although even from a distance he has baggy lower eyelids. What's up with her? That's some disturbing hair for a presumable expert in hair style.
However, there were others who appeared to defend the head of the school for calling off the celebration.
Really? REALLY?!
'Maybe the teacher should have gotten permission before she did it, that would have made sense to me,' one wrote.
Bullshit. A good administrator doesn't rule with an iron fist. If a teacher wants to buy pizza for her class at her expense, particularly as a reward for whatever good work they'd been doing, then management should not interfere. She's doing the job you're paying her to do. Let it happen. It's called delegation and it makes your life easier.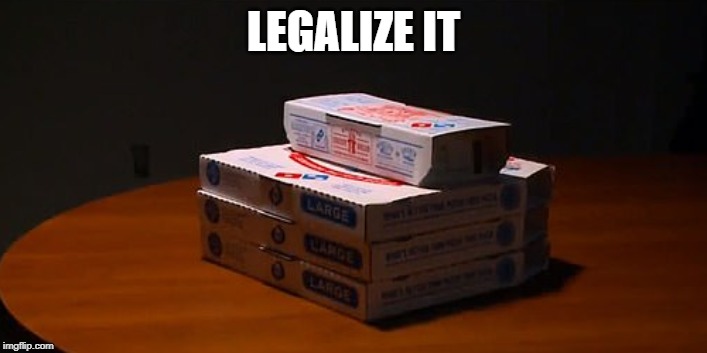 On Thursday evening, Hoffman released a statement obtained by KCCI apologizing for the party's cancellation, claiming that he believed he was acting in the best interest of all students.
On THAT note, this note:
'I know that many of you are upset about reports of a classroom pizza party, and the pizzas being taken away. I fully understand.
'As principal, one of my top priorities is fairness and equal opportunity for our students at Brody Middle School. That applies to everything from the chances they have to learn in the classroom to rewards and recognitions by our teachers and staff. We have discussed this from time to time as a school, and have agreed that fairness is a criteria we want to follow in how we treat all Brody students.
'However, I do want to apologize for being overly strict in applying that standard today when it came to one of our classrooms. Most of all, I want to apologize for disappointing any of our students, and punishing them.
'I understand that many people have been talking about having pizzas delivered to Brody tomorrow. If that's the case, we'll gladly welcome any donations, and arrange for a nice sendoff for our 700 students on the last day before Winter break.'
You heard it from the horse's mouth, folks. Hoffman confiscated the pizza IN THE NAME OF FAIRNESS AND EQUAL OPPORTUNITY. See, those students earned that pizza, which is why they didn't deserve it.
But hey, if people want to give pizza to ALL of the students, including the ones who did nothing to deserve it, then he's perfectly fine with that. Repentance would have HIM purchase the pizzas instead but it's Christmastime, yo! Forgiveness and freebies!
While his physiognomy was hardly diabolical, it's a safe bet this guy is a male feminist. This article turned up while I was searching for his mug.
Valentine's Day at Brody Takes on a New Purpose
https://www.dmschools.org/2014/02/valentines-day-at-brody-takes-on-a-new-purpose/
Samson was said to have lost all of his prodigious strength when he got a haircut but that's not the way it always works. Events this morning at Brody Middle School used haircuts to demonstrate the old axiom about strength in numbers.
An anti-Christian opener. Lovely. Unlike the girls who stupidly cut their hair just in time for the Valentine's Day dance.
The Brody community seems recently to have gotten more than its share of bad news in the form of cancer diagnoses. The reaction? Well, somebody walking into the middle of this morning's event in the packed gym might have thought they were crashing an assembly in celebration of a championship.
I was curious if cancer rates in Iowa had been spiking at this article suggests. It's true! Sort of.
Segue:
https://www.iowapublicradio.org/post/cancer-rates-steady-2019-one-exception#stream/0
The Iowa Cancer Registry's 2019 report shows new cases of most types of cancer are holding steady. Investigator Mary Charlton says the exception is cancers caused by the human papillomavirus or HPV.
Love causes cancer!
End segue.
Teachers, office staff, food servers, students – one after another they told their personal stories of struggles against the dread disease in its all too many forms. But to a person their remarks were triumphant and upbeat.
Collectively the speakers got their message across: it's not just some of us that have cancer; truly, we all have it. Some of us have been slugged and some of us only tapped (so far), but it's touched all of us somehow, through someone.
No, we don't all have cancer. In a matriarchy, strength comes via solidarity and victimhood. That is what's happening here.
The theme was "Through This Together," and there's even a spirited tune by that name that was composed by Brody's own Branden Oliver, a band instructor at the school. When it cued up any hands that were wiping away tears started clapping midway through in a spontaneous unison that spread through the united crowd like a cheerful, healthy contagion.
Then the shearing began.
Ominous.
There was more hair cut than you'd see at a military induction depot. The idea was for men to get their heads shaved to show solidarity with patients who lose their hair while undergoing cancer treatments. And women whose ponytails were shorn donated them to Locks of Love, a public non-profit organization that provides hairpieces to financially disadvantaged children in the United States and Canada under age 21 suffering from long-term medical hair loss from any diagnosis.
That's disgusting. Why wait to have cancer when you can look diseased now? We must not ignore the feelings of chronically sick people!
Seriously, think about this scene. You shave your head to look like a chemo patient, then "Locks of Love" turns your lost hair into wigs to help chemo patients look normal. That's whack. That's like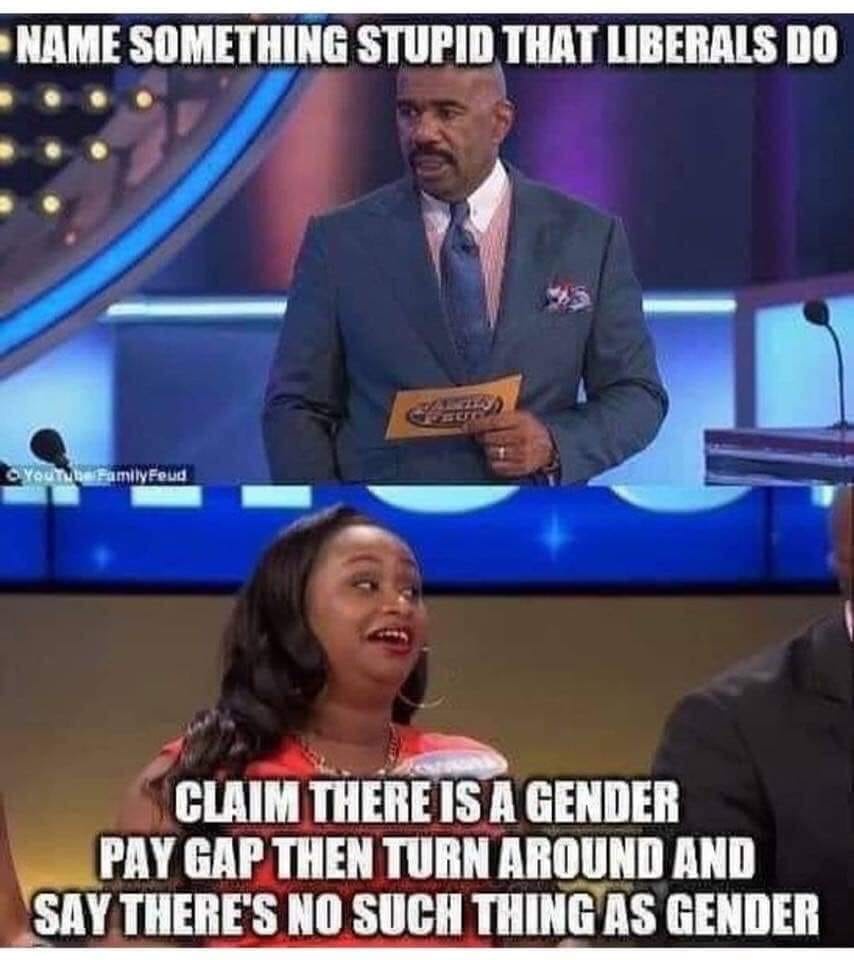 Meme shamelessly stolen from Spawneyspace.wordpress.com.
Women, don't cut your damn hair. Don't do it for charity. Don't do it for style. And God help your wayward souls, don't cut your hair specifically to look like a literally sick person. Maybe instead of "joining ranks" with the cancerous, you could shut your legs and not get the HPV that causes many cancers in the first place.
Principal Tom Hoffman gave it up for the cause, among many others. So did DMPS School Board member Bill Howard whose wife, Cathy, is the chief custodian at Brody. And so did Oliver, though his tresses were hard to categorize. Too bushy to be ponytailed, but he wasn't gonna go with the bald look. The student- stylists from La' James College who donated their time and talents just whacked off a good bit of his extra and bagged it for LOL.
The annual Valentine's Day dance at Brody tomorrow night will just continue today's theme and mood and raise funds for donation to the John Stoddard Cancer Center and Blank Children's Hospital.
Getting shaved bald just in time for a holiday social event, that's even more whack. Why not do the shearing after the big party, if you're going to do it at all? Are we not teaching the girls to look pretty for the boys?
So the assembly was designed to be part motivational; part fundraiser, but there may have been some future career decisions made in the stands this morning. It's not hard to imagine that it might also pay indirect dividends down the road in terms of more oncologists, assuming discovery of cures doesn't render that specialty obsolete. In that long-awaited event, the would-have-been docs can always become barbers instead.
"Why do you want to become a doctor?"
"Because my school principal convinced me to shave my hair off the day before a big Valentine dance."
The first step in teaching degeneracy is to normalize it, which this hair-cutting assembly accomplished. The second step is to punish normalcy… for example, revoking rewards for achievement.