One of my more controversial beliefs is that women shouldn't be trained or expected to wield weapons. By way of example, some U of Texas students have invented a new self-defense weapon for women: plastic knuckles! Like brass knuckles but with designer colors and a keychain.
This puts the Purse in Personal Defense!
UT students create device that packs a punch in tackling campus safety
https://cbsaustin.com/news/local/ut-students-create-device-that-packs-a-punch-in-tackling-campus-safety
by Gabriela VidalThursday, November 14th 2019
Five University of Texas at Austin students are channeling their safety concerns on campus into a powerful new self-defense tool.
"Personally, I have felt unsafe walking home from campus, especially at night," said Senior and engineering student Sydney Marvin.
It is a feeling these students say crept up on them following the murder of a UT student in 2016. Haruka Weiser, 18, was walking at night when she was killed by Meechaiel Criner.
Segue
Haruka Weiser: 5 Fast Facts You Need to Know
A theater and dance freshman at the University of Texas was found dead on campus in mysterious circumstances on April 5. On April 7, a statement from the school's president, Gregory L. Fenves, confirmed the identity of the victim as 18-year-old Haruka Weiser who was originally from Portland.
Per a nationwide survey, the virginity rate of theater students is 0%. She was headhunted to UT-Austin so had some legit dance skills.
The Austin Statesman reports that Weiser's family still live in Oregon. The newspaper adds that the family were all together during a trip to Mexico over spring break.
On her Facebook page, it's clear that Weiser enjoyed traveling. There are photos from 2013 and 2014 showing her in Europe with her family. While pictures from earlier in 2016 show her in Asia and in a statement her family said Weiser planned to travel to Japan in the summer of 2016 to visit family.
Weiser had ridden dick on three continents. That's how you end up dead, ladies, by being stupid. Not because you weren't packing heat while being stupid.
A family member told the Austin Statesman that Weiser also had dreams of going into some kind of medical field and planned to eventually double major in medicine.
That would have meant she was following in the footsteps of her father, Dr. Thomas Weiser. According to his Facebook page, he's a graduate of UC Davis School of Medicine.
She wanted to please her father… eh, after riding the carousel into the ground.
Weiser wrote, "My favorite styles of dance are ballet and hip-hop. I love the precision and grace of ballet, but at the same time, I enjoy the freedom and challenges I find in hip-hop."
Soooo not a virgin.
This is the first time that there has been an on-campus murder investigation at the University of Texas since 1966.
She was last seen leaving the drama building at around 9:30 p.m. on [Sunday] April 3. Her room mates called police later that night when they never heard from her.
https://www.dailymail.co.uk/news/article-3537649/Murdered-Texas-ed-18-sexually-assaulted-strangled-troubled-homeless-teen-17-dumped-body-creek.html
Law enforcement officials, who aren't authorized to speak publicly about the investigation, told the Austin American-Statesman that 18-year-old Haruka Weiser was sexually assaulted shortly before her death on Sunday, April 3.
Homeless teen Meechaeiel Khalil Criner, 17, was seen stalking the UT student from a dance class that night and then emerging from the creek area about two hours later with Weiser's bike and duffel bag.
Surveillance [showed] a black male dressed in a black jacket, orange shirt and grey pants. He was around 6 ft tall and of athletic build.
The surveillance shows him arriving on campus at 9.20 pm, where he is seen looking round and then leaves. He then returns to where a van was parked at 9.38 pm.
As he returns to his bike, a female dressed in all black and looking at her cell phone is then seen walking towards the alumni center.
Weapons can't compensate for zero situational awareness.
The figure passes the suspect and then continues towards the bridge, the suspect appears to watch her and puts the kickstand of the bike down.
He then reaches into his pants with his left hand and pulls out what appears to be a shiny ridged object.
The suspect then follows the female across the bridge and onto the sidewalk that extends behind the Alumni center and runs along west bank of Waller Creek.
Then, at 11.47 pm the suspect is seen walking along the side of the same bike, but now has some type of injury to his left leg and is carrying a bag.
End segue.
"And that was when we were applying to UT," said senior Margy McCallum, "And I remember coming into UT and you know, just feeling that fear."
Margy, you went to a college knowing you would be afraid of getting stabbed there? It's like that "25% of college women get raped" statistic. If you thought that was true then why would you go? Even unlit crack alleys don't have a 25% rape rate but you wimminz will go into debt for the opportunity to not be loyal wives.
Just a year later, in 2017, 19-year-old Harrison Brown was fatally stabbed.
Segue again.
https://patch.com/texas/downtownaustin/4-reportedly-stabbed-ut-austin-campus
AUSTIN, TX — A male student was killed and three others injured Monday when a fellow student, reportedly armed with a hunting knife, walked around the Gregory Gym area of campus and attacked the four students, UT Austin Police Chief David Carter said at a press conference Monday.
Carter said police received a call around 1:45 p.m. about an individual who assaulted someone outside the Gregory Gym. An officer was on the scene in less than two minutes and saw a person walking away from a student who was lying on the ground, Carter said. Police were immediately able to take the suspect, identified as Kendrex J. White, 21, into custody.
Authorities found that within a block of where the student had been attacked, there were three more victims, all male students, who had been stabbed. One of the students died from his injuries, and the rest were taken to Brackenridge Hospital for treatment.
Not a sex crime. Happened in broad daylight.
In a press conference following the attack, Carter said the suspect "calmly walked around the plaza," attacking the four students.
https://patch.com/texas/downtownaustin/ut-austin-students-killer-ruled-not-guilty-reason-insanity
AUSTIN, TEXAS — The man charged in the fatal stabbing attack that led to the death of a University of Texas at Austin freshman last year was found not guilty by reason of insanity on Tuesday, according to reports.
The ruling means Kendrex White will not spend any time in prison for the May 2017 killing of Harrison Brown but instead be sent to a maximum security mental health facility. State District Judge Tamara Needles made the ruling after White was indicted in July 2017 on a first-degree murder charge and three counts of aggravated assault for the stabbing spree that left others injured outside the campus gymnasium.
In issuing her ruling, State District Judge Tamara Needles agreed with a doctor's assessment that White was in the throes of severe mental illness and unable to distinguish between right and wrong when he stabbed Brown.
End segue.
"You're skeptical all the time now, like what if something like that were to happen again," said Megan Doyle.
In the former murder, the victim was begging for it with her bad choices. In the latter, there wasn't a CCW or ninja around when one was needed. A problem for men to handle, as that situation demonstrated.
So when Marvin, McCallum, Doyle, Ashley Raymond and Danna Tao joined forces for a class business project, they decided to create a device that put power and confidence in the hands of students.
Notably lacking in that list is skill, upper-body strength and a dominant/aggressive personality.
That project became "Pocket Punch." It is a four-in-one tool that includes a flashlight, alarm, pepper spray and durable plastic knuckles all in one. They are now working on making that product available for students to buy.
Smartphones have an app for two of those already. Me being a street veteran who has used pepper spray in a dogfight, let's take a look at the device.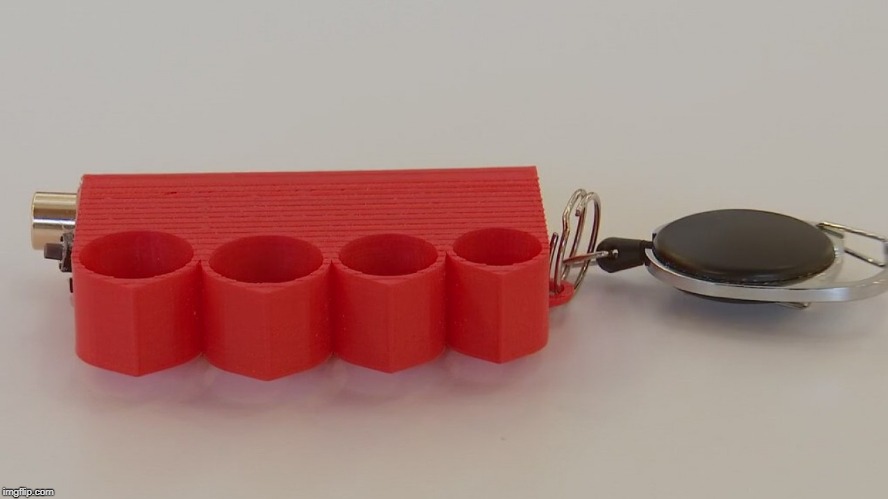 I know plastic bludgeoning weapons can be useful… got me a plastic tonfa for training… but this plastic doesn't look adequate for repeated use. There are ridges on the fingerholes to increase strike pressure but their small size suggests they were limited in order to avoid serious harm to the attacker, which is unacceptable outside the dojo.
The concept of integrating pepper spray into brass knuckles sounds gimmicky–I think pepper spray in general is gimmicky–but there is one good point here, that it'll be pointed in the right direction once the knuckles are on correctly. And that's the problem, "on correctly" will take more time than a self-defense situation allows. If you're going to rock the oleo capsicum then choose a can & holster such that it'll be aimed correctly the instant you draw it.
The bottom of your purse/pocket/belt bag is not a holster. Neither is the plastic knuckles. That nozzle is asking to get clogged with pocket lint.
The keychain is just stupid, like wrapping your grocery list around your rifle scope. Can you say "brandishing a weapon in public"?
"We just felt that there was a need for it, and most people we know face that need, but kind of use their car keys as a fix all solution," said McCallum. "A lot of competitors that we've looked into have less functions than us, and even their products are more expensive."
"Fewer" functions, college girl, and simplicity is a benefit not a drawback. They cost more because they aren't literally made of recycled ocean garbage.
They say the device will cost $29.99 and feature the option to buy a retractable keychain for students to have quicker access to the pocket punch.
My plastic tonfa cost half that and it's a real weapon, at least until I forget the skull isn't a valid strike zone and break it on some asshole.
"We wanted to come up with a solution that would work as an intimidation factor and keep the device securely in their hand," said Danna Tao.
Intimidation means open carry, not concealed carry, and brass knuckles on short, twiggy arms is not intimidating regardless.
"Our pepper spray will have a lock on the firing mechanism so it doesn't accidentally spray at some point, and then also our alarm will have a safety mechanism to not sound off in class," said Marvin.
Why not just scream like a little girl? Seeing as you're a little girl.
While these students have been working on the device for a couple of semesters, legally, they had to wait until after September 1 to start building a model they could sell. The state of Texas legalized the use of "knuckles" as a safety device in the last legislative session.
"We kind of had to put a pause on our project until it was legalized because we couldn't print 3D knuckles or anything of that sort," said Raymond.
Even in Texas, you now need government permission to defend yourself?
They have even consulted with UT Police about launching their product.
"I just think it gives them that extra empowerment, and it also gives them that chance to think about their surroundings and what's going on," said Captain Laura Davis, "And [it] put[s] them in the mindset to be able to defend themselves if that had to happen."
Couldn't find a pic. But college girls AREN'T going to defend herself with this gadget. Men are not women. Knuckles don't kill people; the testosterone-fueled muscles behind them kill people.
These young entrepreneurs say securing funding has been a learning experience.
"Unfortunately, on some of those big crowdfunding websites, our product falls under the category of weapon replica," said Tao.
Maybe hot pink isn't the intimidation factor you're looking for.
Still, they are moving forward and hoping to secure funds for the project through their GoFundMe campaign. Since launching their website last week, more than 100 people are on a waitlist to buy a "Pocket Punch." The students are also in talks with potential investors.
They hope to have it available to students on UT's campus by early 2020 and eventually expand their sales to other college campuses.
"Primarily we want to start with students here on campus and their parents, to make those connections," said Doyle.
I can't wait to report on the dead female wearing Pocket Punches in a year or two.