Epstein's close buddy gave a rare interview on the topic of that association. I found a transcript. Let's see what the devil's roommate has to say about himself. Nota bene, I'm not giving him the benefit of the doubt in this fisking. Nobody close to Epstein is clean.
Prince Andrew BBC: Newsnight interview – FULL TRANSCRIPT
https://www.express.co.uk/news/royal/1205447/prince-andrew-BBC-newsnight-interview-jeffrey-epstein-full-transcript
By Katie Sewell, 17 November 2019
Prince Andrew, Duke of York, has broken his silence on the Jeffrey Epstein scandal in an interview with the BBC. Until now, Andrew – who has strongly denied claims that he had sex with Epstein accuser Virginia Giuffre (nee Roberts) – had only released statements on the issue through Buckingham Palace's press office.
Emily Maitlis, Interviewer: Why have you decided to talk now?
Prince Andrew: Because there is no good time to talk about Mr Epstein and all things associated and we've been talking to Newsnight for about six months about doing something around the work that I was doing and unfortunately we've just not been able to fit it into either your schedule or my schedule until now. And actually it's a very good opportunity and I'm delighted to be able to see you today.
No. He wasn't too busy to think about the world's reaction to his established, long-term affiliation with child rapist and Israeli intelligence-linked blackmailer Epstein after he was murdered in a supermax prison waiting to testify… possibly against Andrew.
And every journalist drawing a paycheck would have dropped everything for the chance to interview him about it. The timing is probably directed by some necessity… Andrew is trying to send a message.
Interviewer: As you say, all of this goes back to your friendship with Jeffrey Epstein, how did you first become friends? How did you meet?
Prince Andrew: Well I met through his girlfriend back in 1999 who…and I'd known her since she was at university in the UK and it would be, to some extent, a stretch to say that as it were we were close friends. I mean we were friends because of other people and I had a lot of opportunity to go to the United States but I didn't have much time with him.
The next segue will confirm that the 1999 girlfriend was Giselle Maxwell. Andrew was 39 at the time, a good age for an idle nobleman to be completely burned out on kinky-but-legal.
I suppose I saw him once or twice a year, perhaps maybe maximum of three times a year and quite often if I was in the United States and doing things and if he wasn't there, he would say "well, why don't you come and use my houses?" so I said "that's very kind, thank you very much indeed".
But it would be a considerable stretch to say that he was a very, very close friend.
He didn't deny the friendship.
But he had the most extraordinary ability to bring extraordinary people together and that's the bit that I remember as going to the dinner parties where you would meet academics, politicians, people from the United Nations, I mean it was a cosmopolitan group of what I would describe as US eminents.
Extraordinary people, he says, at the highest levels of society and government. I'm sure all of those rich & famous routinely associate with ordinary guys who like to let strangers couch-surf in his home.
Interviewer: Was that his appeal then?
Prince Andrew: Yeah.
The appeal of Epstein was his network, his ability to provide the… correct people.
Interviewer: Was that what you…because you were perceived by the public as being the party prince, was that something you shared?
Prince Andrew: Well, I think that's also a bit of a stretch. I don't know why I've collected that title because I don't…I never have really partied. I was single for quite a long time in the early 80s but then after I got married I was very happy and I've never really felt the need to go and party and certainly going to Jeffrey's was not about partying, absolutely not.
It absolutely was. The segue is coming!
Interviewer: You said you weren't very good friends but would you describe him as a good friend, did you trust him?
Prince Andrew: Yes, I think I probably did but again, I mean I don't go into a friendship looking for the wrong thing, if you understand what I mean.
Trust was not part of their relationship. Power and perversion were.
I'm an engaging person, I want to be able to engage, I want to find out, I want to learn and so we blackmailed important people together you have to remember that I was transitioning out of the Navy at the time and in the transition I wanted to find out more about what was going on because in the Navy it's a pretty isolated business because you're out at sea the whole time and I was going to become the special representative for international trade and investment.
Segue and pass the popcorn:
The party prince: how Andrew got his bad reputation
https://www.theguardian.com/uk-news/2019/nov/18/the-party-prince-how-andrew-got-his-bad-reputation
By Zoe Williams, 18 November 2019
[This] was the 80s. So even though Prince Andrew's relationship with the actor Koo Stark at the start of the decade was mainly a problem for the Queen, according to rumour (of particular concern was the film Cruel Passion, in which Stark's character gets raped by a peer and two grave diggers, and is savaged by alsatians), there was also an amount of feminist disquiet. I mean, nobody thought that every relationship ought to end in marriage, least of all an 80s feminist. But a relationship with a woman who, never mind a ring on her finger, would probably not be allowed round an aristo dining table … it looks a tiny bit like using her. As an understanding of women as equals gained ground as the normal way to look at the world, Prince Andrew was increasingly marginal to that.
He was redeemed in the mainstream by his stint as a helicopter pilot in the Falklands war, though that generated some stomach-churning brown-nosing: "His arrival on the scene has given a new meaning to the initials HRH. With Andrew, they stand for His Royal Heart-throb," is a line biographer Andrew Morton must surely have paid for in self-respect. "Warrior prince" came up a lot, too. So for a while, Prince Andrew was just Classic Royal, maybe a wastrel and a gadabout in peacetime, but a standup guy in a war. And then in 1986 he married, and all the Queen's qualms were soothed. For about one second.
The union with Sarah Ferguson was not an especially happy one – 10 years later, Ferguson joked that she passed the time renting videos while he frolicked with 27 concubines – but rich people's unhappy marriages aren't fundamentally more interesting than regular people's.
Nice try, Zoe, but your very job writing this very article puts the lie to THAT whopper.
…Because of the lurid infidelities that surrounded the split (obviously, the toe-sucking stands out – if you're too young to remember all this, I would strongly discourage Googling it), theirs seemed more like a comedy subplot to the main tragedy [of Princess Diana]. Yet both divorces represented quite a serious crisis for the royal family. As Mayer explains: "The monarchy is smoke and mirrors. It exists, and there is a consensus, though a fraying one at this point, because it appears to have a unifying representation of the ideals and values of the nation. So when they started getting divorced, there was a sense that they were reflecting too accurate a portrait of who we really were."
[It's] a problem when your job is as amorphous as Prince Andrew's was by 2001: no longer in the navy, he was a roving trade envoy, spreading the amorphous message that Britain was – God knows, as good as its word? Classy? For sure, his wasn't a very feelgood life story; but he probably could have weathered these questions of constitutional purpose were he living a life of green wellies and speciality dogs. Instead, he was at the model Heidi Klum's Halloween party in New York, where the theme was "kinky sex", according to the Mail. From beaches in Thailand with "bikinied beauties" to "three-day flirtations with a Playboy pinup" in Los Angeles, there was a pictorial record of a man who has "trade ambassador" on his lapel, but doesn't seem terrifically interested in the steel industry, put it that way. Ghislaine Maxwell was always tacitly blamed for introducing him to the "fast set" (he had met the daughter of the disgraced Robert Maxwell while she was at university); obviously, that was before we started blaming her for his friendship with Epstein.
Yeah, Andrew why DO they call you the Party Prince when you never went to parties? Because you went to orgies, not parties. Because you started with an actress best known for her necrobestiality movie, traded up to an Israeli honeypot and topped out at Heidi Klum in her Goth phase.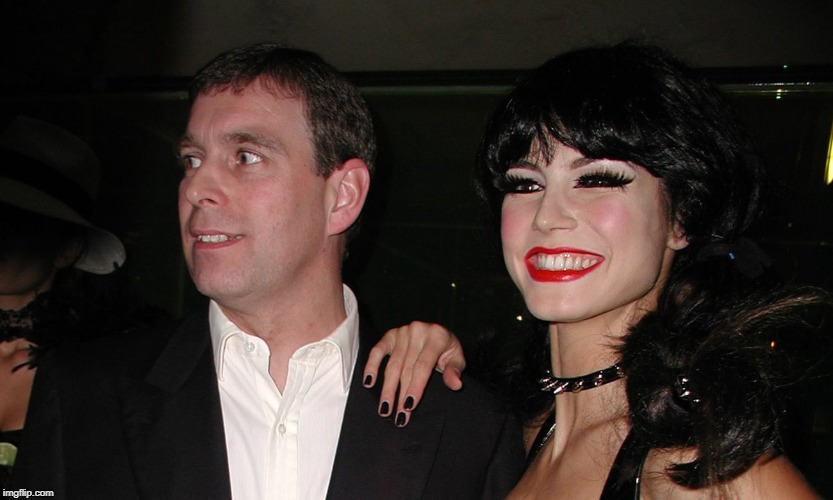 Then you apparently got bored of kinky but legal, because Epstein didn't have a bridge for sale when you rang him up, Mister Trade Ambassador. What was the Queen thinking, to give you such a long leash?
End segue.
Prince Andrew: So I wanted to know more about what was going on in the international business world and so that was another reason for going there. And the opportunities that I had to go to Wall Street and other places to learn whilst I was there were absolutely vital.
Wall Street has got to be code for Israel.
Interviewer: He was your guest as well, in 2000 Epstein was a guest at Windsor Castle and at Sandringham, he was brought right into the heart of the royal family at your invitation.
Prince Andrew: But certainly at my invitation, not at the royal family's invitation but remember that it was his girlfriend that was the key element in this. He was the, as it were, plus one, to some extent in that aspect.
It's REEEALLY got to be code for Israel. He's outing Giselle as the link.
Interviewer: Am I right in thinking you threw a birthday party for Epstein's girlfriend, Ghislaine Maxwell at Sandringham?
Prince Andrew: No, it was a shooting weekend.
Interviewer: A shooting weekend.
Prince Andrew: Just a straightforward, a straightforward shooting weekend.
Segue:
https://www.dailymail.co.uk/news/article-7371981/Pictured-Jeffrey-Epstein-Ghislaine-Maxwell-pheasant-shoot-Prince-Andrew-Sandringham.html
Dressed in winter coats and walking boots, Epstein and his ex-girlfriend Ghislaine Maxwell enjoyed a pheasant shooting party on the Queen's estate in Norfolk after being invited by the Duke.
Well… okay. That could have been very creepy.
One of the young women on the Balmoral trip told the Daily Mail how the prince personally welcomed the party to the castle in mid-1999 – after the disgraced US financier had already begun recruiting dozens of underage girls as sex slaves.
That's a very brief interval between meeting Epstein via Maxwell and hosting him at a famous Royal Family estate. Methinks the Prince didn't do that for all of his casual contacts.
It comes after revelations that Andrew even visited Epstein – who killed himself in prison this month – at his home in New York in 2010. This was two years after Epstein had been convicted of sex with a child.
Footage published by The Mail on Sunday showed the Duke of York grinning from the doorway of Epstein's mansion, as a number of very young women leave and enter.
End segue.
Interviewer: We now know that he was and had been procuring young girls for sex trafficking.
Prince Andrew: We now know that, at the time there was no indication to me or anybody else that that was what he was doing and certainly when I saw him either in the United States…oh no when I saw him in the United States or when I was staying in his houses in the United States, there was no indication, absolutely no indication. And if there was, you have to remember that at the time I was Patron of the NSPCC's Full Stop campaign so I was close up with what was going on in those time about getting rid of abuse to children so I knew what the things were to look for but I never saw them.
National Society for the Prevention of Cruelty to Children. Interesting that he volunteered that association in an interview about befriending a child-raping monster. Segue:
NSPCC distances itself from Prince Andrew after facing backlash over its historic links to the scandal-hit royal
https://www.dailymail.co.uk/news/article-7391405/NSPCC-distances-Prince-Andrew-facing-backlash.html
By Jake Ryan, 24 August 2019
Britain's largest children's charity has distanced itself from Prince Andrew after facing a public backlash over its historic links to the scandal-hit Royal.
The NSPCC faced mounting criticism from members of the public who complained that the Royal Family's website listed Prince Andrew as a patron of one of the charity's campaigns.
They questioned the association of a charity that works to protect vulnerable children with the Prince in the wake of the renewed focus on his close friendship with convicted paedophile Epstein.
This isn't funny anymore.
[NSPCC responded] to a barrage of criticism on social media by clarifying that its ties with Andrew ended a decade ago, saying: 'Prince Andrew is no longer our patron, he supported our Full Stop campaign which ended in 2009.'
One of a string of social media users to question the charity said: 'Prince Andrew is still listed as representing a number of children's charities. I work with child and young people organisations and have cancelled all NSPCC training until I get a response to their position of having him as a patron.'
It's not enough that ties have been severed. They should check if any children went missing during Prince Andrew's time there. The NSPCC is probably safe, it sounds like a brief promotional thing. But Andrew was, and still is, well positioned to supply vulnerable children to organized pedo rings:
He is patron of more than 200 charities and organisations, including 33 involved in education and skills with young people.
Only the University of Huddersfield has so far responded after a leading academic called on the institution to suspend the Prince as its chancellor, a post he took up in 2015.
Author Dr Stephen Dorril, a security and intelligence expert and a former lecturer at Huddersfield, wrote a letter to the university asking how it intended to safeguard its 'good name and values' over the damaging allegations concerning Andrew.
A spokesman said Andrew had issued an emphatic denial to allegations of impropriety, adding: 'His enthusiasm for innovation and entrepreneurship is a natural fit with the work of the university.'
Innovation? Entrepreneurship? We're talking about Prince Andrew? Total lies. His very questionable sex history outweighs any possible benefit.
Over 200 charitable organizations and only Dr. Dorril filed a formal complaint. Pathetic, but USA isn't doing any better.
End segue.
Interviewer: So you would have made that connection because you stayed with him, you were a visitor, a guest on many occasions at his homes and nothing struck you as suspicious…
Prince Andrew: Nothing.
Interviewer: …during that whole time.
Prince Andrew: Nothing.
Interviewer: Just for the record, you've been on his private plane.
Prince Andrew: Yes.
Interviewer: You've been to stay on his private island.
Prince Andrew: Yes.
Interviewer: You've stayed at his home in Palm Beach.
Prince Andrew: Yes.
Interviewer: You visited Ghislaine Maxwell's house in Belgravia in London.
Prince Andrew: Yes.
Man, this is a good fight!
Interviewer: So in 2006 in May an arrest warrant was issued for Epstein for sexual assault of a minor.
Prince Andrew: Yes.
Interviewer: In July he was invited to Windsor Castle to your daughter, Princess Beatrice's 18th birthday, why would you do that?
Prince Andrew: Because I was asking Ghislaine. But even so, at the time I don't think I…certainly I wasn't aware when the invitation was issued what was going on in the United States and I wasn't aware until the media picked up on it because he never said anything about it.
Interviewer: He never discussed with you the fact that an arrest warrant had been issued?
Prince Andrew: No.
Interviewer: So he came to that party knowing police were investigating him.
Prince Andrew: Well I'm not quite sure, was it police? I don't know, you see, this is the problem, I really don't know.
Feel the burn, Prince Arsewipe!
Interviewer: It was the Palm Beach Police at the time.
Prince Andrew: But I mean I'm afraid, you see this is the problem is that an awful lot of this was going on in the United States and I wasn't a party to it and I knew nothing about it.
Interviewer: In 2008 he was convicted of soliciting and procuring a minor for prostitution, he was jailed, this was your friend, how did you feel about it?
Prince Andrew: Well I ceased contact with him after I was aware that he was under investigation and that was later in 2006 and I wasn't in touch with him again until 2010. So just it was one of those things that somebody's going through that sort of thing well I'm terribly sorry I can't be…see you.
Did Andrew ever have "the conversation" with Epstein? The "you motherfucking asshole, you used Buckingham Palace as a safe house to duck a child molestation warrant! Come visit England one more time, I dare you!" conversation?
Interviewer: So no contact?
Prince Andrew: No contact.
Interviewer: When he was serving time there was no call, no letter, nothing there?
Prince Andrew: No, no, no.
Interviewer: He was released in July, within months by December of 2010 you went to stay with him at his New York mansion, why? Why were you staying with a convicted sex offender?
Prince Andrew: Right, I have always…ever since this has happened and since this has become, as it were, public knowledge that I was there, I've questioned myself as to why did I go and what was I doing and was it the right thing to do? Now, I went there with the sole purpose of saying to him that because he had been convicted, it was inappropriate for us to be seen together.
He cannot possibly think we're that stupid, to believe he insisted on a face-to-face meet BECAUSE they couldn't be seen together anymore. Instead, I think he's telling (((them))) that when he went back, he knew Epstein was busted and vulnerable.
Because this sure as HELL isn't making anybody feel better about their association. He couldn't do a better job of increasing suspicion against him than… if he was trying to?
Prince Andrew: And I had a number of people counsel me in both directions, either to go and see him or not to go and see him and I took the judgement call that because this was serious and I felt that doing it over the telephone was the chicken's way of doing it. I had to go and see him and talk to him.
And I went to see him and I was doing a number of other things in New York at the time and we had an opportunity to go for a walk in the park and that was the conversation coincidentally that was photographed which was when I said to him, I said "look, because of what has happened, I don't think it is appropriate that we should remain in contact" and by mutual agreement during that walk in the park we decided that we would part company and I left, I think it was the next day and to this day I never had any contact with him from that day forward.
Andrew was probably getting cold feet. Per
https://www.dailymail.co.uk/news/article-7642983/Is-proof-infamous-picture-Prince-Andrew-Epstein-WASNT-staged.html
"Questions over the credibility of the photographs came as a spin doctor [Jason Stein] hired by Andrew to help rebuild his reputation quit after less than a month."
Moral of that story, don't hire a Jew to investigate a Jew. Not even if it's New York and there's nobody else to hire.
Interviewer: What did he say when you told him that you were breaking up the friendship?
Prince Andrew: He was what I would describe as understanding, he didn't go into any great depth in the conversation about what I was…what he was doing, except to say that he'd accepted, whatever it was, a plea bargain, he'd served his time and he was carrying on with his life if you see what I mean and I said "yes but I'm afraid to say that that's as maybe but with all the attendant scrutiny on me then I don't think it is a wise thing to do".
Interviewer: Who advised you then that it was a good idea to go and break up the friendship? Did that come from the palace, was Her Majesty, the Queen involved?
Prince Andrew: No, no, no, no, no, no, no, no, no, that came from…so there were a number of people who…so some people from my staff, some people from friends and family I was talking to and I took the decision that it was I had to show leadership and I had to go and see him and I had to tell him "that's it".
Interviewer: That was December of 2010.
Prince Andrew: Yep.
Interviewer: He threw a party to celebrate his release and you were invited as the guest of honour.
Prince Andrew: No, I didn't go. Oh, in 2010, there certainly wasn't a party to celebrate his release in December because it was a small dinner party, there were only 8 or 10 of us I think at the dinner. If there was a party then I'd know nothing about that.
Seriously, what WAS the point of this interview? We've passed parody.
Interviewer: You were invited to that dinner as a guest of honour.
Prince Andrew: Well I was there so there was a dinner, I don't think it was quite as you might put it but yeah, okay I was there for…I was there at a dinner, yeah.
Interviewer: I'm just trying to work this out because you said you went to break up the relationship and yet you stayed at that New York mansion several days. I'm wondering how long?
Prince Andrew: But I was doing a number of other things while I was there.
Interviewer: But you were staying at the house…
Prince Andrew: Yes.
Interviewer: …of a convicted sex offender.
Prince Andrew: It was a convenient place to stay.
No. It. Wasn't. Were they doing dirt back and forth? Andy bugging Eppy's apartment while Eppy hired a photographer?
I mean I've gone through this in my mind so many times. At the end of the day, with a benefit of all the hindsight that one can have, it was definitely the wrong thing to do. But at the time I felt it was the honourable and right thing to do and I admit fully that my judgement was probably coloured by my tendency to be too honourable but that's just the way it is.
Interviewer: Because during that time, those few days, witnesses say they saw many young girls coming and going at the time. There is video footage of Epstein accompanied by young girls and you were there staying in his house, catching up with friends.
Prince Andrew: I never…I mean if there were then I wasn't a party to any of that. I never saw them. I mean you have to understand that his house, I described it more as almost as a railway station if you know what I mean in the sense that there were people coming in and out of that house all the time. What they were doing and why they were there I had nothing to do with. So I'm afraid I can't make any comment on that because I really don't know.
Sounds like yes, Andrew did bug the house. Those friends who told him to go back to Epstein one last time and "do a few errands while in New York" were probably COINTEL for MI6.
Interviewer: Another guest was John Brockman, the literary agent. Now, he described seeing you there getting a foot massage from a young Russian woman, did that happen?
Prince Andrew: No.
Interviewer: You're absolutely sure or you can't remember?
This interview is almost too perfect. Maybe Prince Andrew's plan here is to taint the jury pool… of the entire planet!
Stay tuned for Part 2! (Or click on the link in frustration that I stopped on a cliffhanger.)