A famous artist was hired to paint a Chicomm leader-sized portrait of the infamous eco-midget in San Fransicko… and is hated for using paint and electricity to do so.
Greta Thunberg mural in San Francisco stirs controversy over use of spray paints
https://www.foxnews.com/us/greta-thunberg-mural-san-francisco-controversy-spray-paints
By Robert Gearty, 11 November 2019
A massive mural of the face of teen climate activist Greta Thunberg in downtown San Francisco makes its debut Tuesday — even as it stirs controversy.
Yep, it's not even finished yet and SJWs are point-and-shrieking. This must be why the good artists cover their art until it's finished.
The artist behind the 60-foot-tall by 30-foot-wide creation is Argentine muralist Andres Iglesias, who goes by the name Cobre and is known for his "hyper-realistic" portraits. He agreed to work for free on the project, which is being sponsored by the environmental nonprofit One Atmosphere.
Per its website, One Atmosphere is a front organization for ("partners with") the city and county of San Francisco. Partnering with the state is a little different than partnering with, say, the San Francisco Giants.
But Cobre was forced to go on the defensive after social media users began noting the irony of using spray paints – which they say harm the environment – to pay homage to the 16-year-old Thunberg, The Art Newspaper reported Sunday.
Relax, eco-Nazis. The chlorofluorocarbons destroyed the ozone layer twenty years ago, as infallibly predicted by UN climate change forecasts. You're already dead, therefore don't need to worry.
Cobre responded that the materials he was using were environmentally friendly, the paper reported.
"The thing is, the sprays I use are eco-friendly, and most of the paint is hand-painted with a roller," he told the paper. "[It is] water-based so there is zero impact."
Uh oh, he apologized.
One Atmosphere said Sunday in a post on city guide SF Station's Instagram page that they were using spray cans that don't contain environmentally damaging chlorofluorocarbons.
"We are using low-pressure cans with a minimal footprint," the post said. "The cans and the boxes will also be recycled, although many of the cans will first have a second life as part of a separate art project."
The nonprofit went on to say the cans have been picked up and delivered in an electric vehicle, and the artist and organizers have been traveling almost exclusively by way of electric car, electric scooter or on foot to the project site — the side of building on Mason Street, above the music venue August Hall.
"The lift being used is also electric, not diesel." the post added.
Sure, and water comes from faucets. Milk comes from cartons. I hope God is herding all of His most vile enemies into the Gay Area in order to drop an environmentally-friendly asteroid on them, because that's a lot of zombies overrunning my street if He just does the Hayward Fault.
I am reminded of that Berkeley philosophy student who recently went viral for saying rural farmers deserve to be punished for not living sustainably in high-density housing.
At the same time, the paper reported some budding art critics on Twitter claimed the mural looked more like Russian President Vladimir Putin.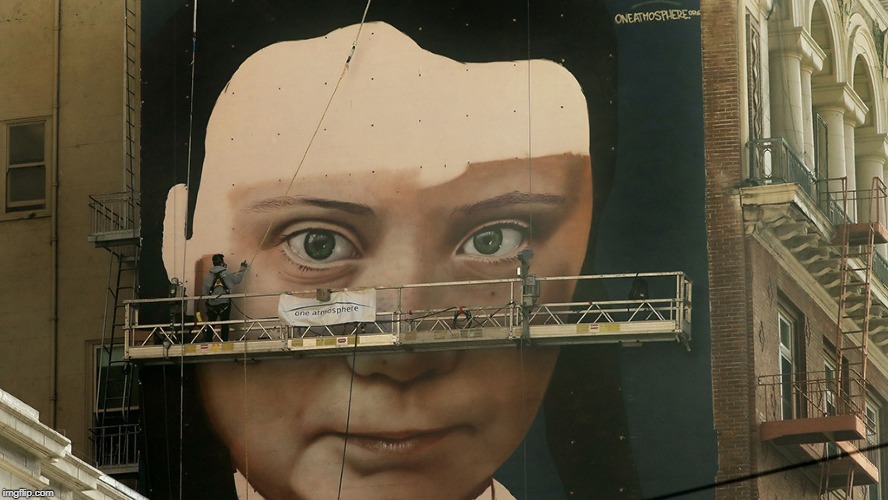 Greta Thunberg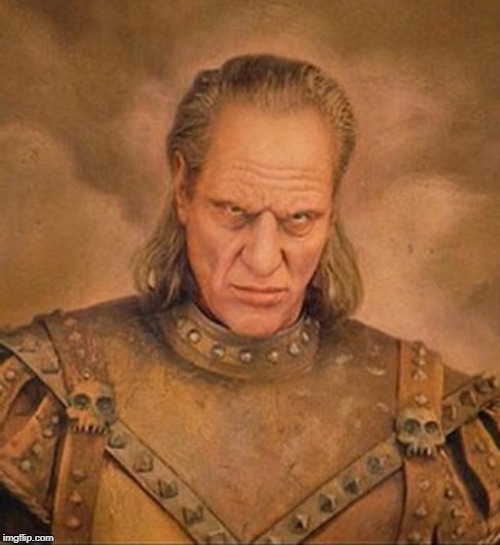 Viggo the Carpathian, Ghostbusters 2. My vote.
"I can't be the only person that thinks the mural of Greta Thunberg in San Francisco looks like Putin, right?" one person tweeted, according to the paper.
Hahaha! It's been RUSSIA RUSSIA RUSSIA for so long that socialists are losing their already-fragile grasp upon reality. You think they were already psycho? You haven't seen 4 November 2020 yet.