I can respect an honest mercenary. Yes, they'll do you wrong for a dollar, but they'll also tell you who they're doing it for, won't seek sadistic pleasure by forcing you to violate your conscience and are kindred spirits: we both appreciate the freedom to live as we individually choose. Tyrants hate that.
Shutterstock's CEO Jon Oringer would have been a better human being if he had been a conscienceless vulture capitalist. Instead, he chose true wickedness and now is falling into the pit he dug for others.
Ah, the warning sign of cutting pupils. Sociopathy is likely. His background is reported by Wikipedia to be a self-taught computer expert/entrepreneur but his face does not match that at all.  The eyebrows are rounded for social orientation as opposed to flat, rational orientation. They are also notably thickest at the outside, indicating a managerial attitude compared to visionary attitude.
Middle third of his face is dominant, indicating a motivation of status/ambition. The chin is curiously strong compared to the jaw. I see the prominent chin most often on men who were high school/college football jocks… not on twiggy, pencilnecked soyboys that can't grow a beard.
It may be a red flag, the combination of thin lips (dispassionate in interpersonal relationships) with very curly hair (high sexual energy). Or not. Something to think about. He does lack the eye crows-feet indicator of marital/sexual stress.
Read: he's got multiple indicators of social dominance/aggression but absolutely no physical ability to back it up. Little to suggest tech-oriented interests. Thus, he's a manipulator of people and was probably never the technical talent in any of his business efforts.
Report: Shutterstock Employees Fight Company's Decision to Censor Images for Chinese Government
https://www.breitbart.com/tech/2019/11/07/report-shutterstock-employees-fight-companys-decision-to-censor-images-for-chinese-government/
By Lucas Nolan, 7 November 2019
The stock image hosting website Shutterstock is reportedly coming under fire from employees who are angered by the company's decision to willingly support communist China's censorship by blocking searches that could offend the country's government, such as blocking people from mainland China searching for "Taiwan flag."
The Intercept reports that the stock image hosting website Shutterstock is facing backlash from employees angered by the company's decision to willingly support China's censorship practices and block searches that could offend the country's communist government.
From EMPLOYEES. Not watchdogs. Not critics. Not a lone whistleblower. This time, the people being ordered to carry out the censorship are the ones balking at the censorship. This is a tip-of-the-iceberg moment worth looking at.
Shutterstock hosts a vast catalog of images, the rights to which can be purchased for public use and has turned itself into a firm generating $639 million-per-year and operating in more than 150 countries. But, in September, Shutterstock engineers were told to begin developing a search blacklist to wipe images associated with keywords forbidden by the Chinese government from query results.
The new system reportedly went into effect last month and automatically blacklists the following terms from being displayed to anyone with a mainland Chinese IP address: "President Xi," "Chairman Mao," "Taiwan flag," "dictator," "yellow umbrella," or "Chinese flag." Any use of these words or variations of these terms will return no results.
Shutterstock's relationship with China dates back to 2014 when the firm struck a distribution deal with ZCool, a Chinese social network and portfolio website for artists. Shutterstock announced a $15 million investment in Zcool last year and noted that due to the partnerthsip: "Shutterstock's content now powers large technology platforms in China such as Tencent Social Ads."
It's tempting to believe that this is just the CEO protecting his company's foreign investments. But that wasn't the reason he gave. More in a moment.
Shutterstock employee discussed the situation with The Intercept stating: "Yes, we're a creative photo and video marketplace, but we are also an editorial news hub. Want to write a story about the protests in Hong Kong? They never existed. Want to write about Taiwan? It never existed. Xi Jinping is NOT a dictator because he specifically said so. This is dark shit."
The boldfaced is the tech sector's current "have your cake and eat it too" situation. Being only a publisher/database/medium, they can claim Free Speech protections, but being also gatekeepers and editors-of-other-people's-content, they get to act as censors. All power, no responsibility. Not a new situation.
But THIS is new:
Shutterstock employee petition: Petition to End Censorship
We, the undersigned employees of Shutterstock [GQ: over 180 signatures per the Intercept], are calling upon the company to reject the demands of the Chinese government to suppress search results for politically sensitive topics for site users in China.
While complying would allow the company to benefit from continued operation in China, we believe that any censorship would set a harmful precedent and have deleterious effects on our company, China and the world. By complying, we are enabling injustices, including the discrimination of the people of Hong Kong, the suppression of Chinese political dissent, and undermining the sovereignty of Taiwanese people. This first step of building search filters lays open the door to more types of discrimination in the future.
I wish I could believe that these are concerned whites who realize how likely Chinese oppressions are to be unleashed upon the United States once doing so requires only the sysadmin to click on a setting. But the truth is more likely that Shutterstock employs many East Asians who see their homelands as China's next target after Hong Kong falls.
We are proud of Shutterstock's history of taking a stand on important topics like net neutrality, immigration policies, and antisemitism, among others. We recognize that the issue before us today has the potential to impact our revenue and growth in a way these other issues may not, and therefore by meeting the Chinese government's demands, we would send the message that our commitment to our values is secondary to our commitment to our bottom line. That's not who we are.
Our opposition to content filtering is not just about China: we object to technologies that aid the powerful in oppressing the vulnerable, wherever they may be. Shutterstock's own employees come from all over the world – many having experienced government oppression firsthand – and in taking on this project, we are letting them down.
Hence my thinking that it's imported workers pushing this protest.
As such, we demand Shutterstock call an end to this project. Shutterstock is capable of being a leader for change. As employees and shareholders, we deserve to know what we're building and we deserve a say in these significant decisions."
Well no, you really don't deserve a say in business decisions. That's the ugly beauty of stock corporations separating ownership from operation. But I'm pleased to hear this protest, even though it avoided terms such as EVIL to an almost comical degree. Remind me why oppressing the vulnerable is a bad thing to do?
Shutter CEO Jon Oringer responded to the situation in a letter stating:
Team,
On behalf of the Leadership Team, I want to provide an update to all employees about an important discussion going on in our Company regarding Shutterstock doing business in China. Some employees have expressed concern with the Company's position, and we want to take this opportunity to clearly communicate that position to everyone.
For context, since 2014, Shutterstock has been working with ZCool, a creative social network and artist platform in China, to distribute Shutterstock content to millions of people in the country. We also license directly to customers in China through our e-commerce site. The Chinese government has effectively mandated that — if we want to maintain a level of business in China — we must abide by local laws governing the distribution of certain content in mainland China. Based on available information, we have determined that certain search terms will not return image or footage results to customers in that region.
We understand that some of our employees feel strongly about filtering content, particularly content that could be considered politically sensitive. A petition has been circulated asking the Company to refuse to comply with local requirements in China in order to do business there.
First we want to say — we hear you. We respect your position and your passion, and want to thank you for sharing your views in a thoughtful and constructive way. We are pleased to see open discussion and debate on this topic. There can be no question that we support the ability of our employees to freely express their views on issues important to them.
And we truly understand the concern.
And now that we've kissed the globalist idols of Unity and Tolerance:
We want to assure you that we do not make business decisions lightly. Our decision to make our website available in China, like elsewhere in the world, is based on careful evaluation of all factors in order to provide maximum value across our networks — from employees to shareholders, customers to contributors, vendors to partners.
Please, please tell us that you're only doing it for the money. I can appreciate an honest mercenary.
At the end of the day, what does our brand stand for? We want to provide access to our content to everyone, everywhere. It is our mission to empower creativity and storytellers around the globe. We are also bound to local laws and therefore face a choice. Do we make the majority of our content available to China's 1.3 billion citizens or do we take away their ability to access it entirely? We ultimately believe, consistent with our brand promise, it is more valuable for storytellers to have access to our collection to creatively and impactfully tell their stories. That is much more empowering and will better serve the people of China than the alternative.
There it is, folks. Jon Oringer officially stated that he's not helping the Chicomms for the money. He's helping them to 'influence the culture' and confirmed his Social Justice by invoking the concepts of empowerment and Narrative.
Additionally, we believe you are also asking for something more from our Company, which is to use our voice to make the world a better place, and we are doing that regularly. We are contributing to our global community through our involvement in a number of public policy and community initiatives that will not only make Shutterstock a stronger company, but will strengthen our communities, protect our employees, and deliver on our fundamental values. To drive more attention to these initiatives, we have created a page on The Lens where you can learn more about how to get involved in these initiatives, and also provide your feedback on other policy matters that are important for our business and our networks.
SJWs always double down.
Notice that Oringer is using the Churchian trick of hiding dissent by keeping it in-house where he's free to ignore it. No, pastor, I don't want to discuss your unBiblical teachings privately in your office where nobody who might care can hear me. No, CEO, I don't want to discuss your newfound tyrannical censorship habits in a forum that's under your total control.
We hope this message clarifies our position. We understand this is a difficult topic and perhaps we are not always going to agree on some issues — and that's okay. As long as we continue to communicate openly and honestly with each other, we will advance our common goal of empowering creativity and helping professionals from all backgrounds and businesses of all sizes produce their best work with incredible content and innovative tools.
It's time to short Shutterstock. Not only because it's an Orwellian globalist monster, but because all those China-hating Asians it employs are going to sabotage Shutterstock with backdoors, bugs and leaks like you would not believe.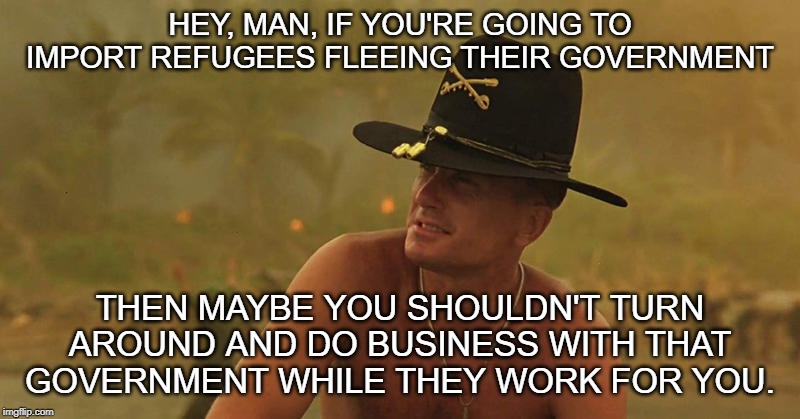 Jon won't listen, of course. That's good. I love to snark "I told you so" when watching a train wreck.