What I had expected to be another "Optimist Prime Loses His Shirt While Investing In Silicon Valley" story on Heavy turned into Kabbalah-spewing international banksters jacking up my rent. My, my, the things you can find on the Internet.
WeWork Debacle Exposes Why Investing in a Charismatic Founder Can Be Dangerous
WeWork went from unicorn darling with a nearly US$50 billion valuation to a cautionary tale for gullible investors worth just $8 billion in a matter of months. It did so in part by wrapping its real estate sublet business in the cloak of a tech startup destined to "change the world."
Thank you, Heavy, I feel reassured about not signing up for my workplace's matching 401k because of "paranoia" that not all investments are safe bets. But this show is a rerun. *GQ lifts the remote to change the channel.*
Were investors like SoftBank and JPMorgan duped by the hype of a charismatic founder, as happened with Elizabeth Holmes and Theranos?
Ooh, maybe there's blog material here! Theranos was a glorious train wreck. I'd happily watch another. *GQ puts down the remote.*
As a lecturer in finance and someone who managed investments for 20 years, I believe that there was some of that, coupled with behavioral biases that lead people to make bad decisions. But I also think something else was going on that should give investors pause the next time they stumble across a visionary founder promoting a "change the world" branding strategy.
I bet she's a thick-haired brunette with legs that go ALL the way up!
WeWork was founded in 2011 as a co-working venture.
But Adam Neumann crafted and pitched a vision for his company that went well beyond office sharing and real estate. He said the "we" culture he was building would change the world.
Huh? Where's the chick? Where's the fancy technobabble? There's a formula for duping Silicon Valley investors and I'm not seeing it. The dumbest venture capitalist in San Jose wouldn't shovel money at a glorified landlord, not when every politician in the Bay Area is calling for rent control. *Bullshit detected*
Well… Adam IS a thick-haired brunette but now I feel dirty.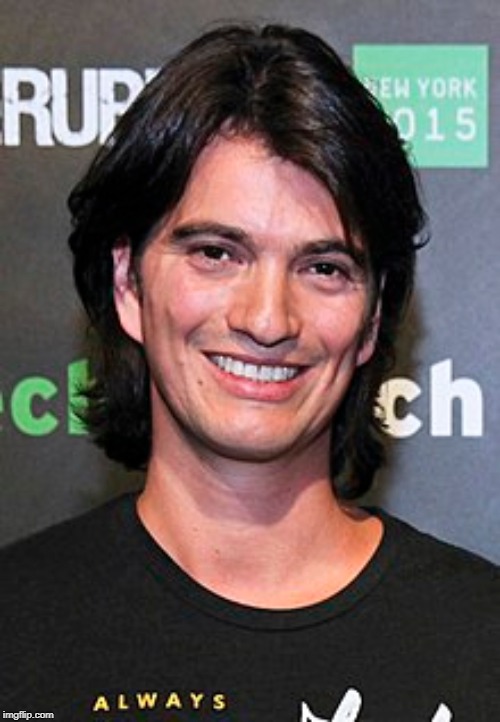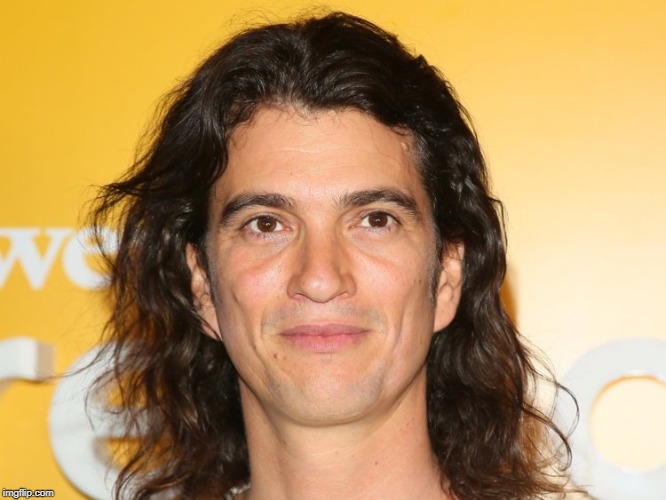 Some pics have him in a mullet and some don't; he's certainly effeminate either way. Definitely guarded on the left side and no wonder once we discuss biography. Enough pics have him with disordered hair to both confirm disorderly thoughts and attempts to hide it… which normally indicates vanity except he's so inconsistent with his appearance that "disorderly thoughts" is like calling Antarctica pleasantly cool. The lower pic having exposed bone structures indicates high stress or more likely, heavy drug use over the last few years. Bulbous nose for interest in wealth, long, thick, horizontal eyebrows for intelligence.
Small cheeks but strong zygomatic arches (bone ridge from eyes to ears). Women probably find that attractive but he's not a natural leader.
Overall, his face is similar to Epstein's circa 1980: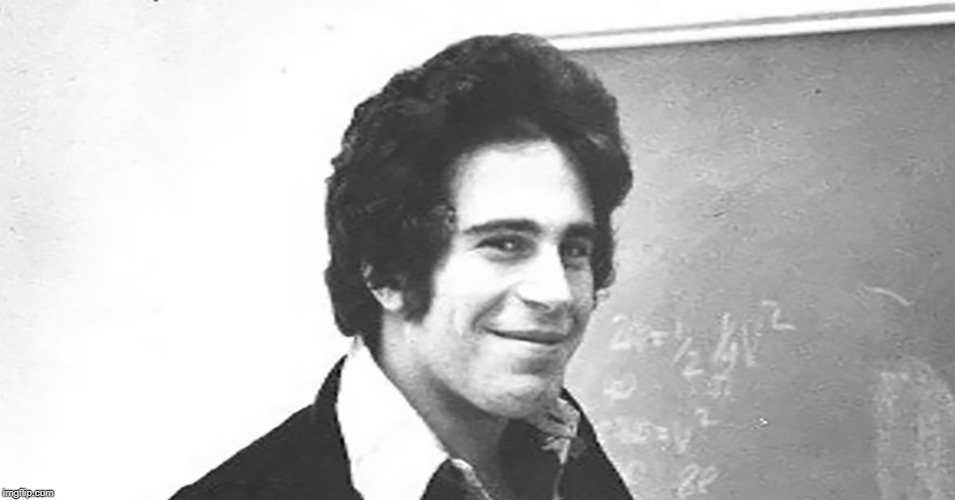 But Adam's lips & hair indicate much less sexual energy, thankfully.
Starting with Wikipedia,
Neumann was born in Israel, the son of Avivit and Doron Neumann. When he was seven, his parents divorced.
And so his troubles began.
He and his younger sister Adi moved to the United States with their mother for her medical residency. Severely dyslexic, Neumann could not read or write until third grade. In 1990, after four years in the US, they returned to Israel and settled in Kibbutz Nir Am.
Socialism! Because Mommy couldn't be bothered with being a Mommy.
Where's Daddy? Segue:
https://www.clevelandjewishnews.com/jta/wework-founder-adam-neumann-has-joined-the-chabad-movement-his/article_71d36e9f-2f26-581e-9a8e-4b9028b5f803.html
NEW YORK (JTA) — WeWork co-founder Adam Neumann's ties to the Kabbalah Centre have been in the media recently.
A story published last week by The Wall Street Journal described the close ties between Neumann and the center, a Los Angeles-based organization best known for teaching a version of Jewish mysticism to Hollywood celebrities.
Oy vey! One part of me wants to find out what kind of filth that Kabbalah teaches. Another, wiser part wants to be satisfied that it's a variation of commonplace dualism.
According to the paper, the Israel-born Neumann would bring teachers from the center to company offices and retreats to teach executives. Neumann also reportedly drew inspiration from what he learned from the group when formulating his company values.
But his mother said that her son now has a different relationship with Judaism. Avivit Neumann, an oncologist, told the Israeli radio channel 103FM that her son is part of Chabad-Lubavitch, a Hasidic group with emissaries across the globe who are focused on reaching out to unaffiliated Jews.
"Recently he has also become religious," Avivit Neumann said in an interviewed aired Wednesday. "I respect his relationship with religion. It enriches him. Today he is an American Chabadnik. He sings songs on Shabbat and lives in Manhattan."
End segue. Wifey became a doctor to marry a doctor, and by the time she got pregnant had the mothering instincts of a cobra.
He graduated successfully from the Israeli Naval Academy and subsequently served as an officer in the Israeli Navy for five years and was discharged with the rank of captain. He later attended the Zicklin School of Business at Baruch College in New York City.
Honorably discharged at captain rank, which is astonishing given his childhood and subsequent drug-fueled arrogance. Forbes helps explain this:
https://www.forbes.com/sites/alexkonrad/2014/11/05/the-rise-of-wework/#170b6e156f8b
Severely dyslexic and an indifferent student, Neumann found acceptance as an expert windsurfer and ringleader for unapproved extracurricular activities.
So gently phrased. Translation, he developed extremely high self-esteem as a defense mechanism against abandonment and being left feral, embraced a life of crime. Your typical hoodrat, both despicable and pitiable.
When it came time for mandatory military service, Neumann says he was among the slowest of the thousands of candidates for the elite naval officers' school, many of whom had trained for their tryout camp for weeks. When the team-building missions came around, Neumann began to take charge. His was one of the last names to be called when the navy picked its 600-member class. He finished third and left the navy after five years of service.
Now that's some bullshit. Mister "I don't care and here's my rap sheet" blossomed overnight into #3 of 600 at an elite military academy? Somebody laundered that service record, because his post-military life is proof he didn't use the occasion to redeem himself.
End segue.
Prior to founding WeWork, Neumann founded a children's clothing company, Krawlers.
A guy from a broken home with no kids of his own was that interested in children's clothing? Creepy, and he founded a second one when the first failed: Egg Baby.
Neumann and McKelvey began working together after having previously met through a mutual friend. A shared interest in community upbringings and design led them to create Green Desk in 2008, a shared-workspace business focusing on sustainability, which served as the precursor to WeWork, which they founded in 2010. The pair sold their interest in Green Desk and using the funds along with a $15 million investment from Brooklyn real estate developer Joel Schreiber for a 33% interest in the company, they founded WeWork in 2010. 
At first I suspected a homosexual relationship because McKelvey isn't Jewish, but his wife probably is (an 11-year veteran of Lehman Brothers) and that's how he got plugged into the NYC real estate scene.
Neumann stated that with WeWork, he intended to replicate the feeling of togetherness and belonging he felt in Israel and that he thought was lacking in the West.
This sentiment came up several times in my research. Neuman is mentally ill with persistent abandonment issues. It's hell being raised by a single mother and he almost didn't even get that.
By the way, his business partner McKelvey was raised in a rural, five-single-mom commune in Oregon that survived on food stamps. They reportedly met at a party at their shared employer but what united them was being from bad homes even by the standards of single motherhood.
It was on September 22 of 2019 that there were reports, from outlets such as The Wall Street Journal, that various WeWork directors were planning on asking Neumann to step down as CEO, after "a tumultuous week in which his eccentric behavior and drug use came to light" prior to a planned IPO.
In 2018, WeWork faced a lawsuit from a former employee who identified issues of sexual harassment and other inappropriate behaviors within the company workplace. In her statement, she mentioned that Neumann "plied [her] with tequila shots during her interview with the company." Shortly after this claim was made, WeWork put an end to its unlimited beer [policy] and implemented a policy of only four beers per day in the New York office.
"Is this accusation true, Adam?"
"I don't remember."
"What do you remember about that interview?"
"Um… beer… good?"
Ladies and gentlemen, Capt. Neumann of the Israeli Defense Force, third in his Academy class and multibillionaire entrepreneur. No nepotism!
According to The Wall Street Journal, Neumann chartered a Gulfstream G650 for a trip from the United States to Israel during the summer of 2018. During the flight, Neumann and his friends spent much of the flight smoking marijuana. After the flight landed in Israel, the flight crew found a cereal box stuffed with marijuana and reported it to the jet owner. Fearing a marijuana trafficking incident, the owner of the jet ordered it to return to the US. Neumann and his friends had to find another way to return to New York.
No, that's not how it happened. You can't smoke weed in a private aircraft all the way from New York to Tel Aviv without the flight crew wearing respirators knowing. Neumann probably reported to some Israeli handler while stoned, who ordered the jet back early as a humiliation.
He was known for showing up hung over at other business meetings by way of confirmation. For example, a disastrous meeting with Khaldoon Khalifa Al Mubarak, officer of Abu Dhabi's sovereign wealth fund.
The Wall Street Journal reported that Neumann had aspirations such as living forever, becoming the world's first trillionaire, expanding WeWork to the planet Mars, becoming Israel's prime minister, and becoming "president of the world". A September 2019 Vanity Fair article reported that Neumann made claims that he convinced Rahm Emanuel to run for the presidency of the United States, used JPMorgan Chase CEO Jamie Dimon as his personal banker, and convinced Saudi prince Mohammed bin Salman to improve the standing of women in Saudi Arabia.
The boldfaced might be true. Skip to the end of this post for a hopefully thought-provoking conspiracy theory. Speaking of conspiracy theories and Israeli prime ministers,
Neumann became a partner of InterCure, an Israeli cannabis company led by Ehud Barak, former Prime Minister of Israel, in 2018.
Let's move on to his company.
"ADAM'S FANTASYLAND BECAME A REALITY": INSIDE THE CRASH OF WEWORK'S MAGIC MILLENNIAL REAL ESTATE KINGDOM
htt ps://www.vanityfair.com/news/2019/09/inside-the-crash-of-weworks-magic-millennial-real-estate-kingdom
By Gabriel Sherman, 23 September 2019
Not long after Adam Neumann started WeWork in 2010 with a single coworking outpost on Grand Street in SoHo, the then-31-year-old Israeli entrepreneur showed up at a real estate industry conference on Park Avenue wearing his now-familiar uniform, T-shirt and jeans, with shoulder-length surfer hair that looked like it hadn't been washed in days. Neumann, who is six foot five, was an instant object of fascination among the suit-clad executives in the room, many of whom were twice his age. But it was his hyper-confidence that one attendee recently recalled. "I remember Adam asked me what company leases the most office space in New York. I told him JPMorgan. They have about 3.5 million square feet. And he said, 'Well, I'm going to lease more than they do.'"
Psychopaths can have both enormous self-esteem and indifference to social norms. We see the first warning signs here. I'm surprised his eyes looked as normal as they did in my reading.
The boast came true. Last September, WeWork surpassed JPMorgan to become New York's largest private tenant, with more than 5 million square feet of office leases spread across more than 50 locations in the city. Fueled by more than $10 billion in venture capital from Japanese conglomerate SoftBank, Neumann grew WeWork to employ more than 12,500 people and was barreling toward an IPO this month that would have valued the company at $47 billion. On paper he was worth close to $7 billion.
That's not natural. A real estate company that started in 2010 became New York's new Godzilla by 2018? Worth $16b by 2016? With a drug-addicted surfer bum for a CEO? What's going on?
In the media Neumann was heralded as the millennial prophet who foresaw a new kind of office culture, one in which the beer and kombucha flowed and MacBook-toting freelancers would love coming to work (at WeWork's headquarters, Neumann threw "Thank God It's Monday" parties).
More warning signs of psych trouble. Nobody thanks God for Mondays. Also the phrase "millennial prophet".
But for WeWork, the last two weeks have been comparable to the end of tulipomania, a complete phase-shift in the company's prospects. There were stories about Neumann's reported erratic behavior and drug use. WeWork's IPO prospectus revealed that Neumann held ownership stake in buildings WeWork leased from, essentially paying himself…
That's massively unethical. Almost certainly…
Bloody hell.
I figured out their game. How the Jews are screwing us.
WeWork's business model is to rent unused office space from landlords and "flip it", renting it out to others. But landlords can do that for themselves, in fact, they're experts at it if they've been landlords for any length of time. Especially the large-scale corporations that have been WeWork's primary investors thus far. What makes this middleman so popular?
(Corporate) Property owner invests in WeWork.
Same property owner rents office space to WeWork.
WeWork pays him artifically inflated rents.
What the property owner invests in WeWork, he gets back in rents. Zero net change.
Where does the profit come from? Because WeWork intentionally pays inflated rents, the OTHER rents, what the property owner collects directly from real tenants, are also inflated.
This is market manipulation to keep the price of housing artifically high. That's why WeWork is worth between 10-50 billion dollars on paper but without actually producing anything. That's why they grew astonishingly fast: they aren't trying to make money, they're trying to preserve asset value.
Neumann tipped the scam by cutting out the property owner crony. He bought properties and rented to himself directly, probably thinking himself too clever to be caught (that high self-esteem he's known for). He saw his friends making bank and followed their example but without the plausible deniability.
Evidence for my theory:
1. WeWork was founded in 2010, the nadir of the housing bubble, when prices would naturally have started correcting… to the massive losses of the banks and investment organizations who were its early investors. Powerful men were looking for ways to avoid the inevitable.
2. Seguing back to the Forbes article,
Some Silicon Valley investors are skeptical that its economics can survive the inevitable real estate slump. WeWork is charging high per-square-foot prices but is also locking itself into long-term leases at today's record rents. One investor who passed on the company was concerned not by its high valuation but by the prospect of a tenant exodus amid a recession or cheaper competition.
Confirmation of my predicted, intentionally high rents. Also, in an honest business that would be suicide. You don't assume long-term risks in order to make short-term profits unless there's collateral, for example paying a house mortgage by renting to tenants. But my theory explains how WeWork can function even if it rents to nobody at all.
https://therealdeal.com/issues_articles/the-world-according-to-wework/
While its members pay premium rates — one WeWork member estimates he pays about $200 per square foot at the 79 Madison Avenue location, where office asking rents are in the low $40s — they are only committed on a month-to-month basis. This could cause trouble if the real estate market or the economy starts slipping. Minson, who was hired in part to help WeWork scale up even more quickly, acknowledged that the speed of growth creates challenges. But he called them "good challenges."
Intentionally high rents to as much as 500% of market value! And of course they don't care if meatspace tenants stick around. It's worth a slight premium to not be committed to a lease but not to the point of three months being as expensive as a full year.
3. Also from therealdeal,
To be sure, the spread of open floor plans predates WeWork. And major office landlords like SL Green Realty and Silverstein Properties have long offered co-working spaces in the mold of Regus, meaning more traditional and less focused on community and collaboration.
Their business concept is not unique. The niche has several established companies to invest in. Yet WeWork outpaced them because of large corporations investing hundreds of millions of dollars at a time. Are they doing that hoping for a profit they could realize on their own? Or as a way to maintain the valuation of their real estate?
Aside: About those open floor plans. If you disagree then I'd like to hear your thoughts, but mine is that a total lack of privacy is dehumanizing. State prisons also have no privacy and for the same reasons: management doesn't trust or like its inmates.
4. My theory explains why this superstar company has both gone international swiftly (to protect the value of the offshore holdings of corporate investors) while simultaneously avoiding less urbanized communities–markets that are not dominated by large-corporation ownership of land, which is consistent with the idea that WeWork helps said large corporations artificially inflate their property values.
5. Newmann's first foray into renting office space was substantially different from WeWork's operation. From Forbes again,
McKelvey and Neumann struck up a friendship at a party. Neumann asked McKelvey to design his new office space. McKelvey persuaded him to move it to Brooklyn's Dumbo neighborhood. Their first inkling that they could make money selling shared office space came in January 2008, when Neumann began renting out a corner of his office to someone he found on Craigslist to cut costs. Weeks later Neumann's landlord, Joshua Guttman, took him through an empty building he had just bought down the street. He was going to charge $1 per square foot for each 5,000-square-foot floor. Neumann said, "I got a better idea. Let me take over one of the floors. I'll split it up into 15 offices, charge $1,000 each. We'll make $15,000 a month on this floor–you can take $7,500, we'll pay the receptionist $2,500, and I'll keep whatever profit is left."
That's normal economic behavior and a typical first project for a budding entrepreneur. No red flags.
Neumann kept operating Egg Baby as Green Desk took shape. McKelvey quit his job to renovate the building with help from Neumann's filmmaker wife, Rebekah Paltrow Neumann (she's a cousin of the actress [Gwyneth Paltrow]).
Wifey not taking your last name is a bad sign… but wifey insisting on using the name of her famous cousin might be even worse. She is also a kabbalah-spewing freak, who opened a new school (apparently without permits) that proudly pushes children as young as five years old to work retail. You can read here about how she had them build a fruitstand in WeWork's communal office space. I won't go into the article but that's the kind of business sense these people have.
https://www.fastcompany.com/40489360/wework-founder-hopes-her-new-school-will-help-5-year-olds-pursue-their-lifes-purpose
He spent his weekends driving to Ikea to fill up his Zipcar with butcher blocks to create office tables. As the deadline for their first move-in neared in 2008, the economy crashed. Guttman told them the jig was up. "He said, 'I'm not mad at you guys, but this business is going to fail. In a down economy people don't rent,' " says Neumann.
Just the opposite happened. They filled Green Desk with a mere seven Craigslist ads and word of mouth, with tenants ranging from a private equity shop to blogging website Gothamist. But Green Desk was much closer to an executive suite rental company like $2 billion (market cap) Regus than WeWork would become. It didn't have the communal open spaces or room for programming that the founders would have liked. "We had aspirations for a global brand," Neumann says. That would mean designing different layouts for each location and spending much more capital on events and amenities. According to Neumann, Guttman preferred to replicate the model that had already worked in more locations in Brooklyn–and it would, with seven locations today. Just not with Neumann and McKelvey on board.
The founders sold to Guttman at a $3 million valuation that netted them $300,000 in initial cash and the rest in gradual payments they'd live off of for the next two years.
That's the sort of move I would expect, and in my line of work, actually saw during the depression. Many landowners shrank the size of their rental units because money was tight and people needed to cut costs.
But WeWork, as described above, functions as a super-tenant. Landlords are going to them because they want FEWER tenants. Less turnover. More guaranteed returns. Which is the opposite model of Neumann's GreenDesk. That is normal behavior in an expanding market, just as GreenDesk worked in a contracting market… but WeWork's ascent from nothing to $16b in equity happened in 2010-2016, when there were very few swift-growing companies.
7. The company has cozy ties to corrupt politicians. From Forbes,
City governments are all-in on the benefits that such spaces can bring to the local economy. In San Francisco Mayor Ed Lee rerouted police patrols and opened a precinct outpost in the ragged Tenderloin district to keep the WeWork members there safe. Chicago Mayor Rahm Emanuel insisted on personally showing Neumann his unannounced plans for new bike paths and other startup-friendly projects to convince WeWork to move to the West Loop. New Boston Mayor Martin J. Walsh chose the new WeWork as the location for one of his first public speeches after taking office.
Which makes sense. High rents imply high property taxes.
6. Adam Newmann is their founder and CEO. QED. Nobody sane would trust that guy with a Benjamin, let alone $15m on Day One. But my theory explains how he doesn't need to be a competent executive officer… he doesn't actually have anything to operate.
And the cherry on the sundae,
7. Neumann confessed on record to price-fixing. From the end of vanityfair,
Neumann's bet may be that he will be able to force landlords into renegotiating his leases to lower prices [in a recession]. Essentially it's a bet that WeWork is too big to fail and the real estate industry will have to cut it a break. Neumann recently made that argument himself. "In the major cities in the world, WeWork is propping up the office market," he told a real estate executive. "If I say 'pencils down' to my people, the value of buildings will plunge and I can go in and buy them on the cheap." The executive was chilled by the conversation. "We're not talking about a Harvard Business School analysis here. This has a predatory aspect to it."
There it is, a smoking gun. "WeWork is propping up the office market." Straight from the CEO's mouth.
But I'm not done! Resuming with vanityfair,
…and that his wife, Rebekah Paltrow Neumann—Gwyneth Paltrow's first cousin—was one of the people with the power to choose his successor. Investor demand for the stock dried up, forcing the company to slash its valuation by more than half, and then delay the IPO entirely. A string of high-profile executives walked out the door, including the chief communications officer, the co-head of WeWork's real estate fund, and the global head of WeWork's real estate partnerships. WeWork hemorrhaged almost $2 billion last year, which means the company desperately needs the IPO to happen to raise cash…
Rats scurry before the ship sinks. WeWork is a Ponzi scheme. See, the investor puts his money in and gets it back in rent, right? But what happens next year? WeWork owes him rent money again. The purpose of the IPO was to spread the cost of the Ponzi scheme's collapse to non-Jewish investors so the original members, most of whom have Israeli passports, could cash out and restart the scam after the next housing bubble explodes.
But Adam Neumann, thank ye lad, fucked that up big-time. A couple months before the IPO, he pulled $700m out of his stake in the company in order to run his own, painfully obvious scam that I mentioned above. And he got caught. There's been no investigation because the investors don't want Uncle Sam to notice the BIGGER Ponzi scheme going on.
But outside investors don't need a jury to tell them what their eyeballs can see.
Not only was the WeWork CEO outed as dirty, but the CEO liquidating a chunk of his ownership just before an IPO demonstrates a massive lack of faith in his own company. "We just lost $2b after we covered up our CEO's defrauding the company to pay for his drug habits and will probably go out of business unless we can find a rich schmuck or some way to turn an honest profit. Would you like a prospectus?"
…or else must find other sources of funding. "I think this company may go down to zero unless they take drastic moves right away. They've gone from heroes to targets in 30 days," said Scott Galloway, a marketing professor at NYU's Stern School of Business.
WeWork's board is expected to hold a meeting this week to discuss potentially removing Neumann as CEO. And inside the company, morale is sinking as fast as the share price. "It's an all-around shitshow," a WeWork executive told me.
It's hard to overstate the degree to which WeWork's business is built on the egomaniacal glamour and millennial mysticism of Neumann and his wife. Neumann sold WeWork not merely as a real estate play. It wasn't even a tech company (though he said it should be valued as such). It was a movement, complete with its own catechisms ("What is your superpower?" was one). Many major players found this special sauce irresistible. After meeting Neumann, Mort Zuckerman, the billionaire cofounder of developer Boston Properties, told one real estate executive that Neumann was creating the future of work, according to a person briefed on the conversation. Rupert Murdoch also took meetings with Neumann, a source said.
But wait there's more! Because WeWork is not just market manipulation. It might not be just a Ponzi scheme. There's one source of income that a business like WeWork is perfect for, which explains why it has a useless CEO known for name-dropping Israeli government contacts.
WeWork could be a money laundering outfit.
Real estate is notorious for the job. "It would be illegal to give you money but I find myself in need of renting office space. Say, $200,000 for 500 square feet somewhere? One month only." In fact, WeWork might have been TOO perfect for the job. This is getting speculative but bear with me:
CEO Neumann was sent looking for a savior.
The big-money investors bought it, none more so than Masayoshi Son, CEO of Japan's SoftBank Corp., who ran the $100 billion Vision Fund backed by Saudi Arabia and Abu Dhabi. In 2017, SoftBank and its Vision Fund invested $4.4 billion in WeWork, and would ultimately invest nearly $11 billion.
Vision Fund is primarily a front for Mohammed bin Salman.
The Vision Fund's biggest backers weren't the only ones growing skeptical of Neumann. Around the same time, Neumann came up with an idea to partner WeWork with Apple, sources said. Neumann flew out to Apple's Cupertino headquarters and pitched Apple CFO Luca Maestri on doing a deal with WeWork. It's unclear why Apple would want to invest in WeWork, and not surprisingly, the company passed. "This was the Hail Mary," a source briefed on the Apple talks told me. "There was Adam's idea that there was some way out." (A source close to Neumann said the potential Apple deal was a small one.)
[Fantasy Interlude]
Adam: "Yo, CFO dude! Would you like to invest in a company owned and operated exclusively by us Jewish banksters from New York? We're kinda strapped for cash because, you see, I kinda got caught at a bad time."
Luca: "No. No. No. Good day, sir, and I find Nizoral to be an excellent dandruff shampoo."
Adam: "Come on, man, I got the primo weed! Got my own source, from my own company in the homeland! Defense Minister Ehud Barak used to own it. That's right, I'm connected to the Israeli military! I'm Mossad, man! You want my help, trust me. Gonna be some wild parties here."
Luca: " *Line 1* Harold, drop whatever you're litigating and turn on the voice recorder. I'm putting you on speakerphone and will explain later. *Line 2* Security, we have a Code Chutzpah in my office. Code Chutzpah! NOW!"
[End Fantasy]
But guess what, Vision Fund then invested more money into WeWork. That's not a little suspicious.
https://en.wikipedia.org/wiki/WeWork
On September 30, 2019, WeWork formally withdrew its S-1 filing and will postpone the IPO. The reported public valuation of the company is currently around $10 billion, less than the $12.8 billion it had raised since 2010. In October 2019, The Wall Street Journal reported that Neumann would receive close to $1.7 billion from stakeholder SoftBank for stepping down from WeWork's board and severing most of his ties to the company.
*GQ blinks* No way… that's Guinness level…
WeWork's Adam Neumann offered package worth up to $1.7 billion to step down from board
https://www.cnbc.com/2019/10/22/weworks-adam-neumann-to-get-200-million-to-leave-board-report-says.html
By Todd Haselton and Alex Sherman, 22 October 2019
Former WeWork CEO Adam Neumann will get up to $1.7 billion to walk away from the company and give up his voting rights, according to people familiar with the matter. SoftBank will pay Neumann up to $970 million for his shares, a $185 million consulting fee and will offer him $500 million in credit to help repay his loans to J.P. Morgan Chase, UBS and Credit Suisse, said the people, who asked not to be named because details of the agreement are private.
Holy Rollers! If Adam gets that, it'll be the biggest golden parachute in human history. $1,700,000,000 to walk away from the company he screwed up and would surely already have gone to jail for had…
had…
had he not been holding all the dirt on the entire NYC real estate cabal.
This is a lot of gap-filling, but tell me what you think:
1. USA needs petrodollars to keep its economy from collapsing.
2. MBS makes a lots of money selling oil to USA. Carrot: a nice profit, and Stick: all those American military forces in easy reach of his oil fields.
3. Israel, having coopted the American intelligence community, gets dirt on MBS via our CIA and proceeds to blackmail.
4. MBS' payments are twofold: cash to Israel via fronts such as WeWork, and instituting the feminist agenda in Saudi Arabia. The latter creates new enemies for MBS and thus, forms a co-dependent death spiral until MBS now rents his own life day-by-day.
5. Adam blows up WeWork by acting out his insanities.
6. MBS sees a chance. He is trying to bribe Adam to hand over a controlling interest in this Jewish Ponzi scheme about to blow with all its Jewish secrets with enough money to buy himself clear of his troubles, with enough left over to hopefully die from drug overdose instead of a visit in the dead of night. If MBS seals that deal, it'll be HIM holding ISRAEL by the balls… or should we say, by the OTHER ledger.
Or MBS is actually loyal to Israel and his bailout is Israel's way of retaking control without leaving fingerprints. But that doesn't explain the huge golden parachute. Subsonic bullets are cheap.
Like Theranos, this could be a glorious train wreck.