Great news for liberty: California's Pacific Gas & Electric Company is voluntarily shutting off power to upwards of a million people. This is the one step that tyrannical government must not take: "you are on your own even though you pay the highest tax rate in the nation". They are literally forcing huge numbers of people to become independent of their control, forcing hundreds of thousands to accept that Big Brother is a tax-thieving bully.
They are wising up the chumps against the chumps' own will. The first step of victory! I've been waiting a very long time to see civil disobedience begin in Commiefornia.
The cause of this "precautionary" power shutoff is easy to explain. PG&E is teetering on the edge of bankruptcy because of punitive lawsuits over recent major fires such as the one that destroyed Paradise. (Never mind that the access road to Paradise had been intentionally narrowed by Sacramento to discourage driving, which was the main factor in the evacuation's failure.)
PG&E is turning off the power because if their equipment sparks one more fire then they will be sued into literal oblivion whether or not they're liable. It's that simple. Between the gov't taxing people into poverty and the gov't refusing to provide infrastructure at their personal convenience, it's a good day to be a scofflaw prepper.
Of course, SJWs always lie, double down and project. A threefer just in the title:
Editorial: Don't just blame PG&E for the Northern California blackouts. It's everyone's fault
https://www.latimes.com/opinion/story/2019-10-10/dont-blame-pg-e-alone-for-bay-area-california-blackouts
10 October 2018
Millions of Californians lost power Wednesday in the first large-scale exercise of one of the state's new wildfire-fighting tools: allowing utilities to shut down power lines proactively so they can't spark fires.
Most of the people affected by the blackouts are in Northern California, where strong Diablo winds have been forecast, raising the threat of wildfires from downed or malfunctioning Pacific Gas & Electric lines. But Southern California Edison warned that some customers in its Southern California services areas, including Los Angeles County, might have their power cut as well. And about 30,000 customers were without power in San Diego County.
The blackouts have been challenging, to be sure, disrupting lives, snarling traffic, making communications more difficult and potentially endangering vulnerable Californians. Public schools and universities in affected areas shut down for the day. Anxieties have been exacerbated by the lack of concrete details about when and where the blackouts will occur, and when the power might return. And things might get worse before they get better.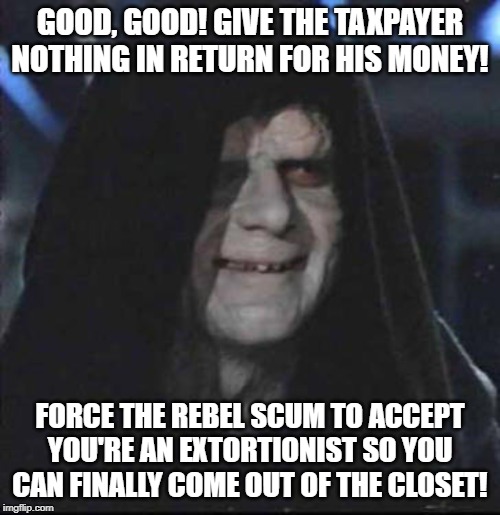 The experience has many people shaking their fists at PG&E, the utility that Californians love to hate.
That was a tie between Comcast and Verizon, last I checked. But this is Los Angeles. A little-known fact: for many years, the LA City Council has tried to extort money from its Department of Water & Power, an astonishingly well-run utility company. More here:
https://gunnerq.com/2018/02/17/escape-from-los-angeles-reality-edition/
…but suffice to say, the SJWs writing this article love to hate their home version of PG&E for not cosigning the next $50b of LA City loans. Projection.
The way many people see it, this is a crisis created entirely by a financially and morally bankrupt utility whose penny-pinching on maintenance opened the door to the catastrophic fires that razed neighborhoods and killed dozens of people. And now the utility, it seems, is inflicting misery on millions of Californians just to avoid incurring more fire liability.
Fire liability that the State saddled them with, our noble legislators having fatal allergies to being held responsible. One of the ACTUAL causes of these fires is that California has too many trees–roughly double what it had in 1850. Are more trees and fewer fires ALWAYS a good idea? Well, no. But the eco-Nazis won't hear a word.
Certainly, the state's largest utility must be held to account for its negligence and its failure to maintain the far-flung lines that have sparked so many fires.
Because the alternative is holding the micromanaging eco-Nazis to account and we can't have that. See, LA Mayor Eric Garcetti just got elected (yesterday, in fact) to the C40 Cities Climate Leadership Group, "a network of the world's largest cities committed to acting on climate change" per
https://kfiam640.iheart.com/content/2019-10-09-mayor-eric-garcetti-elected-to-chair-global-climate-leadership-group/
so his political career would suffer a major setback if he was forced, as Climate Change Chairman, to cut down and burn California's forests back to historically sustainable levels. Only humans can be cut down and burned!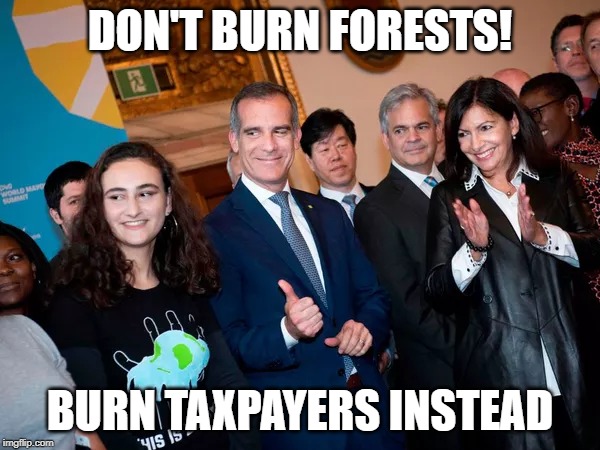 So, too, can it be faulted for giving customers in the blackout areas insufficient notice and shutting off power well before the big winds blew in.
That's a lie. Weather is not that easily predicted and it's the State (and journalists, hint hint, LA Times) that didn't tell people that their utilities can now be shut off at any time for lawsuit liability avoidance.
We have lies and projection. We only need doubling down to make the SJW trifecta!
But it's not fair to lay our current predicament entirely at its feet. This bitter meal has been years in the making by many cooks.
It wasn't PG&E officials who approved housing developments in high-risk areas. In fact, the utility can't say no to serving those homes, no matter how great the fire risk. The utility also doesn't make decisions about how the vegetation around their customers' houses and the forests nearby are managed. Nor is it the utility's fault that human-caused climate change has created conditions that fuel massive wildfires. That's a disgrace we all own.
Do you know why they live far away, Costal Elites? Because your urban planning thwarted their efforts to live near. You won't let them live in rural areas and drive up the costs in urban areas. I think you just don't like people.
Besides, as disruptive as these outages are, they may save lives. Gov. Gavin Newsom acknowledged as much, even as he said Californians "should be outraged" by them.
Saving lives is outrageous!
Of course Californians must not accept blackouts as the new normal every time the winds blow. But until we make the changes in land use and fire safety needed to ensure that utility lines won't trigger the sort of devastation that leveled the town of Paradise last year, power shutdowns will be our collective cross to bear.
Their word, not mine! We MUST not accept blackouts as the new normal because if we do, then we'll be motivated to become independent of Commiefornia overlords. The real problem here is not that hundreds of thousands of voters are suffering–their votes don't count for jack–it's that hundreds of thousands of slaves might decide to learn independent living methods.
And that is an endgame defeat scenario for parasitic homosexual micro-tyrants.