I'm waiting until the autopsy and a couple other things to discuss Jeffrey Epstein's not-a-suicide. But enough facts have gathered to describe the first attempt to murder Epstein while in prison… what got him put on "suicide watch" in the first place.
htt ps://heavy.com/news/2016/12/nicholas-tartaglione-chester-new-york-police-officer-cop-murders-kills-four-men-drugs-photos/
A retired police officer turned drug dealer is accused of killing four men in a "gangland-style" quadruple murder in a New York bar as part of a conspiracy to sell more than five kilograms of cocaine, federal authorities say.
Nicholas Tartaglione, 49, has been charged in federal court with the murders of Martin Luna, Urbano Santiago, Miguel Luna and Hector Gutierrez, who were last seen in Chester, New York, in April.
Tartaglione, a former officer in Briarcliff Manor, was arrested Monday on murder charges, and also for his role in a conspiracy to distribute cocaine, U.S. Attorney for the Southern District of New York Preet Bharara said in a press release.
"While all murders tear at the fabric of our communities, when the alleged perpetrator of a gangland-style, quadruple homicide is a former police officer, that strikes at the heart of civilized society," Bharara said in a statement. "As alleged, Nicholas Tartaglione, a former Briarcliff Manor police officer, participated in the senseless murder of four people in a bar in Chester, New York.
Not senseless. Drug trafficking. Briafcliff Manor and Chester are just north of NYC, so a likely drug corridor. Learn the trade on the job, practice it after retiring?
In July 2019, Tartaglione was questioned as part of an investigation into Jeffrey Epstein's "suicide attempt" inside of a Manhattan jail.
This is appearing in several of these old accounts I look at. A gentle reminder of how not-permanent online information can be. The Internet is a step backward in archival methodologies because having to find & burn the book is much harder than editing a text file.
Nick Tartaglione, of Otisville, is accused of murdering the four men at a bar in Chester, New York, called the Likquid Lounge [owned by brother Michael Tartaglione], according to court documents.
Hello, Mafia! I thought you were extinct. God knows you face enough competition these days.
Prosecutors say Tartaglione and others, who are not named, were involved in a conspiracy to sell five kilograms or more of cocaine from June 2015 to April 2016. Prosecutors say the murders were in "furtherance" of that conspiracy.
That story is next!
Police found the bodies of the four men at a home in Otisville, which is in Orange County, New York, where Tartaglione previously lived with his girlfriend, the New York Daily News reports.
A source told the Daily News that Tartaglione bought the property, called the Eleazer Harding Farm, about a year ago for more than $500,000. The source told the newspaper Tartaglione and his girlfriend moved out suddenly about two months ago.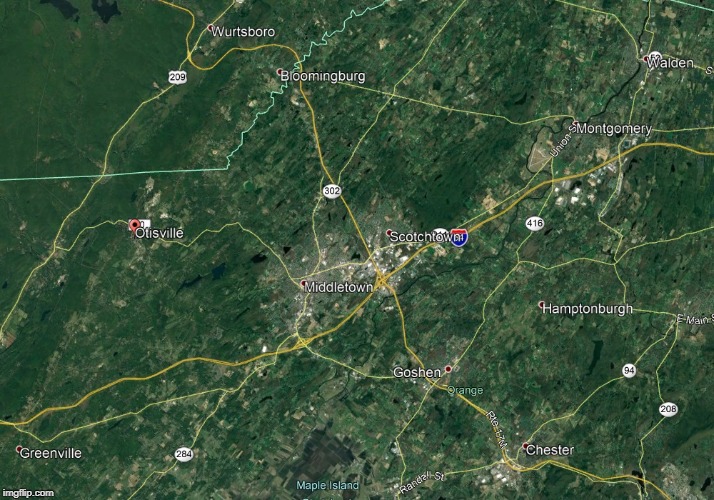 Here's a map so you have the locations straight. Briarcliff Manor is southeast maybe 100 miles, so Nick chose to live outside the area he was directly familiar with but close enough, apparently, for him to know the Middletown hustlers.
"Basically, he was here and all of a sudden he was gone," the source told the Daily News. "Now this is going on and it all makes sense."
The source told the Daily News he noticed something odd a few months ago.
"It really smelled of death, but then it disappeared after a couple of days," the source said.
"I am grateful for the hard work everyone put into this case and the cooperation of the agencies involved. This unspeakable crime shows how destructive the drug trade is and why we must all endeavor to continue the fight," Chester Police Chief Peter Graziano Jr. said in a statement. "This scourge is not limited to large urban areas, but small rural ones as well. I hope the victims' families can find some peace and closure as a result of this arrest."
Tartaglione appeared in federal court in White Plains, New York, on Monday for the first time. He is being held in custody, the U.S. Attorney's Office said in a press release.
The judge ordered that Tartaglione be given suboxone to help him deal with his prescription painkiller addiction while in jail, the New York Daily News reports.
As an aside, do you know where the phrase "quitting cold turkey" came from? Stopping an opioid addiction suddenly can provoke life-threatening body reactions, including severe goosebumps, which makes you look like a plucked turkey. Fun! Not.
Tartaglione's career with the Briarcliff Manor Police Department was filled with controversies. He eventually retired in 2008 on disability and receives an annual tax-free pension of $64,000, The Journal News reports.
WTF! $64k tax-free pension, and he then went into the drug trade? I follow the link.
4 bodies found at home of ex-Briarcliff Manor cop Nick Tartaglione
https://www.lohud.com/story/news/crime/2016/12/20/ex-briarcliff-cop-nick-tartaglione-charged-murders/95653792/
By Jonathan Bandler and Matt Spillane, 20 December 2016
Four bodies believed to be the missing men allegedly killed by retired Briarcliff Manor cop Nicholas Tartaglione during a busted drug deal in April were recovered Tuesday on property he rented in Orange County.
Chester police Chief Peter Graziano confirmed the recovery and said the bodies were being taken to the county medical examiner's office for positive identification.
Tartaglione, 49, was arrested Monday on drug conspiracy charges accusing him of killing the four in April. On Tuesday, state police and the FBI converged on the property on Old Mountain Road in Otisville to search for their remains.
Tartaglione is charged in a five-count indictment for a conspiracy to distribute at least 5 kilograms of cocaine and "the senseless murder" of the four men, which was part of that conspiracy, U.S. Attorney Preet Bharara said in a statement. The former cop pleaded not guilty to the charges at his arraignment Monday.
"While all murders tear at the fabric of our communities, when the alleged perpetrator of a gangland-style, quadruple homicide is a former police officer, that strikes at the heart of civilized society," Bharara said.
Tartaglione and others had allegedly conspired to sell cocaine from June 2015 to April 2016, prosecutors said.
Martin Luna, Urbano Santiago, Miguel Luna and Hector Gutierrez were killed in and around a bar called the Likquid Lounge in Chester as part of that drug activity, officials said. Some of them were merely in the wrong place at the wrong time, officials said.
The bar is run by Tartaglione's brother, Graziano said.
Graziano, the Chester chief, said that it is believed one or two of the victims had been involved in drug activity. He said Tartaglione had come to the attention of authorities in recent weeks and had been interviewed by federal agents.
Tartaglione was a cop in Mount Vernon and Pawling before joining the Briarcliff Manor department in 1996. He receives an annual tax-free pension of $65,000 after retiring on disability in 2008 — but he was planning to give up the pension after applying this year for a job with the Mount Vernon Police Department.
He had a checkered career in Briarcliff Manor. He was suspended in 1999 following his arrest on perjury charges after Westchester prosecutors accused him of lying at a Department of Motor Vehicles hearing regarding a drunk-driving arrest he had made. Tartaglione was acquitted at trial but the village fired him on departmental charges.
Tartaglione successfully sued to get his job back in 2003 with $320,000 in back pay. He claimed that authorities concocted the perjury allegation as a way to remove him from the force, but his wrongful arrest lawsuit against the village and District Attorney's Office was dismissed.
He worked as a cop for eight years between 1996-2008 then retired on full pension. That's a crime of its own.
He also had a longstanding feud with Clay Tiffany, a cable television host and gadfly who accused Tartaglione of beating and harassing him on numerous occasions. Tiffany, who died last year, settled a federal lawsuit against the village and Tartaglione, receiving more than $1.1 million.
Clay. Who says crackers can't do afros? Everybody.
In addition to his law enforcement career, Tartaglione was involved for years in animal rescue efforts, helping his parents who ran a dog-grooming business, Dapper Dog, in Nyack. He was rescuing horses and dogs on a 65-acre property he recently bought in Orange County.
I wondered if he was involved in other organized crime like cockfighting but Nick was a K9 cop so seems legit.
Tartaglione faces a minimum of 10 years and a maximum of life on the drug conspiracy charge. He faces a minimum of 20 years and the possibility of the death penalty or life in prison on each of the charges accusing him of murder in furtherance of the drug conspiracy. Federal prosecutors will determine whether to seek the death penalty in the case.
They chose to seek the death penalty, which would have (and still might) make Tartaglioni the first New Yorker executed by the Federal gov't since Julius & Ethel Rosenberg.
Graziano, the Chester chief, said he doesn't believe the department had ever investigated a quadruple homicide before. He was struggling with the idea that someone with a law enforcement background was involved.
Welcome to the 21st Century, Graziano.
"He took an oath. He was a police officer," the chief said. "This is incomprehensible … What happened that made him turn to this kind of activity I don't know."
Now, a story about his accomplice to show you how deep this crooked-cop cocaine trafficking runs.
New Details Emerge in Murder Case After Ex-Officer's Suicide
htt ps://www.nytimes.com/2017/03/09/nyregion/gerard-benderoth-suicide-drug-plot.html
By Eli Rosenberg and William K. Rashbaum, 9 March 2017
Gerard Benderoth, a retired New York City police officer and bodybuilder, was pulled over by F.B.I. agents and local police officers on Wednesday morning in a small town near the Hudson River just a short drive from his home. The agents and officers, who were investigating Mr. Benderoth's links to a case involving a drug conspiracy and four murders, hoped to get him to cooperate with their inquiry, according to three people with knowledge of the matter.
But they could tell something was wrong as soon as they pulled him over in Haverstraw, about an hour north of Manhattan, said one of the people, who all requested anonymity because they were not authorized to speak publicly about the matter.
Mr. Benderoth called the town's police department — from which he retired as an officer in 2015 — to say that he had been pulled over, the person said. He then shot himself with a handgun before investigators reached the car, officials said.
He was so dirty that he didn't wait to see what they wanted, but he called the office first to warn his peers before sucking on his duty pistol.
The suicide has drawn wide attention from the news media, which has focused on the contours of Mr. Benderoth's life as a bodybuilder and questions about his purported connection to Nicholas Tartaglione.
But it has also drawn renewed focus on the murders of four men. Mr. Tartaglione, a retired police officer from Briarcliff Manor in Westchester County, was charged by federal prosecutors in Manhattan in December in the quadruple homicide and drug conspiracy. Mr. Tartaglione is being held without bail in federal jail in Brooklyn.
One of the people with knowledge of the matter said that the murders, which took place near a bar in Chester, a town about 30 minutes northwest of Haverstraw, resulted from a cocaine selling operation that had gone awry. One of the men, a landscaper, had been dispatched to Mexico to buy some cocaine that was then sold successfully by the operation upon his return.
But after a second trip, the man, who had been given a larger sum of money to buy a larger quantity of cocaine, returned from Mexico with neither the money nor the drugs, having apparently been robbed, the person said.
The men who had sent the landscaper to Mexico eventually concocted a scheme to lure him to the Likquid Lounge, a bar in Chester, the person said. The man believed he was going to meet someone who wanted to hire him for construction work, so he brought along two relatives and a friend, the person said. But the promise of day labor was just part of the plot to kill him, the person said, and the other three men were simply collateral damage.
It was unclear precisely what role the federal agents and police officers, as well as the prosecutors overseeing the case, believed that Mr. Benderoth had in the case, but they were investigating his involvement, the person said. And while they hoped to win his cooperation, they were prepared to arrest him if need be, the person said, though there were no sealed or unsealed charges against him.
Bruce Barket, one of Mr. Tartaglione's lawyers, said that he didn't know exactly how Mr. Benderoth was connected to his client.
"He was on a long list of people we want to talk to," Mr. Barket said. "Mr. Benderoth's death was a horrible tragedy. One has to wonder what was weighing on his mind to lead him to such an act."
Mr. Benderoth had previously drawn news coverage for his weight-lifting prowess. A former aspiring World's Strongest Man whose muscled physique once earned him the nickname White Rhino, Mr. Benderoth could reportedly bench press 625 pounds and squat 800 pounds.
That's not fat.
Huh, we might be distantly related. What a disgraceful end to a life. And here's his third partner in crime, Joseph Briggs, a school security guard.
This suggests the group was organized around the gym rather than the precinct, although there is still Gerard's phone call to wonder about.
Enough foreplay. What does Tartaglione have to do with Jeffrey Epstein?
Lawyer for Nicholas Tartaglione denies client involved in Jeffrey Epstein's jail injuries
https://www.lohud.com/story/news/crime/2019/07/25/nicholas-tartaglione-questioned-jeffrey-epstein-jail-injuries/1824385001/
25 July 2019
Speculation that accused child sex trafficker Jeffrey Epstein may have been assaulted in his Manhattan jail cell by a former Briarcliff Manor police officer awaiting trial in a quadruple homicide is false, the lawyer for ex-cop Nicholas Tartaglione said Thursday afternoon.
"Any suggestion that Mr. Tartaglione assaulted anyone is a complete fabrication," the lawyer, Bruce Barket, said in a statement. "This story is being leaked to retaliate against Mr. Tartaglione for complaining to the court about the deplorable conditions at the MCC. We made those complaints on Monday in open court. We warned the judge that officials at the jail would retaliate against Nick because we have been exposing the inhumane conditions at the facility."
He couldn't be more wrong about those suggestion motivations.
Epstein, a wealthy financier, has been held at the federal Metropolitan Correctional Center since his arrest July 6. He was found this week in his cell, lying in a fetal position, semi-conscious, with marks on his neck, wnbcnewyork.com reported Wednesday night.
Investigators are looking into the possibility that Epstein might have tried to hang himself, or that it might have been a ruse to try to get transferred, according to NBC, which also reported Epstein is on suicide watch. …
Tartaglione made headlines recently after correction officers confiscated an illicit cell phone that was found in his cell on July 3, according to court records. He claimed his cellmate had tossed it to him as correction officers approached the cell, prosecutors said.
So, timeline time.
https://www.lohud.com/story/news/crime/2019/07/25/nicholas-tartaglione-timeline-events-quadruple-homicide-case/1825651001/
Feb. 11, 2018: Tartaglione was assaulted at the Metropolitan Correctional Center in Manhattan, where he has been held since his arrest, his lawyer said in court documents. Barket said Tartaglione needed reconstructive surgery for a fractured eye-socket bone.
That happens when you do business against the Mexican drug cartels. Even in high security.
March 19, 2019: Prosecutors announce they will seek the death penalty against Tartaglione, a decision that had lingered since his arrest.
July 3, 2019: Correction officers at MCC confiscate an illicit cellphone from Tartaglione's jail cell, according to court records. Prosecutors said Tartaglione claimed that his cellmate had tossed the phone to him as officers approached.
July 24, 2019: WNBC reports that Tartaglione was questioned about how financier and accused child sex trafficker Jeffrey Epstein was found injured at MCC. Epstein was reportedly found semi-conscious on the ground with marks on his neck in his cell, according to WNBC, and Tartaglione denied having anything to do with it when questioned by investigators.
That episode of Alt-Q comic wrote itself. Three weeks after Tartaglioni had unmonitored contact with the outside world, Epstein was found with his throat nearly crushed. And… the last piece… I've been holding this back… this is Tartaglioni: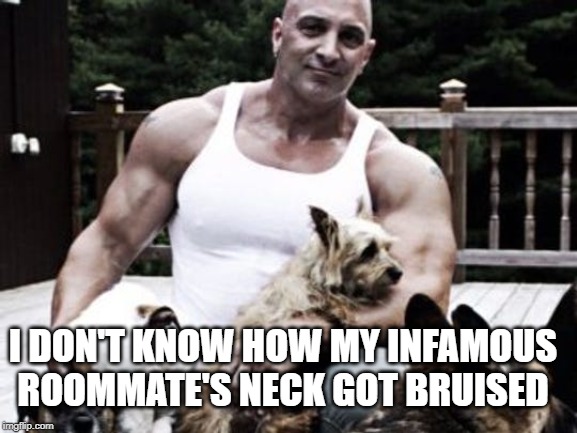 I doubt they were literal roommates but a quadruple murderer looking at the death sentence, with the physique to bend steel with bare hands, would be my first choice for an in-prison hitman.
But here's the thing, I don't think Tartaglioni could have done it without the guards' cooperation.
Epstein Suicide Attempt? – Or Was It an Attempt to Suicide Him?
Epstein was being housed in MCC's 10 South Unit, a block of six cells known as the "terror wing" because it's where the city's most dangerous federal inmates, including alleged terrorists, are held (El Chapo was held there until he was transferred to the federal supermax prison in Colorado). All the prisoners in that unit are housed separately – and they're in their cells 23 hours per day.
This is not the most reputable source; conspiracy sites rarely do well at documentation and analysis; but this much makes sense. There's no biological need for prisoners to leave their cells, after all.
Indeed, why do I even doubt the official account? Because 1. Epstein had agreed to a plea bargain, 2. where did his suicide rope come from? He wasn't straitjacketed but it was still max security and 3. the simple act of testifying is all the suicide attempt he really needed to make. Was anybody betting he'd die in bed after a long, full life at Club Fed?
And 4. he successfully "suicided" immediately upon release from a brief suicide watch. That's dirty. That can't NOT be dirty. So, while I normally prefer to avoid speculation and theorizing., Epstein's fate gets a pass.
I believe a guard opened the gates and let Nick go for the proverbial throat, but something happened to force an abort. What reason do I have to believe a guard was in on that? Because that cell phone didn't come from a visiting girlfriend.
Killing with one's bare hands isn't easy, which is why a guard would recruit bodybuilder Nick to do the throat squeeze instead of himself. It also prevented any lucky defensive wounds… "how did you get a black eye while the prisoner you were watching hanged himself with toilet paper?" sort of thing. Nick was already facing four death sentences, why not five? The guard would open a couple locks, maybe get fired and then "win the lottery". Nick would gamble on his new allies keeping their deal.