All betting is closed, we have a winner for Best Loser among the recent mass shooters. Sweden's Philip Manshaus tried to shoot up a mosque but his kill count was stopped at zero by a wedgie from a grandfather.
Not counting his pre-murdered teenage stepsister. Which is all the family background you really need.
This is the sexiest pic of him that I can find. I'm glad he was stopped but regardless, a moment of silence for the lost manhood of Sweden.
htt ps://heavy.com/news/2019/08/philip-manshaus/
Philip Manshaus [age 21] has been identified as the suspect in a terror attack on a mosque in Baerum, Norway, near Oslo, that wounded one person, Nettavisen reports. Manshaus was taken down by members of the mosque before anyone else was shot, according to police.
Manshaus is also suspected in the murder of his 17-year-old stepsister, Johanne Zhangjia Ihle-Hansen, prior to the Baerum mosque shooting, police said.
There were only three elder members of the Al-Noor Islamic Center in Baerum inside the building when the attack occurred. The victim wounded in the shooting was 65. He is expected to survive. The three men inside the mosque were preparing for Sunday's Eid-al-Adha celebration. About a dozen people had been praying inside the mosque about 10 minutes before Manshaus arrived, but most had left before the attack began, according to CNN International.
Oopsie #1. He was too late to kill anybody but the cleaning staff, so to speak.
According to Norway's TV2, Manshaus was armed with two shotgun-like weapons and a pistol when he entered the mosque. Police said that multiple weapons were found inside the mosque, and that they all belonged to the shooter, but did not specify what type of guns were used.
[Manshaus] was wearing body armor and a helmet when he stormed the Al-Noor Islamic Center mosque in the Oslo suburb of Baerum, Norway, NBC News reports. Manshaus shot through the locked glass door of the mosque, where three men were inside, according to police.
He walked though an empty parking lot to unload on the locked door instead of checking back the next day or something? Oopsie #2.
Manshaus was stopped by the three men inside, including 65-year-old Mohamed Rafiq, who overpowered Manshaus and suffered a minor injury, a mosque representative said.
Rafiq held Manshaus in a chokehold until police arrived.
"Mohamed acted immediately when the shooter entered the room. He toppled the shooter and pinned him to the floor, (and) sat on top of him," a mosque spokesman told reporters, according to CNN International.
Wedgie! And #3.
Manshaus posted on Endchan, an anonymous image posting message board similar to 4chan and 8chan, before the shooting. In the post, Manshaus referenced three other attacks carried out by far-right gunmen. The post referenced the Christchurch, New Zealand, mosque shooting that left 51 people dead on March 15, 2019. It also referenced the April 27, 2019, mosque shooting in Poway, California, that left one dead and three injured, and the August 3, 2019, El Paso, Texas, Walmart shooting that left 22 people dead. All three have been investigated as terror attacks. … The Christchurch gunman streamed his attack live on Facebook. He and the El Paso shooters both posted about their shootings online before carrying out their attacks.
Thusly inspired:
[Patrick] tried to post a Facebook Live video stream, but it did not work.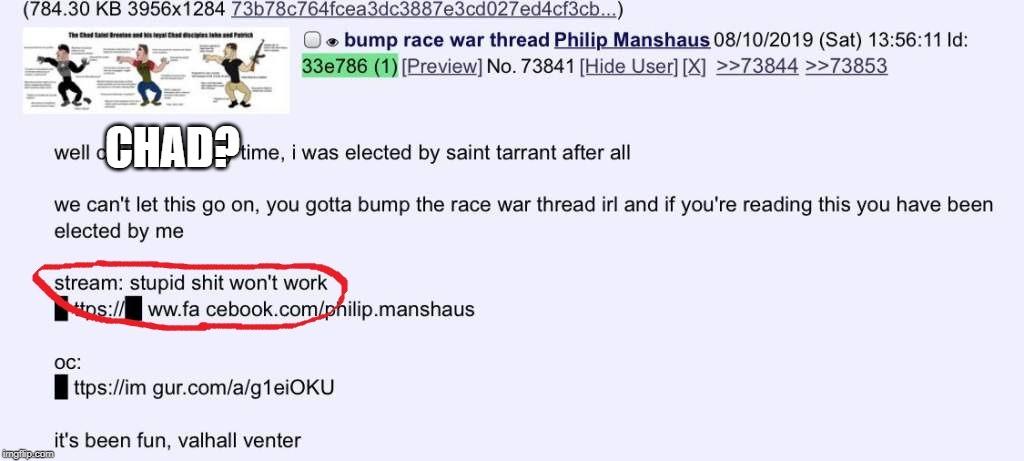 Oopsie #4. You're pathetic, Mister Manshrink. You wanted to run with the big boys but now that there's neither footage nor victims, the cops have to take your word for it that you're a terrorist.
According to The Guardian, someone reported Manshaus to the Norwegian police service, the PST, in 2018, but they did not investigate further. "There was nothing in that tipoff that suggested there was danger of an act of terrorism or that planning of an attack was under way," Hans Sverre Sjøvold said, according to The Guardian.
Police in 2018: He's not a threat to general society.
Police in 2019: We told you so.
Manshaus is facing attempted murder charges in the mosque shooting, which is being investigated as a terror attack. He is also under investigation for murder in the death of his 17-year-old stepsister, according to police.
Manshaus smirked to the cameras during his first court appearance.
My take on this: Manshaus murdered his sister for 'family' reasons then quickly tried to murder a bunch of Muslims so he'd have enough street cred to survive in prison. He's going to be in for life anyway, see, and "badass international Muzzie butcher" is a better fate than "reusable condom for the actually violent inmates".
But I don't think he's gonna clear that burden of proof:
He already looks like a "battered prison wife" if you get my drift. The inmates aren't waiting to see how much cred he returns from trial with. They might have already decided from his… as I reconstruct the events… messing with his goPro until the mosque closed, then unleashing his firepower on the glass door, then getting tackled by the 65yo Muzzie while reloading, then being trapped under the weight of Grandpa and his own body armor until the police arrived, arrested him and put a band-aid on Grandpa's booboo.