Feminism has not yet begun to peak! *Gunner Q goes to jail for hating on widow's peaks.*
Gov. Newsom Signs Law Making California 1st State to Ban Discrimination Against Natural Hair
Gov. Newsom Signs Law Making California 1st State to Ban Discrimination Against Natural Hair
By Associated Press, 3 July 2019
Gov. Gavin Newsom signed into law Wednesday a bill making California the first state to ban workplace and school discrimination against black people for wearing hairstyles such as braids, twists and locks.
The law by Democratic Sen. Holly Mitchell of Los Angeles, a black woman who wears her hair in locks, makes California the first state to explicitly say that those hairstyles are associated with race and therefore protected against discrimination in the workplace and in schools.
You know what's coming:
Holly's hair looks like earthworms fried into spaghetti. I gotta say it while I can. On the bright side, mocking Trump's hairdo will be illegal just in time for his reelection. If Cuckservatives can ever be bothered to do a thing.
They must be so proud of themselves, that America has been reduced to this.
"We are changing the course of history, hopefully, across this country by acknowledging that what has been defined as professional hair styles and attire in the work place has historically been based on a Euro-centric model — based on straight hair," Mitchell said.
Stephanie Hunter-Ray, who works at a makeup counter, says she typically wears her hair braided or in an afro, but one day she showed up to work with it straightened and styled in a bob. Her manager told Hunter-Ray her hair had never looked so normal.
"It bothered me," Hunter-Ray said in an interview at the hair salon she owns in Sacramento that specializes in natural hair styles. "What do you mean by 'normal?' Your normal is not my normal. My normal is my 'fro or my braids."
Alikah Hatchett-Fall, who runs Sacred Crowns Salon in Sacramento, said she's had black men come into her salon asking to have their hair cut off because they can't find jobs.
Employers don't like applicants who resemble gangsters or worse, rap artists? I'm shocked.
The law, she said, "means that psychologically and mentally people can be at ease and be able to get the jobs they want, keep the jobs they want, and get promoted at the jobs they want."
Barbie thinks jobs are fruit trees that grow money and status. "Daddy, let's get apricots and Army Rangers!"
California's new law, which takes effect Jan. 1, is significant because federal courts have historically held that hair is a characteristic that can be changed, meaning there's no basis for discrimination complaints based on hairstyle. The U.S. Supreme Court recently declined to hear the case of an Alabama woman who said she didn't get a job because she refused to change her hair.
They… they tried this once already? And it went to SCOTUS?
This is a perfect picture of our leaders' disrespect for law. It's already been ruled against and for good reason but they don't care, they'll just keep trying (with other peoples' money) until they get their selfish way.
The issue burst into public view last December, when a black high school wrestler in New Jersey was told by a referee that he had to cut off his dreadlocks if he wanted to compete. California's Democratic governor said the video was a clear example of the discrimination black Americans face.
You think that's discrimination? Try being white with dreadlocks. Hell, try being white.
"His decision whether or not to lose an athletic competition or lose his identity came into, I think, stark terms for millions of Americans," Newsom said before signing the bill alongside Mitchell and half a dozen advocates. "That is played out in workplaces, it's played out in schools — not just athletic competitions and settings — every single day all across America in ways subtle and overt."
No, his decision was whether to participate. Spare us the hysterics.
Though California is the first state with such a law, New York City earlier this year issued legal guidance banning discrimination against someone based on their hairstyle. The beauty company Dove is part of a coalition pushing for more hairstyle protections, and Mitchell said she hopes other states follow California.
Opposition funded by Rogaine.
Mitchell's bill adds language to the state's discrimination laws to say that "race" also includes "traits historically associated with race," including hair texture and protective hairstyles. It further defines protective hairstyles as braids, twists and locks.
But not baldness? *checks* Nope, the bill is worded such that this new "civil right" only benefits blacks. Poofy blacks.
The term locks, or "locs," is the preferred term to dreadlocks, which has a derogatory connotation.
Yah, dey be called dreads, mon.
At Hunter-Ray's studio, Exquisite U, on Wednesday, her stylists and customers reflected on the new law.
Shereen Africa, who was having her hair re-braided by Elicia Drayton, said she used to work at a television station in Mississippi where a black anchor quit after facing resistance to wearing her hair in locks.
Gawddamned fucking vibrant pissant crybaby, it wasn't even her that quit. Here, Gavin, you can have my guns. I don't need them. I just insult your hair and you faint on the spot.
All those Trump hair jokes are reeeallly coming into focus.
Africa said she did not wear her hair in braids at the job, even though she wasn't on air, because the environment wasn't supportive of it.
"If I'm in a professional setting, I won't wear my hair in certain ways," she said.
AND THIS WAS A PROBLEM TO BE SOLVED WITH THE GOV'T BANHAMMER?!?
An anchor at a different Mississippi TV station made national news when she said she was fired after she stopped straightening her hair.
"You want to go to work and feel free," Drayton said. "You don't want to have to feel like you have to put on a wig or you have to have your hair straight to please someone else."
You haven't reached peak feminism until the following qualifies as a typical, State-level legislative session. And it's probably still not as bad as things can get.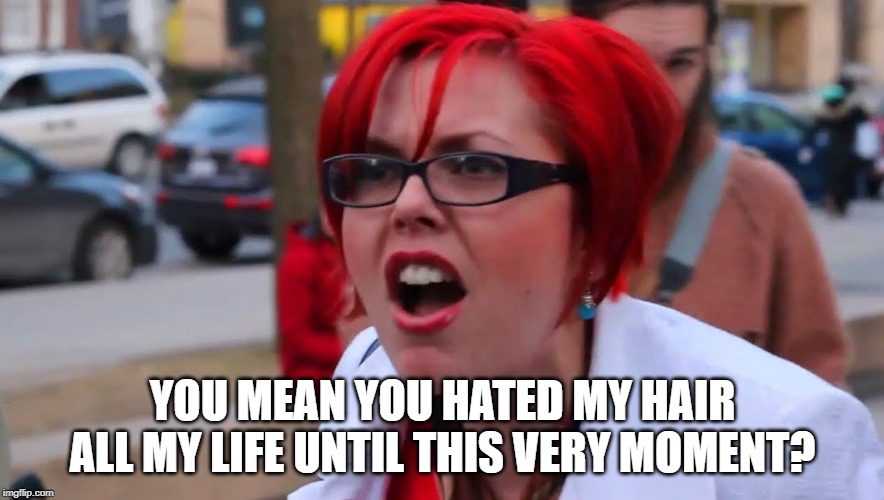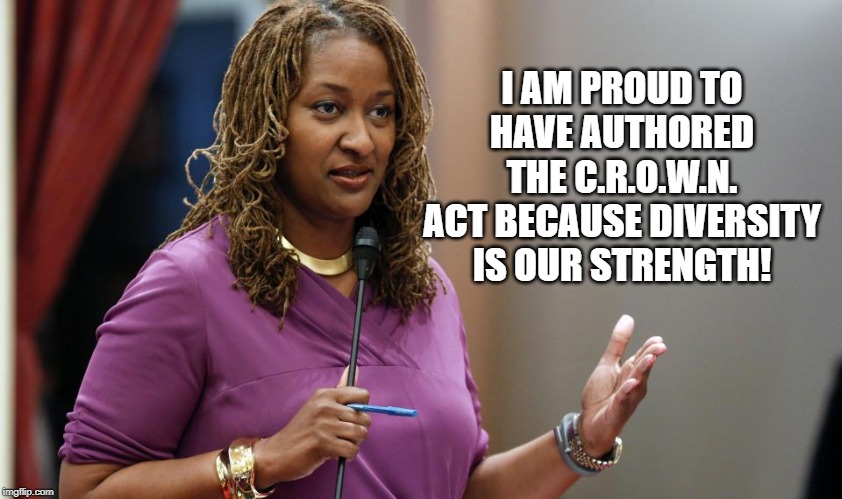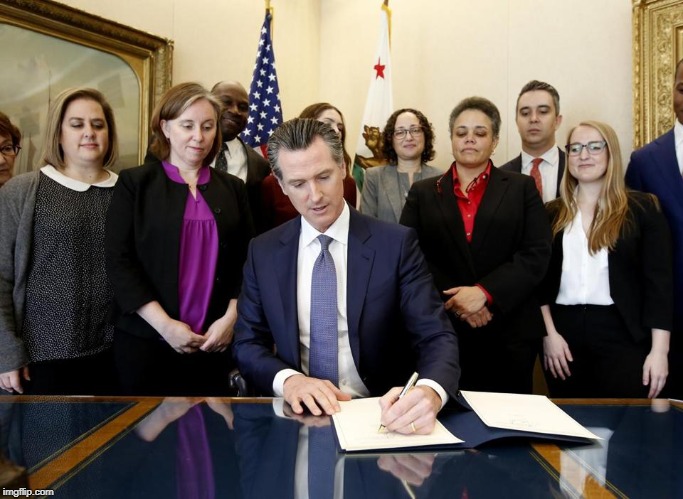 No, no, that montage was serious. From Senator Mitchell's social media: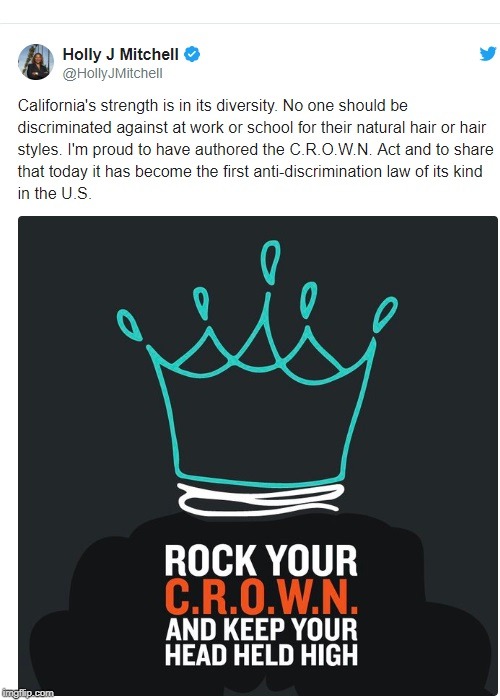 The "Create a Respectful and Open Workplace for Natural Hair" Act. AKA the Hate Whitey Act.
https://leginfo.legislature.ca.gov/faces/billNavClient.xhtml?bill_id=201920200SB188
THE PEOPLE OF THE STATE OF CALIFORNIA DO ENACT AS FOLLOWS:
SECTION 1. The Legislature finds and declares all of the following:
(a) The history of our nation is riddled with laws and societal norms that equated "blackness," and the associated physical traits, for example, dark skin, kinky and curly hair to a badge of inferiority, sometimes subject to separate and unequal treatment.
(b) This idea also permeated societal understanding of professionalism. Professionalism was, and still is, closely linked to European features and mannerisms, which entails that those who do not naturally fall into Eurocentric norms must alter their appearances, sometimes drastically and permanently, in order to be deemed professional.
(c) Despite the great strides American society and laws have made to reverse the racist ideology that Black traits are inferior, hair remains a rampant source of racial discrimination with serious economic and health consequences, especially for Black individuals.
(d) Workplace dress code and grooming policies that prohibit natural hair, including afros, braids, twists, and locks, have a disparate impact on Black individuals as these policies are more likely to deter Black applicants and burden or punish Black employees than any other group.
Bitch, that's OSHA you're bitching about. The Occupational Safety and Health Administration. Long hair while operating machinery, yah? Even that wrestler mentioned above, it's not good for him to provide convenient handles for his opponent nor for his opponent to risk impalement on God only knows what pins and ties he stuck in those hoses.
(e) Federal courts accept that Title VII of the Civil Rights Act of 1964 prohibits discrimination based on race, and therefore protects against discrimination against afros. However, the courts do not understand that afros are not the only natural presentation of Black hair. Black hair can also be naturally presented in braids, twists, and locks.
Afros are the only unique presentation of black hair. *double take* Afros were ALREADY a civil rights issue? The things I don't notice as a balding Scotsman.
(f) In a society in which hair has historically been one of many determining factors of a person's race, and whether they were a second class citizen, hair today remains a proxy for race. Therefore, hair discrimination targeting hairstyles associated with race is racial discrimination.
That's what females call logic. Aristotle just rose from his grave as a misogynistic liche.
(g) Acting in accordance with the constitutional values of fairness, equity, and opportunity for all, the Legislature recognizes that continuing to enforce a Eurocentric image of professionalism through purportedly race-neutral grooming policies that disparately impact Black individuals and exclude them from some workplaces is in direct opposition to equity and opportunity for all.
In the name of fairness and equality, whites are ordered under penalty of hate crime prosecution to accept any hair style worn by blacks, because blacks are tired of white people being seen as the successful, cooperative ethnicity. The next time you get your earthworms done, Mitchell, read a dictionary for the definition of "irony".
Let's meme the curls out of this one! Because sometimes, all you can do is laugh.