None of us heritage nationalists have been able to come up with a good name for our movement/ideology/philosophy/hobby. The British Pozz have trouble, too. XRW is the best they can do, which doesn't roll off the tongue unless you pronounce it "Nissan XRW", like a car. Weird how that works.
I'll give you a moment to play Bingo.
*hums to self*
Vox Day covered this already but not in any detail. Frankly, VD seems to be tired of blogging–most of his recent posts barely qualify as retweets–but he keeps at it, probably because many of those who read his blog are also his paying customers.
Patriotism is a 'red-flag for racism'
https://www.dailymail.co.uk/news/article-7082855/British-army-officers-told-soldiers-calling-patriots-extremists.html
By Henry Martin for Mailonline, 29 May 2019
A guide to help high-ranking British officers spot right-wing extremists in their ranks has been leaked – and the signs include people calling themselves 'patriots' and making 'inaccurate generalisations about the Left'.
The leaflet, made in 2017, is titled 'Extreme Right Wing (XRW) Indicators & Warnings' – and advises senior army staff to look out for people who 'use the term Islamofacism' [sic] and call people who challenge their 'XRW' views 'indoctrinated'.
A motivational poster warns us about indoctrination? That's so slimy, the breakroom wall will never be white (cough) again.
The document, which an MoD spokesperson confirmed to MailOnline is genuine, was leaked online, sparking threads on several social media platforms such as Reddit.
Officers are told to look out for individuals who discuss the creation of 'white only communities' and 'become increasingly angry at perceived injustices or threats to so called national identity'.
An MoD spokesperson told MailOnline the card was produced in late 2017, following the arrest of four soldiers who were accused of alignment with National Action.
We have discovered a motive. Not the real motive, of course, that's farther down, but their casus belli.
It is not known whether similar literature has been produced on how to spot left-wing extremists or Islamists.
BWAHAHAAA! A tip of my hat to you, post author Henry Martin. I like the cut of your shiv.
Last year British army veteran Corporal Mikko Vehvilainen, 34, was convicted of being a member of neo-Nazi terror group National Action and jailed for eight years.
The Royal Anglian Regiment soldier was kicked out of the Army after his arrest in September 2017, along with another soldier as he tried to form an underground network and stockpiled weapons.
Mikko. Hooded eyes indicates a guarded personality but a case of diplomat ears probably means he's popular enough with those he trusts. There are aggression lines around his eyebrows, the lighting is good enough for them to be seen, but that's common in a mugshot picture.
I don't know about those diagonal lines on his temple. Very unusual, and too matched to be scars. Aside from them, I think he has a trapezoidal face shape. (Face shapes are hard for me, especially without a side profile.) That would indicate a practical and particularly time-conscious personality. Very good for a soldier, always on time and not forgetting the little details.
This pic was in the article but its inclusion is misleading. If you can't read the writing on the memorial, that's because this picture was taken in Finland. A memorial to Finland's independence, I believe. Segue:
https://www.dailymail.co.uk/news/article-6380665/Outstanding-British-army-Afghan-battle-veteran-heart-neo-Nazi-terror-group.html
A licensed firearms holder, Vehvilainen moved from Finland to the UK with his mother and sibling at the age of four when his parents' marriage broke down.
His mother, formerly from Lincolnshire but now living abroad, said in court that as a teenager her 'mischievous' son was 'a little bit challenging'.
Per Wikipedia, Lincolnshire remains over 90% white ethnicity. I'd wondered whether contact with vibrants had shaped his race views but failed to confirm.
Asked when he might have developed his 'deeply offensive and racist views', she said: 'I really don't know. I was in complete shock and disbelief [when he was arrested in September 2017].'
His father Erkki told the Daily Mail that when his son returned to Finland to work in his company he 'appeared to be extremely interested in religion and kickboxing'. Vehvilainen married a Bolivian woman and moved to Bolivia with her and their daughter for three years, but returned but when the relationship faltered.
He settled in the Finnish city of Turku, where he met the Russian woman who was to become his second wife, and joined the far Right Finnish Resistance Movement.
A familiar pattern of an otherwise average guy being stupid for women.
End segue.
Vehvilainen was arrested after threatening a neighbour with an air pistol in a dispute over loud music, although it is unclear whether he was ever convicted. He returned to the UK with his wife and their two children in 2013, when his application to join the British Army was successful. …
Earlier this year, a Birmingham Crown Court jury cleared him of possession of a terrorism document – the Anders Breivik manifesto. … However he was jailed in March for being a member of National Action.
Sheesh. There won't be words for my disappointment if I go to prison for blogging instead of homophobia. I should read that manifesto. It's on my hard drive but also 1,500 frakking pages.
Before his conviction, Vehvilainen was considered an 'outstanding' soldier and Army boxer who had risked his life for Queen and country.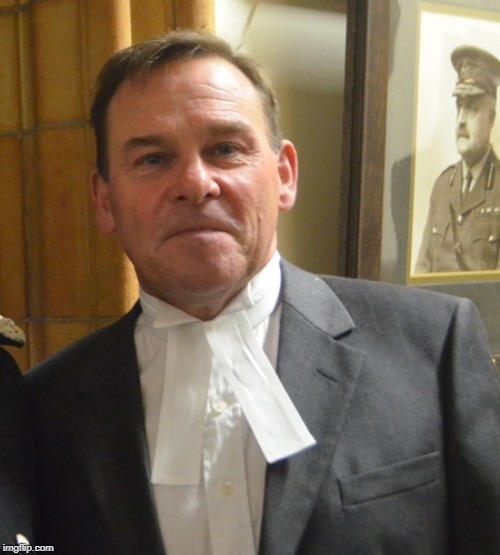 Judge Melbourne Inman QC told the veteran he had a 'long and deep-seated adherence' to racist ideology [when jailing Vehvilainen].
End segue.
The Army's most senior soldier, Sergeant Major Glenn Haughton, had previously posted a social media video which said: 'If you're a serving soldier or a would-be soldier, and you hold these intolerant and extremist views, as far as I'm concerned, there is no place for you in the British Army – so get out.'
Haughton isn't just the Army's most senior soldier; he's the Army's newly appointed most senior soldier ever.
https://www.armytimes.com/news/your-army/2015/09/13/british-army-appoints-first-army-sergeant-major/
The British Army now has its own top sergeant major.
Sergeant Major Glenn Haughton is the first soldier to fill the new post, which was created to ensure the British army's most senior staff understand what life is like for soldiers serving in the British army.
His appointment is equivalent to the post held by Sergeant Major of the Army Dan Dailey, the U.S. Army's top enlisted soldier.
"This is a momentous step for the British Army as they mark the professionalism of not only their NCO corps but also their enlisted forces with their first sergeant major of the Army," Dailey said in a statement to Army Times. "I look forward to working with him and know this will only strengthen our already great relationship."
The post was created in January, and Haughton has been on the job since April, Rowena Forsyth Allen, a spokeswoman for the British Army, told Army Times.
"The head of the British Army recognized the need for a senior enlisted advisor to counsel the Executive Committee Army Board on matters which affect the soldier, and so the post of Army Sergeant Major was created," Allen said in a statement.
In addition to his role as senior enlisted advisor, Haughton wants to promote the education of soldiers and is looking forward to engaging with his counterparts in other nations' armies, Allen said.
I heard 'Commissar' there.
Described in a British Army press release as "its most senior post ever for a soldier," the Army sergeant major position is viewed as a "vital link between those making decisions and those carrying out the day-to-day tasks."
Haughton was hand-picked for his new job by the Chief of the General Staff, but he downplays his achievement, crediting "good fortune and ambition," according to the British Army press release. …
Haughton, like U.S. Army sergeants major, also is one of his army's disciplinarians, according to the press release.
Yeah, about that discipline:
27 June 2015
The three most senior warrant officers from the Royal Navy, British Army and RAF attended the UK's biggest LGBT pride event in London for the first time, supporting more than 200 defence personnel taking part in the parade.
Warrant Officer Steve Cass of the Naval Service, Warrant Officer Glenn Haughton of the Army, and Warrant Officer Clive Martland of the RAF attended the march, 15 years since the ban was lifted on LGB personnel serving openly in the Armed Forces, signifying a united senior commitment to diversity and inclusion in the forces.
Haughton began his duties in April 2015 and by June 2015, was openly championing the LGBT community.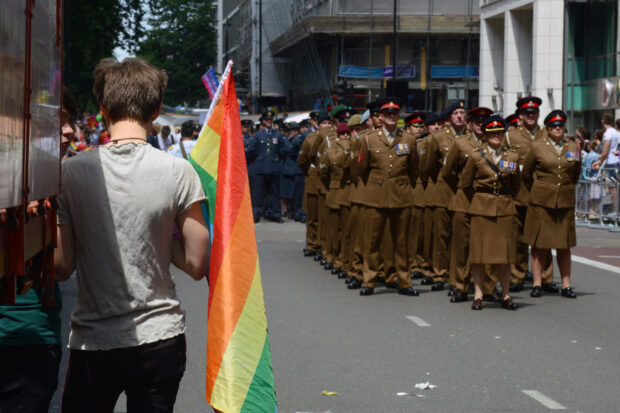 Nice skirts, you soldiers! And I don't mean kilts.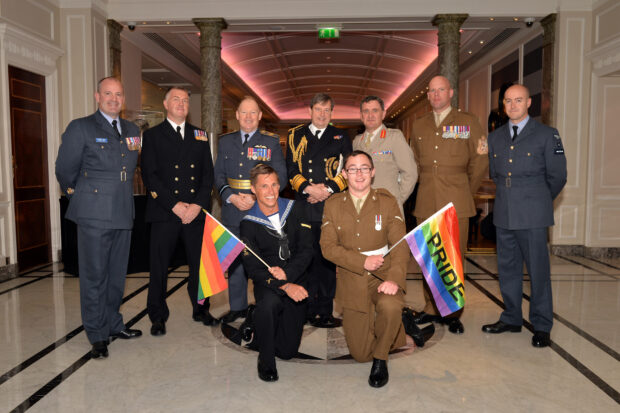 Second Sea Lord Jonathan Woodcock (centre rear), flanked by Air Vce Marshal David Stubbs (to left) and Lieutenant General James Everard (to right) with the Warrant Officers of the three services and personnel from the services contingents prior to the London Community Pride parade.
Houghton is second from right.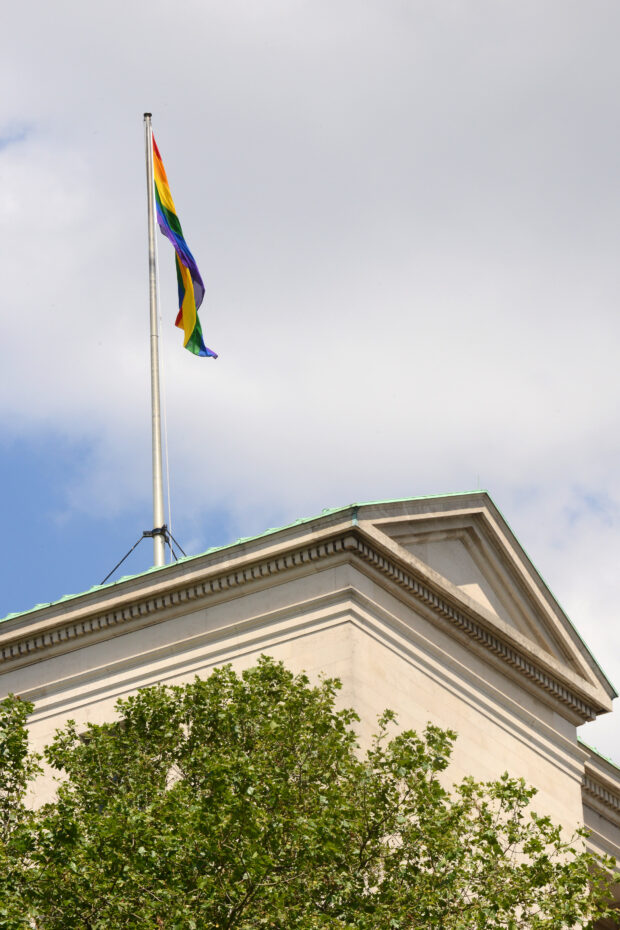 Ministry Of Defence Main Building in London flies the Rainbow Pride flag from its mast in London.
Smart of them to use a lightning rod for avoiding God's wrath but He's on record preferring fireballs for Sodom-y.
I don't wonder that the UK Army was able to produce such a white-hating Bingo card. Let's go one more step up the chain of command, to Lt. Gen. Everard.
"In the Army today, you can be yourself"
By Lieutenant [General] James Everard, 24 May 2015
That is… not a recruiting slogan I would ever have thought of.
The Army has come a long way since the ban on homosexual personnel serving was lifted in 2000. As the Army's LGBT Champion, I was extremely proud when the Army was recently named by Stonewall as one of the country's top 50 employers for lesbian, gay and bisexual personnel for the first time. …
We are safely at the beginning of the age of inclusiveness, but the challenge is not time limited. We must continue to show progress. I am proud that the Army has done so well in the Stonewall Workplace Equality Index…
Two years later, they were so inclusive that "outstanding soldier" Mikko Vehvilainen was arrested for membership in a Neo-Nazi organization. Not for terrorism; not for conspiracy; not just kicked out of the military; eight years in prison.
Talent management – the better management of talent – was a big theme of this year's conference. We know that diverse, well-led teams perform better than equally well-led homogenous teams. The Army Leadership Code encourages inclusive leadership and so, as we manage our talent, we want a colourful medley in this Army of ours. The LGBT community is a rich seam of diverse talent that brings broader perspectives, networks and experiences to our organisation. We need to think differently if we are to succeed, remembering that people perform better when they can be themselves. The forces of ignorance are receding. In the Army today you can be yourself.
Je suis Mikko?