A brief post on how the Christian Church is a full participant in modern corruption. Brian Sims is the first openly homosexual state representative in Pennsylvania.
Brian Sims: 5 Fast Facts You Need to Know
Sims put up a Periscope of himself talking to a protester at the Planned Parenthood in his district in southeastern Pennsylvania. Sims walked up to the woman, telling his viewers that she was "an old white lady" who was afraid to show her face on camera, even though, he said, she had been talking to every woman who walked into the abortion clinic.
"Shame on you," Sims told the woman. He added, "what you're doing is disgusting" and he reproached her for protesting outside the clinic instead of praying for children at home. He asked her how many children she'd clothed and fed that day, implying that, if she really cared about children, she'd be caring for them in that way. Sims repeatedly tried to get her to talk to him, but she kept her head bowed and did not address the camera.
What a lovely personality.
The anti-abortion group Live Action reported on Sims' video on Sunday, May 5. After Live Action tweeted about Sims, the Pennsylvania state representative tweeted back at the group, calling them "Bible bullies" and urging them to "bring it." Sims wrote, Bring it, Bible Bullies! You are bigots, sexists, and misogynists and I see right through your fake morals and your broken values. #BeReal
Sims later put up a video in which he didn't exactly apologize, but he did imply that he had done something wrong. Sims said that that "two wrongs don't make a right" and that he could do better. He also vowed to keep fighting for the rights of women. He said, "I will fiercely protect a woman's right to make the best choices for her health & her body, unimpeded. I also know that two wrongs don't make a right, especially on the front lines of a civil rights battle. I can do better, and I will do better, for the women of Pennsylvania."
Hardcore feminist and anti-Christian. Although it's interesting that he backed down a little.
Back in April, Sims took to social media to talk about his use of Truvada, which is a drug used to avoid contracting HIV. Sims, who is openly gay, put up a Facebook post about his use of the drug, writing, "Starting this day off smart, proactive, and in control! How about you? #PrEPsavesLIVES."
Openly self-destructive.
Sims got some push-back from critics after he put up the post, with some people apparently saying hat he was "flaunting" his sexual orientation. He responded on Facebook by writing "Think this is an invite to talk about my sex life? It's not," he wrote. "Think it's an invite to shame me or anyone else? Grow up. 'Stigma' is the thing our enemies want us to be stunted by. It literally kills us. It's stupid and we control our own fate. No shame in this game. Just Pride."
Yep, really doesn't like Christians.
Sims is often photographed with his long-term partner, Brandon. He has described McMullin as a "Disney prince of a boyfriend" and says that he loves exploring Philadelphia with him.
Eww. Flagrant homo.
Brandon on the right is an obvious pedoface but interestingly, Brian on the left is not. Triangular nostrils is a sign of distrust and ill temper. Full beard is often to conceal weakness, particularly the chin. But neither is a red flag. Hair seems orderly enough that I wouldn't expect a self-destructive streak. Pragmatic face shape. Neck is thick enough to indicate healthy testosterone and fitness levels.
Back in June of 2018, Sims put up a tweet in which he gave the vice president the finger, urging him to "get bent and get out" of Philadelphia. Sims wrote, "OFFICIAL WELCOME: @MikePenceVP let me be the first to officially welcome you to the City of Brotherly Love and to my District! We're a City of soaring diversity. We believe in the power of all people: Black, Brown, Queer, Trans, Atheist, & Immigrant. So…get bent, then get out!"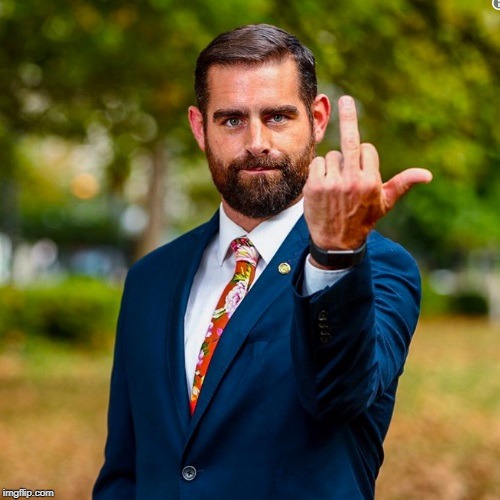 The tweet, along with Sims' more recent posts outside the Planned Parenthood clinic, have some conservatives asking why Sims hasn't been banned from social media. The Washington Examiner ran a piece asking why many on the right — like Alex Jones and Milo Yiannopoulos — have been banned from Twitter and from Facebook, while Sims hasn't faced any such ban.
The question is trivial but the picture is not. Yes, that's a very rude gesture towards a sitting Vice President but when was the last time you saw a man in a business suit make that gesture? Also, the previous picture was inconclusive but here, the left side of his face is much more guarded than the right. He took Pence's Christian reputation extremely personally, when most feministas would have the right side guarded, Pence obviously being an external enemy. This mismatch between his physiognomy and his behavior intrigued me to look deeper.
From Wikipedia,
Sims was born in Washington, D.C., the son of two Army Lieutenant Colonels of Irish descent. Sims was raised in the Roman Catholic Church but stopped attending church at the age of 16.
Uh-oh.
Sims lived in seventeen states before settling in Pennsylvania in the early 1990s. He later completed his undergraduate studies at Bloomsburg University, in Bloomsburg, Pennsylvania in 2001. In 2000, Sims was the co-captain of the Bloomsburg University football team, and was recognized as a scholar athlete. During the 2000 season, the longest season in the Division II school's history, Sims came out as gay to his teammates.
Per the link, he actually didn't. A jilted lover informed on Sims to get him in trouble. Sims didn't deny it and the team decided to be supportive of him.
Not hard to read between those lines. In my experience, the truly unreachable, the people with real, vile hatred of Christ are the people who were wronged in His Church. Sims was surely raped by pedo priests. He quit Christianity in self-defense then without a moral compass, partly a result of his rootless military childhood, he gave in to the sexual damage.
Then, when his secret sin came to life, instead of getting condemnation he was rewarded and accepted. Rewarded for his deviancy and violated for his devotion, he ended up a Christ-hating LGBT battleaxe with not a kind word to say about healthy sexuality. The people espousing it are, to his perspective, loathsome hypocrites.
That explains his behaviors above. Sneering at virtue, championing perversion, hating devout Christians even old women. Why he's a raging homo yet with normal physiognomy. (Eye damage is beginning.) He'll persecute us all given half a chance and be thinking of Priest Pedo while he does it. "I see right through your fake morals and your broken values."
I can't hate him for attacking us. Not until he comes full circle and begins violating children himself. A vicious cycle and it started in the Church.
For the record, Sims has said that he quit Church for no particular reason. But people don't hate for "no particular reason". Physiognomy and history both indicate against him being the SJW type.
I can't wait until it's time for some in-house cleaning. Stories like this should never happen.