Because True Evil is about to be revealed! When a Marxist corruptocrat like Rahm Emanuel joins with both law enforcement and Trump supporters, you know it's time to make popcorn.
I would be glad to see Smollett get away in return for bracelets on… Michelle Obama.
Mayor Emanuel blasts prosecutors' decision to drop charges against 'Empire' actor Jussie Smollett: 'This is not on the level'
https://www.chicagotribune.com/news/local/breaking/ct-met-jussie-smollett-charges-dropped-20190326-story.html
By Megan Crepeau, Madeline Buckley and Jason Meisner, 26 March 2019
In a stunning reversal, Cook County prosecutors on Tuesday dropped all charges against "Empire" actor Jussie Smollett for allegedly staging a phony attack and claiming he was the victim of a hate crime.
Calling it "a whitewash of justice," Mayor Rahm Emanuel blasted the decision, emphasizing repeatedly that a grand jury had chosen to bring 16 counts of disorderly conduct against Smollett.
"From top to bottom, this is not on the level," Emanuel told reporters at an afternoon news conference.
A Chicago mayor siding with cops and Trump supporters against a homosexual Negro celebrity? The Earth just stopped rotating!
"After reviewing all of the facts and circumstances of the case, including Mr. Smollett's volunteer service in the community and agreement to forfeit his bond to the City of Chicago, we believe this outcome is a just disposition and appropriate resolution to this case," [the State Attorney's Office] statement said.
A $10k fine, basically. This decision was so indefensible that lamestream journalists got off their asses and did all the needed work in less than a day. I need only sew together a few threads… my wheelhouse.
Area Central Detective Cmdr. Edward Wodnicki, whose detectives led the investigation, said prosecutors gave no heads up to police that charges would be dropped. He also expressed concern that it left it looking as if police mishandled the investigation. Detectives uncovered "overwhelming" evidence against Smollett, he said.
This is why I'm expecting shock and glorious awe. The police are desperate to take down the prosecutor/judge before they take the nuclear PR hit. The mayor is in the same position; if he stands by this action then there ain't enough vote fraud in Cook County to keep his ass in power.
How did a B-list actor and political pariah convince the prosecution to die for him?
Smollett's attorney, Patricia Brown Holmes, said the defense reached no deal with prosecutors. Smollett agreed to forfeit his $100,000 bond "so he could go on with his life and get this over with," she said.
Even his attorney took a step back.
For unclear reasons, Judge Steven Watkins ordered the public court file sealed.
There had been no clue that prosecutors planned the about-face before the announcement. In fact, there likely would have been no reporters in the courtroom if it hadn't been for a publicist for Smollett's attorney alerting the news media Tuesday morning that Smollett was already in court for an unscheduled emergency hearing.
Journalists love the smell of cover-ups in the morning. Whatever they paid that publicist mole was worth it, to thwart this attempt at star chamber injustice.
The stunning decision to drop the 16 counts of disorderly conduct was presumably made without the input of State's Attorney Kim Foxx, who recused herself from the case last month after revealing she'd had contact with Smollett's representatives early on in the investigation.
Foxx is the first black woman to serve as Cook County's State's Attorney. Not even the Chicago Tribune could believe that Narrative, hence this final paragraph:
Foxx declined to provide details at the time. Communications later released to the Tribune, however, showed Foxx had asked Chicago police Superintendent Eddie Johnson to turn over the investigation to the FBI after she was approached by a politically connected lawyer about the case.
Foxx reached out to Johnson after Tina Tchen, former chief of staff to first lady Michelle Obama, emailed Foxx saying the actor's family had unspecified "concerns about the investigation." Tchen, a close friend of Mayor Emanuel's wife, said she was acting on behalf of the "Empire" actor and his family. A relative later exchanged texts with Foxx.
The exchanges began Feb. 1, three days after Smollett claimed two men approached him near his Streeterville apartment building, yelled racist and homophobic slurs, hit him and put a noose after his neck. It would still be 2 1/2 weeks before he was charged with making the story up, but some media outlets were already starting to question the actor's account, citing unnamed police sources.
HOLY FUCK! The Tribune blatantly linked Foxx to Michelle Obama and her high-powered lawyer, Tina Tchen! We may safely conclude that Mayor Emanuel owns the Tribune.
"Spoke to the Superintendent Johnson," Foxx emailed Tchen back on Feb. 1. "I convinced him to Reach out to FBI to ask that they take over the investigation."
The same day, Foxx texted with Smollett's relative, whose name was blacked out in copies released by her office.
Quick quote from https://www.cookcountystatesattorney.org/about/kimberly-foxx : Kim is the first and only prosecutor in the country to make felony case-level data available to the public. … Her goal is to make the Cook County the most transparent prosecutor's office in the country. Not likely.
"Spoke to the superintendent earlier, he made the ask," Foxx wrote. "Trying to figure out logistics. I'll keep you posted."
"Omg this would be a huge victory," the relative replied.
"I make no guarantees, but I'm trying," Foxx wrote back.
Kiera Ellis, a spokeswoman for the state's attorney's office, said Smollett's relative was specifically concerned about leaks to the media that purportedly came from the Police Department.
I found her statement here:
Chicago Police Union Now Attacking Kim Foxx Because She Questioned How The Jussie Smollett Case Was Handled
Three days after Smollett was allegedly attacked on Jan. 29, Foxx asked Chicago Police Superintendent Eddie Johnson to give the case to the FBI. She was reportedly concerned about the leaks about the case that were reportedly coming from the police.
Now, according to WGN 9, the Chicago Police Union was "calling for a federal investigation into the Cook County State's Attorney's actions in the Jussie Smollett case" to determine if she broke the law. Foxx recused herself from the case as soon it was reported that Smollett was a possible suspect. …
Kiera Ellis, a spokeswoman for the state's attorney's office, offered a response on behalf of Foxx.
"When she initially engaged in the communications, Mr. Smollett was still believed to be the victim of the crime," Ellis said in a statement. "As the investigation started to change and it became a possibility that he could actually be a suspect, that is when she made the decision (to recuse herself)."
This is not plausible. Prosecutors are politicians. Successfully prosecuting a hate crime committed by Trump-cheering white Nazis lynching a famous black would have given Foxx a seat in the history books. The only reason she would have given up the case to the FBI, let alone a subordinate we'll discuss soon, is if she was informed Smollett was the culprit before the cops knew… around the time Obama's lawyer contacted her.
The FBI has proven VERY good at making evidence disappear and crimes go away. But Chicago police apparently wanted to do their job.
Tina is in the lower right corner of this Oval Office photo. She was Michelle Obama's chief of staff. Hat tip to heavy.com.
Also not plausible is the FBI being less leaky than the Chicago Machine. And why would "a relative of Smollett" be afraid of the truth getting out a little early unless they knew in advance it was going to come back on him? Foxx's excuse for the down-low correspondence is unlikely.
Foxx was warned by the Obamas and Smollett's "relative" that Smollett was a fake. She tried to dump the coming shitstorm upon the FBI but when the local cops reached for glory instead, Foxx assigned a white male subordinate to take the coming blame instead of her.
Let's discuss him.
Joseph Magats: 5 Fast Facts You Need to Know
Joseph Magats is the Cook County prosecutor who made the decision to drop all charges against "Empire" actor Jussie Smollett.
Magats took over the case after Cook County State's Attorney Kim Foxx recused herself from the case after it was reported that she tried to convince Chicago Police Supt. Eddie Johnson to turn the investigation over to the FBI following calls from influential Smollett supporter Tina Tchen, a former chief of staff for former First Lady Michelle Obama, according to the Chicago Sun-Times.
The Sun-Times ain't buying this Narrative, either. The Leftoid house is divided against itself!
Magats told The Sun-Times that his decision to drop the charges against Smollett, who is accused of staging a fake hate crime, should not be "interpreted that Smollett did not do what police and prosecutors have alleged," the outlet reported.
He added that dropping the charges does not mean Smollett was the victim of any crime, as the actor had alleged.
DAYUMN! The prosecutor actually said in public, in so many words, "he's not innocent but I dropped all charges anyway". I don't know what leverage his boss Kimberley Foxx has on Magats but it made political suicide on the national stage the easy way out. Is Magats a… pedoface, by chance?
It's not a very good picture but the only one I can find. Not surprising; prosecutors make a lot of violent enemies and therefore tend to shun social media. I confess to expecting a Vatican-level freakfest of a pedoface but Magats looks normal. The bags under his eyes don't stem from sexual stress; no crow's feet. Earlobes poking out like his are considered bad luck by the Chinese, for what it's worth.
So, I don't know why he would take a nuclear hit like this. (Other than the old "I'll make him an offer he can't refuse".) But I can show that he should have seen this coming:
Foxx's team takes shape with hires
https://www.chicagolawbulletin.com/archives/2017/01/24/kim-foxx-civil-bureau-1-24-17.aspx
By David Thomas, 24 January 2017
Cook County State's Attorney Kimberly M. Foxx announced on Monday the appointment of four new bureau chiefs as well as an incoming reorganization of the state's attorney's office.
At the risk of getting ahead of myself, Foxx was elected with Soros money and immediately began this reorganization.
As part of her efforts to bolster the county's civil legal team, Foxx named Chaka M. Patterson, a Chicago-based partner at Jones Day, as the Civil Actions Bureau's chief. Patterson will take over sometime next month, Foxx said.
Our first pedoface. Also, black.
Kimberley Foxx, since I haven't shown her yet. Black female.
Foxx said she plans to use [Patterson's] office in different ways, beyond things like defending county ordinances or representing county officeholders and agencies in litigation.
"We're going to be looking at innovative ideas and thoughts on how we can use our bureau to actively go after those who are harming the county, or where we've been aggrieved and seek remuneration for that. That's one of the things we have to be proactive about," Foxx said, noting the office's fiduciary duty to the county.
The Convergence is getting seriously ugly. Targeting dissidents has now become a priority for the Cook County prosecutors' office. Soros got his 30 shekels' worth.
Foxx also continued to express interest in creating a "gun unit" within the office that would handle the caseload of gun crimes. However, she demurred from indicating who would lead this team and how it would fit within the larger office.
Marny Zimmer, Special Prosecutor, Gun Crimes Strategies Unit, is the most likely person. White female. Fairly normal face, actually, although Borderline Personality wouldn't surprise me.
Foxx noted the former chief of the Special Prosecutions Bureau — Michael P. Golden — is now working with the Chicago Police Department and the U.S. Attorney's Office and is "embedded" in the areas that have been the hardest hit by gun violence.
Moderate Pedo with a Catholic background, sits on the Anti-Defamation League board.
Risa R. Lanier, an assistant state's attorney, was promoted to deputy chief.
Black female. I've heard of people with a pad of flesh between their eyebrows but never seen one, except possibly now. It indicates extreme stubbornness, the emotional equivalent of scarring on boxers' knuckles. Upward-slanted eye canthus and prominent cheekbones also suggest an aggressive, dominant attitude. Oddly, the upturned nose suggests openness and/or gullibility. She might once have had a pleasant attitude… long ago.
On Feb. 6, former Cook County Circuit Judge Maryam Ahmad will join the office as the chief of the Juvenile Justice Bureau.
Cutting pupils AND mild pedoface on a woman! Very rare… and she works with vulnerable children? That's not a little disturbing. Black female.
Foxx also shared that Jennifer F. Coleman, previously a supervisor in the state's attorney's office, and Steven A. Block, a former federal prosecutor, were promoted to lead the Narcotics Bureau and Special Prosecutions Bureau respectively.
No picture for Coleman. Female.
Steven Block. Severe pedoface.
These appointments will join the team Foxx assembled early on in her tenure: Eric H. Sussman, the first assistant state's attorney
Fairly normal. Involved in a lot of transnational litigation which I guess Chicago could be a hub for. Face is more diplomat than techie, however. Note the rounded, non-recessed eyes and high-maintenance hair. White male.
April M. Perry, Foxx's chief deputy and the office's chief ethics officer;
No picture. Female.
Jennifer M. Ballard, Foxx's chief of staff and the office's diversity officer;
Black female, two check marks for diworsity. Hmm, they all have prominent cheeks and most have jutting jaws. This one has a NYC feminist haircut.
and Kathleen A. Hill, the office's director of policy, research and development.
Again, no picture. Not mentioned in this particular article is Charise Valente, chief of special prosecutors.
With Police Supt. Johnson on the right for the interested. Charise is standard feminist physiognomy, not special. Thin, downward lips indicate she's no fun to work with.
And lastly, Joseph Magats. One of two cis-white men I could identify out of a total of 13 top-level members of the Cook County prosecutor's office and…
During the interview, Foxx said she has promoted Joseph G. Magats, a deputy chief, as new chief of the Criminal Prosecutions Bureau. Risa R. Lanier, an assistant state's attorney, was promoted to deputy chief.
"Joe's been in the office for 25 years. … I will be his fifth state's attorney," Foxx said. "And through it all, Joe has maintained a level of credibility and work ethic and expertise that his colleagues, and those who come up under him, can be inspired by his work ethic."
The only old-timer, who didn't come into the prosecutor's office with Foxx. She staged a purge of leadership as soon as she entered office in 2016. Magats may be the last brass to go. Foxx didn't call out the credibility and work ethic of her other hires, although of course she praised them in other areas, so I'm guessing those qualities in her #2 kept her up at night until she could yank him in front of a bullet.
Identity politics, folks. Whites get along with other races. They don't get along with us. If your new boss is a colored with a chip on her shoulder, understand she thinks you're the same race as her toilet paper.
Magats is at high risk of an Arkancide. He did the dirty deed they somehow blackmailed him into doing and now, the only thing he could possibly do is talk about it with all that credibility and work ethic Foxx mentioned.
Back to the Heavy article,
"It's a nonviolent crime. He has no felony criminal background. If you start looking at the disposition in the case, in every case you need to look at the facts and circumstances of the case, and the defendant's background," [Magats] added.
Smollett tried to ignite a race war by paying two homies to put a noose around his neck… simultaneously committing sedition against the sitting President of the United States… that wasn't violent?
More from Heavy,
Kim Foxx & Tina Tchen: Jussie Smollett Case Contact Explained
Foxx's campaign was funded in part by George Soros money, according to Politico, which wrote, "Soros next piled money into two of the biggest jurisdictions in the country: Houston's Harris County (his lone losing effort so far) and Chicago's Cook County, where he funded one of several groups that helped Kim Foxx defeat incumbent state's attorney Anita Alvarez." The primary focused on the police shooting of Laquan McDonald.
Laquan was a 17yo with an "extensive record". Police responded to reports of a vibrant breaking into cars. One cop opened fire with his entire magazine, killing Laquan, who at the time was carrying a knife and had PCP in his blood. But the cop was charged with first-degree murder, partly because none of the other four cops fired their weapons and partly because he didn't wait long enough to learn Laquan was wanted for armed robbery.
Start at the five-minute mark. It happens pretty quick, no audio. Yeah, the shooting probably wasn't justified. No, the cop did nothing wrong. I'd rather have Officer Van Dyke on my street than Laquan any night of the week. 16 of 17 shots hit the vibrant at 15 feet on the run, that's good trigger discipline.
Soros has, per Politico and other sources I've found, been funding quieter political races such as Attorney and Secretary than prestigious and expensive Governor and Mayor campaigns. That could be a second reason Mayor Emanuel is swinging for the fences against Foxx, if he isn't on Team Soros himself. Which is probably true; he didn't claw to the top of Chicago crime to lick another man's boot heel.
Of course, Magats didn't act alone. Heavy.com is really going fast and furious on this topic, I'm truly impressed.
Judge Steven Watkins: 5 Fast Facts You Need to Know
Watkins on the left. Not good enough for physiognomy. On the right, Smollett has an excellent pair of cutting eyelids. If you look at his ear, notice the inner ear ridge is almost non-existent? That indicates trouble separating one's inner life from his exterior life. I predict Smollett will commit more false flags/accusations even though his credibility is nil. He can't stop doing evil, he's a sociopath with no brakes. Thus, a problem the police will solve soon enough.
Judge Steven Watkins is a Cook County judge who oversaw the Jussie Smollett case. Smollett, who was accused of making false reports to Chicago police after reportedly staging a hoax hate crime, had all charges against him dropped Tuesday.
Smollett previously pleaded not guilty to 16 counts of disorderly conduct after he was accused of hiring two men to beat him while yelling "This is MAGA county." The plea was entered just hours after Judge Watkins was assigned the case, Fox News reported.
On Tuesday, Smollett arrived in court for an emergency hearing in which Watkins ruled that the charges against him would be dropped.
The Cook County State's Attorney's Office did not say why the charges were dropped. Smollett will forfeit the $10,000 he posted as bail after his arrest. …
Smollett's attorney Tina Glandian entered a not guilty plea on his behalf hours after Watkins was assigned the case. …
Judge Watkins granted a motion to seal the case.
Watkins is serving his first term as a judge in the Cook County 2nd Subcircuit… He ran unopposed in the [2014] election and is up for reelection in 2020.
He isn't getting reelected. He might go to jail for accessory after the fact.
I get a feeling, looking at his photo, that Watkins' true crime is being gullible. Without being able to see any particular features of his face, it is very rounded, which as a very general rule indicates emotional over rational. Also, his predecessor Judge Lyke (below) didn't hand off this high-profile hand grenade to a first-term judge because he liked the kid. Watkins trusted somebody he shouldn't have and will find out who his friends are next year. 2020 Presidential election is gonna be fun.
Watkins attended Howard University and later earned his J.D. from DePaul University School of Law.
Uh-oh. Judge Watkins didn't attend the right schools to be "in". Identity politics are not exclusively about race.
Recap: *Updated 3/27*
29 January: The Incident.
30 January: National outpouring of support.
1 February: Foxx wrote to Tchen "Spoke to the Superintendent Johnson. I convinced him to Reach out to FBI to ask that they take over the investigation."
2 February: Smollett gave a speech at a concert in West Hollywood, California, saying he went ahead with the show because he couldn't let his attackers win.
13 February: Chicago PD catch Smollett's accomplices. Foxx may have have recused herself at this time.
19 February: Foxx's office announces her recusal.
20 February: Smollett indicted on one count of felony false police report.
21 February: Judge John Fitzgerald Lyke Jr. sets $100k bail, paid by a friend of Smollett's.
Judge Lyke had the right connections to duck this hit. Eyes are suspicious but thick glasses prevent a good look.
22 February: Smollett admits ecstasy drug problem, possibly forced by jail drug testing.
8 March: Full indictment of 16 counts felony false police report.
14 March: Not guilty plea entered, Judge Watkins presiding.
26 March: All charges dropped in an emergency meeting, records sealed, no explanation.
27 March: All sealed records mysteriously disappear from Foxx's office, no explanation. Chicago PD helpfully announces it made backups that Foxx didn't know about and distributed copies to the general public.
Smollett was guilty, the blacks knew it early, tried to derail/cover it up and when trial became inevitable, they reached for some ablative minions instead of letting "their" Smollett be rightly punished for his hate crimes.
Let's see if the FBI convicts him of the mail fraud charge. Wait… that's Post Office turf. The Postal Inspection Service investigates mail fraud. Why would they turn over this high-profile case to the…
Oh.
Hey, cops, did Tina Tchen call the Post Office recently?
UPDATE!!!
Jussie Smollett's 'Community Service': 18 Hours with Jesse Jackson's Organization
https://www.breitbart.com/entertainment/2019/03/26/jussie-smollett-community-service-18-hours-with-jesse-jackson/
The title says it all and color me shocked, but whoa… their pic of Jesse Jackson has our old friend Bill Clinton with him. And just above is the pic I found of Slick Willie helping Judge Lyke get elected to the bench. What a small world Chicago is!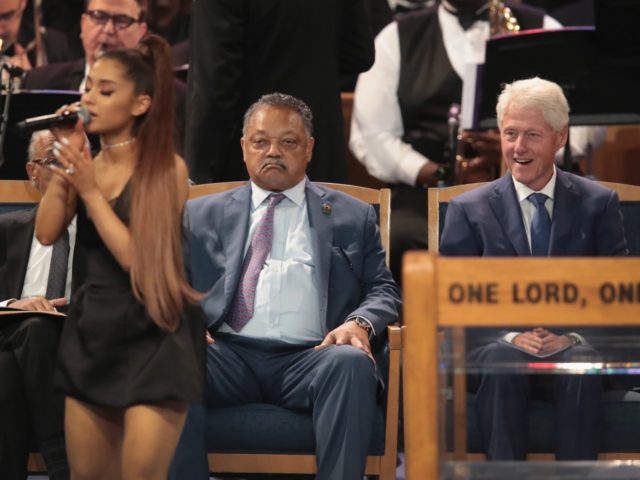 He wouldn't be Billy if he didn't scope every female ass in sight. Look at the expression on his face… he's enjoying the show much more than Jackson.