I fisked New California Governor Gavin Newsom's recent State of the State speech. It's full of toxic Leftism as one would expect but there are points of interest. Allies, enemies and best of all, Newsom repeatedly confessing his incompetence to govern. Boldface are mine for reference.
https://www.gov.ca.gov/2019/02/12/state-of-the-state-address/
12 February 2019
Mr. Speaker, thank you for being a champion for all Californians – and for welcoming Jen and me into your house today.
Madam Pro Tem – thank you for your commitment to collaboration, which has helped make our first month together so productive.
I also have the honor of saying for the first time ever in this chamber: thank you Madam Lieutenant Governor for that very kind and short introduction.
To all the constitutional officers and legislators assembled here today – thank you for your service to our state.
And let me reassure everyone: our son Dutch is not here. We learned our lesson at the inauguration.
Segue for context:
https://www.sacbee.com/news/politics-government/article224031075.html
Gavin Newsom's 2-year-old son, Dutch, stole the show at his father's inaugural address.
Carrying a blanket and pacifier, Dutch wandered on to a stage outside of the California Capitol and wouldn't leave it as his father delivered remarks to an audience of lawmakers and former governors.
No way that happened accidentally. The Governor used his own son as a political prop to endear himself to the wimmin. Strike that, it was probably Co-Governor Jennifer Newsom's idea. I like to think that even Gavin has enough manhood to not see his child as a meal ticket. Either way, how unprofessional.
The governor scooped Dutch up in his arms and continued delivering his speech. Dutch rested his head on his father's shoulder as he spoke about sanctuary cities and immigration policy.
"I promise you, my fellow collaborators against the United States, that my own son here will grow up to be a persecuted minority in his own homeland."
End segue.
Today, I want to talk about how we can do that together.
By every traditional measure, the state of our state is strong.
We have a record-breaking surplus.
We've added 3 million jobs since the depths of the recession.
Wages are rising.
Who is this "we", kemosabe?
We have more scientists, researchers, and engineers, more Nobel laureates, and the finest system of higher education anywhere in the world.
All of whom are working in poverty at Walmart.
But along with that prosperity and progress, there are problems that have been deferred for too long and that threaten to put the California dream out of reach for too many.
We face hard decisions that are coming due.
The choices we make will shape our future for decades.
This is what I want to talk about today, as frankly and directly as I can:
The tough calls we must make together on rail, water, and energy. How we protect migrants, care for seniors, and help the homeless, and how we will tackle the affordability crisis that is coming to define life in this state.
I won't pretend to have all the answers. But the only way to find them is to face these issues honestly.
If you don't have the answers then you shouldn't be Governor. GTFO so somebody competent can do the job. Gawddammit, *I* have the answers to all of those problems and I'm a nobody. Christ, Country, Fatherhood and don't spend more than you earn. Boom, done.
Let's start with the fear mongering from the White House about the so-called "emergency" at our border.
For me, this is an echo from 15 years ago.
I was a new mayor sitting in the gallery at the State of the Union when President Bush said LGBT Americans should not be able to get married.
It was an attack on our friends and neighbors, and on California's values.
Interesting that Newsom equates immigration with LGBT perversion acceptance. The true "emergency" from his perspective is opposition to Globalism.
I was so proud to watch brave Californians answer those attacks with love and courage. Phyllis Lyon and Del Martin made history when they were married 15 years ago to this very day.
They were married by Gavin Newsom in violation of California law. His mention of those two women exposes a history of California's sodomization that I'd never known before. I will post on them! For now, this passage from Wikipedia: "They were married on February 12, 2004, in the first same-sex wedding to take place in San Francisco after Mayor Gavin Newsom ordered the city clerk to begin providing marriage licenses to same-sex couples, but that marriage was voided by the California Supreme Court on August 12, 2004. They married again on June 16, 2008, in the first same-sex wedding to take place in San Francisco after the California Supreme Court's decision in In re Marriage Cases legalized same-sex marriage in California."
Ah, the love and courage of Californians… overturned by judicial fiat so fugly Lesbians can fornicate in public.
Del Martin in 1972. Eww! Only a woman could want to wife THAT up.
Now, just like back then, we must stand up for those maligned, marginalized, and scapegoated.
Because last week, we heard another president stand up at the State of the Union and offer a vision of an America fundamentally at odds with California values.
He described a country where inequality doesn't seem to be a problem, where climate change doesn't exist, and where the greatest threat we face comes from families seeking asylum.
I don't see any Russians storming our borders, Gavin. And climate change? First it was nuclear winter, then it was global warming, now it's climate "change" because you Leftoids can't keep your lies straight.
Just last night, he went down to El Paso and said it again.
Let us state the facts. We are currently experiencing the lowest number of border crossings since 1971.
In California, like our nation, our undocumented population is at its lowest level in more than a decade.
Some 550,000 fewer in our state alone.
"The border situation isn't an emergency because we have fewer illegal immigrants than ever… but don't worry, I plan to fix that."
Immigrants, both those here legally and those without documentation, commit crime at a lower rate than native-born citizens.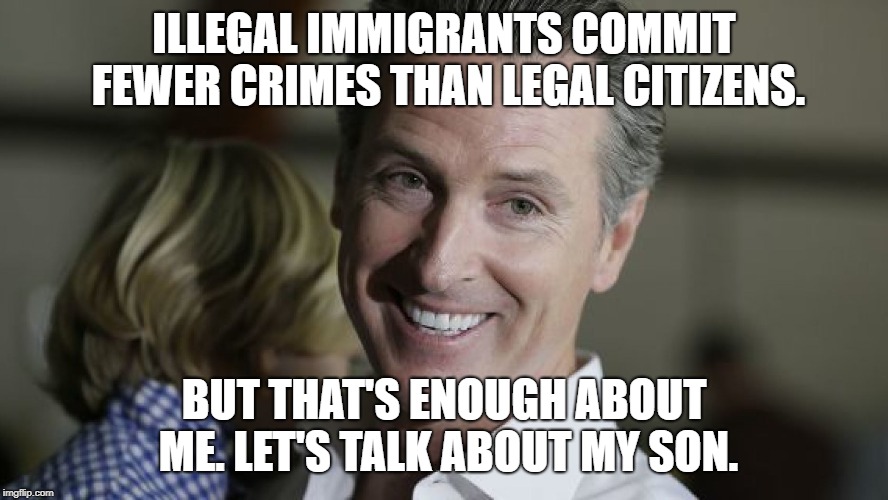 And those families, women and children, seeking asylum at our borders, are doing so lawfully.
Even the Mexicans whose land they merely pass through don't agree with you.
Those are the facts. The border "emergency" is a manufactured crisis and California will not be part of this political theater.
We're not backing down. Just yesterday, I gave the National Guard a new mission – one that will refocus on the real threats facing our state.
A third of our forces currently on the border will be redeployed to help prepare for the upcoming fire season by joining CAL FIRE in prevention and suppression. Work, ironically, the federal government curtailed during the recent shutdown.
This is an act of treason. Newsom is overriding Federal control of the California National Guard and taking them off the border for the specific purpose of thwarting national border security. It goes without saying that California's fire problem… exacerbated by California's infrastructure problem… is a State issue, not a national issue.
Another third will boost the National Guard's statewide Counterdrug Task Force by redeploying up north to go after illegal cannabis farms, many of which are run by cartels, are devastating our pristine forests, and are increasingly becoming fire hazards themselves.
Marijuana growing is no longer a Drug War concern. It's a taxation and zoning concern post-legalization. His willingness to use the military on civilians is a problem of a different sort… unless, of course, those cartels are the illegal immigrants committing fewer crimes that he mentioned.
The remaining third of our Guard will focus on stopping criminals smuggling drugs and guns through existing border checkpoints.
Probably a smoke screen to avoid prosecution for treason.
A wall that stretches thousands of miles through the wilderness will do nothing to stop this threat.
For a laugh, neither will the wall around the California Governor's mansion:
https://gunnerq.com/2018/05/03/moonbeam-left-his-border-open-wife-not-ravished/
This is our answer to the White House: No more division, no more xenophobia and no more nativism. We suffered enough from that in the nineties with Props 187 and 227.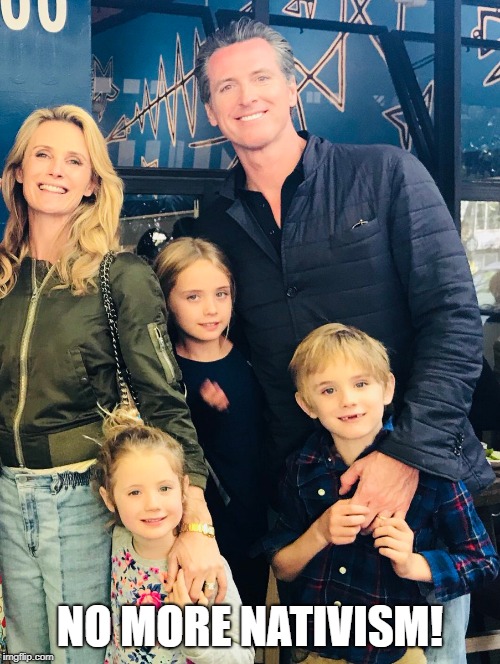 Next, let's level about High-Speed Rail. I have nothing but respect for Governor Brown's and Governor Schwarzenegger's ambitious vision. I share it. And there's no doubt that our state's economy and quality of life depend on improving transportation.
But let's be real. The project, as currently planned, would cost too much and take too long. There's been too little oversight and not enough transparency.
Right now, there simply isn't a path to get from Sacramento to San Diego, let alone from San Francisco to LA. I wish there were.
The former trip is half again longer than the latter. Gavin is probably thinking of his own personal convenience here. I remember a scandal in Los Angeles in which a high speed rail line to Las Vegas was scrapped when the Mayor's wife turned out to be spending taxpayer money on Vegas gambling trips. Let me see if I can find that story… *Gunner Q misclicks*
Begin segue:
https://newatlas.com/xpresswest-high-speed-railway-los-angeles-las-vegas/39504/
22 September 2015
The trip from LA to Las Vegas may only take an hour by air, but the hassles associated with air travel have seen numerous proposals for a high-speed rail link between the two cities floated over the years. Lack of cash has usually proven the insurmountable hurdle, but after failing to secure a US$5.5 billion federal loan, XpressWest has found another way forward by teaming up with China Railway International USA in a joint venture that could see the link begin construction in late 2016.
Sigh, that's way too recent to be the scandal I was thinking of but thanks for the reminder of how welcomed China is with its billion-dollar investments in California's infrastructure. If Newsom had any loyalty to the United States, this sort of collaboration with foreign powers would concern him. I've had the same thought about Trump but credit where it's due, his trade war against the PRC has dried up the funds for such insidious behavior. For the moment of his Presidency. Still nobody doing perp walks.
End segue.
However, we do have the capacity to complete a high-speed rail link between Merced and Bakersfield.
I know that some critics will say this is a "train to nowhere." But that's wrong and offensive. The people of the Central Valley endure the worst air pollution in America as well as some of the longest commutes. And they have suffered too many years of neglect from policymakers here in Sacramento. They deserve better.
A recent post of mine handled this but let me say in passing, nobody in Central Valley has a commute worse than the Interstate 405 Parking Lot in Los Angeles. Newsom is lying his head off here and I'm not sure he even has a reason for doing it.
High-Speed Rail is much more than a train project. It's about economic transformation and unlocking the enormous potential of the Valley.
Much more than a train project, it's also about corruption, political favor-trading, money laundering, economic centralization and control of the population.
We can align our economic and workforce development strategies, anchored by High-Speed Rail, and pair them with tools like opportunity zones, to form the backbone of a reinvigorated Central Valley economy.
Here's a money laundering and population control example. "Opportunity Zones" are a concept straight from a Judge Dredd comic. Regions are targeted for "investment" by gov't-bankster consortiums.
Merced, Fresno, Bakersfield, and communities in between are more dynamic than many realize.
"Vibrant", he means. With land devalued by the cities being turned into giant barrios, the land can be bought up cheaply to create new, tiny kingdoms for the politically connected. Feudalism returns!
The Valley may be known around the world for agriculture, but there is another story ready to be told. A story of a region hungry for investment, a workforce eager for more training and good jobs, Californians who deserve a fair share of our state's prosperity.
Look, we will continue our regional projects north and south. We'll finish Phase 1 environmental work. We'll connect the revitalized Central Valley to other parts of the state, and continue to push for more federal funding and private dollars. But let's just get something done.
And there's the corruption and favor-trading.
For those who want to walk away from this whole endeavor, I offer you this:
Abandoning high-speed rail entirely means we will have wasted billions of dollars with nothing but broken promises and lawsuits to show for it.
Sunken costs fallacy.
And by the way, I am not interested in sending $3.5 billion in federal funding that was allocated to this project back to Donald Trump.
HAHAHAAA! You don't have a choice. It's THEIR money given for a project YOU mismanaged and abandoned.
Nor am I interested in repeating the same old mistakes.
Today I am ordering new transparency measures.
We're going to hold contractors and consultants accountable to explain how taxpayer dollars are spent – including change orders, cost overruns, even travel expenses. It's going online, for everybody to see.
The hypocrisy between this and not repaying that $3.5 billion to the Feds is astonishing.
Now we come to Newsom's latest hiring decisions.
You're also going to see some governance changes, starting with my pick for the next chair of the High-Speed Rail Authority, Lenny Mendonca, my Economic Development Director. Because, at the end of the day, transportation and economic development must go hand in hand.
*checks* Mendonca is a low-profile, billionaire globalist specializing in "real estate investments". Or depending upon who you ask, a poor farmer's son who love for America got him into Stanford. His physiognomy is Deep State. Especially that smile:
We also need a fresh approach when it comes to meeting California's massive water challenges.
We have a big state with diverse water needs. Cities that need clean water to drink, farms that need irrigation to keep feeding the world, fragile ecosystems that must be protected.
The entire planet is so fragile, it will explode if these Leftoid tyrants are ever removed from power. /sarc
Our water supply is becoming less reliable because of climate change.
And infrastructure decay, as funds are diverted to welfare.
And our population is growing because of a strong economy.
And massive, uncontrolled immigration.
That means a lot of demand on an unpredictable supply. There are no easy answers.
Again, he says that. Again, an admission that Gavin doesn't know how to solve California's actual problems. Let me assist. California borders the Pacific Ocean, the largest body of water in the world. California is narrow; its distance from said Ocean is shorter than the currently existing aqueduct system. Desalination is a proven, mature technology and nearly all of California's major cities are close to the ocean… but sadly, it's the sort of work that illiterate Hondurans, single mothers and totalitarian globalists don't want to do.
But let me be direct about where I stand:
I do not support the Water Fix as currently configured. Meaning, I do not support the twin tunnels. But we can build on the important work that's already been done. That's why I do support a single tunnel.
He's talking about this:
https://californiawaterfix.com
I'm not familiar with it. It reads like an infrastructure upgrade to the aqueduct system, which is conceptually a dubious idea. A gigantic aqueduct network running through earthquake country is not an optimal choice for a city's water supply but that's how a large chunk of Los Angeles & outlying areas gets by.
Los Angeles is doomed. But you knew that already.
Gavin doesn't have an answer to the water shortage but doesn't like the answers other people found. You knew that already, too.
The status quo is not an option.
We need to protect our water supply from earthquakes and rising sea levels, preserve delta fisheries, and meet the needs of cities and farms.
We have to get past the old binaries, like farmers versus environmentalists, or North versus South. Our approach can't be "either/or." It must be "yes/and."
We must have Unity of vision! My vision!
Conveyance and efficiency. And recycling projects like we're seeing in Southern California's Met Water District, expanding floodplains in the Central Valley, groundwater recharge, like farmers are doing in Fresno County. We need a portfolio approach to building water infrastructure and meeting long-term demand.
To help bring this balance, I'm appointing a new chair of the California water board, Joaquin Esquivel.
Prior to his appointment to a State Water Board, Esquivel was a legal assistant to Senator Barbara Boxer. A politician who can't win an election but has plenty of favors to trade.
Now, let's talk honestly about clean drinking water.
Just this morning, more than a million Californians woke up without clean water to bathe in or drink. Some schools have shut down drinking fountains due to contamination. Some poorer communities, like those I visited recently in Stanislaus County, are paying more for undrinkable water than Beverly Hills pays for its pristine water.
These are three different problems. In order, 1. Homelessness caused by gov't subsidies for homelessness, 2. gov't infrastructure neglect and 3. gov't corruption. Oh, okay, they are one problem after all. Our current gov't.
This is a moral disgrace and a medical emergency. There are literally hundreds of water systems across the state contaminated by lead, arsenic, or uranium.
Solving this crisis demands sustained funding. It demands political will.
It demands the gov't do its freaking job and stop milking infrastructure problems like cash cows.
Next, let's talk about our energy future – and PG&E's bankruptcy.
We are all frustrated and angry that it's come to this. PG&E didn't do enough to secure dangerous equipment or plan for the future. My administration will work to make sure PG&E upholds its obligations. I have convened a team of the nation's best bankruptcy lawyers and financial experts from the energy sector.
They will work with my strike team to develop a comprehensive strategy that we will present within 60 days. We will ensure continued access to safe affordable power. We will seek justice [GQ: money] for fire victims, fairness [GQ: money] for employees, and protection [GQ: money] for ratepayers. We will continue to invest in safety, and we will never waver on achieving the nation's most ambitious clean energy goals.
The problems we face are far greater than PG&E. Climate change is putting pressure on all of our utilities—public and private, north and south. Edison and San Diego Gas & Electric both recently had their credit ratings downgraded.
From what I've heard by word-of-mouth, PG&E installed automatic reboot systems into its transmission lines. Most interruptions are caused by animals grounding the line which is a brief, one-time interruption as the critter is fried into charcoal and falls. Automating the reboot procedure makes it happen quickly enough to prevent interruption of service, compared to the older system of manually reconnecting a circuit breaker.
Unfortunately, tree branches brushing against power lines is a recurrent grounding, not a one-time event. Bzzt-reboot-bzzt-reboot happening quickly enough (say, in high winds) gives the same sparking effect as a flint firestarter.
The municipal equivalent of replacing a household fuse with a wire because the fuses keep blowing.
I don't know what kind of R&D was done on the reboot equipment but it sounds like a technical problem, not a credit rating problem.
This pressure comes at a time when the entire energy market is evolving. From roof-top solar and wind generation to smart grid technologies. From Community Choice Aggregators to direct access service. More and more of our electricity now is procured outside of investor-owned utilities.
And procured by gov't-mandated and -subsidized, expensive, eco-unfriendly, inefficiently low-scale utilities instead. Progress!
Regulations and insurance practices created decades ago didn't anticipate these changes. We must map out longer-term strategies, not just for the utilities' future, but for California's energy future, to ensure that the cost of climate change doesn't fall on those least able to afford it.
They would be the parasites who produce nothing of value. They have trouble affording all kinds of stuff.
Now let me turn to education.
The teachers' strike in LA is over — but the need to confront its underlying causes has only just begun. Understaffed schools, overcrowded classrooms, pension pressures, the achievement gap, and charter school growth — these stressors are showing up all over the state, right here in Sacramento, in Fresno, and Oakland.
Heh, charter school growth is a problem! Because the gov't can't directly control charter schools.
Districts across the state are challenged to balance budgets even in this strong economy, and at a time when we're spending more on schools than ever before.
Seven years ago, we invested $47.3 billion in our schools. Next year, with your support, we'll invest more than $80 billion — that includes $576 million for special education.
But it's not enough. We're still 41st in the nation in per pupil funding. Something needs to change. We need to have an honest conversation about how we fund our schools at a state and local level.
Shouldn't we be measuring pupil achievement, not money spent? "Our schools are failing because we spend only half as much money as neighboring states for the same result!" raises interesting questions of priorities.
But at the same time, let's remember that the measure of a school system's excellence is more than the sum of its budgets.
We need clear and achievable standards of transparency, more information sharing, and accountability for all public schools … traditional and charter.
Transparency. He keeps talking about that. Newsom's greatest recurring theme in this speech is concern that somebody, somewhere, might be secretly doing something he doesn't approve of. The devil constantly tests his people for rebellious beliefs because he assumes they're just like him: a shameless rebel.
We need a new President for the State Board of Education, to lead the way and work alongside State Superintendent Tony Thurmond, and to lift up all of our students. And my pick for that position is nationally recognized education expert Linda Darling-Hammond.
Phyiognomy: bitter feminist archetype. Confirming the hyphenated last name.
There's another urgent moral issue we must confront: the homelessness epidemic.
So many of California's homeless – whether they're families, veterans, victims of rent spikes, or survivors fleeing domestic violence – are invisible and left behind by our society. Too many on the streets are suffering from bipolar disorder, schizophrenia or paranoia. Many are self-medicating with drug or alcohol as a consequence. Our homelessness crisis has increasingly become a public health crisis.
Last year, there was a Hepatitis-A outbreak in San Diego. Recently, there was an outbreak of Syphilis in Sonoma. And now, typhus in Los Angeles. Typhus. That's a Medieval disease. In California. In 2019.
We didn't have these diseases when CONSERVATIVE, GOD-FEARING HOMOPHOBES ran the government! Maybe we should go back to what worked. Speaking of disease and homophobia, it's interesting that Newsom didn't mention the STD rates of San Fransicko. He worked hard to achieve that, yo!
Mayors, county supervisors, and city councils around the state are working hard to reduce homelessness and its underlying causes. We've got to have their backs.
Their feces-tracking apps have thus far failed to reduce homelessness. I don't think feeding & housing the homeless will get rid of them, either.
But they can't do it alone. To help lead this discussion, I'm appointing a new Commission on Homelessness & Supportive Housing, led by Sacramento Mayor Darrell Steinberg.
Good pedoface. I admit, we haven't yet tried molesting the homeless until they leave. Quick Wikipedia quote: "In 1997, the City of Sacramento engaged in a lawsuit against Loaves and Fishes, a private charity providing food to the homeless. The free lunches began to draw thousands of homeless people which had become a nuisance to local business near the shelter in North Sacramento. Former Mayor Joe Serna and then Councilmember Steinberg were the only two members to vote against the lawsuit."
With your support, let's put half a billion dollars into immediate funding for navigation centers — emergency shelters with services on site, and another hundred million for Whole Person Care to replace a fragmented approach to services with one that's more integrated and comprehensive.
How much would it cost to authorize police to hit them with sticks until they go away? Asking for a friend.
And while cities and counties are on the front lines, this challenge will only be solved regionally. We need to work together as a state to focus on prevention, rapid rehousing, mental health, and more permanent supportive housing — because while shelter solves sleep, only permanent supportive housing solves homelessness.
The other 49 states in the Union will thank you as they bus all their homeless to your doorstep… at my expense.
Now, let's talk about something too often overlooked:
The Golden State is getting grayer. We need to get ready for the major demographic challenge headed our way.
Yes, let's talk about funding because pensioners and Squatemalans don't pay the bills.
For the first time in our history, older Californians will outnumber young children. Over the next decade, our statewide senior population will increase by 4 million. In 25 years, it will double. And more than half will require some form of long-term care.
This is a direct result of killing marriage and banning fatherhood.
Growing old knows no boundaries – aging doesn't care what race you are, your economic status, or if you're single with no other family support.
I've had some personal – and painful – experience with this recently. I lost my father over the holidays, after years of declining physical health and dementia. He was determined to live out his days with dignity. He also happened to be a retired public official with a pension and a support circle of family and friends.
Everybody won when he died. His own pain ended, the taxpayer had one less mouth to feed and you got a talking point for your speech. First you used your toddler as a political prop, now your dead dad. Thank God I'm not related to you.
Even with all those advantages, it was a daily challenge to meet his needs so he could live in place and maintain a good quality of life. Millions of Californians share a similar story, and the numbers will only grow.
It's time for a new Master Plan on Aging. It must address: person-centered care, the patchwork of public services, social isolation, bed-locked seniors in need of transportation, the nursing shortage, and demand for In-Home Supportive Services that far outpaces its capacity.
This is not a government problem, how people handle their own old age. I had hoped Gavin would be talking about how to fund his $$$,$$$,$$$,$$$ moonbeams with an aging population, not how he could throw even more $$$ at retired Baby Boomers.
Forget women, let's take voting rights away from the AARP.
And we can't talk about aging without focusing on Alzheimer's.
Too many of us have seen the crushing grip this disease has on our loved ones – and especially on our wives and mothers – two-thirds of new Alzheimer's cases are women.
[Gavin glances nervously at his wife and self-appointed Co-Governor, Jennifer the failed actress who was talent-scouted by Harvey Weinstein.]
Today, I am launching the Alzheimer's Prevention and Preparedness Task Force, bringing the most renowned scientists and thinkers together to develop first-of-its-kind research in this area. It will be headed by a leading advocate for families dealing with Alzheimer's, our former first lady, Maria Shriver. She is here today and we are grateful for her continued service.
Poor Arnold Schwarzenegger. Like Trump, his Governorship started off promising. Arnie even publicly accused Sacramento of being "girlie men" during budget season and it was awesome. ("Girlie men" used to be an insult.) But he backed down afterwards and became a forgettable governor.
At the time, I thought he was unwilling to lose popularity in Hollywood. But maybe his wife undermined him instead. Marrying Shriver was not a smart move on his part.
You'd think Arnold an okay guy if you ever met him but he isn't the sharpest knife in the drawer. He's manipulable.
Tying together many of the hard challenges we face is the broader cost crisis. In a recent survey, 61 percent of young adults in California said they can't afford to live here. California should never be a place where only the well-off can lead a good life.
I've seen the Section 8 rent-controlled properties that California does. The parasite lives well here, too.
It starts with housing, perhaps our most overwhelming challenge right now. We all know the problem. There's too much demand and too little supply. And that is happening in large part because too many cities and counties aren't even planning for how to build. Some are flat out refusing to do anything at all.
That's why I have committed $750 million for a major new incentive package for communities to do the right thing. $250 million in support to cities and counties to update their housing plans, revamp their zoning process, and get more housing entitled. $500 million more in grants when they achieve these milestones.
You… you're going to pay bureaucrats to do the job they're already paid to do? Can you please be a little less overt with the bribes? The other States in the Union are already staring at us.
If we want a California for All, we have to build housing for all.
I want to support local governments that do what's right, like Anaheim and Santa Rosa. But there must be accountability for those that don't.
There's that Unity of (My) Vision again. Newsom wants to centralize political control of California. Northern California is particularly notorious for hostility to Sacramento, although it rarely reaches the point of civil disobedience. The region around Mount Shasta regularly tries to secede and create the state of Jefferson, IIRC.
I've said it before, there's a lot of Heritage Americans in California who don't like the way things are going in this state. Looks like Newsom hates us as much as his predecessor did.
Two weeks ago, the state of California sued the city of Huntington Beach for failing to meet its obligations on affordable housing. Let me tell you, as a former mayor, the last thing I wanted to do was start my term by suing a city. But they left us no choice.
Gavin Newsom's target here is Travis Allen, who led Huntington Beach and Los Alamitos in opposition against Sacramento's treason in declaring sanctuary statehood. I blogged on this before:
https://gunnerq.com/2018/03/30/battle-lines/
https://gunnerq.com/2018/03/24/remember-the-los-alamitos/
Travis Allen is a California hero. He ranks with Don Grundmann for "most sane California politician". Sickening that a lawsuit against him for loyalty to America was one of Newsom's first priorities as governor.
This isn't about picking on Huntington Beach, they happened to be first because of a statute of limitations. There are 47 other cities across California that are not complying with their planning requirements in one way or another.
"Their" planning requirements?
Some cities are trying, like Clovis. But others are not, like Wheatland, Huntington Park, and Montebello. I am inviting these cities' leaders to sit down next week for a candid conversation. I don't intend to file suit against all 47, but I'm not going to preside over neglect and denial. These cities need to summon the political courage to build their fair share of housing.
Fair share of housing? Wheatland's population is 3,400. They grow walnuts there. Newsom is making open threats against the tiniest of his political opponents.
What's the real reason you are going after these people, Governor?
I also want to acknowledge other factors beyond city planning that have limited our ability to provide housing.
In recent years, we've expedited judicial review on CEQA for professional sports. It's time we do the same thing for housing.
That's the California Environmental Quality Act, a 1970s laws that allows environmentalists to shut down private construction projects at will. If you've ever heard of "Environment Impact Reports", CEQA is their daddy. The "expedited review for professional sports" refers to fast-tracking environmental approval of new pro sports stadiums, a critically underfunded infrastructure crisis in California. /sarc
I want to applaud the efforts by home builders and labor leaders, who together are working to forge a compromise to accelerate production.
But there is no way we can achieve our ambitious targets unless we train a skilled workforce big enough to meet this challenge … and those workers deserve wages high enough to support their families.
Good thing you have all those Mary Sue Single Mothers on retainer. I'm sure they'd love to build you some tract housing and aquifer wells in thanks for all the welfare you've given them.
Let's encourage this progress, bring more people to the table, and get something big done. And while we're at it, let's not forget the commitments many of us made after Prop 10 failed last year.
The pressures on vulnerable renters didn't go away after the election. We need new rules to stabilize neighborhoods and prevent evictions, without putting small landlords out of business. I want the best ideas from everyone in this chamber. Here is my promise to you, get me a good package on rent stability this year and I will sign it.
Gavin Newsom is self-admittedly incompetent. Even his existence is illegal per new State laws against bullying.
Next, if we're serious about taming the cost crisis we need affordable healthcare for all Californians.
OH MY DOG ARE YOU KIDDING ME? We need socialist health care in order to keep costs down??? He's not honest enough for even a snarking.
[skipping ahead]
That's why our budget devotes more than $1 billion to increase rates and address the [medical] provider shortage.
This investment will also allow us to increase access to preventative health measures like -immunizations, trauma screenings, and mental health services. And it provides $100 million for reproductive health and family planning.
More "transparency" into the lives of proletariats, more $$$ for welfare queens.
As we pursue the long-term goal of single payer financing, let us make a down-payment now by expanding Medi-Cal coverage to all Californians up to age 26, regardless of their immigration status.
The definition of treason is aiding and abetting foreigners in defiance of Federal policy.
[skipping ahead]
Despite our rising wages, working families in California today barely earn more than they did a decade ago.
Oxymoron.
That's why, with your support, we will provide a cost of living refund by expanding the earned income tax credit to a million more Californians who need it the most. For families with kids under the age of six, they'll see their benefit go up by as much as three times.
What if I refuse to give my support? Will you back down on this or incarcerate me?
It's time to develop a new modern compact for California's changing workforce. This is much bigger than Dynamex.
Dynamex was a company that reclassified all of its employees as independent contractors to get around labor laws. Read more at the link below. I have no strong feelings on it myself but the case was influential… I believe Lyft/Uber use the same business model.
https://www.laboremploymentlawblog.com/2018/05/articles/class-actions/dynamex-decision-independent-contractors/
California needs a comprehensive statewide strategy to uplift and upskill our workers, to ensure technological advancements in AI, blockchain, big data, are creating jobs, not destroying them, and to reform our institutions so that more workers have an ownership stake in their sweat equity.
I thought we already had a super-educated workforce. Did those PhDs not come with marketable skills?
We will appoint a new Commission on California's Workforce & Future of Work. We will bring together leaders from labor and business – both the public and private sectors. Their assignment is to come up with new ideas to expand worker opportunity without extinguishing innovation or flexibility.
You incompetent turd bucket, Newsom. You didn't see Trump begging other people to solve his problems, did you? You will never be one-tenth the leader that Orange Man is.
[skipping ahead]
At my inauguration, I quoted the Sermon on the Mount about a house that did not fall in the face of floods and storms, because it was founded upon a rock. … As St. Paul said, "we are many parts but one body." We are all diminished when one of us struggles to lead a good life.
Newsom ends his speech by invoking Scripture to justify his humanist rebellion against God. No, he's not even doing that. He's just mocking God during a victory lap.
Remember the story of the registered nurse in Paradise who was sitting in traffic, trying to escape the fire, as flames started to engulf his car. He thought, "this is it." He recorded a goodbye video for his family. Then a miracle occurred: a bulldozer cleared burning cars out of his path. At that point, he could have driven away as fast as possible. That's what a lot of people would have done.
Remember the town of Wheatland that Newsom is threating into compliance with the Globalist agenda? It's less than 100 miles from Paradise.
Instead, he turned his car around and drove straight to the hospital in the middle of town, where he worked in the ICU. He and his colleagues started treating injured people. Then the hospital caught fire. They moved patients to a helipad 100 yards away as fast as they could.
Every single one of them was safely evacuated.
When he was asked why he did this – why he drove back through the fire when he could have saved himself – he shrugged and said, "This is what we do."
There ain't gonna be much more of that male martyrdom in the future. One wonders how Newsom plans to retaliate against us. Probably not at all; he probably expects us to keep showing up and dying.
I believe in our state. And I know that the best is yet to come.
Thank you.
You will go to Eternal Hell, Gavin Newsom, for the many crimes you commit against God and California. Your speech was nothing but admissions of incompetence, promises of betrayal against national security, promises of loot to feral women and foreign nationals, threats against cities great & small who peacefully oppose your illegal, immoral, genocidal agenda and a Utopian vision of Government as God that is, by far, the most violent and bloodthirsty religion in recorded history.
Humanity will never reach its best until you reach your final destination. You and your LGBT cronies.
On the bright side, thanks for calling out some of your enemies. Now I know where to look for allies… and the stories the lamestream media won't cover.