Every year I get a new gun. Sacramento times every bushel of new legislation to take effect on the new year and every time, the only thing I can do in response is buy another gun. But how many guns does a man really need? Either you win your first gun battle and loot your enemy's gun, or you lose your first gun battle and the bad guys will appreciate your stockpile over your dead body.
So this time around, I decided to buy into some gun defense. Bulletproof vests are legal in California, which surprised me (I suppose "vestmen" never commit crimes), but were expensive and had a shelf life of five years or so. Also, I don't have the storage space for anything that could be described as a "system".
But then I discovered bulletproof shields.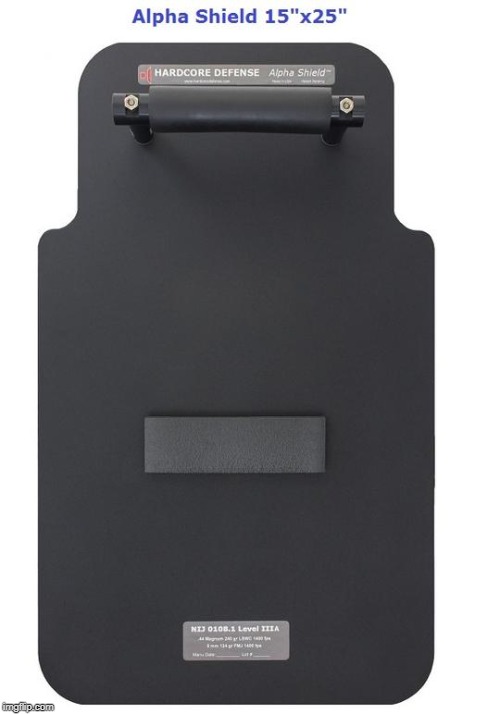 Currently starting at $300.
The basic Alpha model gives Class IIIA protection, which means it'll stop any handgun round up to .44 Mag and you might get lucky against a rifle, but that's sufficient for indoors. Zero maintenance, no shelf life, easy to store and don in the dark, better optics than a paramilitary vest and best of all, it's also useful in civil unrest situations against thrown rocks and bottles of Antifa piss. This and my hard hat should be an effective SHTF defense without breaking the bank. Especially since I'm a pistolero anyway.
I even found some impressive youTube videos like this one.
Downside is, it's a lot of weight for most people to wield. I've got the size to not feel it but potential buyers should wave a 20lb dumbbell around to get the feel. Pairing it with a hat that can take a headlamp is a good idea, or you can get one of those flashlights that doubles as a taser to carry in your free hand instead of a firearm. The shield doesn't make a good gun rest, it's too thin and the handle doesn't allow a natural supporting-arm position, so either practice one-handed at the range or get the Bravo version, which is designed for tactical use over home defense (at 4x the cost but rated for rifles). The Alpha's handle makes shield edge strikes easy for the martial artist but of course, it's not protecting you that way.
I got the Alpha Plus size and it does a good job of covering my critical bits… me being 6'3″.
Next Christmas: titanium shin guards?