You've met the imbecile, now meet his match!
The emotional support alligator that helps a York County man deal with depression
http://www.philly.com/news/alligator-esa-peacock-dogs-animals-crocodiles-support-depression-20190124.html
by Jason Nark, 24 January 2019
Joie Henney, 65, said these things about Wally, the 5-foot long, 60-pound alligator that lives in his York County living room, but the words don't sink in and certainly don't make sense while you're sharing a couch with said alligator. When the flight or fight panic fades, though, it does appear that Wally is snuggling with Henney on the other end of the brown sectional, often resting his snout on his lap instead of tearing off his ear with a trademark death roll.
"He likes to give hugs," Henney said.
Wally is Henney's registered emotional support animal, like a golden retriever, but cold-blooded. His story is the latest, and perhaps most extreme, in the growing world of ESAs, which are often approved by doctors and granted access to restaurants, businesses, and even airplanes. An emotional support peacock was banned from a flight last year.
NOTHING like a golden retriever.
A man who answered an e-mail from a reporter about Wally from the web site Service Dog Registration of America said, "Our therapist would never approve a client to have an alligator as an emotional support animal. "
Good doc!
Henney's doctor did.
"My doctor wanted to put me on depression medicine, and I hate taking medicine. I had Wally, and when I came home and was around him, it was all OK," he said. "My doctor knew about Wally and figured it works, so why not?"
Bad doc! I know antidepressants have a bad rep in the Manosphere but Wally is not the alternative one should be looking for.
The depression rolled in quickly like a summer storm, with the death of three close friends in rapid succession. The feeling sat over Henney, and he feared it would never move on.
"Three lifelong friends," he said, taking a long pause and reaching for tissues.
Sometimes, it's normal to be depressed. I don't think Henney mourning his friends will last as long as Wally's growth into half-ton maturity.
Henney grew up on a farm nearby in Dover, York County, nursing injured owls back to flight. He was in the Marine Corps and rode bulls in the rodeo and broke wooden boards in half as a skilled martial artist. He made a living in construction and, later, hosted a hunting and television show locally.
The three men who died within days of each other were all weaved into those decades, he said. Somehow, Wally filled the void, the camaraderie he lost. One day, he came and slept with him when he was sick.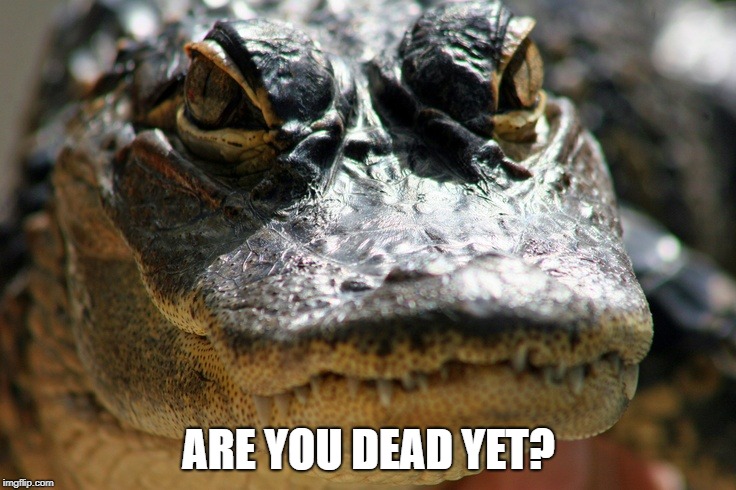 "We caress and wrestle. He loves to wrestle," Henney said. "He whacks me with his tail."
A photo of two gators fighting to the death in Florida. Just sayin'.
Henney has five children and 18 grandchildren, and most of them, he said, are fine with Wally.
"I kept my distance at first from him," said Henney's girlfriend, Liz Caswell.
We may safely conclude that Henney is, as an evolutionist would say, an r-selected Baby Boomer. I think Wally is a good fit for him… grave sites are so expensive. Speaking of feeding Wally,
Wally, who will be four in July, was rescued from just outside Orlando when he was 14 months old. Henney said Wally could grow anywhere from 14 to 16 feet long and weigh 900 to 1,100 pounds. Wally eats chicken wings and shares a 300-gallon plastic pond, indoors, with Scrappy, a smaller, younger alligator the family has also rescued.
It's like watching SJW Convergence happen in Reptile World. Willful blindness to the threat, allowing the entryists to recruit allies at great cost to the host organization…
Wally enjoys "finger food" and being petted. Hmm. Probably because of this bad experience getting food from cans:
Alligators are undeniably dangerous, though more so for dogs and cats than humans. Florida, home to 1.3 million alligators, has tallied 410 unprovoked bites and 25 fatalities between 1948 and 2018. In one infamous case, a young boy was snatched and drowned by an alligator while on vacation at Disney World. That boy, Henney pointed out, was not eaten.
"Sorry, kids, you'll still have to pay money to bury me!"
Wally's favorite programs to watch on television, of course, are Gator Boys and Swamp People. He also likes to watch The Lion King.
Nothing says Boomer like teaching reptiles to watch television.
Wally, Henney cautioned, is still a wild animal, one that could tear his arm off now, and do worse later. But he doesn't think that will happen. Wally has appeared at senior centers and minor-league baseball games in York. He's got a meet-and-greet at York's Central Market next month.
R-selected. So very, very r-selected. "He's dangerous and could kill us all, kids, but don't worry, he'd rather be petted with chicken wings. Fingers, I mean. Hands. Just ask my 18 grandkids!" Not to mention that sending Wally back to Florida when he grows up will require… hmm, at a weight of 1,100 pounds… licensed "support animal"… four plane tickets and a nervous air marshal with a shotgun.
Speaking of chicken wings, we go now to Popeye's Chicken, which is a franchise you should patronize because of their awesome trolling of PETA and SJWs everywhere.
Popeyes Made 'Emotional Support Chicken' To Make Holiday Travel Better, And The Boxes Are Actually Hilarious
https://www.delish.com/food-news/a25604652/popeyes-emotional-support-chicken/
by Maya McDowell, 18 December 2018
Traveling is stressful in general, but traveling during the holidays is an entirely different level of stress. Between the massive crowds, long lines, and weather delays, holiday traveling can make you feel like you need emotional support, if you will. Popeyes clearly understands our woes. The chain just launched "Emotional Support Chicken", "to provide a good-hearted laugh most need to get through stressful holiday air travel," according to a press release.
Beginning today, travelers going through Philadelphia International Airport will have the chance to get their very own "Emotional Support Chicken" carrier, to conveniently bring their fried chicken on board their flights. What a time to be alive, folks.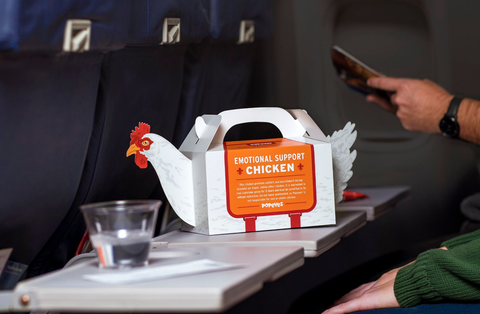 The "Emotional Support Chicken" is labeled in big, bold letters, and has an entertaining description printed on the front: "This chicken provides comfort and nourishment during stressful air travel. Unlike other chicken, it is marinated in real Louisiana spices for 12 hours and must be permitted to fly without restriction. Do not leave unattended, as Popeyes is not responsible for lost or stolen chicken."
The "Emotional Support Chicken" will be available for the three-piece tenders combo while supplies last from Popeyes Louisiana Kitchen in Terminal C. May the chicken ease all your worries!
Troll 9/10. Profitable, proven effective and tasty! Only lost points for not catching on. And now for the Leftoid response:
Popeyes' 'Emotional Support Chicken' Is Receiving Backlash For Being Insensitive
https://www.delish.com/food-news/a25654115/popeyes-emotional-support-chicken-backlash/
by Maya McDowell, 21 December 2018
Only three days per the bylines.
Recently, Popeyes launched "Emotional Support Chicken," a chicken-shaped carrier that allows passengers traveling through Philadelphia International Airport to bring fried chicken aboard their flights. The purpose of the "Emotional Support Chicken", per Popeyes, is "to provide a good-hearted laugh most need to get through stressful holiday air travel." Not everyone is laughing, though.
PETA, for one, has taken major issue with the carriers. The organization tweeted a photo of its own version of the "Emotional Support Chicken" carrier, with a very sad looking chicken and a different message on the box. This one says, "This Chicken Needs Emotional Support."
Troll 0/10. No sense of humor or irony. I am shocked, shocked I say, that Popeye's Fried Chicken is not an advocate for chicken rights.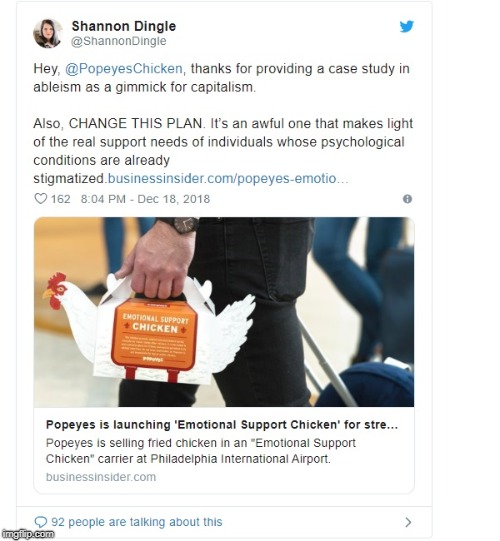 "Ableism as a gimmick for capitalism", y'know, she isn't 100% wrong. Capitalism is the idea that you should be paid for your accomplishments, which is a terrible system for useless people such as Miss Dingle. Heh, "Dingle". Her disabilities aren't the only part of her mocked by the neighborhood kids.
A petition on Care2, "the world's largest community for good", is calling for Popeyes to apologize to the "disability community" for the "Emotional Support Chicken." … The description quotes Popeyes' chief marketing officer, Hope Diaz, who said that holiday travel can be "frustrating."
"You know what's frustrating, Hope? Living in a world where people make fun of emotional support animals, who provide a vital service to their human partners, whether they're furred or feathered," Care2 writes.
Or scaled, cold-blooded carnivores.
"This 'joke' definitely doesn't have wings, and it should be withdrawn from circulation with an apology to the disability community, which is constantly fighting stigma on the subject of emotional support animals." Care2 also asserts that Popeyes should donate to an organization that improves farmworkers and poultry processors lives or a mental health advocacy group.
Better yet, CMO Diaz could give these parasites Wally's siblings from Florida. It'll prove she cares! And Florida knows they have enough ableist gators to spare.