You've heard about the resignation of Defense Secretary Mattis in protest of Trump removing American troops from Syria. You probably didn't hear abut Brett McGurk resigning one day after Mattis… because there are many indicators that President Trump himself did not know about Brett McGurk, the Special Presidential Envoy to the Anti-ISIS Coalition.
The face shape of triangle indicates good perception, imagination and ambition. (Pyramid face is the inverse.) Nose is slightly turned up, showing a preference for social activity over isolated activity (his career is as an ambassador rather than a finance/real estate type.) Horizontal lines on the forehead indicate intelligence and focus. Left eye is more guarded than right; perhaps high-end ambassadors have many personal secrets? Not sure about that smirk.
We start with Wikipedia's background: McGurk received his Bachelor of Arts from the University of Connecticut Honors Program in 1996, and his Juris Doctor from Columbia Law School in 1999. While at Columbia, he was a Senior Editor of the Columbia Law Review, a Harlan Fiske Stone Scholar, and won the prize for best written brief in Columbia Law School's Moot Court Honors Competition.
A straight shot through Leftoid Law School. We ordinary Americans are preposterously underrepresented in our own government.
After graduation, McGurk served three consecutive clerkships at progressively higher levels of the federal judiciary: first, for Judge Gerard E. Lynch on the U.S. District Court for the Southern District of New York; second, for Judge Dennis Jacobs on the U.S. Court of Appeals for the Second Circuit (Manhattan); and, finally, for Chief Justice William Rehnquist on the U.S. Supreme Court. Following his clerkships, McGurk served briefly as appellate litigation associate at Kirkland & Ellis as well as an Adjunct Professor at the University of Virginia School of Law.
Judge Lynch opined in favor of Edward Snowden, referring to the NSA program as "an unprecedented contraction of the privacy expectations of all Americans". Rhenquist is a known neoconservative who managed to regularly punch Right while pretending to be an enemy of the Left; a familiar type now exposed by the NeverTrumper movement.
McGurk's subsequent conduct suggests that he fell in with Rhenquist's faction during this time. Almost as regular as BA->MA->PhD without entering the real world is the habit of Deep Staters to spend their early career out of university bouncing between several big names. I suspect it's the "Talent Search" phase of a Deep Stater's career.
In January 2004, McGurk returned to public service as a Legal Advisor to both the Coalition Provisional Authority (CPA) and the United States Ambassador in Baghdad. During his tenure in Baghdad, McGurk helped draft Iraq's interim constitution, the Transitional Administrative Law, and oversaw the legal transition from the CPA to an Interim Iraqi Government led by Prime Minister Ayad Allawi. … In 2009, McGurk became one of only three political appointees to survive the transition from George W. Bush to Barack Obama, serving as a Senior Advisor to both the President and the United States Ambassador to Iraq.
After being picked for Team NeoCon, McGurk was sent to manage Deep State interests concerning Iraq, quickly making a name for himself. Like most political figures, being awarded high-level posts early in his career was as much a reward for loyalty as a reputation for competence.
On September 12, 2014, Secretary John Kerry announced McGurk's appointment as deputy senior envoy with the rank of ambassador to General John Allen, who that day was named to the newly created position of Special Presidential Envoy for the Global Coalition to Counter ISIL. …In [this] role, McGurk has worked to organize a global coalition of nations as well as coalitions on the ground in Iraq and Syria to help eject ISIL from its strongholds. He was intimately involved, for example, in negotiating agreements between Arabs and Kurds to prepare for the liberation of Mosul.
McGurk was a NeoCon front-liner, someone who actually put himself on the firing line to accomplish the NeoCon nation-building agenda. God only knows to what end but killing Assad and conquering Syria was apparently his primary objective. NeoCons love to play nation-builder.
During the Trump administration, he worked with Secretaries Mattis and Tillerson to develop the accelerated campaign against ISIS, which led to the liberation of Raqqa in October 2017.
But there's open debate in the mainstream news over whether Trump ever met McGurk. In hindsight, neither Mattis nor Tillerson have been the allies Trump thought they would be. On one hand, there's no way the Prez can meet every staffer in our bloated civil service; on the other hand, the NeoCons might easily have gone out of their way to ensure Trump never learned about their results-getting agent.
Admit it, the USA isn't so weak that it needs that 79-nation coalition to fight handfuls of goat-humping Muslims. McGurk is probably holding the keys to a lot of private transnational interests… and has apparently proven himself trustworthy to hold them.
He [also] spearheaded an initiative with Secretary Tillerson to restore ties between Saudi Arabia and Iraq after nearly three decades of dormant relations.
A major NeoCon agenda item is sucking up to Saudi Arabia. Probably to keep the petrodollar safe, seeing as the American Empire depends upon the dollar being the world's reserve currency.
I remember President Bush Sr. leaving Saddam Hussein in power after the first Gulf War specifically to prevent this. He thought and I agree, that the world was better off with a secular buffer state between Saudi Arabia and Iran.
From October 2014 to January 2016, he was lead negotiator over fourteen months of intensive and secret negotiations with Iran that led to a prisoner swap and the return home of four Americans, including Jason Rezain, Amir Hekmati, and Saeed Abedini.
Oh, hello! McGurk was the negotiator that got Saeed Abedini freed! Readers from Dalrock's blog will remember Abedini as the Iranian missionary that was tortured for years and then released just in time to interrupt his American wife frivorcing him.
While that makes McGurk sound like an ally of Christians, this adulterous scandal with Fake News makes that seem unlikely:
Obama's Iraq ambassador nominee lands in hot water over racy emails with Wall Street Journal reporter
https://www.dailymail.co.uk/news/article-2157177/Brett-McGurk-lands-hot-water-racy-emails-Wall-Street-Journal-reporter-Gina-Chon.html
10 June 2012
President Obama's nominee to be the next ambassador to Iraq has got himself into hot water after racy emails allegedly revealing an affair with a Wall Street Journal reporter while both were in Baghdad were leaked online.
The emails, from 2008, are reportedly between Brett McGurk, a top adviser on Iraq to George W.Bush and Gina Chon, who was covering the Iraq War for the WSJ.
The messages, which have not been verified, show the couple's banter about McGurk's 'blue balls', 'hooking up' for the first time, as well as McGurk joking about divulging information and access to Chon.
The couple are now married. McGurk was married to another woman in 2006, although it is not clear if he was still married at the time of this alleged email exchange with Chon.
Occam's Razor, the first wife divorced him for this adultery. Rather hard to overlook the national scandal that forced your husband to withdraw from consideration for Ambassador to Iraq, which is how McGurk ended up in the anti-ISIS seat.
The cache of emails surfaced the day before McGurk appeared before a Senate panel on his nomination on Wednesday, although he was not questioned about them then.
They first appeared on photo-sharing site Flickr and were then posted on the blog, Cryptome.
Obvious timing is obvious. Cryptome appears to have been associated with Wikileaks in its early years but branched off around the time of this scandal.
In one email McGurk wrote: 'I had a very good day with the Iraqis — the best yet. Can't tell you about it of course.'
Chon's reply: 'This is like a journalist's version of blue balls and it's really not fair.'
He fires back: 'Well it's only fair — since I had a very real case of blue balls last night!' He goes onto mention 'self-healing' exercises to cure the problem.
In another series of flirtatious exchanges Chon appears to compare news reporters after a scoop to vultures.
He teases: 'If treated to many glasses of wine — you could be the chosen vultures.'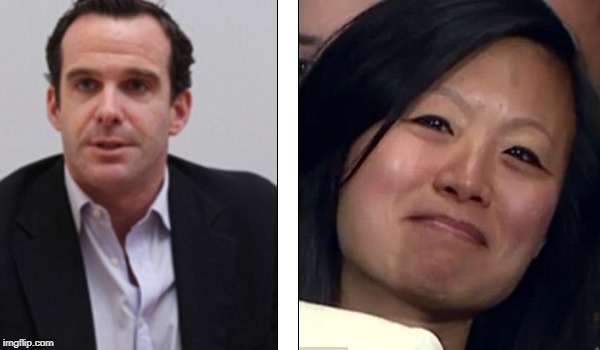 I can only guess that Iraqi women are supremely fugly, for him to risk his career for that face. Although he does seem to be taking better care of his appearance in photos now.
Closing with McGurk's resignation and his given reasons for it:
https://www.cnn.com/2018/12/22/politics/brett-mcgurk-resignation/index.html
Brett McGurk, the special presidential envoy for the global coalition to counter ISIS, submitted his resignation Friday because of President Donald Trump's decision to pull US forces out of Syria, according to two senior officials and several sources familiar with his thinking.
McGurk had previously said privately that he was going to leave the administration in February of next year.
A State Department official told CNN that McGurk had informed Secretary of State Mike Pompeo on Friday that he was resigning, effective December 31.
So, he resigned in protest six weeks before his scheduled resignation. This is nothing more than a statement, probably to the effect of "this isn't my fault" to Team NeoCon.
Going against the advice of his military and national security advisers, Trump on Wednesday announced the "full" and "rapid" withdrawal of US military from Syria, declaring that the US has defeated ISIS.
Translation, going against the NeoCon "eternal war" faction of the Deep State. America is very fortunate to have a Prez that is not a Swamp Creature.
Also, it's hilarious to watch the anti-war crowd seethe with anger at Trump defiantly ending a useless war.
McGurk was in Iraq meeting with senior leaders when Trump tweeted out the decision. Sources familiar with the matter said McGurk was frustrated over Trump's sudden announcement, which was the opposite of the strategy he had just been briefing coalition partners on while in the region: to stay in Syria, fight ISIS and counter Iran.
Yep, that's the kind of misunderstanding that happens when you don't let the President know you exist.
According to the sources, McGurk viewed the Syria decision as reckless and couldn't defend it, let alone execute it. He felt his integrity and his credibility were on the line, the sources told CNN.
"Brett was able to get US coalition partners to commit troops based on a code of trust with allies that the US was in the fight with them," said one source familiar with McGurk's thinking. "So after this sudden snap decision by the President to get out, he knew he could not be the one carrying this out."
That's all kinds of bullshit. Why would other nations expect America to fight for them? We have no national security interests in Syria, which today would be a glowing, glass desert had the Clinton Machine won the election. No need to thank Trump, coalition!
McGurk was particularly concerned about how the withdrawal would leave US allies in the region, specifically the Kurds, abandoned in the fight against ISIS, a source told CNN. US coalition partners were also worried about the sudden shift in policy.
I hope they learn that the American people will not tolerate endless war for the benefit of globalists and banksters. I hope the next time the Deep State starts a war, the US Army invades Congress instead of Shittistan. I hope globalism fails because the peoples of the world suspect it of being yet another example of American Elites playing Winners & Losers… which would not be far from the truth.
A senior administration official downplayed the move, calling McGurk "an architect of Obama's failed Iran deal," who "was already scheduled to depart from his role in January."
There's truth in that. A quote from elsewhere in the article: "McGurk was one of the few Obama administration holdovers to serve in the current administration. He also served under President George W. Bush." His unusual retention is easily explained by the "he's our little secret" theory.
The American taxpayer has no way of knowing how many other McGurks are running around.
Earlier this month, McGurk said the roughly 2,000 US forces would remain in Syria even after ISIS was defeated.
"I think it's fair to say Americans will remain on the ground after the physical defeat of the caliphate, until we have the pieces in place to ensure that that defeat is enduring," he said during a State Department briefing on December 11. He added, "It would be reckless if we were just to say, 'Well, the physical caliphate is defeated, so we can just leave now.' I think anyone who's looked at a conflict like this would agree with that."
And that, Brett "Blue Balls" McGurk, is why you are a Deep State NeoCon Swamp Creature. You think the US gov't is the world's savior and we should keep troops stationed in every nation in case somebody thinks differently… troops under the control of a 79-nation "coalition".
Good riddance of you.