So claimed the Los Angeles Times this holiday weekend. This promises to be a most interesting whitewashing of the latest census figures, aka Hard Reality.
Who moves to California? The wealthier and better educated, mostly
https://www.latimes.com/business/la-fi-california-census-migration-20181221-story.html
By Margot Roosevelt, 21 December 2018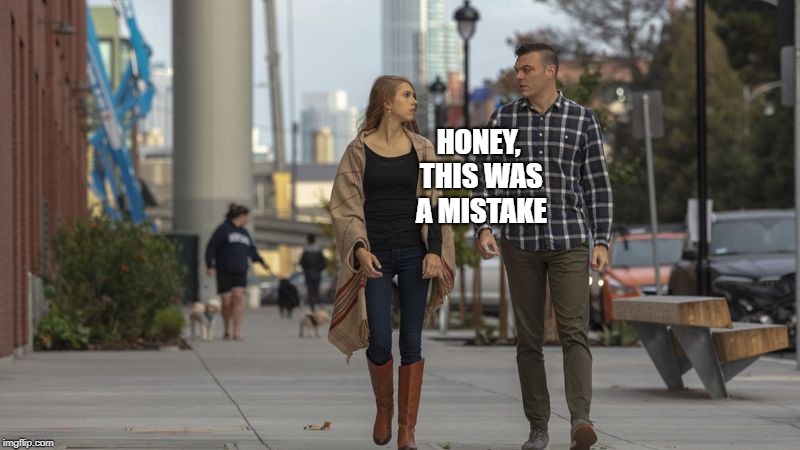 Caption: Alexandra Bede, a supply chain manager for an e-commerce firm, and Paul Jordan, who works in venture capital, in their San Francisco neighborhood. They moved from the East Coast in April for tech jobs. Picture: slightly modified.
High taxes. Stifling regulations. Exorbitant housing costs. Freeway gridlock. Fires and floods.
Hand-wringing over an exodus of disillusioned Californians may be a Golden State pastime, the subject of political punditry and strung-out social media threads.
But the latest data are far from dire. The U.S. Census Bureau, in its newly released surveys for 2017, shows that California's net migration remained fairly stable. Since 2010, as the economic recovery took hold and housing prices skyrocketed, departures accelerated — but the number of newcomers rose steadily as well.
That is consistence with housing prices going up. A strongly negative net migration would lower housing prices.
The state attracts a steady stream of college graduates, especially from the East Coast, even as many less-educated residents move to neighboring states — and to Texas — in search of a lower cost of living.
Interesting that the States consistently feeding into California are places with horrible weather. In 2010, the people moving out were headed for California-like climates with conservative politics. In 2017, it seems that people simply wanted to Get Out by the minimum distance necessary.
Then, it was about politics. Now, it's about survival.
Consider that in 2017:
-More people left California (661,026) than arrived (523,131) from other U.S. states. But for the nation's most populous state, with 39 million residents, that amounted to a tiny fraction in net departures: just 0.35%.
More like, 1.7% of the population was willing to risk everything to leave. In one year. Watching "net" departures obscures the reality of Sacramento's population replacement agenda.
Among the 25-years-and-older set, the state lost a net 86,890 residents without bachelor's degrees, and just 4,443 with a four-year degree. It gained 11,653 people with graduate degrees.
In 2017, the group without four-year degrees is called "men". Of course the female parasites want to stay. Also, the people who allowed themselves to become dependent on credentialing and other fake, gov't-backed certifications of competence… collectively known as "PhD candidates".
No state boasts more loudly of its attractions than Texas. Indeed, 63,174 people relocated from California to the nation's second-most populous state, more than to anywhere else in the U.S. But it's also true that no state sent more people here than the Lone Star State — 40,999.
From all accounts, Texas is still a poor place to be a social parasite.
"The cost of living, especially housing, is what stops the whole world from moving to California," said USC demographer Dowell Myers, a longtime census expert. "Otherwise, who wouldn't prefer California? We have superior weather. We have mountains and oceans. And we have better jobs — better paying and more specialized, whether in tech, entertainment, the arts or medicine."
Better to say, the superior climate is why people tolerate massive gov't shitstorms. There are many jobs here but as many newcomers have found out, they're overwhelmingly terrible jobs… working for Big Tech hoping to enslave the world, entertainment/arts micromanaged by shamelessly Christ-hating homosexuals or medicine destined to fail like every socialized State medical system in human history.
The parasites never learn. They only consume.
In the 1980s, Myers said, "millions of people came to California — too many — and that created an anti-growth backlash. But California has been losing people to other states since 2004. We lost people in the bubble because housing prices were so high. We lost them in the recession because our job market was worse than the rest of the country."
In the housing bubble, housing costs were artificially too high. The recession should have corrected that but the gov't didn't allow it to. Skip to the conclusion for the meaning of this.
Ask people why they came or left, and the reasons are often multifaceted. A few of them shared their stories:
Six years ago, Keith Johnson and Sandra Martinez-Johnson felt the lure, moving to Whittier from New Braunfels, Texas, outside San Antonio.
"On paper, the decision looked great," said Johnson, 50, who got a job renting out construction equipment for a Downey firm. "You'll make more money, live the West Coast dream, go to the beach, whatever. Then you get here and reality sets in."
Two weeks ago, the couple packed their possessions to move back to Texas with their 6-year-old son, Javier.
"I'm making a good living," Johnson explained. "But it doesn't translate into a good quality of life. Everything costs more, from a gallon of gas to a gallon of milk. And it is impossible for an average person to buy a house."
Yeah, that sounds like a lot of newcomers to California. "They offered me $100k per year… rent in San Jose was $60k per year. Screw that."
For Paul Urcioli and his wife, Sasha Smith, who were living in Pelham, a New York City suburb, the tipping point came in the winter of 2015.
"I had a 90-foot gravel driveway to shovel by hand," said Urcioli, 54, who taught drama at New York University and acted in television shows and commercials. "We'd had five snowfalls of at least 8 inches deep."
Their twin sons were in preschool at the time, and "it was hard to find something interesting to do every weekend," he recalled. "You'd bundle up the kids to go outside, but it was so cold they wanted to come back in after 10 minutes."
One day Smith went to Los Angeles on business. "Within 12 hours, I got an all-caps text saying, 'WHY DON'T WE LIVE OUT HERE?' " Urcioli said.
Another predictable story, this time from the happy couple's last names. Bitch Barbie wanted a better life without giving up her feminist ways. Hello, Los Angeles! It's not the snow keeping your kids inside here, it's the homeless camping in the local park. Wait, this couple has a NINETY-FOOT DRIVEWAY near NYC?
After Texas, New York was the largest source of migrants to California in 2017, with 34,278 arrivals — a 63% jump from 2010. Unlike Texas, more people moved to California from New York than vice versa: a net increase of 9,296. Departures from the Golden State to the Empire State remained flat over the eight years.
Consistent with the term "flyover country".
Today the Urcioli and Smith family is ensconced in Rancho Park, a leafy Los Angeles neighborhood. Urcioli takes the bus to USC, where he teaches, and Smith, a digital specialist at a talent agency, can walk to work.
Rancho Park is between Beverley Hills (fancy) and Culver City (not fancy). *Checks Zillow.com* house prices between $1.5m and $3m. How does a "talent agency digital specialist" make that kind of money?
By being female?
"For so long, I identified as a New Yorker — with a certain chauvinism," Urcioli said. "But here, we can still go to museums and try new restaurants. And the weekend after Thanksgiving we can go to the beach, or, if we want snow, we can drive to Big Bear."
It's neither here nor there, but Big Bear is only for snowboarding. I tried skiing there a couple years ago and even the bunny slopes had snowboard rails on them.
While New Yorkers made a continental leap, slightly boosting California's population, the three states accounting for the Golden State's highest net losses in 2017 are along the border: Arizona (which gained 32,326 Californians), Oregon (29,561) and Nevada (23,745).
When people are making minimum-distance relocations, they're going From rather than To. Example:
Paul McDermott, a Philadelphia native, first visited California in 1995. "I rented a convertible Mustang," he recalled. "A friend took me to Newport Beach and we did something called rollerblading. Then and there I decided I wanted to move to California."
But in October, McDermott, 59, a manager for a security guard company, and his fiancee moved to Henderson, Nev. "After 22 years in California, the politics, restrictive gun laws and the ridiculously high cost of living drove me out," he said.
He was paying $1,900 a month to rent a two-bedroom apartment in Huntington Beach. Now he pays $1,500 a month at a newer complex in Henderson. And Nevada has no state income tax.
The census report doesn't reveal why people leave, but economics, lifestyle and culture may all play a part.
McDermott chose Nevada in part because of the warm weather. But also, he said, he was irked at the red tape involved in obtaining a concealed weapon in California, one required for his job. And then, he said, "there was the whole California mind-set: The final 'straw,' if you will pardon the pun, was when they restricted straws in restaurants…. I mean, seriously?"
I've begun straw-smuggling myself… packing plastic straws whenI'm going out to dinner. La Vida Commiefornia.
On the other hand, Aimee Imlay, a 38-year-old San Diego social worker who recently moved to Lexington, Ky., for graduate school to study economic inequality, says emphatically, "I did not choose Kentucky based on weather and politics, to be sure."
Rather, she said, the University of Kentucky's stipend "is similar to what the UCs offer and my money goes so much farther here."
This useless Commie-bitch is why Californian expats have a bad reputation. No American would mind having Mr. McDermott for a neighbor… but a social worker studying economic inequality is a different study.
Memo to Sacramento, not all educations are equal.
At the same time, immigrants from China, India and other Asian nations are moving to California in greater numbers. Between 2012 and 2016, 58% of new California immigrants came from Asia, according to the Public Policy Institute of California, while just 28% came from Latin America.
"Many Asians come for technology jobs," Myers said. "Also, they can handle the housing prices better than Mexican immigrants."
Chinese money laundering. Not to mention colonization.
Neena Moorjani, 45, moved from her native Hong Kong to California to attend college at Biola University in La Mirada. After gaining her bachelor's degree, she worked in public relations, moving to Washington, D.C., then to Singapore and, two years ago, back to the Golden State.
In Sacramento, Moorjani took a UC Davis course to become a certified financial planner, but now, she said, high taxes and rising housing costs are driving her out. She is moving to Virginia to be closer to family. "I need to buy a home soon and homes there are half the price," she said.
How does a Hong Kong native have family in Virginia of all places? California isn't the only gov't encouraging population replacement.
For college graduates, California's high-tech economy is a powerful draw.
Paul Jordan, 28, and Alexandra Bede, 27, moved from the East Coast to San Francisco in April. The couple rent a one-bedroom apartment in the hip Potrero Hill neighborhood for $3,740 a month.
"The rents are ridiculous," said Jordan, a Duke University graduate who works for a venture capital firm specializing in sustainable energy and industrial innovation. But he and Bede, a supply chain manager for an e-commerce firm, can afford it with their six-figure salaries.
A report from the state legislative analyst's office in February found that "although California has had net out-migration among most demographic groups, it has gained among those with higher incomes ($110,000 per year or more) and higher levels of education (graduate degrees)."
"Families with kids and those with only a high school education predominate among those moving from California to its top destination states," it said.
Or vocational education. Four-year degrees from Commie U are not a good metric of smartness.
From 2012 through 2017, Myers said, newcomers with bachelor's and graduate degrees poured into California from other states, showing a net increase of about 76,000 over those leaving. At the same time, those with less than a four-year degree left in droves — a net loss of more than 400,000.
The only reason I can afford to live here, as a career professional and supervisor, is because I don't have family to feed… or protect from the State.
Education sterilizes women. Social Justice Warriors don't want to live with normals. All the feminists come in to take advantage of the hard-Leftoid State and… why am I still here?
Because there's nowhere to go. Nowhere that isn't growing feminists and pretending that a Master's degree in social inequality isn't money well spent. Kentucky, remember?
The imbalance may not be entirely positive. "We need low-skill workers too — hospital orderlies, school bus drivers, nannies and gardeners," Myers said.
Did somebody say illegal immigrants?
It's pretty obvious that Sacramento's Brave New World is the world's Elites being serviced by a slave class of mongrel savages. That might not be what they say they want, but it's what is happening as a direct result of their policies. If only a pro-America state in the Union would be as careful & deliberate in its own immigration policies!
Elites want expensive land and cheap labor. Normals want cheap land and expensive labor. When the costs of living start getting jacked sky high, it's either because of economic disaster or the Elites seizing full control. Remember how housing prices didn't go down when the 2010 bubble burst? Remember how the Feds bailed out the banks instead of letting them go out of business on account of all those terrible loans?
Remember California declaring itself a "sanctuary state" in direct, open violation of Federal border control efforts?
Not hard to guess what the truth is for California and its Progress towards being a land of wealthy superintelligents and an impoverished underclass. Although let us note once again, that neither education nor wisdom count as intelligence.