Signaling the Democrat Party's transition from "working men" to "MS-13 slave traders" are their reactions at watching trade unions, once their breadbasket, change political loyalty to President Trump. An op-ed hit piece:
https://www.nytimes com/2017/04/08/opinion/sunday/the-unions-that-like-trump.html
8 April 2017
Mr. Trump and his advisers know that his "America First" message resonates with autoworkers and other blue-collar workers. The Trump team also knows that if it can win over some of the nation's major labor unions — they're usually a pillar of Democratic campaigns — that will badly weaken the Democrats for years to come. …
Sean McGarvey, president of North America's Building Trades Unions, came away applauding Mr. Trump's plans for the Keystone Pipeline and other projects, which could mean more than 100,000 new jobs. "So far so good — our concern is basically the economic trajectory of our membership," Mr. McGarvey said. (Though when President Trump spoke last week to the construction unions' legislative conference, some union officials — unhappy about his push to repeal Obamacare and his rolling back of some worker safety regulations — booed him and held up signs saying, "Resist.")
Ah, old-school politics: 'more jobs' versus 'more freebies'. That world is gone. There will soon be no more freebies for anybody, only weaponized identity politics. Then was Left vs Right. Now is Nationalist vs Globalist. Anybody who wants health care isn't going to get it from Obamacare. It's an unworkable mess and don't unions offer their members health benefits anyway?
Although labor unions have declined in size and might — just 10.7 percent of American workers belong to unions, down from 30 percent under President John F. Kennedy — they still pack plenty of political punch. Many labor leaders were mortified that Hillary Clinton narrowly lost in three longtime union strongholds, Michigan, Pennsylvania and Wisconsin; they say that if she and labor had campaigned a bit smarter in those states, she could have won them, and the White House. One reason she lost Wisconsin is that union rolls there have plummeted — from 15 percent of all workers in 2009 to 8 percent today. A big reason: Gov. Scott Walker moved aggressively to shrink Wisconsin's public-sector unions.
Dems have doubled down so hard on free trade and mass immigration that they've lost control of their historic base. Their choice is to either apologize to their constituents or (continue to) replace their constituents. This graph is rather more informative than those statistics: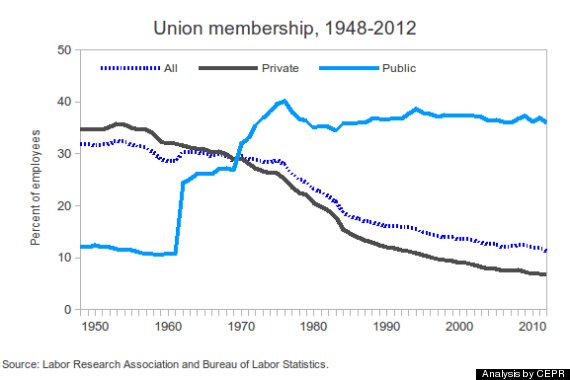 Notice private union membership went down a whopping 60% beginning around 1975… concurrent with the start of mass immigration? And public sector union membership doubled in 1962, that's interesting. From Wikipedia:
Executive Order 10988 is a United States presidential executive order issued by President John F. Kennedy on January 17, 1962 that recognized the right of federal employees to collective bargaining. This executive order was a breakthrough for public sector workers, who were not protected under the 1935 Wagner Act.
No wonder the Left idolizes JFK. He did more with that one executive order to build the Deep State than any politician since the Butcher of the South. Back to the op-ed,
…The nation's unions are divided into three camps regarding Mr. Trump.
The construction trades are the most pro-Trump. Many liberals have criticized Mr. McGarvey's enthusiastic words for the president, but he said it's smart to work with politicians. "We're working on creating a building trades majority, Democratic and Republican, whether state or national," he said. "We never want to be in a position where losing an election changes the economic trajectory of our membership."
The strongly anti-Trump camp includes the Service Employees International Union, the National Education Association and several federal, state and municipal employees' unions. These unions oppose the federal hiring freeze, the proposed budget cuts and repealing Obamacare and are aghast at Education Secretary Betsy DeVos's antagonism toward traditional public schools. "The budget they've put forward is horrible, and DeVos is on a path to destroy public education," said Randi Weingarten, president of the American Federation of Teachers.
Then there's the ambivalent, middle camp, including the autoworkers, steelworkers and machinists unions. They applaud Mr. Trump's withdrawal from the Trans-Pacific Partnership trade pact and his vows to bring back factory jobs and renegotiate Nafta. Dennis Williams, the U.A.W.'s president, applauds Mr. Trump's tough stance on Mexican trade — "We've been hollering about this for 20 years" — and at the same time slams his policies on immigration and Obamacare.
Translation: the not-offshoreable-trade unions love Nationalism, the Gimmiedat Communist Agitator unions love Globalism and the transnational-corporate-employee unions would generally prefer their factory-enclaves to be located within their home country.
Gary Chaison, a professor of industrial relations at Clark University, said some unions have accepted a Faustian bargain. "Aside from somehow creating jobs for some members, what do you get in return?" he asked. "You can forget about having any labor law reform to make it easier to unionize, and you can kiss goodbye a $15 federal minimum wage."
You don't have a job anymore but if you did, you'd be a millionaire. Vote for me again so I can keep my job!
Professor Chaison said union leaders understand Mr. Trump's type of personality. "That's the reality they deal with every day — C.E.O.s who are often arrogant," he said. "They know how to deal with them." Still, the language many labor leaders use toward Mr. Trump is more modulated, not their usual muscular talk. Perhaps they are scared of his wrathful tweets or his history of retaliating against critics.
Heehee, a tenured Marxist professor of greed called somebody else arrogant.
Mary Kay Henry, the president of the Service Employees International Union, said that labor is not nearly as divided as some say. Her union is working closely with the steelworkers to promote environmental protection and green jobs, and numerous unions banded together to try to block Neil Gorsuch's nomination to the Supreme Court and to battle Republican efforts to pass "right to work" legislation in Missouri (where it was enacted) and in New Hampshire (where it was defeated).
Reading between the lines, her union is circling the wagons to prevent steelworkers from supporting Trump's protection of their industry. I'm sure that won't backfire at all.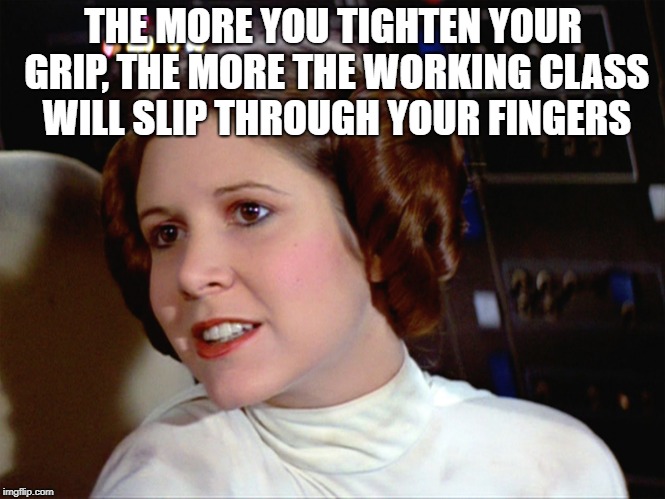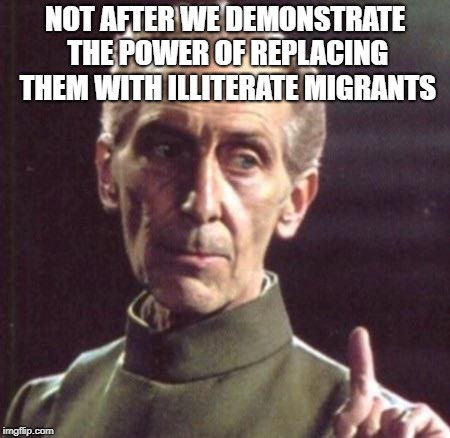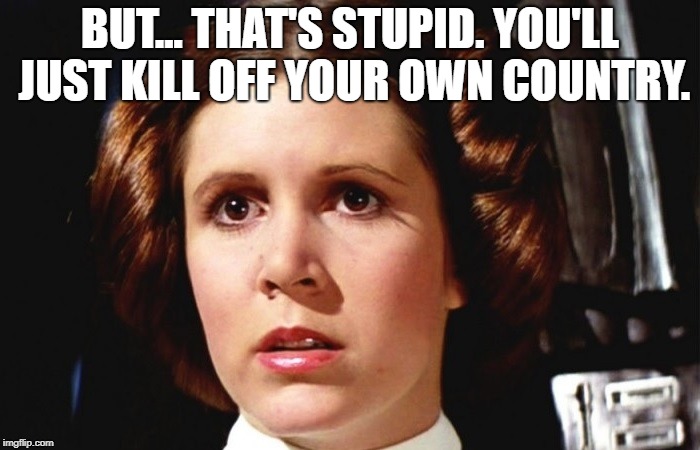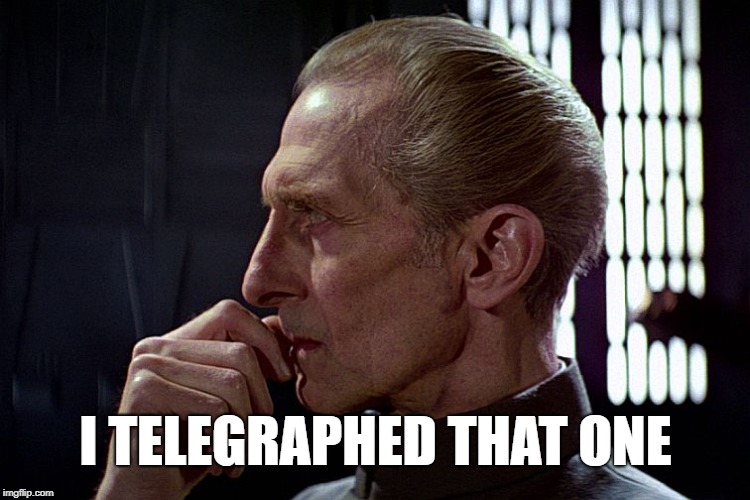 "The Trump administration is just another step in a 40-year attack that's been waged against unions," Ms. Henry said. "The American labor movement is bound together by our deep desire to create good-paying union jobs. We're not going to support any agenda that seeks to divide unions from each other."
Unions do not create jobs. Unions provide collective bargaining services to people working for businesses.
"I'm grateful he was able to keep 730 Carrier jobs here in this country," [Chuck Jones, president of the steelworkers local in Indianapolis] said. Some union members challenge his skepticism that Mr. Trump will be a friend of blue-collar workers. "He's fought against unions," Mr. Jones said. "He's filled his cabinet with big-business people." But he acknowledged he was pleased with Mr. Trump's comments on manufacturing and trade, although he wants to see what the president does next. "I'm encouraged that he pulled out of T.P.P., but it was pretty much dead anyway," he said.
The Trans-Pacific Prosperity abomination was not "pretty much dead"; it had been a high priority for Globalists for many years.
Mr. Jones said he wasn't surprised that many union members backed Mr. Trump. "He was singing the right message on jobs and manufacturing," he said. "Hillary didn't have a message for labor. People bought into Trump."
This last comment is significant. The Democrat candidate for POTUS had nothing to say to labor unions? Was that a massive election oversight or did she have a replacement constituency in mind?
A more recent sign of Big Labor panicking over their membership joining Trump is seen in their opposition to SCOTUS nominee Brett Kavanaugh.
https://www.cnbc.com/2018/07/10/trump-scotus-pick-kavanaugh-pro-business-tilt-stokes-unions-concerns.html
…Legal experts say that while [Kavanaugh] has taken a more overtly pro-business stance than some of the other leading candidates on Trump's list, his rulings on such issues are unlikely to push the court much further to the right than with Kennedy on the bench.
Labor unions — including the AFL-CIO, the country's largest federation of unions — and workers' rights groups are still concerned, however.
"Judge Kavanaugh routinely rules against working families, regularly rejects the right of employees to receive employer-provided health care in the workplace, too often sides with employers in denying employees relief from discrimination in the workplace and promotes overturning well-established U.S. Supreme Court precedent," AFL-CIO President Richard Trumka said in a statement.
Working families, not workers? That's a bad misstep these days. Legal American workers are not keen on seeing courts double down on Duluth.
For a humorous digression, Kavanaugh sided with orcas in denying employees relief from being eaten in the workplace.
https://timesofsandiego.com/politics/2018/07/10/scotus-nominee-kavanaugh-backed-seaworld-in-case-involving-trainer-death/
In 2014, President Trump's pick to replace Justice Anthony Kennedy sided with the Orlando-based theme park company in the case of a $70,000 OSHA fine involving the 2010 death of SeaWorld trainer Dawn Brancheau by the killer whale Tilikum.
Kavanaugh dissented in a 2-1 decision that upheld the fine. (The majority were D.C. Court of Appeals Judges Merrick Garland — President Obama's doomed pick for the high court — and Judith Rogers.)
In her majority opinion, Rogers didn't accept SeaWorld's argument of a precedent in a San Diego case. Cal-OSHA hadn't issued a citation for killer whale hazards after Kasatka bit and dragged a trainer underwater. The trainer, Ken Peters, [had] suffered a fractured left foot in that 2006 incident at SeaWorld San Diego.
…On Tuesday, a blog post by Jordan Barab, the Obama-era deputy assistant secretary of labor at OSHA, quoted former OSHA Assistant Secretary David Michaels.
"In his dissent in the SeaWorld decision," Michaels said, "Judge Kavanaugh made the perverse and erroneous assertion that the law allows Sea World trainers to willingly accept the risk of violent death as part of their job. He clearly has little regard for workers who face deadly hazards at the workplace."
Too funny. San Diego is a surprisingly conservative city. Coincidentally, they're also the closest metro to Mexico. Back on topic,
Daniel Goldberg, legal director at the progressive advocacy group Alliance for Justice, was even more blunt than Trumka.
Goldberg said that while every name on Trump's list of 25 Supreme Court candidates poses a threat to Obama-era health-care laws and the abortion protections enshrined in the landmark 1973 Roe v. Wade ruling, Kavanaugh in particular represents a "who's who of protecting the wealthy and the powerful."
Considering that labor unions have had notoriously high pensions and benefits for decades, why should union workers care about Obamacare? Once again, it's Nationalism vs Globalism.
AND WHAT THE HELL DOES ABORTION HAVE TO DO WITH ORGANIZED LABOR? It ain't that kind of labor, Mister Lawyer.
While Trump is not accomplishing any permanent solutions, his willingness to be pro-America at all is opening the door for union activists to join us in protecting our nation from globalist thieves & arsonists. People are getting mighty tired, even frightened, of these monsters. But will they themselves repent of their lust for other peoples' money?