I wasn't going to cover the story of Alison Ettel because it was one of them "virtue signaling dilemmas". A San Francisco feminist called the cops on a 8yo black girl selling bottled water without a business license. Who's the victim? Should society care more about female empowerment or black privilege? I expected the resolution of this would take months of virtue-signaling while BLM and MeToo fight each other like Highlander immortals.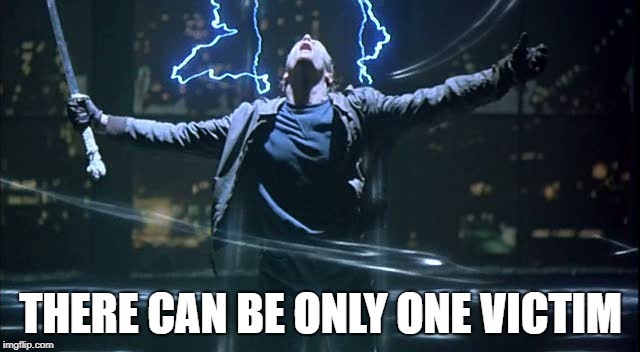 Recap here:
https://nypost.com/2018/06/24/outrage-after-woman-reportedly-called-cops-on-black-girl-selling-water/
But this time, there was shockingly little debate before she got tarred with the moniker Permit Patty. That turned out to be a double entendre:
http://nypost.com/2018/06/27/woman-who-called-cops-on-black-girl-selling-water-resigns-as-ceo-of-pot-company/
The San Francisco woman who called police on an 8-year-old girl who was selling bottled water has resigned from her position at a cannabis company amid an onslaught of criticism, the company said.
Alison Ettel, who has been dubbed "Permit Patty," left her position as CEO of TreatWell Health after several San Francisco dispensaries refused to sell it their products, a spokesperson said Tuesday.
Out-virtued by marijuana farmers. Feel the burn, Ettel! More from Heavy.com:
Alison Ettel, 'Permit Patty': 5 Fast Facts You Need to Know
Now known virally as #PermitPatty, Ettel has two master's degrees, one in urban planning, was an equity trader, a Brookings Institution researcher and CEO of a medical marijuana business.
You can tell from her appearance that she totally earned those achievements. Two chins, two master's degrees, right?
Many on social media are also mentioning how Ettel runs a cannabis company that operates in a legal gray area.
In a 2015 SFGATE.com article headlined 'Pot for your pup? Startups cash in on cannabis trend,' the safety and appropriateness of dosing dogs and cats with cannabis was examined in light of the pot shops for pets popping up. In the piece, Ettel said her policy is 'don't ask, don't tell."
Invest in cannabis, the catnip of choice for crazy cat ladies. …Don't ask.
The article described using marijuana as a medicine for dogs as "controversial" and said the practice "has drawn criticism from everyone from the ASPCA to the Food and Drug Administration to the American Veterinary Medical Association."
Ettel was interviewed and said then that her business "is growing — by about two customers each day — despite its questionable legality."
"It's kind of like 'don't ask, don't tell,'" Ettel was quoted as saying. "We haven't gotten any pushback yet."
And then she causes trouble for a little kid raising pocket money. I can read between the lines. "I almost went to jail before the gov't let me get a permit for my roach habit. And you just sell stuff in public with no fear of the cops at all? I'm gonna turn you in, little girl."
Heavy.com confirms this!
"Despite questions of legality and perpetual gray areas, Alison Ettel TreatWell's CEO and co-founder is hell bent on spreading the word about cannabis, a treatment that has helped many patients herself included," Erin Kirkpatrick wrote.
Ettel, who said she has only been in the business a few years has a partner who's been in the cannabis industry for more than two decades. Ettel said she comes from a "very professional background, doing everything from Wall Street think tanks and software companies, and I started getting into cannabis after I recovered from a coma caused by meningitis. I'm not supposed to be alive today."
Ettel said she has "never gotten high, still haven't gotten high, and have no interest in that."
Yeah, and Slick Willie Clinton never inhaled. Listen and believe!